March 27, 2014
NTC Tour Los Angeles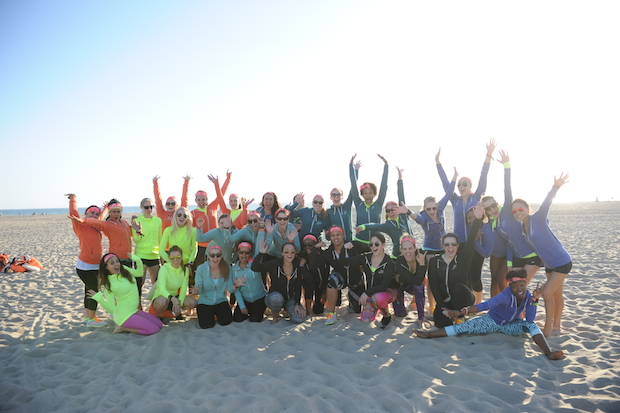 As many of you guys know, I had the privilege of heading to sunny LA with Nike for the trip of a lifetime and a chance to be a part of the first ever NTC Tour in LA! Let me give you the quick backstory and then I'm going to take you through our journey via a photo diary. Myself and 2 other girls in Chicago got to each bring a friend and we represented the Nike Training Club in Chicago. I brought my roommate and one of my best friends Melanie! When we arrived in LA we realized that we were being joined by "crews" from New York, LA, Toronto, San Francisco, Austin and a few girls from Stockholm who were all flown in for the event as well. The event itself took place in Santa Monica where over 1,000 people gathered to all work out together with a goal of burning 4 million fuel points collectively. It was an insane 72 hours jam packed full of fun events, lots of movement and awesome people. Here we go!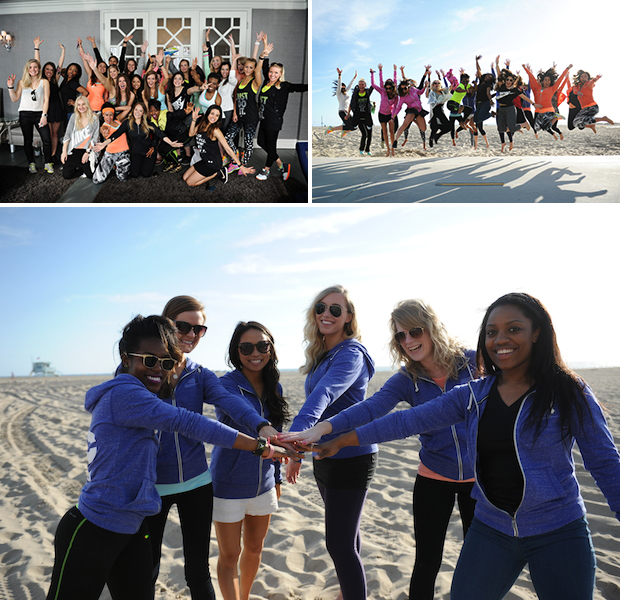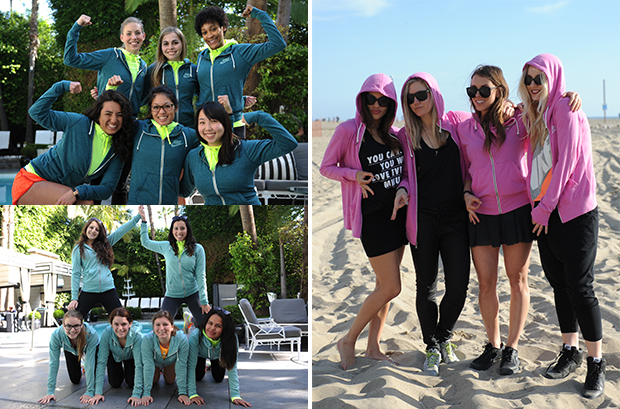 Chicago, Austin, Western Europe, New York, Toronto, Los Angeles and San Francisco city crews [clockwise]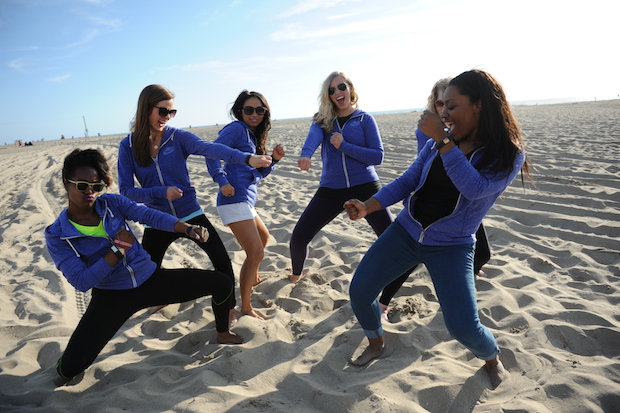 Seobia, Melanie, Me, Sam, Cait and Teiara … #ChiCrew doing the "cake batter" on the beach!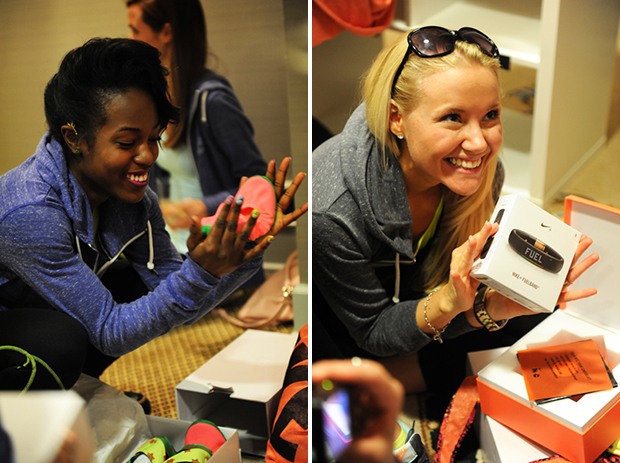 Giddy with excitement over our rose gold fuelbands, city crew hoodies, not-yet-released studio wraps and other treats Nike had surprised is with on our first day before heading to dinner


Catt Sadler of E! News looking adorable in her wedge dunks at the Gilded Gear Up event in downtown Santa Monica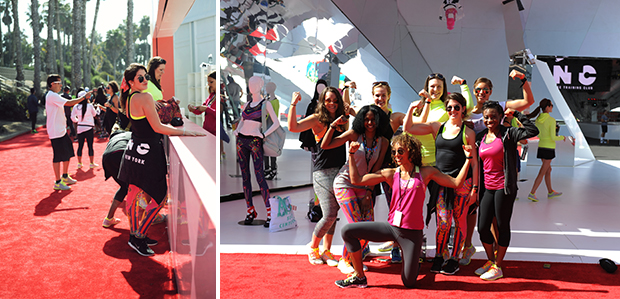 Nike rolled out the red carpet for the NTC LA event.. literally! It was so cool to walk up and see the setup. [ NYC Crew with the totally badass Nike Master Trainer Traci ]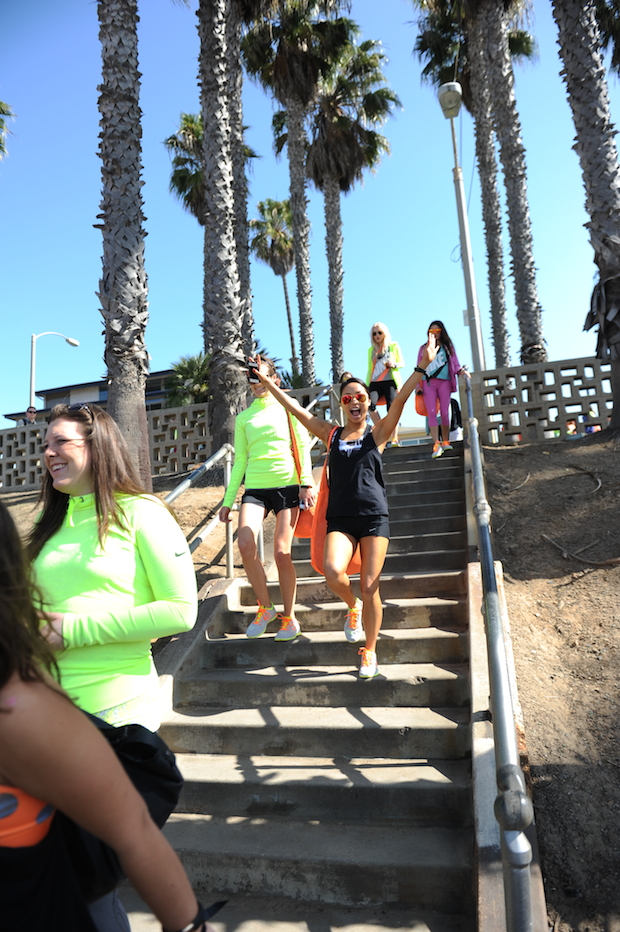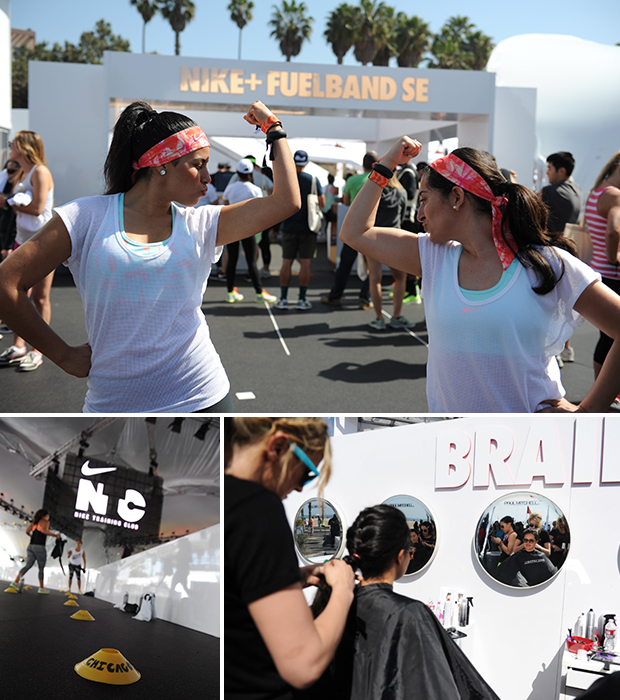 There was a braid bar, nail bar, massage area hydration and sunscreen areas all around the main workout tent so that everyone could look cute and stay ready for the day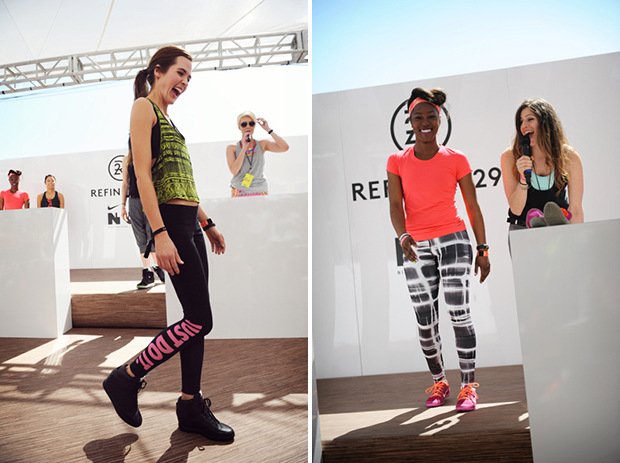 In a really exciting and surprise twist before the workouts started, Melanie, Seobia and I were chosen to be styled in the Refinery 29 tent by celebrity stylist Melanie Lacob! I was the yoga look, Seobia was the high intensity look and Melanie was the streetwear look (leg-a-see tights). How amazing does my roommate look in those wedge dunks and those leggings?! Seobia can rock a headband for a workout better than anyone I know.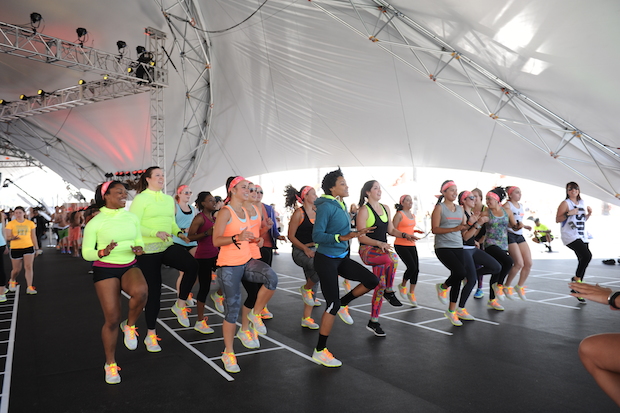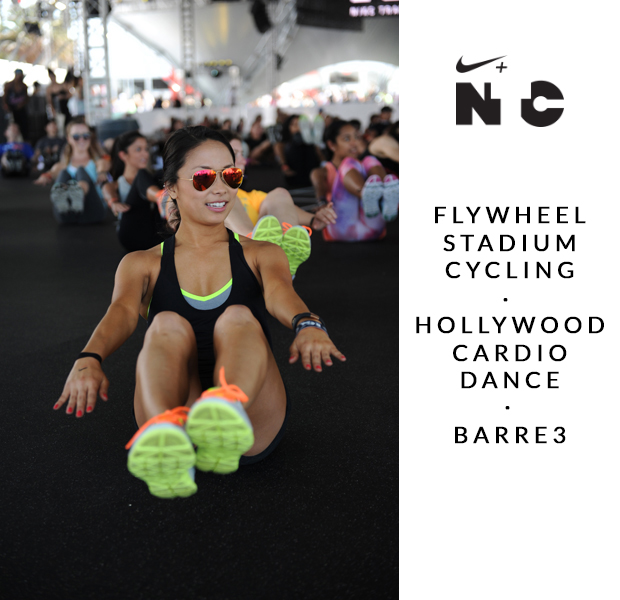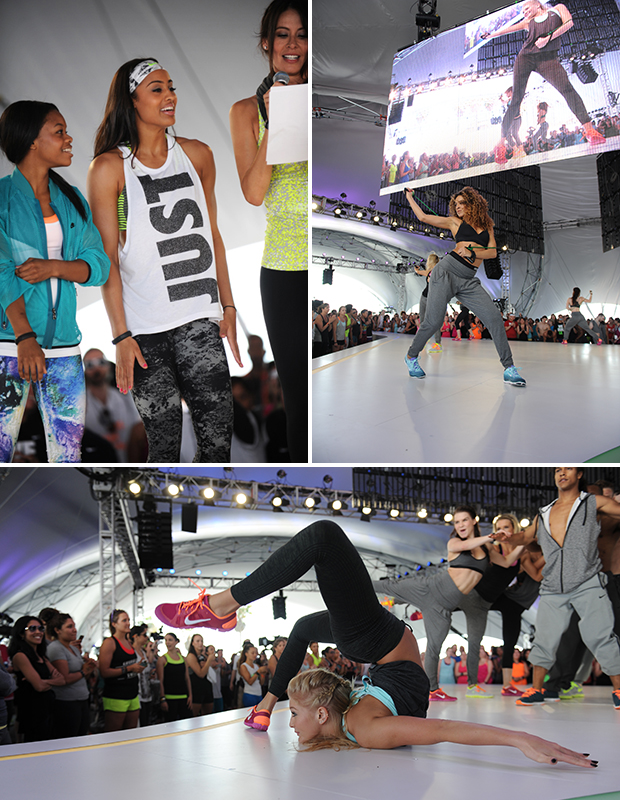 After the styling event and some snacks at the Whole Foods bar with Suja juices, we started preparing for the workouts! Some of the master trainers took us through stretching and warm ups that are similar to what you would find in the NTC app. I had a full schedule with Flywheel, Hollywood Cardio Dance and Barre3 so I wanted to make sure I was stretched and ready for the day. Before we kicked everything off though, there was an epic opening dance sequence choreographed by Derek Hough (you may have seen him and his sister Julianne on Dancing With The Stars) that was SO awesome! Melanie and I were googly eyed at the dancers and our favorites (if we had to choose) were Traci (wearing the Tadasana pant better than anyone I've ever seen wear it) and Eva (so adorable and an amazing dancer). Melanie and I may or may not have girl crushes on them and may attempt to dress up as them for Halloween this year so we can pretend to be as cool, but that's another story. Everyone was jumping around and dancing and it legitimately made me wish I had the moves to be up on that stage. Some of the special guests at the event were Olympic gold medal gymnast Gabby Douglas (whaattt!?! she's adorable in person!) and Skylar Diggins who were brought on stage for a bit before we started the big group exercise. It was so surreal to see some of the best athletes in the country and hear about how Nike and NTC has changed their routines.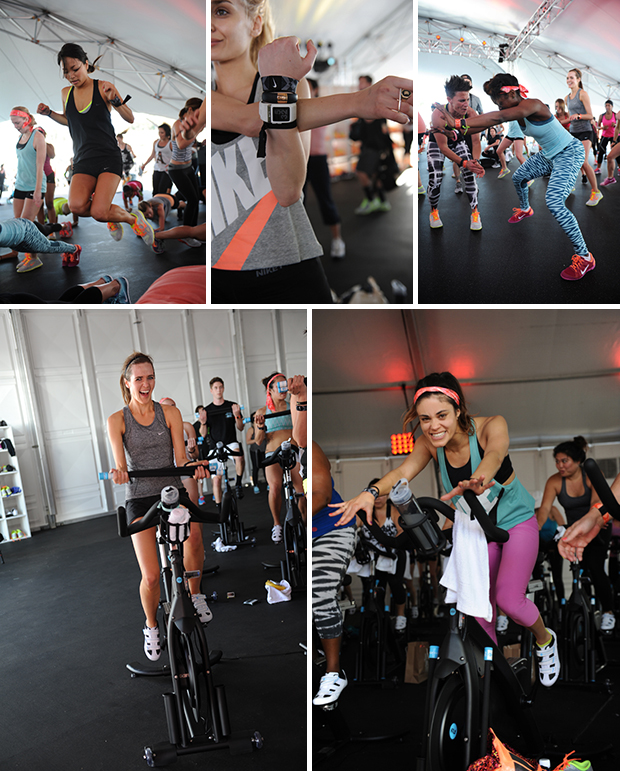 Then, the real fun began! We went through a group workout that helped get us ready for the classes and did sequences where you did 25 seconds on and switched to another plyo/cardio exercise for 25 seconds, took a quick break and did it all again. We did things like tuck jumps, body squats, side lunges, and partner jumps to get our heart rates up for the day.
FLYWHEEL
Melanie and I did all of the same classes, so our first one was Flywheel. I've never taken a spin class before, admittedly because I was really afraid of them and am not a huge fan of stationary bikes, but I was so impressed with the class. Our instructor was Holly Rilinger, also a badass (there's a theme here if you haven't noticed) and she made it so much fun. It was very active – there were few points where I remember staying on the bike for a long time. We were up and down, slower with more resistance and then faster for speed only… it was like dancing on a bike and that's the best and only way I'll really get into biking I think so I was a fan. At some points when you're up it feels like you're running to the music. My favorite part of the class was when we turned down the resistance and used weight bars to get some arms in. I love a total body workout and that Flywheel has found a way to incorporate your arms in the class as well. Holly killed it and we had a blast. My butt and thighs got worked and if I am needing a serious kickstart for swimsuit season you know I'll be headed back to the one in Chicago.
HOLLYWOOD CARDIO DANCE
Our second class was Hollywood Cardio Dance, and I'll admit I was soooo excited for this one. It was led by Derek but Traci and Eva were also dancing with him… and I can now vouch for the fact that not only is he a great dancer, pretty attractive and has a great body.. but he is hilarious! He was great at teaching us amateurs how to do each step by referencing things we understood and "girl terms" and was cracking us up the whole time. We learned an entire choreographed dance (which I'm really glad there are NOT many pictures of to prove that I've completely lost my touch since dancing and cheering when I was younger) and put it all together at the end to Katy Perry's Dark Horse. I was also surprised at how much fuel I burned even though it wasn't as intense as Flywheel. The key is just to keep moving!
BARRE3
Our last class was Barre3, which was the perfect way to end the day. My legs were complete jello at this point, so every time we were "pulsing to hold" I thought I was going to fall over and start human dominos. We had our studio wraps on and it was actually my first barre class to wear them. They really made a huge difference in being able to focus on your posture and the poses instead of slipping, especially in poses like down dog. I've taken a ton of yoga and barre classes and I really liked the balance that Barre3 provided. It was such a fun treat on our last day to get to meet the creator of Barre3, Sadie Lincoln, and her team and have breakfast with them.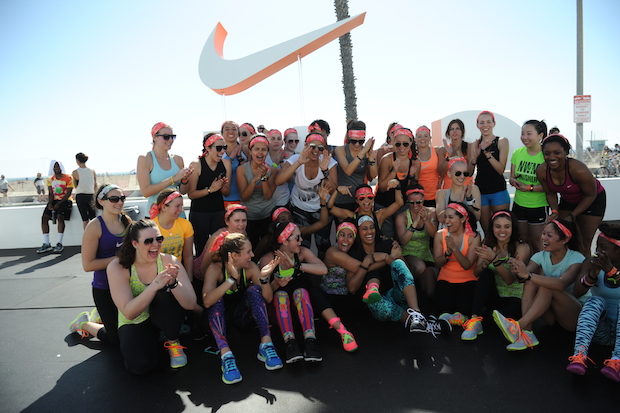 What a day it was. We started the day with a goal of burning over 4 million fuel points…. before I say anymore let me put this in perspective for you if you aren't familiar with fuel points. They're what the Nike Fuel Band calculates to track your movement and evaluate how active you're being. On a typical day at the office, if I take the bus to work and can't walk I only burn about 1500 fuel points before I get a workout in. The Saturday of the NTC event I burned a record high 7,435! Whoa. It was not only exciting, but really inspiring to be a part of an event that encourages activity, good health, and community in doing so. Nike has really created a movement with the NTC app and clubs around the world and is making it so much easier and attainable for myself and others to maintain that balance in their lives. Now that we both have fuel bands, my roommate and I jokingly come home from work and see who has burned more fuel (and sadly she wins most days because she's a first grade teacher chasing around 7 year olds). It was an unbelievable event and I didn't think it could get any better until…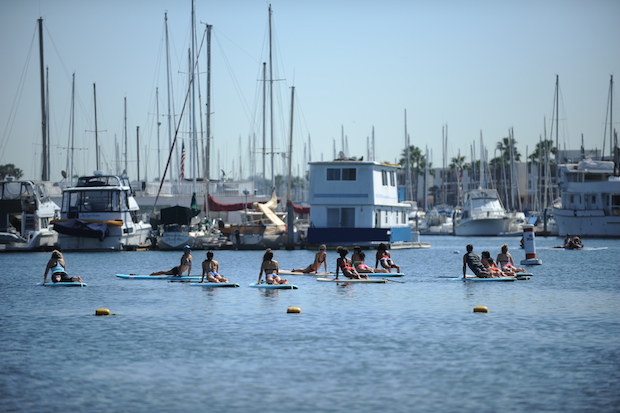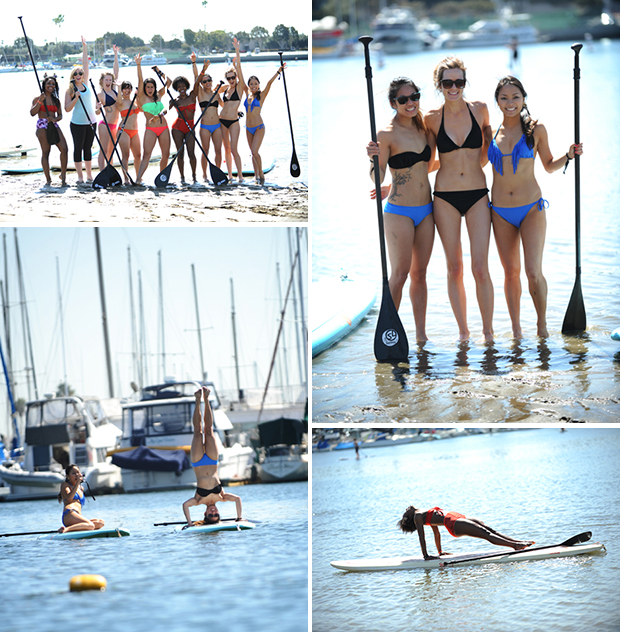 … The next when we they took us to a private beach to do stand up paddle board yoga! I have always wanted to paddle board, in fact it's one of the many reasons why I eventually want to live in Austin. It was surprisingly easy to stay balanced and the yoga added a really fun twist and honestly felt so amazing after we worked out so hard on Saturday. Upward facing dog and some of those stretches have never felt so good… it didn't hurt that the sun was out and I was enjoying my first 85+ degree day of sunshine since last August. At the end of our session we got to lay on our boards and listen to the water and just hang out for a bit. It was a great opportunity for me to reflect back on the weekend and I had a few major takeaways.
KICK IT INTO HIGH GEAR
I decided that when I returned to Chicago I would set a goal for myself to make a point to do something everyday. Sadie of Barre3 reiterated that it only takes 10 minutes and it can really change your body, mind and so much about how you feel about your day. I ordered a 3 lb. set of weights to keep at our apartment and we got Barre3 balls too to use as props for NTC app workouts and when we want a little help with core work. They all stash away in my room but are there if I can't make it to a class or it's too cold outside to run. It's time to quit with the cold weather excuses and make time!
ANYTHING COULD HAPPEN
I also was so proud of and amazed by my roommate Melanie. We're very different in a lot of ways and when it comes to working out are pretty much night and day. Â It was our little secret before, but the secret's out now and it's actually a really cool side story of the trip. Melanie is not the type of girl who works out a lot or lifts a lot of weights.. it's just not who she is. She loves yoga, walking, light running, and is incredibly fond of treats and lay downs. Before the trip we both made an extra point to prepare so that we didn't come home "on stretchers" as she said. Through the trip she got into the NTC classes, the app, more difficult yoga classes that she had previously refused to go to, running further than me, and she totally kept her own during the entire day never needing to take a break.. and we had a HARD day of working out. I told her at the end of the day, but she killed it. She burned over 7,000 fuel points too and was surprisingly not as sore as she thought she would be the next day. Who knew that my first grade teaching, Vineyard Vines and Lily Pullitzer loving, lanky adorable roomie would come back stronger, more motivated and wearing Nike wedge dunks?! The lesson for me here was that if Melanie could do it, anyone can… and that goes for me as well with things I've always been afraid of or averse to.

I wore a few different things for the workout because we changed during the styling event, but my new favorite tops for running & yoga are these tanks that are loose fitting and the perfect cut. Pair it with this sports bra underneath which you can see and it's a stylish but functional combination. I love these shorts as well, especially for hot yoga and anything where you're going to sweat a lot and don't want a cropped pant one. Melanie loved the 2″ running shorts that they have in another length as well and I think they'll be perfect in the summertime!
I want to thank everyone at Nike for making this weekend possible and for helping us bring back such excitement for NTC! To the entire Chicago & beyond team… Robin, Lisa, Becky, Kristin, Kate, Emily, Laura, Jeni and my fellow #ChiCrew-ers it was such a fun adventure and thanks for letting me be a part of it! I have one other (funny) treat for you guys next week to follow up on our trip. In the meantime, feel free to drop me a note or comment if you have any questions on NTC and how to get involved, or shop my favorites below!
Photos provided by Nike. The trip to LA was sponsored by Nike! Thanks for supporting the exciting adventures that I get to bring you along with me on :)