February 24, 2011
NYFW A/W 2011: Maisonette 1977 & Mintbox
"The road of life can only reveal itself as it is traveled; each turn in the road reveals a surprise." – Anonymous
On the third official day of NY Fashion Week I was pleasantly surprised when I met the founder of Mintbox, a website that provides loyalty and membership benefits to buyers of some of the top brands in fashion. I was beyond thrilled when she offered me an invite to the Maisonette 1977 presentation on behalf of Mintbox, and headed to the Box for my first presentation ever. Designer Jane Ibrahim spent 10 years working under some of the top designers in the industry and as a newcomer to Mercedes-Benz Fashion Week I was excited to see what she had in store!
She definitely did NOT disappoint. The collection was full of mixed textures, unexpected cutouts in perfect places, and definitely embodied the "classy but edgy woman" who is not afraid to change it up and put a twist on trends. Some of the outfits had so many different elements that it was difficult to put my pictures to the program descriptions – kind of like a puzzle but way more fun! :) For my own personal style, I found this collection to be pretty wearable. Fabulous dresses for nights out on the town, incredible separates that would go well with pieces you already own, and the mixing of aesthetics really created a wow factor for me. I mean, "black rubberized cotton terry/chiffon combo skirt"…"gravel rubberized cotton terry engineered pant with zippers"…"bark laser-cut scallop dip-dye faux fur life-vest jacket with leather sleeves"… this is screaming my name. If I had to pick out my favorite element that was fluent throughout the collection it was the unexpected cutouts. I cannot tell you how much I enjoyed the placement and creativity behind the cutouts in this collection. I'm a huge fan of uniqueness (this you should know by now) and I love that I have never seen dresses that had this type of approach. Cutouts can be dangerous because too much can be borderline trashy and too little can be just plain odd, but Jane struck a fantastic balance with her usage of them and I appreciated it very much.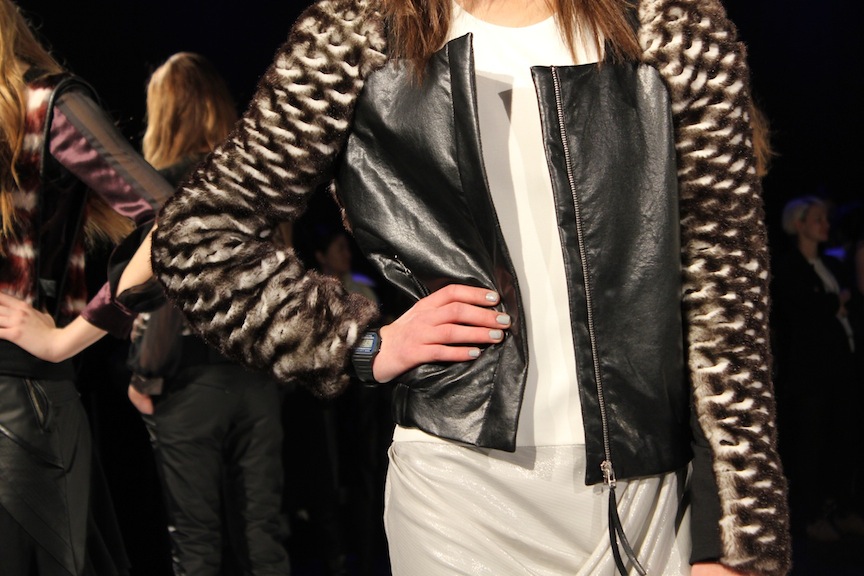 Nails: Nail Taxi for Zoya
The most glorious thing about a presentation (and Peter Davis of Avenue Magazine agrees with me on this one) is that you have a chance to see the clothes up close and for as long as you want … well, until they kick you out. On a typical runway show the outfits flutter by and within a matter of seconds you get a glimpse of what they created and then it's gone and you're left to peruse Style.com and various blogs post show to figure out what exactly went into each piece. But in a presentation, you can see the little details and the thought that was put into each piece of the collection. I also love to see how a designer chooses to accessorize. I had someone ask me how this works at a fashion show – and to my knowledge it just depends on the designer. Some designers who make handbags and shoes will use their own in the show, but more often than not they're utilizing another brand's shoes or jewelry or bags. In this presentation, the shoes were by United Nude and the jewelry was by Chris Habana – definitely names to keep on your radar. I'll add these to the "Treasures" at the bottom of my site for your easy clicking pleasure :).
A mah-jor (Rachel Zoe, duh) trend for Fall, yet again is fur. While I lean towards faux because it's friendlier and just as beautiful, Maisonette 1977 had a little bit of both. I loved the way she dyed it and combined some with leather for jackets. Leather + Fur = lethal combination!
Alright…. last but certainly not least, the highlight of the presentation for me. The most perfect, unique, crazy hot, and "I'm a total BA" cigarette leather-ish pants. The program calls it "rubberized cotton terry engineered" but I wasn't able to feel the girl's legs myself (for obvious reasons) and when I took mental notes I wrote in my head "amazing leather pants that I must have" – so we shall call them leather-ish. The double zippered pockets, biker babe structure of the knees, black riding panels in the thighs, and size zippers… oh my. The color was even more perfection because so often you see pants like this in black (which she also had below) but the gravel color is marvelous and would be very versatile for fall. While we're staring and drooling, how cool is the bottom of the jacket? IÂ  loved the overlapping flaps you see here and on several of the other belted items. It sounds a little strange to want leather-ish pants so badly, but I mean, look at them! I have yet to lay eyes on another pair that literally made my mouth drop so for now these are going at the top of the wish list.
—
All of this would not have been possible if it weren't for Mintbox, so I want to extend my biggest thanks to them for the invite to this show! If you haven't heard of Mintbox yet, you must check their website out. Basically, it's a place where you can shop some of your favorite brands and receive cash back and start earning rewards – kind of like membership programs that different stores have but this one only requires ONE membership and you have access to tons of brands that you shop and love. It's not a GILT or a flash sale site – Mintbox will direct you to the brand's website to shop, but you will reap more rewards from shopping the same site through Mintbox and receive cash back. Sounds like a pretty fantastic deal to me! I'm particularly excited about shopping ASOS via Mintbox and will keep you all posted on my Mintbox finds as I continue to explore the site! If you're interested in becoming a member, message me and I can hook you up. For the Twitterati, you can follow them here!
I hope you all enjoyed this presentation as much as I did. More to come soon! xoxo