February 26, 2011
the city that never sleeps
Joie top, Forever 21 shorts & boots, Topshop gloves, Nordstrom sheer tights, Deux Lux bucket bag
"There is something in the New York air that makes sleep useless." // Simone De Beauvoir
New York Fashion Week is always mayhem. Pre-fashion week I always love reading about how Editors "prepare" for it (because it is the biggest event in fashion .. the Super Bowl if you will but twice a year). Harper's Bazaar Senior Fashion Market editor Joanna Hillman was quoted in this article saying that during fashion week you "temporarily say goodbye to friends and family." I know what you're thinking – she is probably joking… haha good one Joanna. But the sad truth is, I am pretty sure she is not making that up or kidding by any means. In my brief 5 day stint in New York I was constantly on the go briefly slowing down occasionally for food, foot pain allevation, and if I was lucky- a bit of sleep.
After two full nonstop days I decided that needed to pry myself away from the action for the morning and went to run some errands and just enjoy being in New York. I decided on a more casual outfit since I knew I'd literally be running or walking extremely briskly so that I could finish up and head back to Lincoln Center for the afternoon shows. I kind of threw everything on and ran out the door, but was relatively satisfied with the outcome. This Joie top is one of my favorites because of its cut – it dips lower in the back and is more cropped in the front leaving plenty of opportunities for layering and slightly resembles a similar cut of this sweater I love. Even though it's technically kind of a sweater, it's very lightweight and a bit sheer so I've even worn it over a cropped tank dress. I'm also a huge fan of long sleeves and shorts right now – something about this combination just makes me want to wear shorts and long sleeved tops everyday! I'm not gonna lie – it was wayyyy too cold for this outfit I discovered after about 30 minutes and even proceeded to snow for a short while. Oops.
The gloves I picked up on my trip from Topshop and are a really fun addition. They're a version of fingerless mittens that you can manipulate however you wish – pull the flap back and secure on a small wooden heart or cover your digits from the cold. The boots are also a new addition to my wardrobe and my first ever Forever 21 shoe experience. I was perusing the store that's unfortunately and fortunately less than 2 blocks from my office and on my way home the night before I headed to New York and these caught my eye – I looked for the smallest ones and picked them up expecting to see 6 (because F21 normally only carries down to a 6) and it said 5! I was shocked and knew I had to get them. I have wrote before that when it comes to shoes I'm more inclined to spend good money because your feet are so important and they bear the weight of your body all day long. But, I have been recently turned on to the moto boot trend and really wanted to try some out without investing too much in it. Since I can wear socks and they're flat there is really no risk to my feet of plastic rubbage or blisters so I was sold. I'm also a heel fanatic so anything flat is usually less than exciting… BUT these are my favorite pair of shoes right now! I find myself creating outfits around them (which is a good sign) and am really enjoying them. They're kind of a distressed black canvas with a cap toe and side buckles and because they're a mid-calf height I threw on 2 layers of socks to go with them – 1 for height and the other for a punch of color. Socks are making a huge comeback right now but that's for another post on another day.
—
I lucked out with brunch in Soho (you know I love to brunch at least once when I travel!) because it was packed but the hostess hooked me up with a cute little table near the bar right away. If you're never been to Balthazar, it's a must for your next trip to New York. It's a French bistro with a bakery right next door and was absolutely divine. I hit the jackpot – brunch and French food all in one sitting! After some advice from my waiter, I chose the scrambled eggs in a puff pastry with wild mushrooms and asparagus (see amazingness below). It was different, but soooo delicious. I have never seen this served at any of the brunch places I've been in various cities so it was fun to try something new.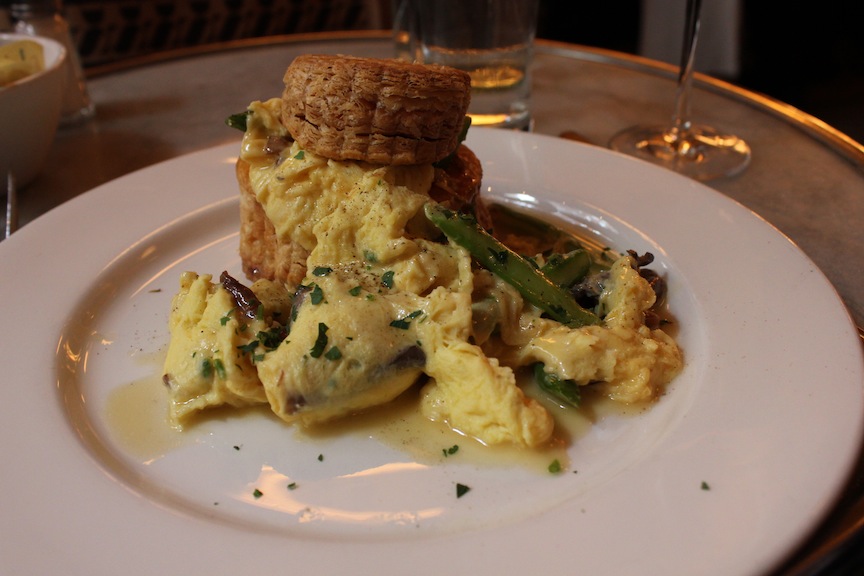 I also brunched on Sunday with my friend who lives in New York at Agua Dulce. Definitely the most lively brunch I've ever had in my life! It's basically like eating brunch at club – everyone is dancing at their tables while they eat because there is music going the whole time and it's pretty loud. This one character kept coming up to our area and dancing for a big group that was cheering him on.. it was hilarious. I had the Chorizo & Lobster Benedict with jalapeno corn bread and chili lime hollandaise and it hit the spot. I'm not into spicy things so the description makes you wonder a bit, but it was one of the best benedicts I've ever had. I'm almost sad I chose it because I feel like it set the bar so high for future benedicts. That's when you know you've had something delicious! Unfortunately I think they are temporarily closing for a bit (that's what they told us at least) so you may need to postpone your trip here for a little while until they re-open.
More New York adventures on their way so stay tuned! Hope you're all having a wonderful weekend! xoxo