In the past week, cities all over the U.S. have seen snow for the first time this year – from the most expected (Colorado, New York) to the unexpected (Texas). No matter how many times you have seen snow, when it's been a while there's something so magical and joyful about it. I woke up this morning and at first I thought it was raining because of how hard it seemed to be falling from the sky. I quickly realized it was not rain, it was snow! Living in Colorado, I've been amazed and become somewhat enthralled with the concept of snow. Many times I've been in the mountains and catch myself just staring at it falling in crazy, haphazard ways, sometimes swirling into downward spirals and sometimes floating upwards some before it decides to plunge to the ground.
It's the perfect way to spend a lazy Sunday (a continuation of my unexpected and rare but warmly welcomed lazy weekend).
The biggest downfall of a snowy day (if there is one) is that it makes leaving the house extremely tough. The thought of leaving a comfortable and cozy bed and venturing out into the cold snow is very disheartening and can discourage anyone to forgo going out to get food and to make something at home. Well, that probably works for everyone but me. I'm quickly approaching the deadline in which I have to leave Denver and move out of my loft, so I've resorted back to eating out a lot and have a fridge that is literally empty. I was so hungry and, of course, wanted brunch because it's my fave. I decided to get something from my favorite brunch spot in Denver, Snooze.
Snooze is full of amazing breakfast concoctions and you will rarely be able to show up for brunch without waiting at least 30 minutes and up to even an hour and a half. Even at 9:30 a.m. on a Sunday I heard they were on a 45 minute wait. But, it's so worth it! Although I picked up food to go (Sandwich I Am) I have been there several times and wanted to share some of my photos with you – I cannot figure out why they are so small I think I accidentally resized them when I was trying to decrease the space my pictures were taking up on my computer, so oh well.
If you're ever in Denver, it's a must.




Their barbacoa benny (benedict) single-handedly changed my tastes towards eggs benedict.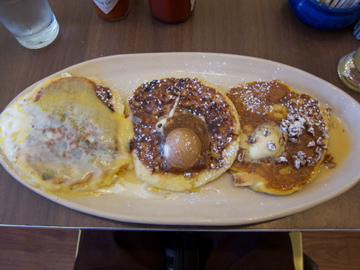 A fabulous trio of delicious pancakes from their pancake flight.
—
The view from my bed :).
I'm going to continue to sit here and watch movies from bed with snowflakes fluttering out my window in the background. Enjoy this day of peace and rest, happy Snow Day!