March 17, 2013
Chicago + The Chew from 5 ft. 2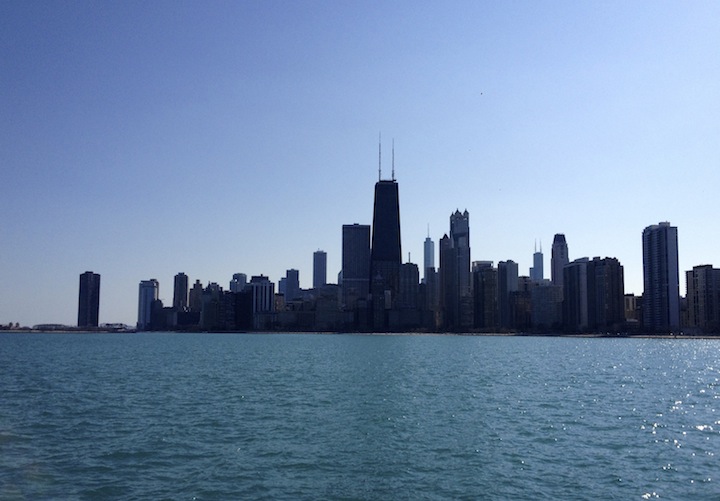 A year and 4 months ago, I moved to the Windy City for a new job and new surroundings with nothing but a blow up mattress and a bunch of suitcases (my moving truck was a week late, I am not THAT nomadic). At the time, I knew no one here and nothing about the city. My first true visit here was for my interview and I went to and from the airport without seeing anything else. I found my apartment thanks to Google street view and had 'moved in' before I even laid eyes on the place in person. It's the typical "pack up and move somewhere new" story, and it's crazy to think how long/short ago that was. To say it was a whirlwind would be the understatement of my life. I dove right into my new job that I loved and found myself with less free time than ever before. Having played soccer in college and my whole life on top of a zillion other extracurricular activities, that's saying a lot. I had never been in a situation before with no car, no known friends (yet), no idea where anything was, and no clue what to do about it. It was in all honesty a bit scary looking back at it even though I never really felt that way.
As many of you know, I essentially stopped writing over the past year. Although there are some posts here and there, they were not what I wanted to write about. Sadly it was all I had time for. I know it's kind of strange to write an apology like this, but I really felt like I needed to explain. Many of you guys have been SO loyal and supportive — you have no idea how much that means to me. It's the reason why I'm back blogging again and working nights on end on some new and exciting things for you! To all of the readers who have been following me on my adventures when I was still doing consulting and bopping around all over the U.S. to my newer readers who have discovered my blog since I've moved to Chicago — THANK YOU for being the fuel to my fire. To all of the brands I've worked with who have been so understanding of my time constraints, I thank you from the bottom of my heart for your kindness.
It hit me at the beginning of this year that all of what happened in my first year here was for a reason and I could use what I learned from it and turn it into something great that other people might be able to benefit from. My #1 mission when I moved was to be open to whatever came my way and be, as we call it, "down for whatever" (DFW/DF-Dub) and I definitely accomplished that last year. I kept a running list of every single place I'd eaten at or tried from the first day I got here and have kept it up ever since. I discovered a new app a few months ago called Evernote Food. You can clip your restaurants and places you've been and they show them on a map as well. Long story short, the number of places I've been since moving here is obscene. Like, mind bogglingly obscene for how short of a time it's been – it's easily a multiple of the number of new places I tried in the previous 4 years combined. I guess I went a little overboard on being "DFW", but hey, you only live once.
The Chew from 5 ft. 2
My idea was this — I wanted to find a way to take my experiences and adventures around Chicago and share them with you outside of just normal posts. Thus, "The Chew from 5 ft. 2" was born! This is the first of the two new additions to the site today. We're starting with the best spots in the city for anything and everything related to dining out. Drinks, brunch, date night, you name it and if I've been… it's on the list. It is an interactive & categorized map of all of the places I've tried here in Chicago. The restaurants are tagged for certain occasions (i.e., Date Night, Brunch, Girl's Night Out, etc.) so that if you're looking for something specific and in a certain neighborhood you can navigate and find what you're looking for. By clicking on an icon it will pop up the specifics and each has some additional commentary and tips that I've picked up in my experiences. For example, if they're BYOB if they have a corkage fee, how long the wait typically is, specialty dishes and more. This list will be continually evolving and to start will feature about 100 restaurants & bars in the city.
You can easily access the map from the link in the header – "the chew" map!
I truly hope that this is more than just a list and a map — I'd love to hear stories of places you've tried after reading this, if you've been and tried similar menu items, and any special moments that came from your own dining out experiences. I was inspired to try every single place on this list by someone else and I hope that this does the same for you. So cheers to my adventures here in Chicago and to you coming along for the ride!
New Chicago section
The other exciting news is that from now on I will be adding Chicago specific content to the mix! This city is a huge part of who I am now and I'm looking forward to exploring even more and sharing my finds with you. From my favorite boutiques to events, restaurants, bars and things to see you'll be able to find it all by clicking on the new "Chicago" sidebar photo.
I cannot wait to kick things off and what better way than with coverage of the Cheeky Chicago Real People of Style Fashion Show this week! We are days away from the show and are so excited for the big night. Hope everyone had a wonderful St. Patrick's Day weekend and is looking forward to exciting things to come!