March 11, 2013
DIY Strappy Sandals
1Â  |Â  2Â  |Â  3Â  |Â  4Â  |Â  5Â  (clockwise)
It has been months now that I've been swooning over black, strappy heels with just thin ankle and a toe straps. There's something so feminine but easy about them… you can dress them up with a skirt  or dress them down with shorts and a top or skinnies. I literally have planned out outfits and have been standing there thinking, SHOOT! I need to find those shoes! Unfortunately for me and my size-5-barely-women's-sometimes-kids feet it has been incredibly difficult to find any in my size and price range. It's a problem that I almost always run into, which is why when I find a pair of shoes that I love that fits I don't really have a choice but to buy them (so I tell myself).
A couple of weeks ago I was back in Texas for my mom's birthday and we were out shopping and I stumbled across a pair of Steve Madden heels – with a catch. They had three straps instead of two. My mind wandered back to a post I had seen of Aimee Song's  where she bought Zara strappy rose gold heels and took the middle strap off. I remember the post because I told myself if I ever saw Zara heels that were similar in a size 5 I'd do the same thing… too bad for me Zara has decided that they pretty much discriminate against anyone smaller than a 6 (what's up Zara kids). *Ding ding ding!* I bought the shoes and for a super affordable < $50 I was one step closer to my next pair of heels.
From there, it really couldn't have been any easier. I didn't even google how to do it, I just guessed and it worked out! I had recently bought an exacto knife for some other DIY projects (distressing jeans) and pulled that bad boy out. I found where the middle strap hit the base of the shoe, came in as close as I could with the knife and pressed in. I shaved even closer once I had the strap detached and repeated on the side and then the other shoe. About 10 minutes later (because I'm a perfectionist), I was all done and now have my own version of the very shoes I've been looking for everywhere!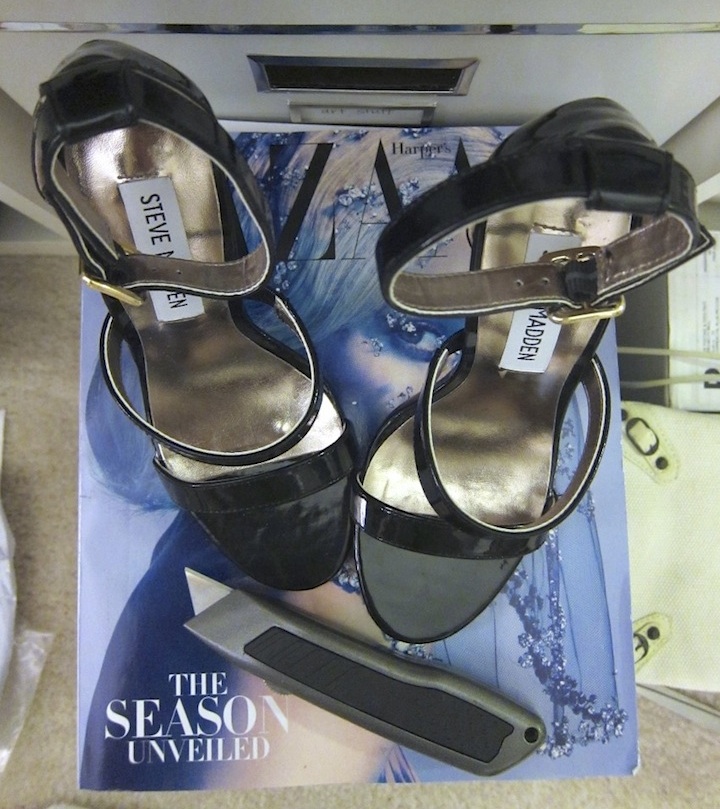 Have you tried any DIY projects lately? Do share!
P.S. – Do you love Pinterest? Follow us for more fun inspiration!
xo