April 11, 2014
Fresh and Clean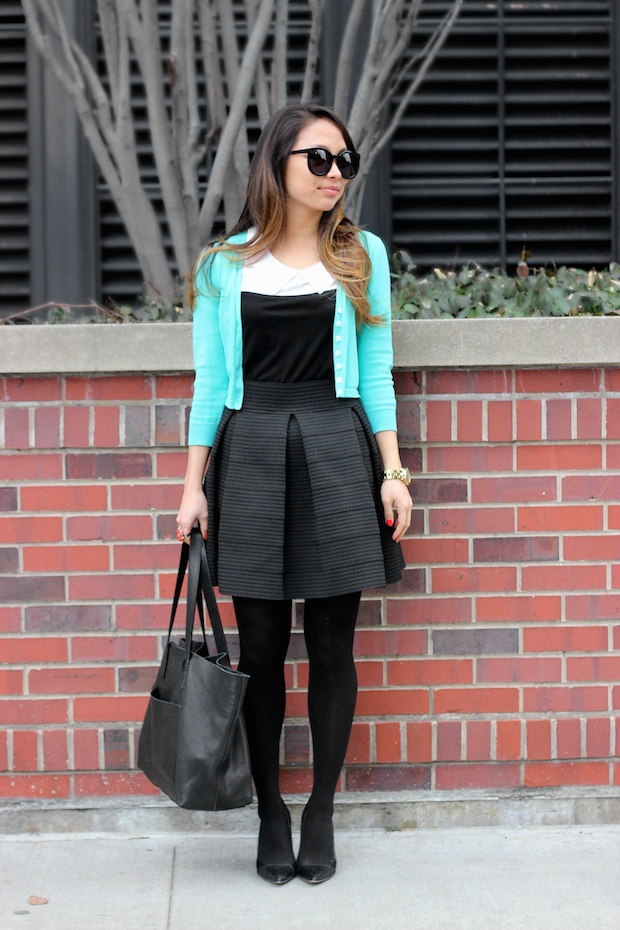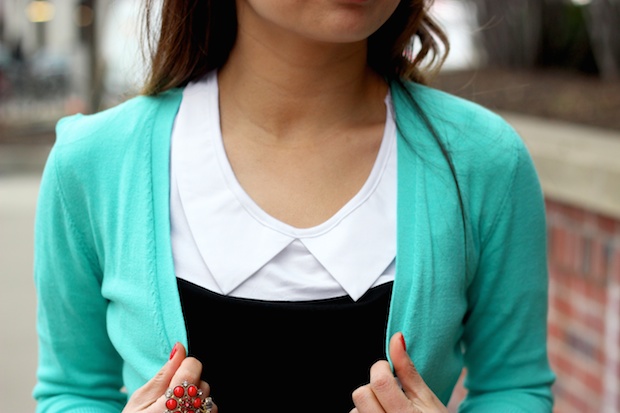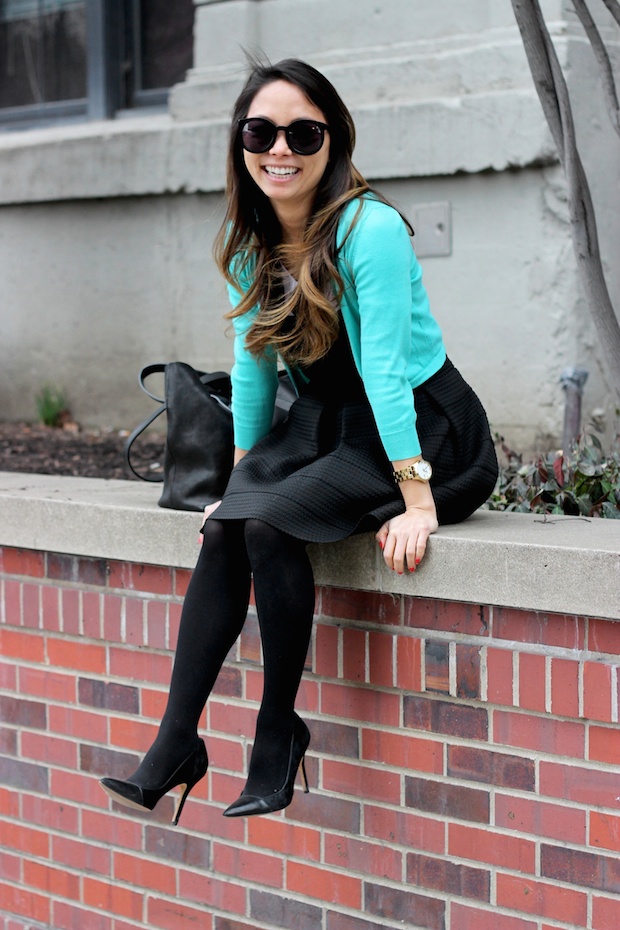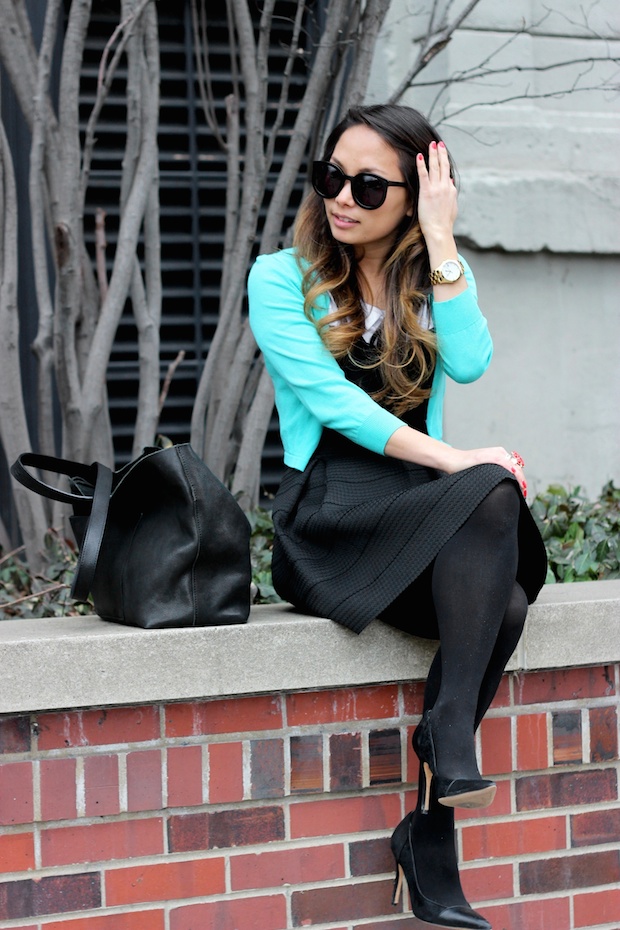 Photos by Mary Graves Photography
There's something to be said about being so fresh and so clean that is just untouchable. It's truly one of those things that we take for granted on a daily basis. Ever since I had my hair balayaged a few weeks ago I've been trying to be more careful about not washing it as frequently to preserve the color. It's a tricky thing trying to keep your hair fresh and clean, but also healthy! When I do have a fresh wash, it's so nice to just let it air dry and enjoy the clean smell of my shampoo. I was excited about this Les Femmes Velours top that's super soft and t-shirt like but has a collar and makes you feel so put together! It was a chilly day and I pulled out my skater skirt again for hopefully my last post in tights (at least until next winter)!
Last week I had the pleasure of attending an event held by Cottonelle at Salon Buzz River North. There were blowouts, a brow bar, manicures and makeup (and of course champagne and treats) as we all gathered for a night of primping and talking about what's really fresh and clean. In addition, beauty expert Jodi Shays of Queen Bee Salon & Spa (an unbelievable salon and spa in Brentwood and Culver City) was there to give her advice and consult with everyone. I had the pleasure of meeting Jodi, who is an absolute delight in person. I have to say there are few people that you meet for the first time and are as genuinely nice and real. I'm always inspired by women like her who are so humble but have really worked incredibly hard to build something great! She sat down and spilled a few tips and answered some questions for us!
What is "clean and fresh" to you?
Clean and fresh is a feeling of confidence.  Let's look at it from the prospective of one of my clients who comes to Queen Bee every 4 to 6 weeks for a Brazilian Wax.  Jumping up onto the table for your waxer and bearing all can be daunting, especially if you're a busy working woman and you've been at the office all day.  Or, your only time to go to the gym was on your lunch break at work or when you're children are in daycare.  For the times when you aren't able to go home and shower, at Queen Bee we love the Cottonelle Fresh and Flushable wipes. They're transportable and work wonders when you're in a bind and are needing help freshening up!  Clean and fresh is ready to go, it feels healthy, it is pretty and it is beauty.
If you had to choose between one necessity, waxing or brows?
Well brows frame the face and depending on the look you sport can shape a person's perception of you.  Too sharp and pointy looks cold and intimidating, soft and gentle slopes evoke a sense of calm and warm personality.  I for one cannot live without a tidy bikini line.   I don't want to scare people at the pool so I would opt for waxing my bikini line and the rest of my exposed hairy bits!
Best celebrity brows right now
Hands down Lilly Collins. Â They are thick, natural and just absolutely beautiful.
Worst celebrity brows right now
Oh god I can't say because we see so many of them!  However, anything from the 1980s or Baywatch!
Is Kelly Wearstler as great of a client as we think she would be?
I not only consider her a client, but also a friend.  Kelly is one of the most talented women on the planet.  There is not enough space on this page to go into it.  She balances an insanely successful business with her personal life.  Not only is she an amazing businesswoman, but she is also an amazing mum.  She is drop dead gorgeous in person, and is extremely "real".  I adore her.
Favorite moment so far this year for Queen Bee
Being able to travel with Cottonelle and meet amazing women, such as yourself, who are doing what they love and what they truly believe in. (okay, seriously swoon!)
What do you think the future of hair removal is?
Waxing has been around since the ancient Egyptians.   It is fast and efficient, it is affordable.  Tastes change as we have seen from the 1970s through now.  The one thing I know about hair removal is that a lot of women don't follow trends and just want to remove what they are comfortable with.
A HUGE thanks and hug to the Cottonelle team and to Jodi for throwing such a fun mid-week party and for sharing more about Cottonelle products with us… hope you stay so fresh and so clean this weekend!
P.S. – If you're online shopping at all this weekend, don't forget to check out the Ann Taylor x Kate Hudson LBD launch, Madewell's 20% off bags and shoes, Gap's 25% off regular priced items with code STYLESAVE!
SHOP THE LOOK
This post was sponsored by Cottonelle! Thanks for continuing to support the brands that help keep The View From 5'2″ going!