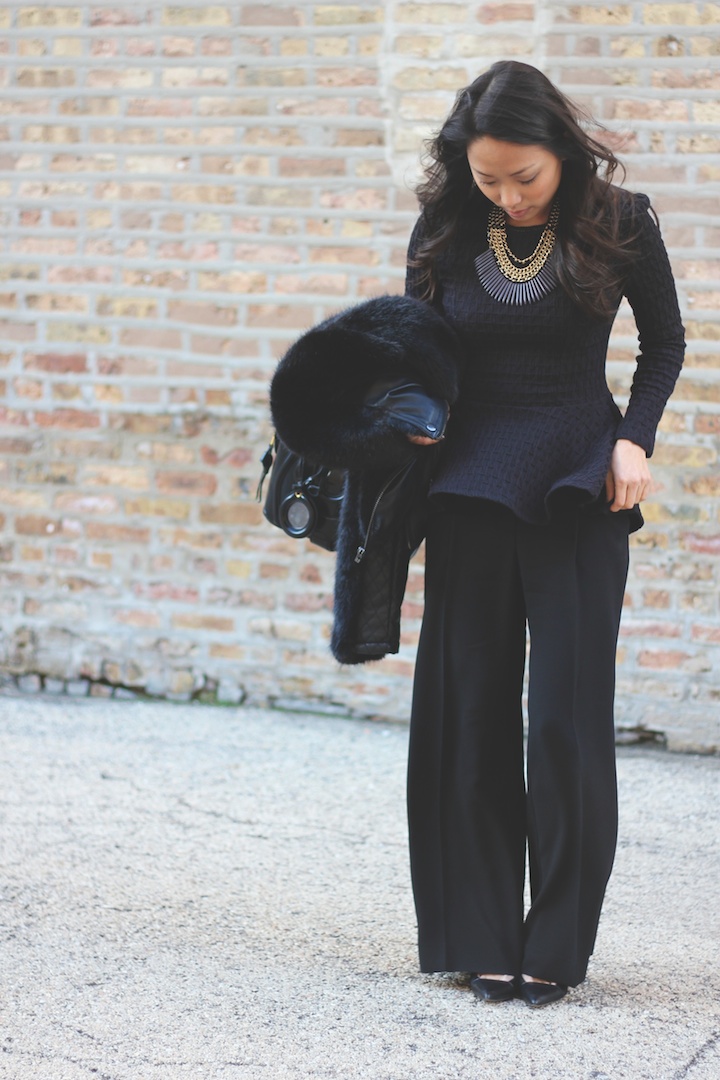 Top: Zara peplum (similar)  |  Pants:  Trina Turk wide leg pants |  Shoes: Sam Edelman 'Desiree' pumps (more here & here)  |  Jacket: Topshop faux fur bomber  |  Necklace: Milk & Honey Boutique 'Night on the Town'  |  Bag: Balenciaga (similar)
There's something about dressing in all black that just makes you feel so… sophisticated and sneaky all at the same time. Maybe like you're on a secret mission of some sort but covering it up by looking super chic. I don't know what it is, but I love it! This particular outfit made me feel like a female version of Batman. You'll notice that as the weather continues to get colder, my outfits will get progressively less colorful than what I was wearing just a few months ago (sorry in advance!).
The quilted peplum top is one my all time favorites and so I decided to experiment with it for the inaugural Second City Social event (which you should totally sign up for if you haven't heard yet!).  I love these wide leg pants from Trina Turk but often have a hard time styling them because they do feel a little formal. For all of you with little legs.. don't let anyone tell you that you can't pull off a wide leg pant! The combination of a good peplum top (you know, with a good pep in the peplum.. nothing floppy) with these pants instead of a skirt or skinny jeans was a fun way to change things up! You can't see them up close, but these calf hair + leather pumps are the best shoe find I've had in a long time. They are a fun way to change up a typical black shoe. Adding in more textures (leather, calf hair, crepe, quilted fabric, etc.) is an easy way to make a black on black on black feel way more exciting & superhero dangerous.
xo,

Photos by Heather Mowatt
SHOP THE POST: