March 11, 2016
Trenchcoat Season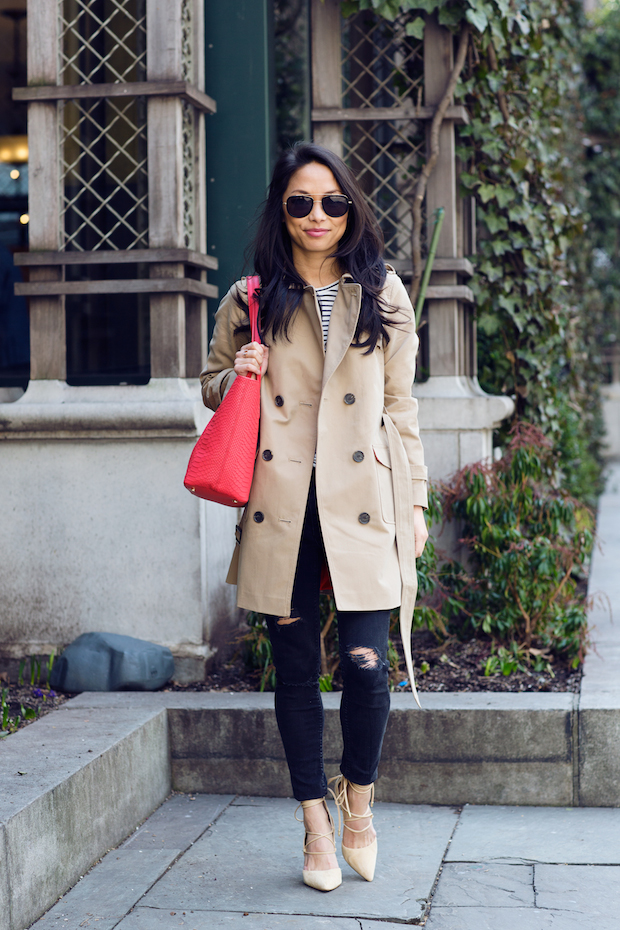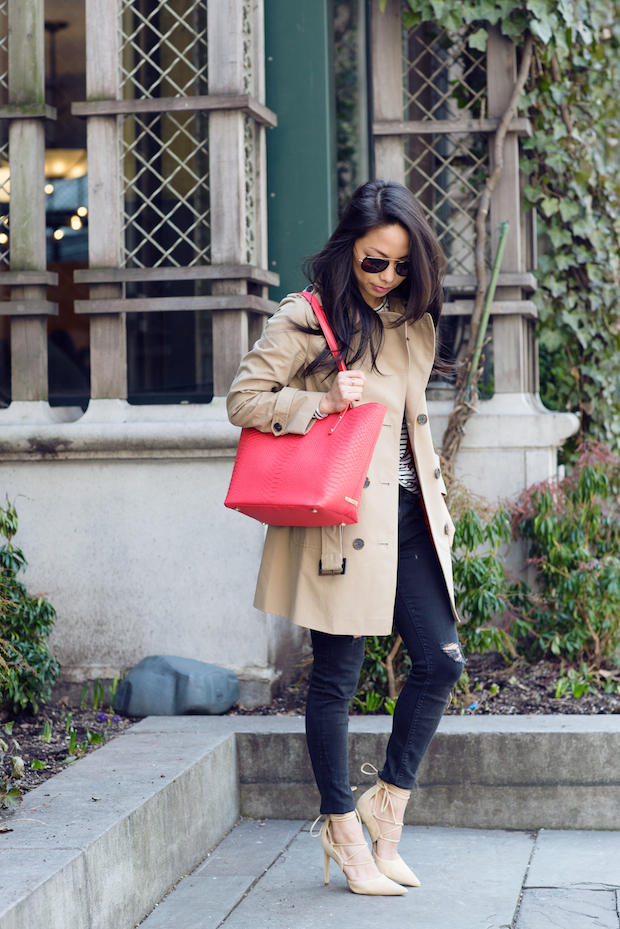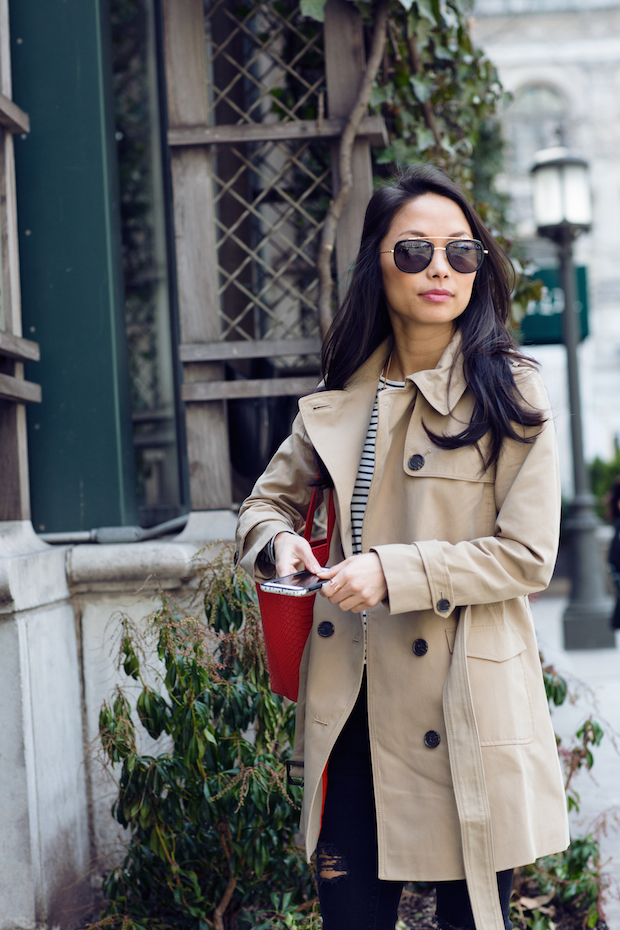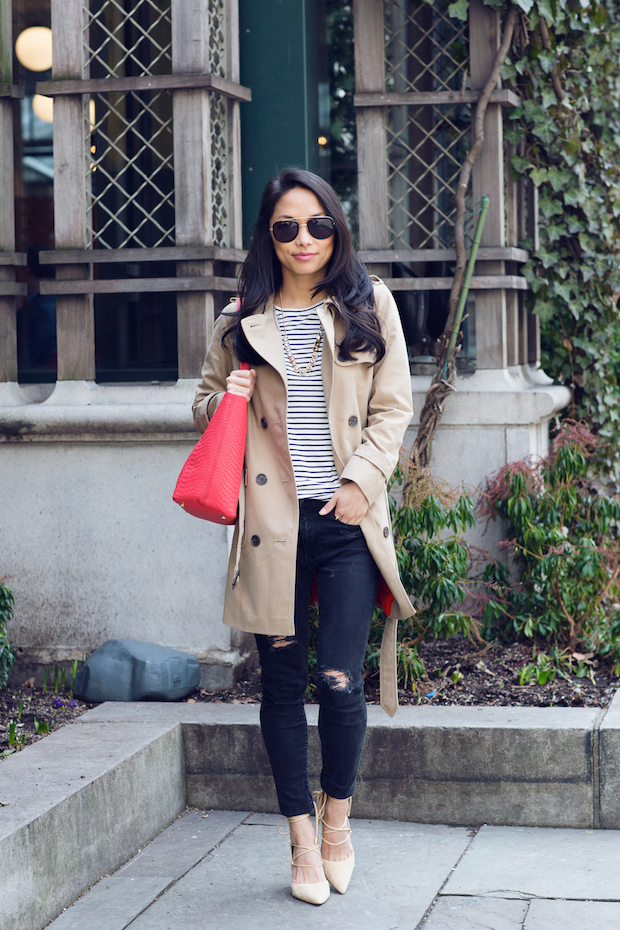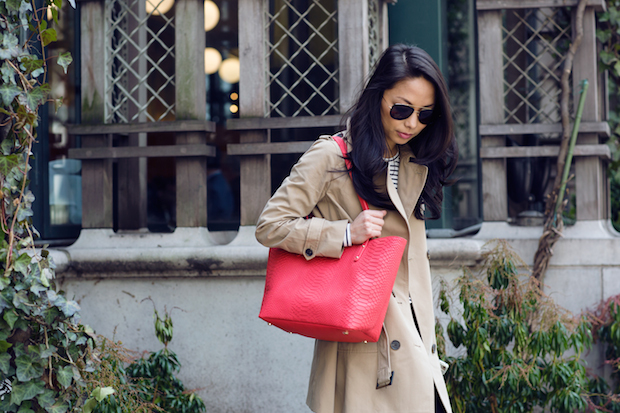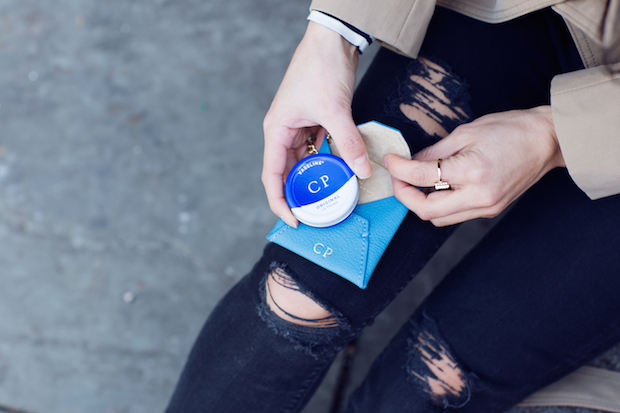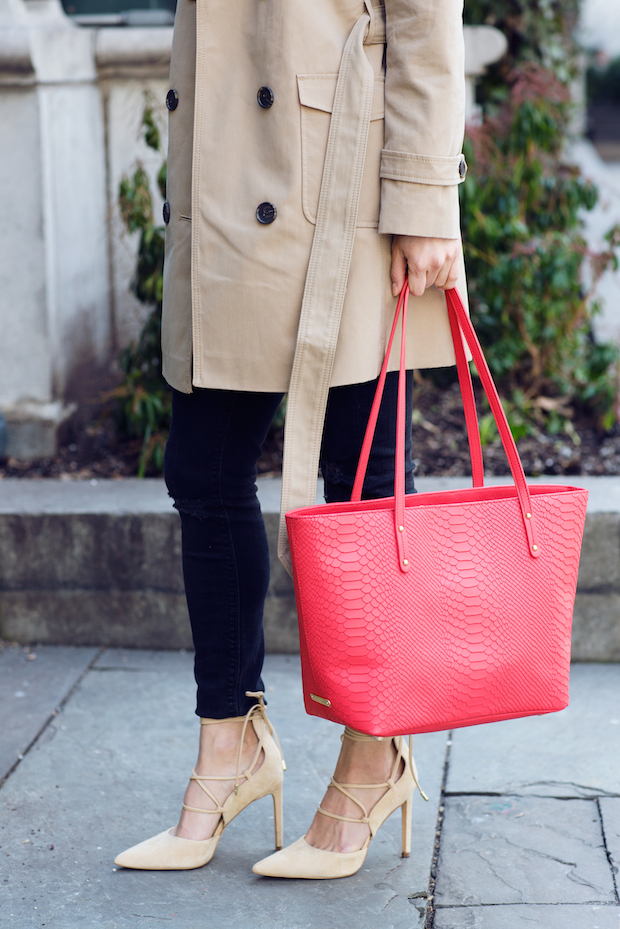 This week was one of the nicest weeks in New York since last Fall with record setting highs and plenty of sunshine. I was so happy to ditch my heavier coats for something lighter. I snagged this trenchcoat in a petite size after a lot of stalking and failed attempts to find one that fit me perfectly. I went and had a quick lunch in Bryant Park with MG to enjoy the beautiful sunshine and a chance to sit outside.
My previous job was just a few blocks away from the park and I loved going and sitting outside for lunch even if it was just for 15 minutes or so–whatever I could squeeze in I would take. I usually bring a tote with me to work for my laptop and a book sometimes, or so that I can quickly change into flats if I want to go on a little walk to break up the day or get something more adventurous for lunch. It's the perfect size for my day to day needs and for someone who is constantly on the go and commuting to work. Plus, this new poppy color is an all time favorite!
If you didn't catch this recent post, Vaseline launched a new lifesaver for your lips. These lip therapy tins are not only adorable, but my new go to product for hydrating and moisturizing my constantly dehydrated and dry lips. I keep one at my desk, one at home and one in each purse that I rotate during the week (rosy is one of my favorites)! With the arrival of spring it's even more important to keep
Vaseline is partnering with one of my favorite handbag brands GiGi New York to bring you personalized pieces to complement your handbags and keep your lips healthy and hydrated this spring. From now until March 19th you can snag a monogrammed lip therapy tin holder & a FREE customized lip therapy tin with your purchase of $100 or more. It's the perfect chance to treat yourself or someone special to an extra personal touch and a new handbag for a new season! For more details pop on over to the GiGi New York site!
We're off to Connecticut this weekend and I'm so excited for a relaxing trip out there! It's been a few weeks since we've been and with gorgeous weather in the forecast it should be a perfect chance to spend some time outside and away from the hustle and bustle. Hope you have fun plans, happy Friday!
SHOP THE POST
JACKET: Loft trenchcoat (petite)  •  SHIRT: J.Crew striped t-shirt (on sale)  •  JEANS: Ripped skinny jeans (similar)  •  BAG: GiGi New York tote, GiGi New York vaseline holder, Vaseline lip therapy tins c/o  •  SHOES: Sam Edelman dayna lace up pumps c/o  •  WATCH: Cluse watch c/o 
From now until March 19th, with every personalized

GiGi

New

York

purchase of $100+, you will receive a free customized Vaseline Lip Therapy Tin and monogrammed leather Lip Therapy Tin holder. If you purchase the leather holder separately, you will receive the item monogrammed at no charge, along with a FREE customized Vaseline Lip Therapy Tin. Visit

GiGiNewYork

.com for more details!