January 2, 2014
zippers & tassels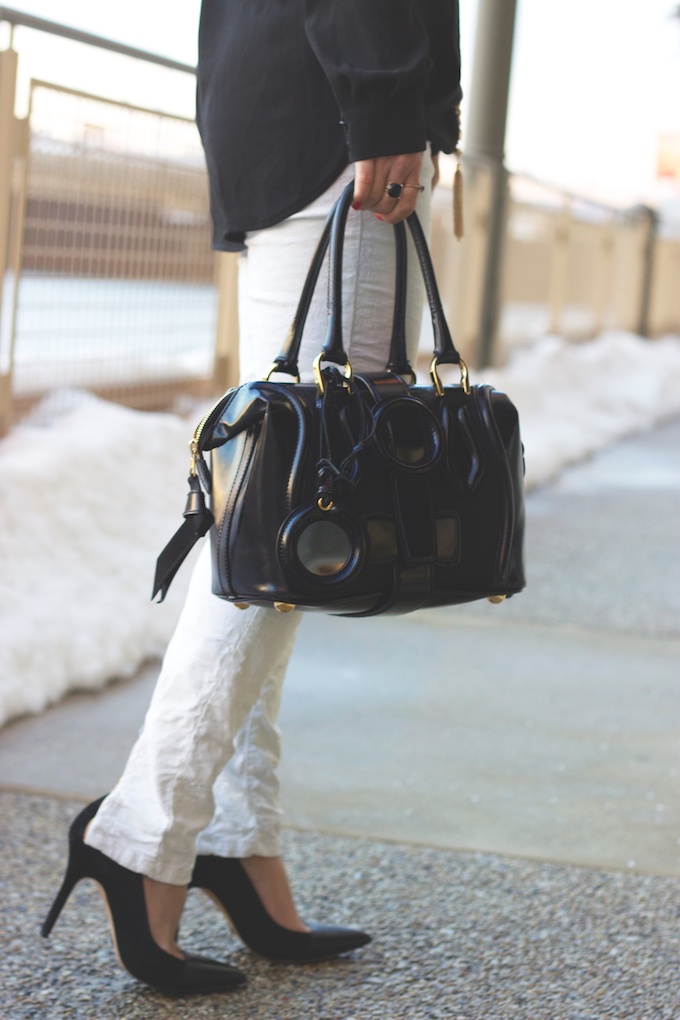 Shirt: Bellatrix via Nordstrom (similar, similar crossover style) |  Jeans: Zara ankle zip in white (similar)  |  Shoes: Sam Edelman 'Desiree' calf hair and leather pumps  |  Necklace: Bauble Bar x Courtney Kerr  |  Watch: Marc by Marc Jacobs  |  Rings: Ariella via Nordstrom (similar)  |  Bracelet: The Green Goddess boutique (gifted)  |  Bag: Balenciaga, vintage  // sizing: shoes size 5 true to size, ring size 6 runs a little small
Not getting my pants tailored is usually not an option – these days I feel like when I try on pants I'm swimming in fabric and sometimes it's difficult to even see how they look on! I normally will never, ever pick up anything with a zipper on it because in my mind it's just not even worth teasing myself with. Last spring I was desperately looking for some white jeans that were a little different and stumbled across these favorites from Zara that actually have a floral brocade-like print on them. I didn't even think twice and went and put them on, fell in love, and bought immediately.
I have always rolled them inward right above the ankle so that they're an ankle length pant. I wish I had a picture because I'm sure you're a little horrified right now, but trust me it works. BUT, for the first time that I can remember, I  ended up zipping them down tight to my ankle and flared them out over the pumps. It really works best if your jeans are super fitted (even more so than these appear) and with pumps – I think pointy toe add to the geometry of the zipper split, but that's just me. The pumps are some of my new favorites — I was on the hunt for a unique pair of black ones and love that these are calf hair and leather.
Sometimes I just like to play with styles and "rules" because you're not supposed to — like wearing white jeans in the middle of winter. You could argue winter white, but really I know I received some disapproving looking glares at work and I really have embraced the fact that it doesn't matter. Someone once told me (ok, I saw the quote on Pinterest.. whatever) "if you like it, wear it" and that's the motto I'm definitely sticking to this year. What new styles or rule-breaking outfit ideas do you have in mind for yourself to kick off 2014?
xo,

Photos by Mary Graves
SHOP THE POST: