October 15, 2010
welcome to la-la-land
Los Angeles. It sounds so California dreamer when you think about it. Back in the day, Hollywood was where dreams were made (well they still can be but you can make your dreams wherever you want) and stars were born. Now they can be born on the shore of Jersey… kind of depressing. I think my favorite thing about LA is realizing how many decades worth of cinematic and musical geniuses have walked those streets and made it what it is today. If you've never been to LA you definitely have to go! See the sights, take the cheesy tours, attempt to peek over the ginormous wall around the Osbourne's house on your Dad's shoulders only to get sprayed by their sprinklers (I was like 13 .. what), the whole "Hollywood" tourist bit. But since I have 'been there and done that', this trip to LA was more of a relaxing getaway/vintage hunt with my Mom. The Hollywood sign & walk of fame are a bit Times Square-ish to me but with way fewer lights, but there's something so nostalgic about old Hollywood and the people who graced the city back in the day.
From the  cute storefront and rave reviews online to hearing that Chloe Sevigny (actress, designer,model) searches for vintage goodness here, Ragg Mopp was the #1 store on our list of places that we had to go to. It's located on Sunset here and although the store wasn't open when we got there, it was well worth the time we spent wandering around waiting for it to open. I was amazed at the quality of the clothes that this place had - not everything was for me but it all had a uniqueness to it and wasn't like other vintage stores where they will put things on the racks just because someone brought it in. No, not Ragg Mopp. I spoke with the 'man behind the counter', Vince, (who is awesome by the way) and he buys from all kinds of people in the Los Angeles area. He had recently gotten tons of dresses from an older woman who had things like a World War II nursing dress. This stuff was legit. It was quality vintage  at its best and one of my favorite vintage finds in all of the cities I have searched in. There were amazing shoes, sunglasses, gorgeous long dresses, a huge rack of shorter dresses, petticoats, swimsuits, coats, furs, hats, bags… you get the drift!
I picked up a faux fur coat from the 60's that was so unbelieveably amazing, but THIS was the best find in the whole store. It's a vintage gown that fit me like a glove with a unique edging on the bodice and the perfect retro length right above my ankles. I'm going to add more of a petticoat underneath but I can't wait to wear this dress! I'm thinking it'd be perfect for the holidays :)
Thank you Vince for your hospitality (he threw in a straw fedora that you will see below because the hat that went with my coat didn't fit me) and just for kicks a little girl petticoat that I'm going to wear as a skirt. I <3 Ragg Mopp!
—




The rest of the day we wandered to other vintage & regular stores and stopped at a farmer's market that also had some pop up shops. I found this vintage sequined bustier that I so badly wanted (especially because it would've been about $5)Â  because I could imagine it perfectly underneath a black blazer with black skinny jeans or leggings and booties… but it was too… busty. Sigh.
—
Now this sweater I found was truly amazing and has inspired me to come up with a DIY version that hopefully I'll have time to get to sometime before 2011 rolls around (I'm epicly busy for the rest of the year). It was a fitted crop top sweater that I thought would be perfect with the skirt I wore here or a black version. Unfortunately, it was like $80 and I know that I can make my own with a more interesting look (not a fan of the tigers) for way cheaper. So it was a pass, but an inspiration nonetheless.
—
So my obsession with two fingers rings continues… this you already know. My obsession with Nordstrom… this you also already know. However, the Nordstrom in Santa Monica had a much wider selection of higher end and unique goods that I haven't seen at other Nordstrom stores. For example, they sold Elizabeth and James shoes in the shoe department that I have only been able to find online. The above picture is a  gold leafy two finger ring by Jessica Simpson (they also have one in silver) that was relatively inexpensive (I think around $38) compared to most other rings that are this ornate and large. I cannot find this ring online or on Jessica Simpson's website, so case and point - Nordstrom loves Santa Monica wallets more.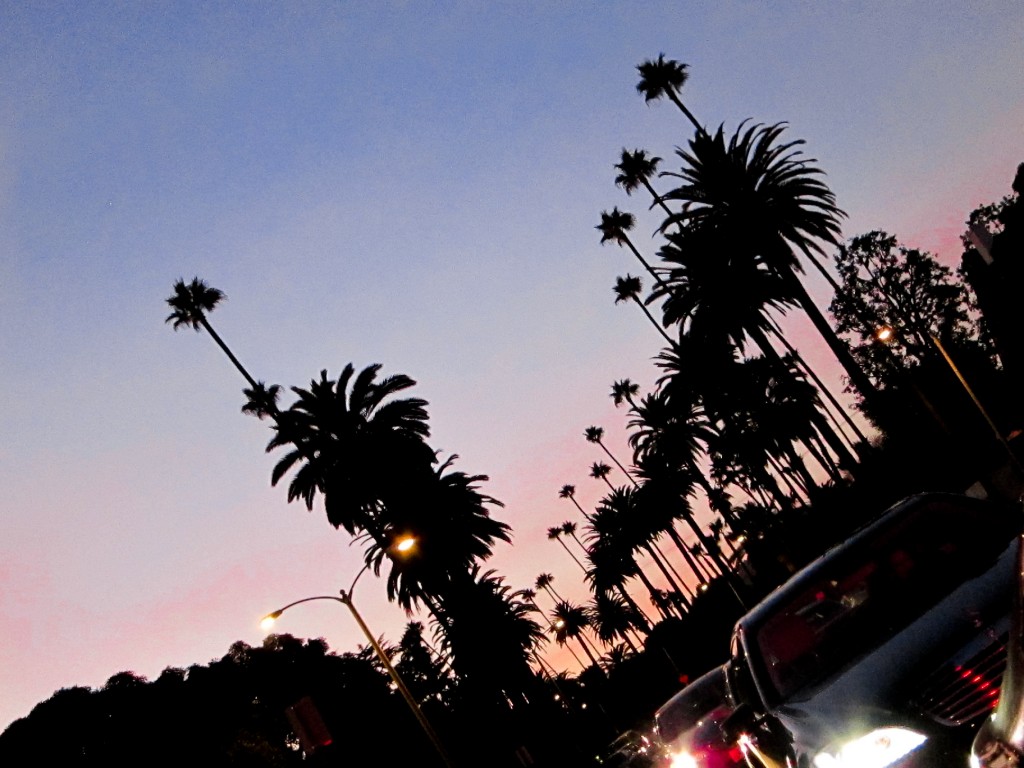 Sunset in Beverly Hills right off of Santa Monica Blvd
—




Doesn't this totally feel like it's from a scene in Batman where you're lurking around Iceman's home? Something about it gave me that feel…
At any rate, I'm wearing a black racerback top from Forever XXI tucked in the front of my jean shorts that I found at my parents house from Abercrombie (they may have been from the kids department but I will not confirm this because it's slightly embarassing yet funny) and a belt from Urban Outfitters. The straw fedora is from Ragg Mopp vintage and I'm wearing Aldo black clogs with an Urban Outfitters drawstring bag.




edgy chain necklace from Forever XXIÂ  and my ring that you have seen here




close up of my shoes and the side zipper detailing on my bag
Santa Monica Seafood gets an A- from me. I thought the food was great but the menu was slightly limited. I had cod fish and chips that were very fresh but would've liked to have seen a few more fish options or seafood options. I mean come on, just run down to the pier and grab it :)
—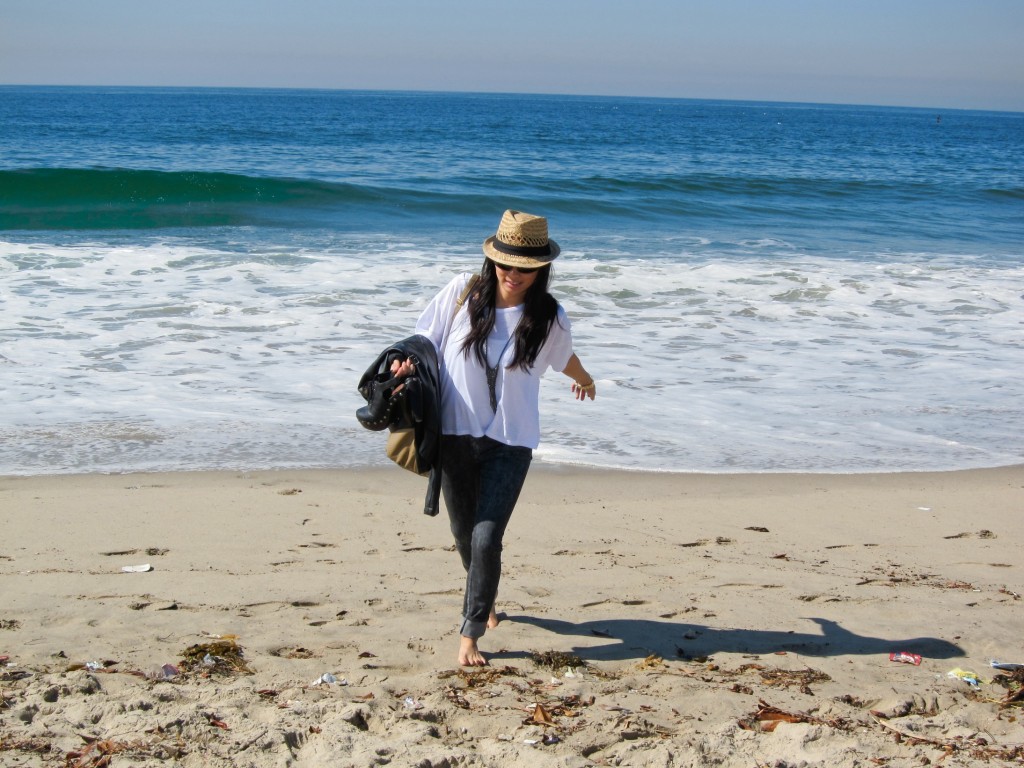 Helmut Lang jeans, Kensie crop top, vintage hat
On Sunday morning before we had to bid farewell to our dear LA we had brunch down on Venice Beach people watching and enoying the hilarity of the characters down there. It was SO amazing to feel the sand in my toes for the first time in way too long. I love beaches and the ocean and I hadn't seen one in a while so it felt really good. I wish I could spend every morning on the beach just to have some me time before the day begins.. someday maybe :)
This was also my first time to wear these Helmut Lang pants that I got on the Neiman Marcus Last Call sale back in August. I got so many amazing deals at that sale - saved me hundreds of dollars for sure! What I love most about Helmut Lang is the attention to detail (as you'll see in these next few pictures) and the techniques used to create cool washes and an edgy minimalistic look. These are some of the coolest pants I have ever seen and hope that these pictures do them justice.

—




Pink's famous hot dogs – I was intrigued and slightly appalled at the line outside this place – easily 50+ people waiting. I thought fore sure that there had to be a celeb sighting but no, really everyone just wanted Pink's.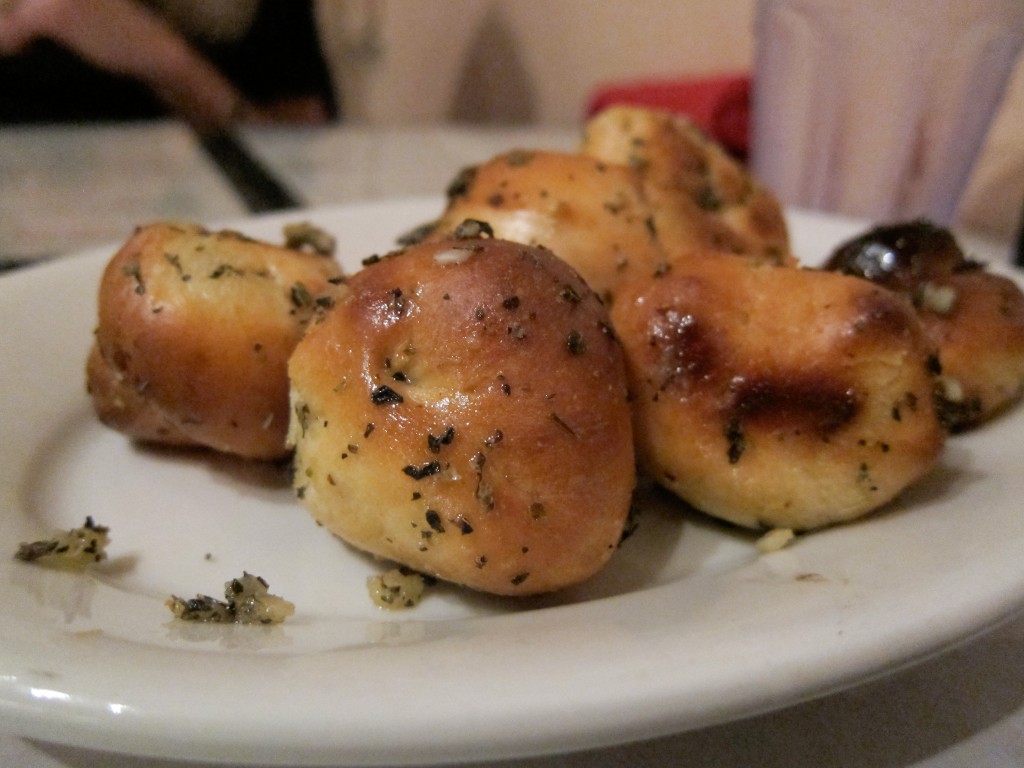 Garlic knots from our dinner in Venice Beach. They walk around and keep plopping more on this plate! So dangerous..
Southwest takes your boarding pass so I couldn't get the typical tray table montage, but I love them because they give me snacks and drink coupons! Well, the last 3 flights I have fallen asleep and missed all of that but it's still an option which is more than others can say! :)
Enjoy your almost freedom, weekend here we come!