May 21, 2014
Chicago Guide with Sosh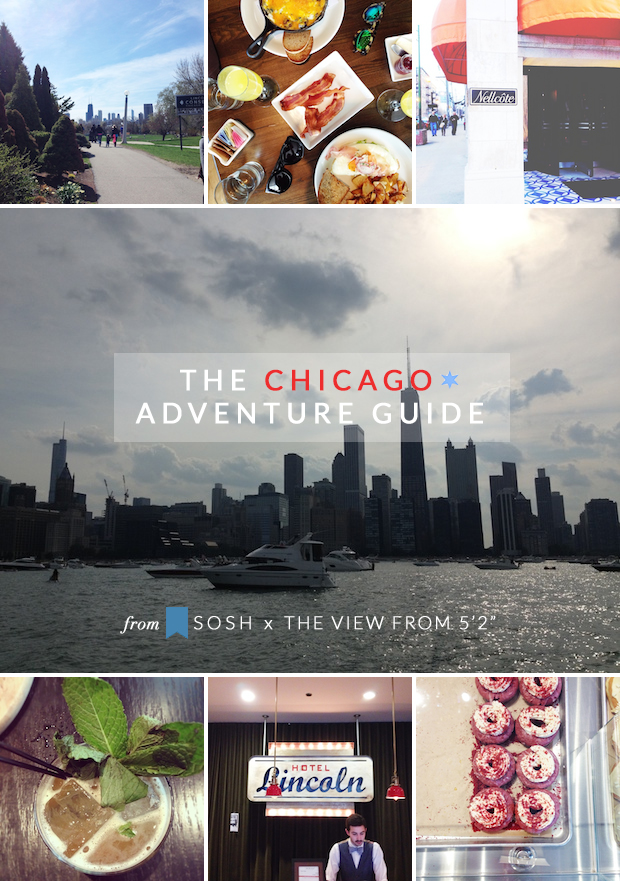 When I first moved to Chicago, I made a point to try as many new restaurants and activities as I possibly could. There was no resource really other than Yelp, Eater and word of mouth for me to discover new places and so I started my own little restaurant map and list of places I wanted to go in my phone. I would've killed for a guide of what to do and where to eat!
One of the benefits of living in a city like Chicago is that there's always a new place to try and something to do. There are countless new restaurants, bars, shops, tours, festivals and farmer's markets in neighborhoods across the city all for your liking. The problem is, sometimes it can be totally overwhelming and hard to keep track of! I can't even tell you how many sticky notes, text messages, and reminders I have in my phone and on my computer for the places I want to try. It's always the case when you're looking for something to try that you can't think of anything, too!
I recently discovered a new iPhone app called Sosh that is the solution to all of my plan-making troubles. The app is a curated go-to list of amazing ideas for the weekend and summer and also categorizes them in an easy to find way. I look at Sosh all of the time to find new things to try all over the city and see what my friends like too. I can scroll through the app when I'm on the train or can't sleep and save some of my favorites that I don't want to forget, and also share my tried and true favorites with other friends.
I had forgotten that one of my favorite restaurants Little Goat has opened a new patio since last summer, so I've added that and getting slushies (my favorite) from Parson's Chicken and Fish to my list and I'm determined to finally go stand-up paddleboarding this summer.
You'll get the scoop on places before you go, find about new things they have or even off-the-menu items that you should check out that you may not have heard of. I had no idea that you could get dim sum on the roof of a hotel near my old place! Even better than just curating a super cool list, it one ups Yelp with reviews, gives you directions and hours all at the tip of your fingers. Not only can you bookmark places and things you want to do, but you can mark all of the places you've been. I like to peek at my friends' lists and see if they've discovered something I haven't!
I've been going through and marking as many of my favorites as possible, but thought I'd also list some of my favorites and are my go-to spots and activities that are more exciting.








Stella Barra Pizzeria  //  D.O.C. Wine Bar  //  Little Goat  //  GT Fish and Oyster  //  Siena Tavern  //  Bavette's Bar & Boeuf  //  Summer House  //  Ada Street  //  J. Parker at Hotel Lincoln  //  Union Sushi + Barbecue  //  Glazed and Infused








Stand-Up Paddleboarding at Lake Michigan  //  Second City  //  The Chopping Block  //  Baker and Nosh  //  Grant Park Music Festival  //  Field Museum  //  Air & Water Show  //  Drive-In Movie // Kayaking
For more ideas, follow me on Sosh!
If you don't live in Chicago, don't worry! Sosh has invaded New York City, San Francisco, Washington D.C., Seattle and is headed to Boston and LA next. Sign up for Sosh (all you have to do is connect your Facebook account) and check out some of the places on my list so far — what are your favorites that I didn't mark?
This post was sponsored by Sosh, but all opinions are always my own. Thanks for reading!