September 15, 2010
New York Fashion Week: S/S 11 (part one)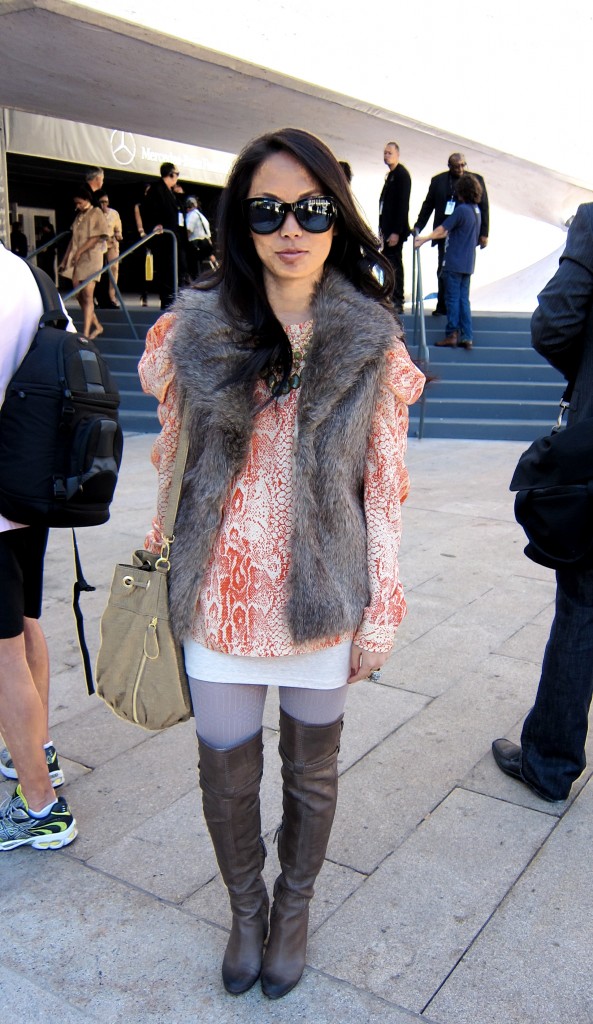 This past weekend I had the most amazing time at New York Fashion Week. The highlights for me were seeing the fabulous outfits that show-goers were wearing, meeting photographers/other bloggers and of course seeing a show! After flying in on the red eye (again) I checked into my hotel (The Hudson Hotel, it was fab) and basically headed straight over to Lincoln Center the new home of Mercedes Benz Fashion Week. Yup, that's right … Bryant Park is a figment of the past. The venue was unbelievable and they were still able to convey the "white tent" feel of fashion week in the central part of the venue. Within the venue itself there were pop ups for Starbucks, Cambria Cove, Kim Crawford Wines, Maybelleine, Tresemme, Sunglass Hut and a media lounge plus Fiji water, Muscle Milk light and Frappucino coolers sprinkled around that allowed NYFW attendees to stay hydrated, nourished and entertained in between shows. Here is a sneak peak at the main tent!

YouTube Inside Lincoln Center at NYFW S/S 2011

—
I was feeling very creative with my outfit for the event and decided on layering a Victoria's Secret blouse with dramatic sleeves over a cream colored sleepwear dress from Anthropologie because the blouse was a bit short to wear alone as a dress. I picked out some Eloise tights from Anthropologie that I love and will be wearing a lot this fall, my Sam Edelman boots from the Nordstrom sale, and the faux fur vest I got a week ago in Beaver Creek. I added some funky rings from Urban Outfitters and I also FINALLY got a fabulous drawstring purse that I am glad I waited for because it's perfect. I was so appreciate of the sweet comments I received from other bloggers and photographers on my style, and the best part was that they were shocked that some of my pieces weren't from any designers. One of my favorite things is to pick out random pieces from different stores/websites and I believe that if styled right, you can make an expensive look on a budget. This entire outfit (minus the boots) definitely cost a fraction of some of the pieces most of the people I saw were wearing.
—
—
I also was able to attend the ADAM show by Adam Lippes and view his Spring 2011 collection. It was very simple and sophisticated and I am sensing based on the show and other shows I viewed at the venue that lace, sheer fabrics, long & light skirts mixed with bolder colors will rule this Spring. The ADAM show was amazing and was inspired by Charlotte Gainsbourg's character in James Ivory's recent film "The City of Your Final Destination". The collection focuses on a soft color palette puntuated by hints of rust and the silhouette is expressed by the juxtaposition of structured elements against more delicate fabrics such as lace, eyelet and chiffon. (*taken from the program) My favorite dress of the show was towards the end and was a gorgeous chiffon dress with a beaded top. I would love to wear that one… so whimsical and romantic. I also LOVED the music – most of it was from an artist called Sleigh Bells and I will definitely be downloading some of the songs. The bright runway lighting made it difficult to capture the looks from anywhere except the press pit, but I was able to put together a still video and some video footage I took of the show. Enjoy!

YouTube ADAM Spring 2011 Collection


YouTube Clip from ADAM Spring 2011 at New York Fashion Week

—
Although I ran into a host of celebrites which I will blog about in the next post this week along with the street style photos, I did have the pleasure of meeting the one and only Rumi Neely, of the blog Fashion Toast. Rumi has made quite a name for herself modeling for so many brands, is the face of Forever 21 in Times Square, sits front row, etc. – but she was asked to model in the Rebecca Minkoff presentation which is so amazing and it's great to see a blogger get to do crazy things. She was absolutely gorgeous and beyond nice, and found that we have something in common being part Asian (she is half Japanese).
More to come so stay tuned this week!