January 26, 2014
Turned Around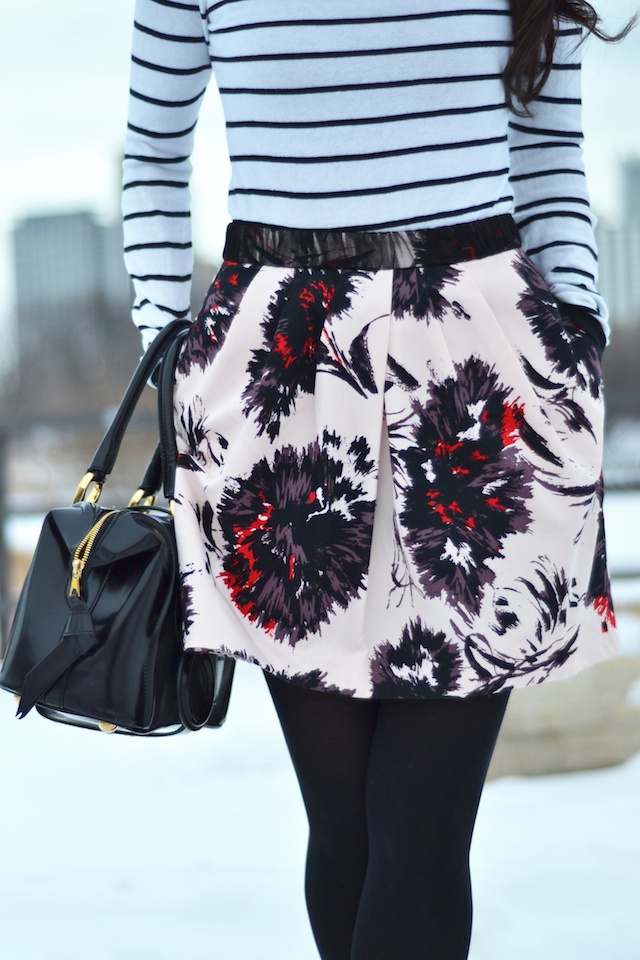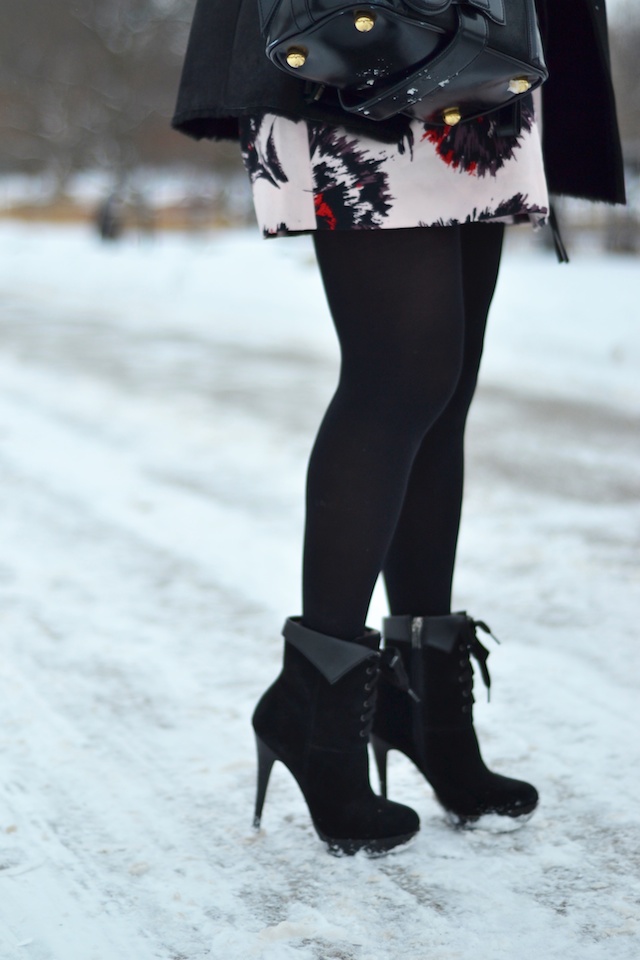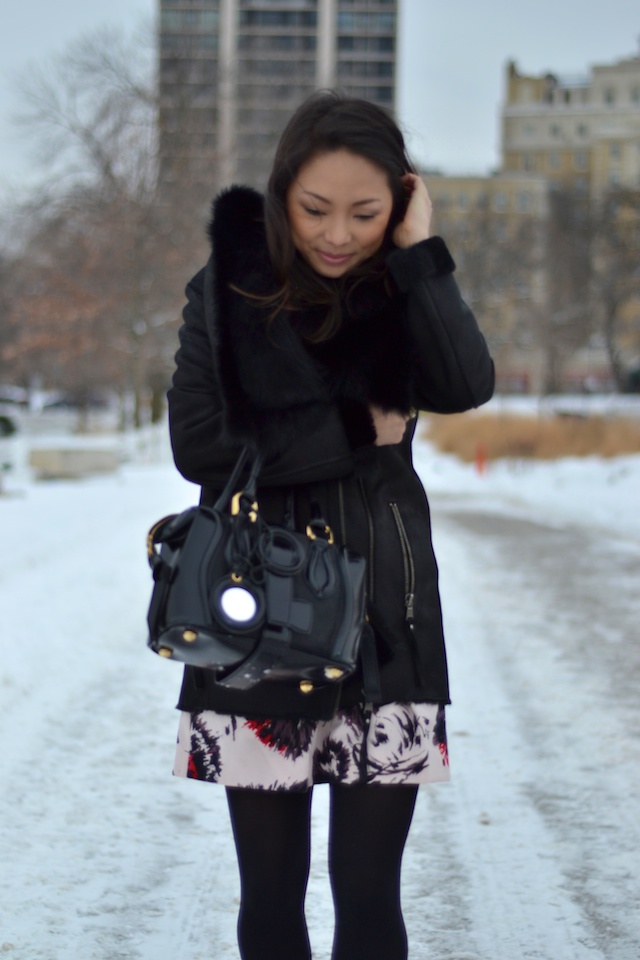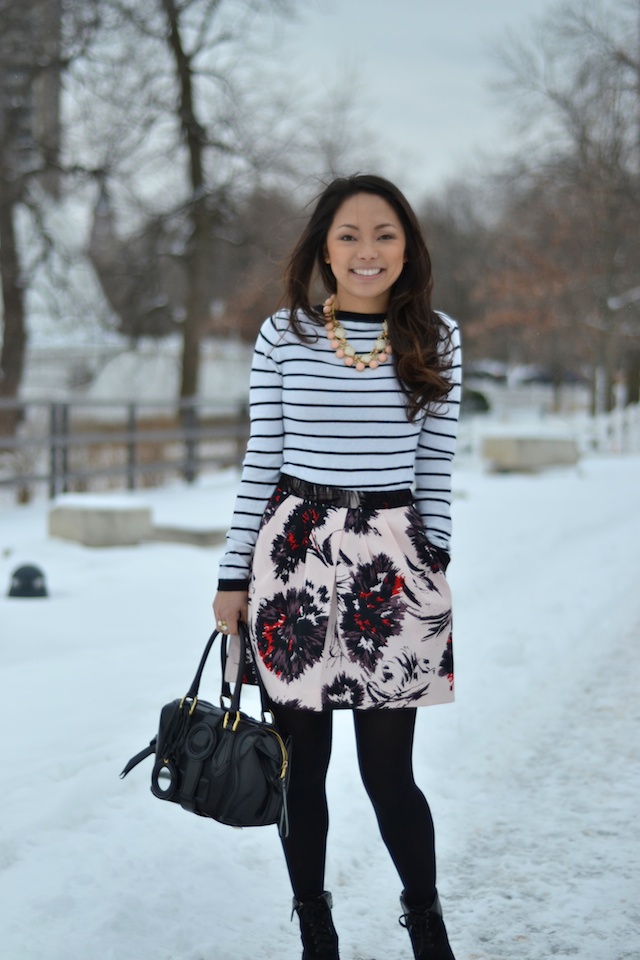 Top: Striped cardigan (worn backwards) via Nordstrom (similar)  |  Skirt: Peter Som x Made In Kind for Anthropologie brushstroke blossom skirt  |  Jacket: Bod and Christensen moto shearling coat (similar)  |  Boots: Colin Stuart black suede ankle booties  |  Bag: Balenciaga (vintage)  |  Necklaces: Sorrelli, J.Crew
The weather just keeps getting colder, and all of my friends (myself included) and I are really trying our best to not go crazy. We've had almost a full month of bitter temperatures and really de-motivating wind and snow. This week in particular might be the coldest week I've had since moving here (yikes!) and so to stay positive and also to keep myself from thinking about moving back to Texas I'm sharing some of my favorite cold weather things this week!
I've never been a big fan of layering – if I had it my way I'd wear shorts everyday and own one jacket. Now I'm learning to embrace it and am trying to find ways to spice it up! It's very easy to leave the creative juices frozen with everything else in this weather, but I'm trying to extend my winter wardrobe by turning my sweaters around backwards and sporting them as tops. It's a really simple trick that will immediately open up more possibilities for all of those cardigans and long sleeve tops you have been wearing on repeat. I learned it from the one and only Oscar PR Girl, Erika Bearman, who gave her stamp of approval!
I've tried this once before in New York with a blue cardigan and gold buttons and decided it was time to start experimenting again. There are a lot of different cardigans that you can make this work with! Here are my few tips for picking the right one:
Make sure it can button and lay flat so that it's easy to tuck in and doesn't show skin in the back
Try and find one that has a higher neckline so that your bra doesn't show. You can always wear a cami/tank underneath if it does or layer another shirt underneath! Deeper neckline cardigans can look great with another color or print peeking out in the back.
Bold and beautiful buttons really make the look more of a statement if you can find one with these
I like to try this when they have something unique to them (stripes, flowers, or a bold color that can stand out on it's own)
I went with stripes and gold button details with this beautiful floral skirt. I love a good collaboration, and when I saw the brushstroke blossom print on this Peter Som x Made In Kind skirt on Anthropologie I just couldn't resist! I wanted the phone case as well but it only came in one for an iPhone 5, but may still snag the scarf – it's gorgeous! You can even layer a cardigan over this facing forwards for a pop of color and an extra warm layer. If you're as cold as I am, give this trick a try! I'd love to hear and see how you style it. Stay warm!
xo,

Photos by Heather Mowatt
 SHOP THE POST: