January 23, 2014
Sweet Home Chicago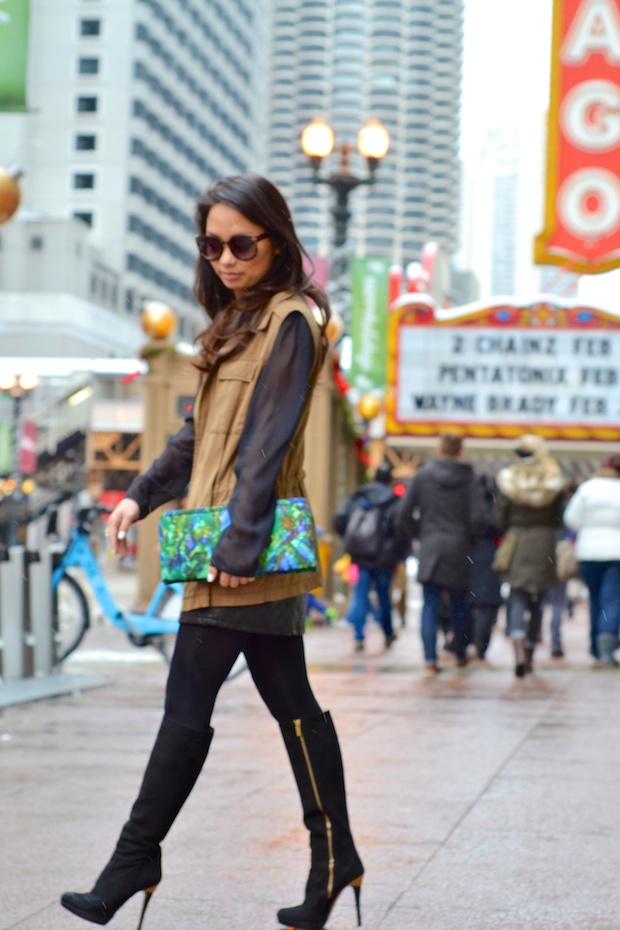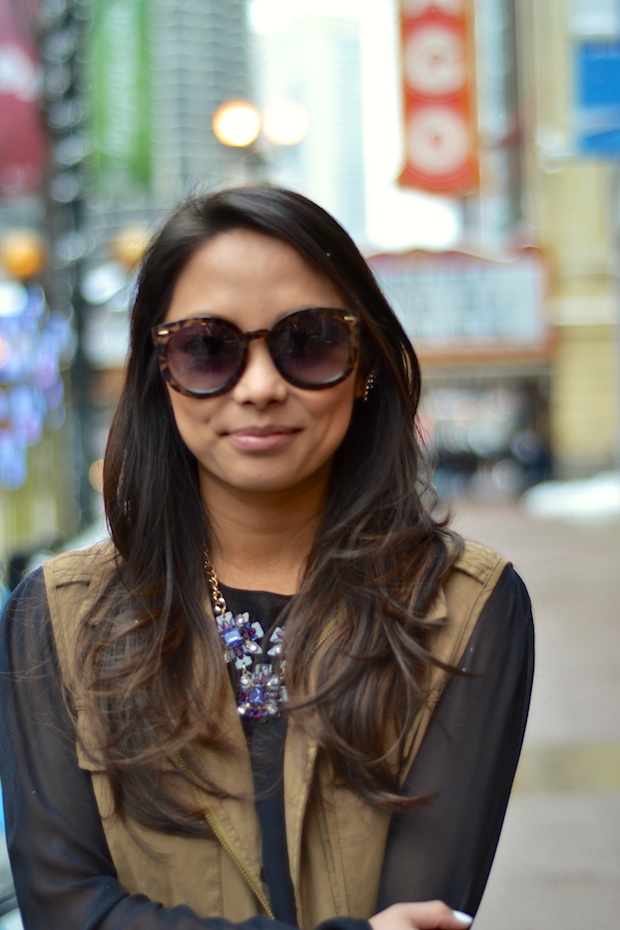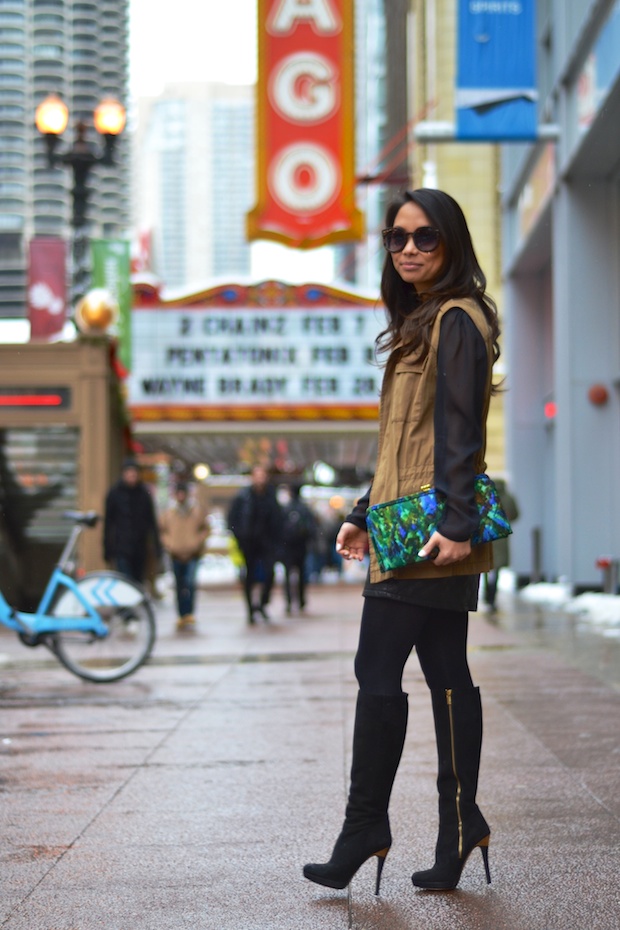 Top: Theory sheer sleeve blouse  |  Skirt: Express quilted leather (similar) |  Vest: Ecote olive green vest  |  Shoes: Michael Kors suede boots (similar)  |  Ear Cuff: Pixie Market (similar here)  |  Necklace: Bauble Bar tortoise maltese necklace |  Rings: Ariella stackable via Nordstrom  |  Sunglasses: Urban Outfitters round sunglasses (similar Karen Walker)
It didn't take me long to fall head over heels in love with Chicago. Although this winter has been rough so far, I'm still constantly intrigued and excited by the possibilities that the city has to offer. Maybe it was the sweet, midwestern charm mixed with the big city vibe that had me at hello. One thing is for sure — my opinion was heavily swayed by the wonderful people that fill this city.
From the chipper and kind cab drivers, the man who takes people up and down the elevator at work for an hour every morning dancing and listening to music, to the sweet woman who makes me coffee across the street, I'm constantly surprised and delighted at how wonderful the people here are. I've made the most amazing new friends lately that I'm so thankful for and I'm looking forward to seeing who else this year brings into my life!
My first year here I had a list going of all of the restaurants I wanted to try and would save every place I had been. What a list we made! I'm determined to try out a few new ones in the next month or two. In particular, Tanta, Blaze Pizza, Au Cheval and Carriage House. I typically read Eater Chicago to find out about new openings and rely on my foodie friends to share their insider knowledge!
I also have discovered some of the cutest boutiques and shops, but I know there's so many more to uncover. I'm on the hunt for great vintage shops – do you guys have any recommendations?
In the next month I want to also…
Go Sledding or Ice Skating
Go to a Bulls Game
Find another great stationary shop
Snag a new dinner recipe from a new restaurant
Spend at least one weekend day in Wicker Park/Bucktown
Do you have any recommendations for me for the above? If so, shoot me a comment! :)
For this look, I decided to take a few pieces I've worn recently and remix them with a vintage clutch I found over the holidays at the same place where I found this satin jacket. I thought it was a really cool and unique blend of colors and I pulled out this vest to highlight the olive undertones. I love that this vest can transition from summer to winter so easily!
It was a warmer day (and by warm I really mean 30 degrees) and I was able to bring out my quilted leather skirt again with tights and these Michael Kors boots that I've been wearing on repeat. Plus, I FINALLY gave in and bought myself an ear cuff. I know it's not something I will wear all of the time, but I just had to try it! This was my first attempt.. what do you think? Would you ever wear one? Looking forward to hearing what else you guys are looking forward to trying in the next month!
xo,

Photos by Heather Mowatt
SHOP THE POST: