January 28, 2014
Winter Recipes with The Kittchen
The temperatures are dropping far below zero yet again here in Chicago and this time I'm preparing in advance! It has been so cold here that all anyone can do is bundle up as much as possible, snuggle up and stay inside with warm food. When it's negative degrees out I know that all I want to do is eat the hottest, most comforting food I can.
I've had the pleasure of getting to know another Windy City blogger (and fellow co-founder of WCBC), Kit Graham, really well over the past few months. Kit's unbelievably sweet and one of the best people connectors that I know. I am always looking to her blog, The Kittchen, for delicious and easy recipes. I struggle in the kitchen and she is my go-to gal for help. We also happen to work for the same company, which is so fun because we get to see each other around the office now! Kit is also the author of The Gourmet Grilled Cheese Cookbook, which is an amazing resource for delicious new ways to reinvent your grilled cheese at home.
I asked Kit to help me (and you guys) stay warm and inspired in the kitchen with three of her favorite cold weather recipes. Check them out below and let us know if you try any of them!
Spaghetti Squash with Vegan Spinach Pine Nut Pesto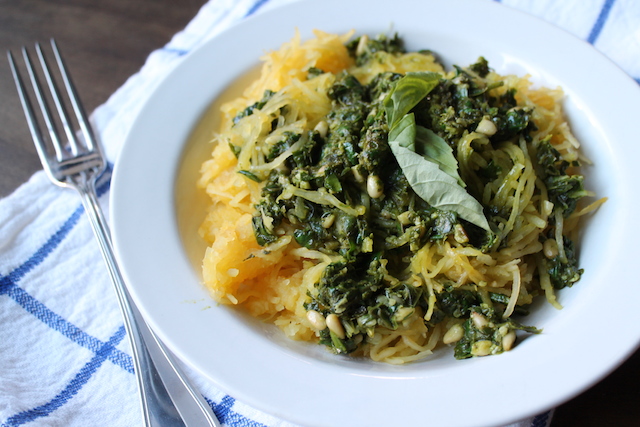 Spaghetti Squash with Spinach Pine Nut Pesto is both vegan and paleo, and it is so full of flavor and texture that you won't even realize that it is low carb, dairy free, and mostly vegetables. Spaghetti squash is a nice replacement for pasta when you can't have it, and it is quite filling.
Serves 3
You will need:
1 Spaghetti Squash
4 tablespoons Olive Oil
Salt and Pepper
1/4 cup Pine Nuts
3 cups Spinach
2 tablespoons Lemon Juice
1/4 cup Basil
1 clove of Garlic
For the full recipe & instructions head on over to The Kittchen >>
—
Chunky Beef & Three Bean Slow Cooker Chili
Chicago's bone chilling cold inspired me to make this hearty chunky beef and 3 bean chili. Instead of using ground beef, I went to the butcher at Mariano's and got finely diced beef so I could make a chunkier chili. I loved the tender pieces of beef – they were much more flavorful than ground beef. The poblano peppers added a smoky spiciness. Perhaps the secret to a perfect chili is diced beef, poblano peppers, and a few slices of bacon. This is one of my favorite recipes and I am sure I will be making it often since it is so easy to prepare.
The preparation time for this meal is just a few minutes, and it is easy to make in large batches. I made this on a Sunday to give myself a head start on meals for the week. Chili recipes are easy to personalize. Add more tomatoes if you love them. Use different beans if you want. You could even use diced chicken and chicken broth and make a chicken chili.
You will need:
1 1/2 pounds Beef (finely diced, or ground)
1 can Diced Tomatoes
1 can Tomato Paste
1 can Black Beans
1 can Pinto Beans
1 can Kidney Beans
1 jar Salsa
2 Poblano Peppers, chopped
2 Bell Peppers, chopped
1/4 teaspoon Pepper
1 teaspoon Chili Powder (and more to taste)
1/4 teaspoon Garlic Powder
1/2 teaspoon Red Pepper (and more to taste)
Beef Broth (2-3 cups)
3 slices of Bacon, chopped
For the full recipe & instructions head on over to The Kittchen >>
—
Roasted Tomato and Burrata Bruschetta
This is an appetizer so hearty you can have it for dinner, which is just what I did. The bread is crunchy, the tomatoes are roasted until they are velvety, and the burrata is creamy. This is a simple no fuss recipe that shows off each ingredient. Just be sure to eat it Balena style – with a fork and a steak knife.
This recipe makes enough for 4 appetizer servings. Total time: 35 minutes
You will need:
4-6 ripe medium-sized Tomatoes
2 tablespoons Olive Oil
2 cloves of Garlic, minced
1/2 teaspoon Salt
1 1/2 tablespoons chopped Fresh Basil
1 teaspoon Fresh Oregano
1/8 teaspoon Pepper
Fresh Italian Bread (unsliced)
Kerrygold Herb and Garlic Butter
Burrata (or any Fresh Mozzarella)
For the full recipe & instructions head on over to The Kittchen >>
Stay warm! xo,

All images and recipe summaries/content via The Kittchen