January 29, 2014
Air Yoga with Nike Training Club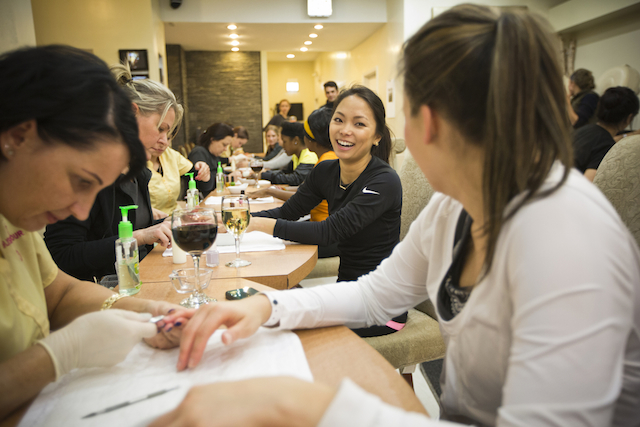 Tops: Nike Hyperwarm longsleeve shirt (c/o), Fabletics tank (c/o)  |  Pants: Nike cropped leggings  |  Shoes: Nike studio wraps (loaned for class)
Last week I had the pleasure of going to my first ever air yoga class thanks to Nike Training Club & NTC week! We celebrated a week of amazing workout classes and some unexpected but welcomed pampering from the NTC crew. I was really excited to get to go to the class because it's something I had recently heard of and had been really wanting to try. I know I mentioned before, but I looooove classes! I need someone to keep me engaged and push me or else it's very easy for me to decide to stop and take a water break.
I was really surprised at how easy it was to get in the groove with the air yoga. I assumed we were going to be hanging upside down the whole night and preparing for our own Cirque du Soleil show, but it was a lot different than that! We used the hanging cloth to aid us in traditional exercises like planks, push ups, air squats and jumping jacks. We spent the entire hour moving without a break, it was quite the workout! The most interesting moves were when we were using resistance of the cloth as a weight. It was nice to not have to actually pick up weights but know that you were getting just as great of a workout. I was most surprised at what an amazing upper body workout it was. I'll definitely be back! I asked our instructor, Trista Greco, to weigh in on some of her favorite things about air yoga and her tips. Here's what she had to say!
1. For anyone who hasn't tried air yoga, what can you compare it to workout wise?
For anyone who hasn't tried AIR – Aerial Fitness, I would liken it to the toughest TRX and barre class you've ever tried. There is a huge strength component in these classes, but there is absolutely no shortage of a cardio workout! I would have to say that you get the best of everything. Your heart rate will go up, you will sweat, and you will completely fatigue your muscles all while having fun doing tricks in the aerial silks!
2. Can anyone do it? 
I would absolutely encourage everyone to give AIR a try. It is a lot of fun, and truly a fantastic class for anyone looking to enhance their regular weekly routine and spice it up for more of a challenge. I must warn you, though, it is a TOUGH class. Some might argue that it is a borderline brutal work out so it is not for the faint of heart.
3. What are your favorite aspects of air yoga – what do you get out of it that you can't get from another workout?
My favorite part of an AIR class is that, simply put, it is fun. You have so much fun flipping and flying through the air that you almost forget that you're so exhausted. I have never been as sore from any type of fitness class as I am from AIR. The different tricks are so much fun, that even if you've reached your fatigued point, you still have the will to try again. It is harder to muster up that last burst of energy when you're doing something redundant that you have done every day for the last year(s). That is not the case at AIR – Aerial Fitness. You'll never want to check the time during a fitness class again!!
4. Where can people go to air yoga in Chicago?
There are two locations for AIR in Chicago. There is one in River North and one in Lincoln Park. Check out airfitnow.com for more details and to reserve a class!
5. What other workouts are you doing in this crazy weather to stay in shape without freezing?
The best thing I have found to do in this insane Chicago winter is the Nike Training Club (NTC) app. When studios close, and I can't make it to teach or take my regularly scheduled classes, I just whip out my iPad and open my NTC app. I can get a sweaty work out in from some of the top Nike Athletes and Trainers with the click of a button! Each work out on the app targets different goals, and you can even personalize it to what you're hoping to gain with your fitness resolutions! Amazing.
You can follow Trista on Facebook to keep up with her and the other classes that she teaches!
NTC also held a very special speakeasy party and workout this weekend that I was able to attend. It was a great workout — who knew that roaring 20's dance moves could be great cardio? ANDÂ I have such a special surprise to announce.. at the end of the workout they announced a special tour that they're taking …
and they selected me to go with them to Los Angeles during the tour! (insert a lot of jumping up and down)
I'm so excited for the chance to travel with Nike and celebrate the brand, NTC and definitely to see some warmer weather in the coming months. Stay tuned and I'll keep you posted as the journey to LA gets closer!
xo,

All images prior to the interview via Nike Training Club + Clayton Hauck