July 1, 2014
Sale Splurges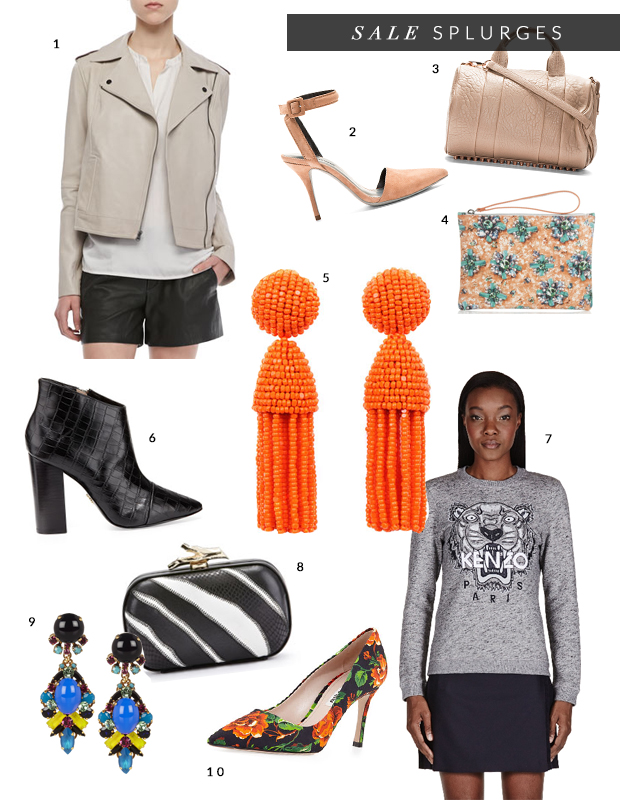 This is my favorite time of the year for the obvious reasons – there's beautiful weather, so much to do and the summer just puts a smile on my face. When it comes to shopping, I think it's also one of the best times to scoop up amazing things. There are a ton of half-yearly sales at some of the big stores and websites right around this season and I find myself excited to see what they have in store every year. I've scored my favorite Proenza Schouler sandals, Alexander Wang heels, and an amazing Helmut Lang dress and more by patiently scouring these sales.
Lately I've had a few people ask me about how to really build their wardrobe out. One of the most difficult things about this for me is knowing what to splurge on and what to find at an average retailer. I've developed a little list in my head of major staples that I know will last a long time and that I'll continue to wear throughout the next phases of my life and when I find something great that fits the bill, I'll go for it.
Most often I find myself looking for staples that I've picked out here. A great, neutral or black motorcycle jacket is something that can be worn with jeans or with a dress or maxi skirt. Quality leather is important and will last you for a long time. I also search for both statement heels like these Miu Miu floral pumps that are a great way to dress up any outfit and black booties with a unique touch, like crocodile that you know you'll wear with everything in the Fall/Winter.
I'll also search for bolder statement pieces that I normally wouldn't buy, like these Oscar de la Renta tassel earrings with a huge pop of color or evening clutches that can be worn out to dinner or to weddings. I will usually keep my eyes peeled for something that isn't near as practical, like this Kenzo Paris tiger sweatshirt, just for fun. What are the items you are currently on the hunt for now that it's summer sale season?