January 24, 2017
Getting Your Seasonal Shopping Fix
I usually try to slow my roll when it comes to spending and hit reset on my budgeting during January. But by the third week of the month, I get the itch and usually have a hard time resisting.
This sounds silly but I really love having other people pick things out for me. I get so one track minded about the things that I like I end up either getting a ton of the same thing, or just don't see something that would actually be very fitting for my wardrobe.
You've probably seen or heard of a ton of monthly boxes for just about everything – cooking, beauty, fashion, dog treats, you name it. It wasn't until recently that I finally tried one that I really fell in love with and made sense for me. If you haven't heard of The Zoe Report Box of Style, let me introduce it to you!
What makes this one so special is the curation of the pieces. Instead of being monthly, it's one box every quarter, meaning you get a curated set of goodies for that season. It's not just a ton of beauty products or a handful of clothes, but carefully curated pieces that will add to what you already have in your closet already. For less than $100 you can add something to your beauty routine, wardrobe, accessories and more in under the price of one of those items. It's just that good!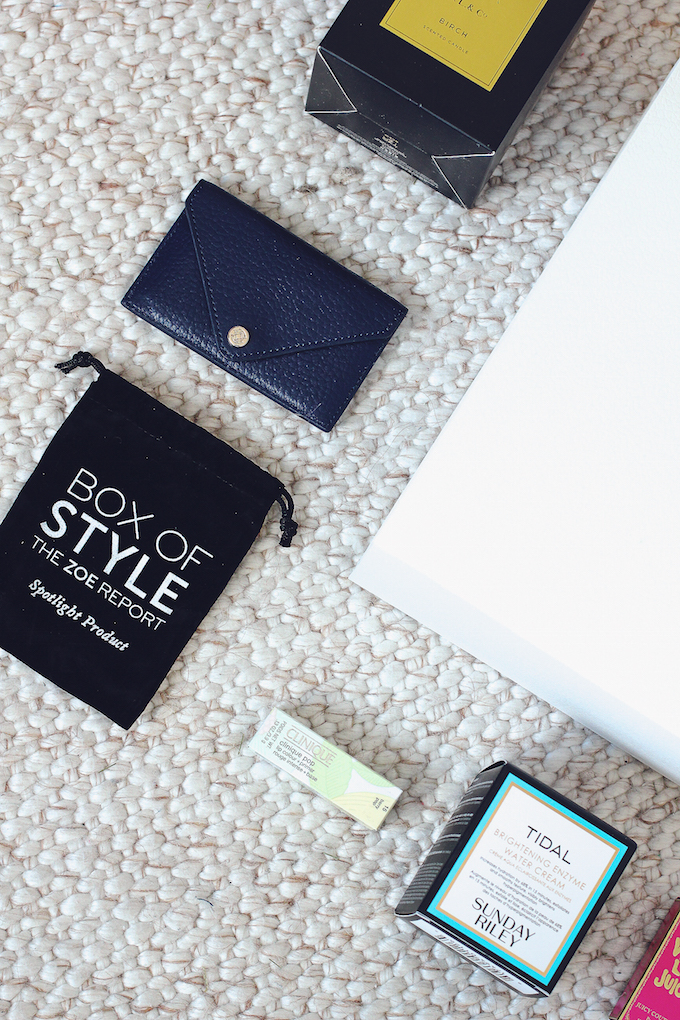 Inside the "Winter box" there was a beautiful cable knit beanie, an insanely good Dylan Lex necklace (that alone retails for $200), a winter shade of lipstick, Sunday Riley enzyme brightening cream, a Dagne Dover card case, and a custom wintery candle.
If you're like me and love getting surprises throughout the year (but don't or can't spend a fortune on them) this box is for you. It's also a fabulous gift for someone's birthday or for something like Valentine's Day right around the corner!