March 3, 2011
NYFW A/W 2011: Jenny Packham
"Men cluster to me
like moths around a flame
and if their wings burn
I know I'm not to blame." – Marlene Dietrich
Hair | Leonardo Mannetti for L'Oreal
Makeup | Talia Shobrook for Temptu
Music | DJ Rene Goulet
Jewelry | Jenny Packham
Shoes | Gina for Jenny Packham
(all notes above from the show notes)
If there's ever a way to start off February 14th, the day of love, at New York Fashion Week, this was it! The queen of all shows that I attended at NYFW, Jenny Packham left me spinning and dying for a replay button. It was my first ever experience sitting front row at a show (a lucky twist of fate, but I'll take it) and I couldn't have been happier that I was able to see this particular show up close.
The entire collection was absolutely beautiful. Every piece that came down the runway I was dying to have for myself (even the fully beaded, fitted long-sleeved jumpsuit). Most of the time I find myself gasping or the occasional utterance of "wooow" once or twice in a show, but Jenny Packham was full of stunners. To me, Jenny Packham's collection totally defined how a woman wants to feel – confident, elegant, sexy, and fun. Every model that came down the runway seemed to embody those characteristics because of how ethereal and ultra-feminine this collection was. A home run in my book.
Side note: Kudos to you, JP for your casting. I was really blown away by the beautiful Asian models that walked the show and being somewhat Asian myself I was partial to them :). A recent report by Jezebel stated that 84.8% of the models used at NYFW were white. That's a lot. So way to branch out! :)
Beading, tulle, and chiffon were common denomintaors in this collection – and so beautifully executed. Sheer in all the right places, her gowns were a perfect balance of sexy and elegant.
—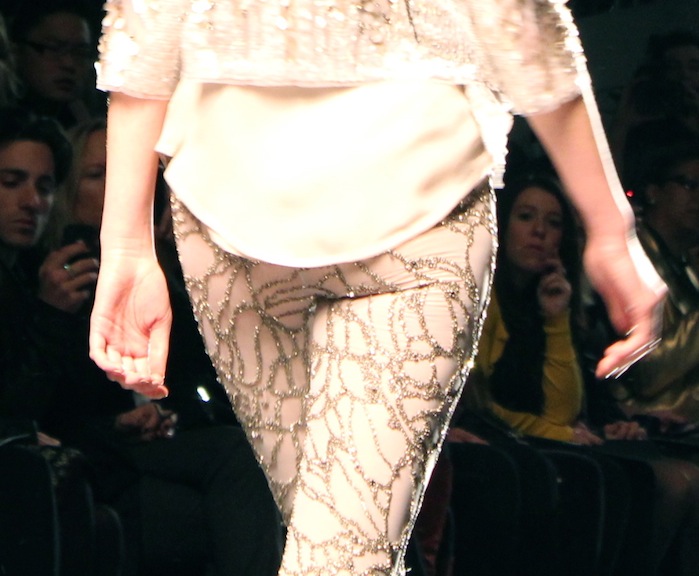 details on the insane beaded leggings




"Open backs are sexy. The new cleavage… well if you have a good back." – Peter Davis
Hope you guys enjoyed this show as much as I did! What was your favorite look?