April 8, 2014
NTC Tour LA Photo Diary Part II
DAY TWO
7:59 a.m. Â Ahhhhhh.. the feeling of waking up to an alarm and not being completely upset. If only I could wake up to this view everyday, I'd be a morning person. Well.. probably not but a girl can hope, right?
8:32 a.m. Â We wander down for breakfast al fresco (again) with some of the Chicago crew.. Melanie and I decide we're swearing by a breakfast of fresh fruit, greek yogurt with honey and granola and an egg white omelet. We're currently taking applications for kind people who are willing to come over and make that for us on the weekends.. that and take out our trash.
8:38 a.m. Breakfast with the girls (who are just starting to get to know us) ends with them starting realize how funny Melanie is (without even trying) and I just laugh to myself thinking "man I'm lucky I get this ALL the time"
8: 45 a.m. We start walking around the courtyard to kill time which ends in a full photo courtyard photo session (because it's too pretty not to). Melanie: Can you take a picture of us here? How about over here? Wait one more over here! Let's high five! Sam.. Sam did you get it?! Sam!!! Sam to us: You just made me walk around the entiiiire courtyard taking pictures of you guys.. good thing I already like you.
9:56 a.m. It's almost time for us to leave and we're all dressed and ready to go. I'm having flashbacks of going to soccer tournaments and feeling like I need to be listening to pump up jams!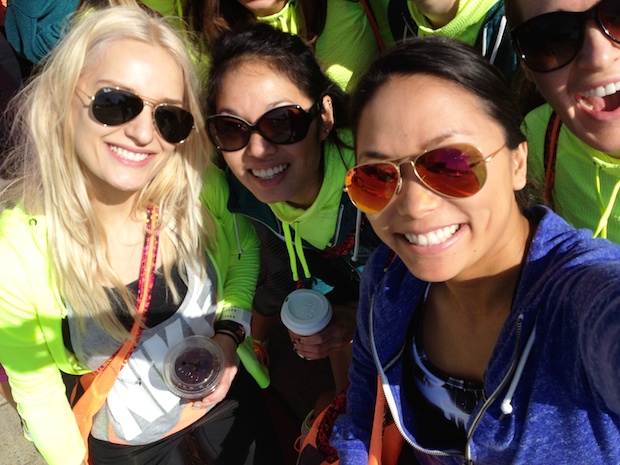 10:17 a.m. Â Finally everyone is downstairs and accounted for.. off to the event we go! :)
10:19 a.m. Â It's a red light? Let's take a giant group SELFIE! (Ellen made it look cool, so can we right?) …… Crap. I only got 3 people in it and Melanie's mouth. These short arms…
10:26 a.m. Â We're walking towards the Santa Monica Beach and the music is getting louder and louder and louderrr!!
10:31 a.m.  So we already knew the rolled out the red carpet, but then they literally did! I see these things on E! News and Instagram, but not in real life.. if this is what it feels like to roll up to a real one, no wonder Jennifer Lawrence falls every time .. this thing is intense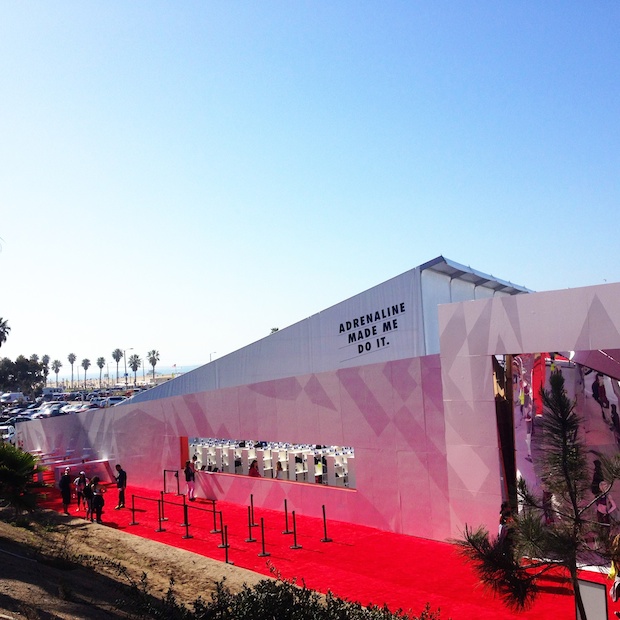 10:55 a.m.  Melanie and I step into the tent and are in shock of how cool it is inside. There are 3 giant jumbotrons with NTC logos and a three-point stage in the middle of it all, studios on either side of the main stage, a pop up Whole Foods station, and more.
11:05 a.m. We pick up our jaws and start walking around the venue.. in the back towards the beach there are stations for sunscreen and colorful hair ties in case you needed to touch up and protect your skin, massage stations to help keep your muscles loose and a Braid Bar and Nail Bar. I really wanted to get my hair braided and Melanie really wanted a massage.. you can tell where our heads were at pre-workout.
11: 05 and 30 seconds a.m.  Wait… is that group of girls is doing handstands at the front of the stage? That's awesome and all but I haven't done a handstand since I was 6 and I reeeeeally don't want to injure myself before the day starts, so I'm gonna keep standing here and just watch them.
11:05 and 36 seconds a.m.  WAAAAITTTT A MINNUUUUTTTE…  that was Gabby Douglas in the middle of them!!!! Insta-regret.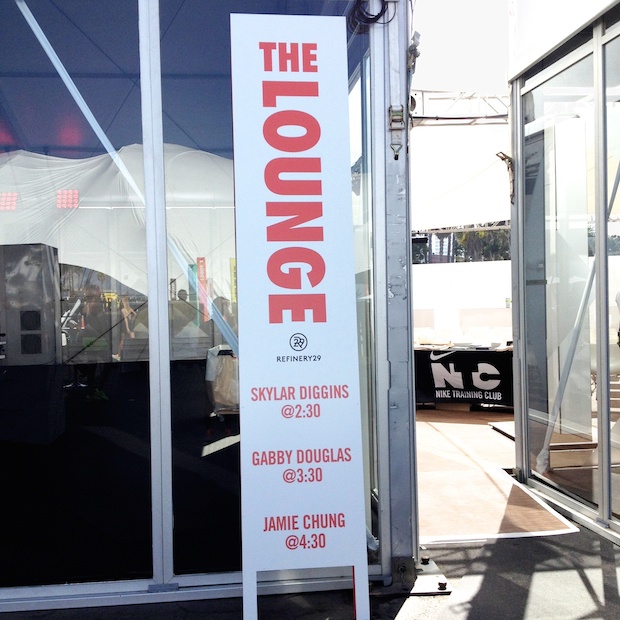 10:43 a.m. We pass by the Refinery 29 lounge and see the guest appearances.. Skylar Diggins.. Gabby DOUGLAS!… JAMIE CHUNG!!! (complete girl crush swoon) How did they know she's my asian-american idol?!
11:09 a.m. One of our hostesses snags us and says to meet her at the Fuel band station in 10 minutes for a surprise with Seobia, one of the other Chicago crew members. Ahhhh more surprises!
11:16 a.m. Â We get to the Fuel Band station where Lauren and Cherie inform us that we have been chosen to be styled by a Nike celebrity stylist for the Refinery 29 style chat. Hold the phone.. seriously? Before we could even process we were whisked to the back trailers to get changed for the segment.
11:20 a.m. Â And on our right we have Derek Hough warming up his dance routine. Shirtless.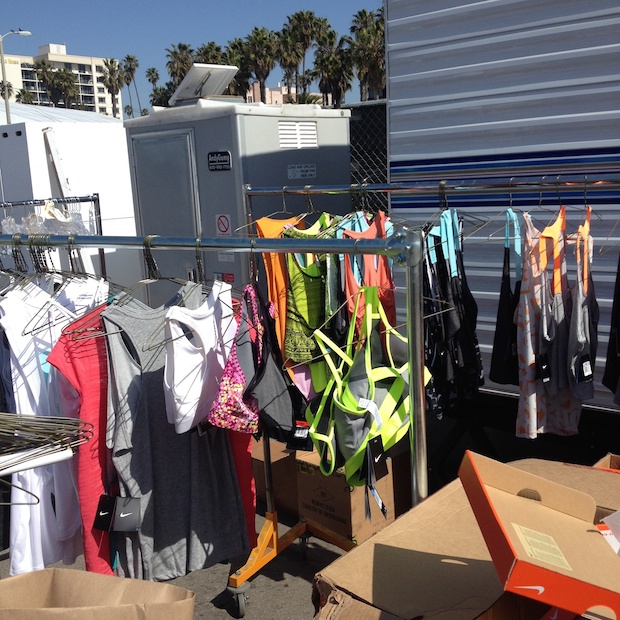 11:22 a.m.  We meet Melanie, the head stylist for the event, who starts working her magic. She puts Melanie (my roommate) in a streetwear look of Nike wedge dunks, black Just Do It pants, a black sports bra and a neon Aztec print tank top. I can say this because she's one of my best friends and I live with her (and she said it herself first) but she's never looked so cool in her life. She looked like a street style badass.. and she was really excited about it as you can see.
11:25 a.m. Â They put a little makeup on us, and since I'm already backstage in a trailer I'm really feeling like I'm having an out of body experience. This is too cool!
11:24 a.m.  Seobia gets decked out in the high performance look with amazing loud pants and a pink fitted top with breathable holes in the back and pink high performance shoes. She always looks so fierce so it's the perfect look for her.
11:26 a.m.  Melanie (the stylist not my roommate) styles me in the yoga/barre look – it was stretchy cropped leggings, a light support neon trim bra (that is really flattering for smaller chests) and a loose, longer tank. Everyone wants to feel comfortable at yoga – you need to be able to move freely and not have a top riding up or pants that are too tight. I also wore the studio wraps that help give you support and grip so that you can focus on poses instead of trying not to fall.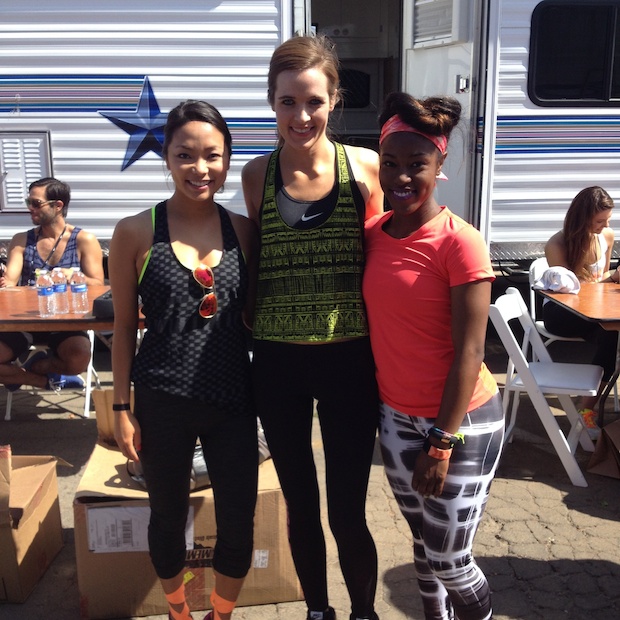 11:48 a.m. We model the looks, snap a  few pics and exchange Instagram handles with Melanie and Cherie and then they tell us we get to keep the clothes. We.. die.
12:09 p.m. We run over to the Whole foods station and scarf down some snacks and juice and are starting to get nervous.. ahhh! So much excitement and we haven't even worked out yet!
12:24 p.m.  Here we goooooo! The event kicks off and it's the coolest opening act I've ever seen in real life. Derek choreographed the dance – something straight out of a music video or maybe Step Up 5, the Nike battles. The entire crowd was jumping around and cheering.. it was awesome.
12:34 p.m. Â Gabby Douglas comes onstage and does the perfect Gold Medal Olympian wave, which by now I'm pretty sure she's perfected
12:47 a.m. The Master Trainers get all of us set up and we start our warm up. We're doing lots of active stretching, plyometrics and things to get our heart rates up and our legs warm. Then we moved into some pushups and partner activities with resistance and core… and pretty soon our warm up is a full blown workout and the day is underway!
1:32 p.m. Our first stop of the day is Flywheel. I'm not gonna lie.. I'm a little scared. I've never tried it before and am not a big fan of spin so here goes nothin!
1:44 p.m. Â Flywheelin' it up! My legs are on fire and I'm dripping sweat but Melanie wanted an action shot.. thanks Mel :)
2:16 p.m. Flywheel is over and my legs are BURNING, but it was actually a TON of fun. You're almost dancing and running on a bike but to music.. it's unlike anything I've ever done before. I'm excited to try it when I'm back in Chicago.
2:38 p.m. Â Lunchtime in the suntime. Ahhhhhhhh. Can this day last forever?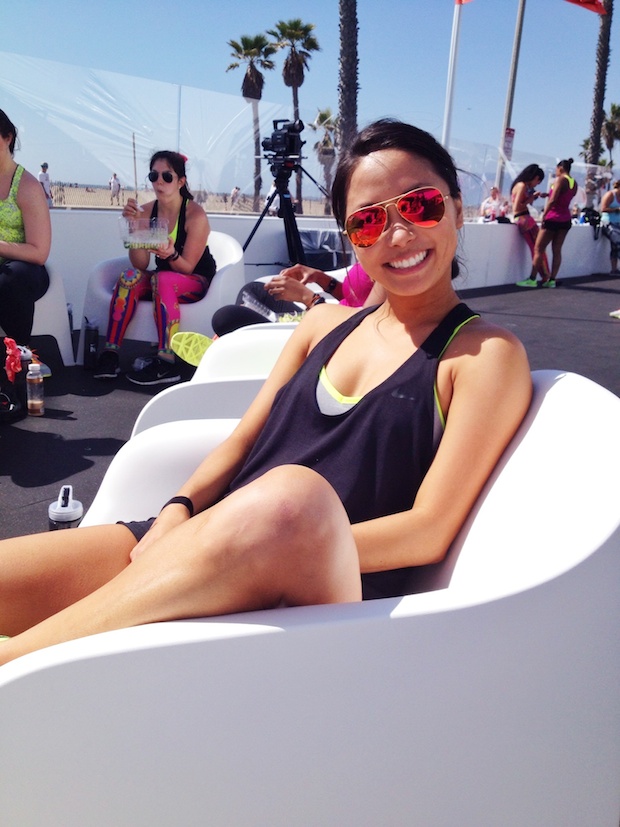 2:48 p.m. Â Time for a surprise picture with Skylar Diggins! Â The whole crew was given a really cute headband that she helped design with Nike and we all sported it for a picture in front of the giant Nike swoosh at the back of the event.
2:52 p.m. Â Work that headband!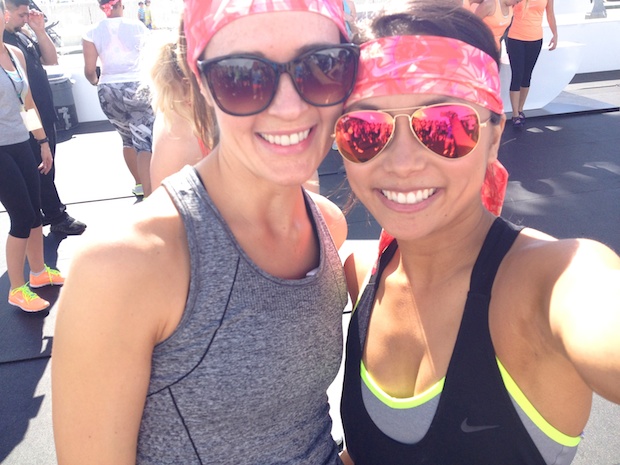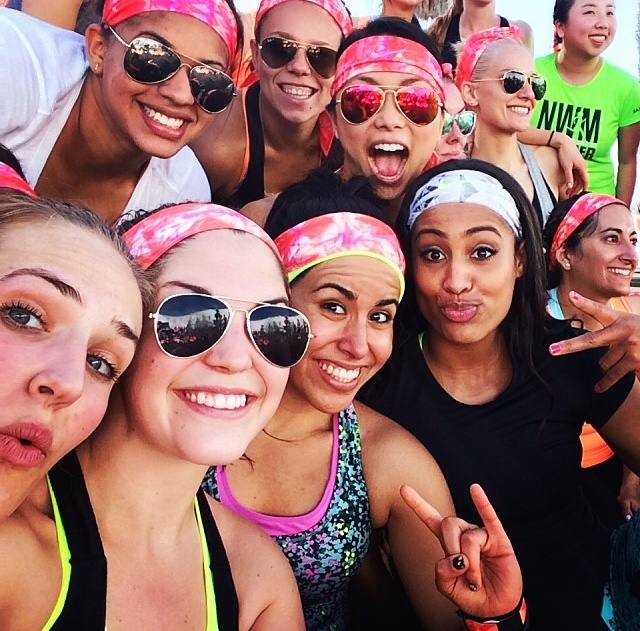 3:38 p.m. Â Flywheel already hurts.. I'm gonna be waddling to the beach tomorrow. Oh well, it's time to DANCE!
3:44 p.m. We're doing Hollywood Cardio Dance with Derek Hough and some of the master trainers. I was super excited about this and it was even more fun than I had thought.
3:53 p.m. The center of the stage looked like the filming of a music video or at least rehearsal.. the outskirts on the other hand (aka all of us) .. not so much. We learned an entire choreographed segment in about 25 minutes and then were performing a few times. It was fun, but sadly my calling is not in back-up dancing :(
4:29 p.m. Â Slowing things down a bit, we're ending our day at Barre3. Really thankful for that pedicure we got pre-trip so that I could take this picture of the awesome studio wraps they gave us! I feel like I could join Cirque du Soleil but they would never take me after they saw my performance at Hollywood Cardio Dance right before this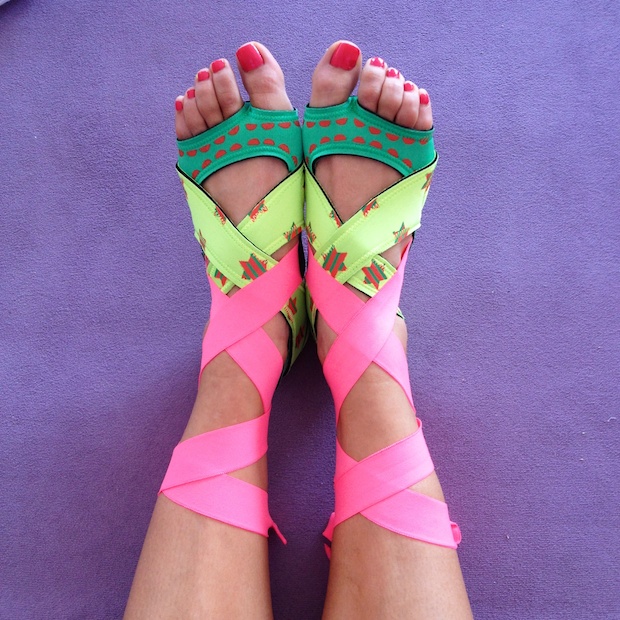 4:47 p.m. Ok, so this isn't quite the cool down I was hoping for but it's so awesome and I can feel myself getting stronger. I am excited about the Barre3 method and these instructors couldn't be nicer. But, feel. then. burn. Holy cow!
5:23 p.m. WE DID IT! WOO HOO! The event ended with all of us burning 4 million fuel points and a final blowout with confetti. Hands down the most exciting workout of my life.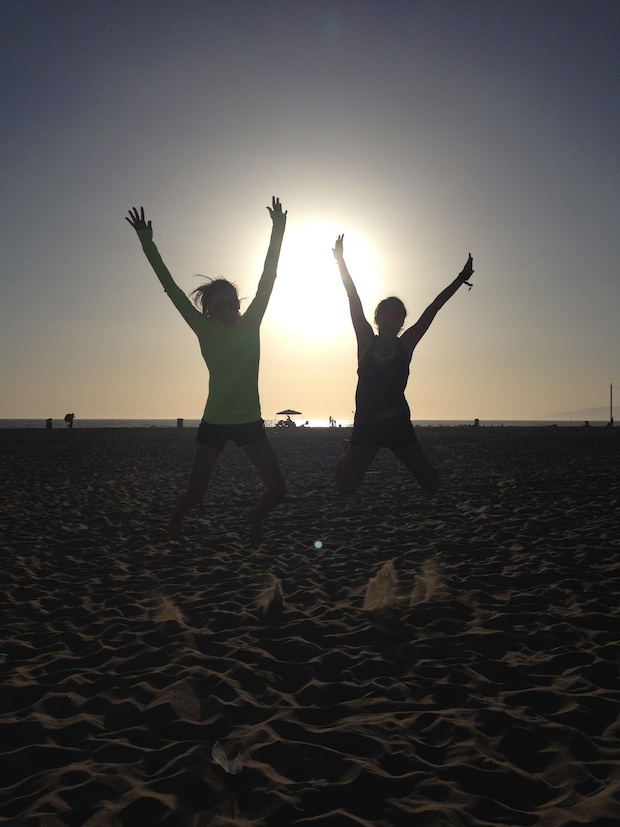 7:13 p.m. We get whisked away to dinner after quick showers and have a private space reserved on the rooftop of a spot in downtown Santa Monica. We're all exhausted and hungry, but getting sad that the trip is over half over. I had a blast getting to know some of the Toronto girls and LA girls we sat with. It was crazy.. at one table we had girls almost 10 years apart!
9:50 p.m. Â Stuffed from our incredible dinner we head to our next *surprise* destination.. soon enough we're at the Pier riding the Ferris Wheel and taking in the city from above. What a day/night!
9:52 p.m. Â Did I mention I made Melanie wear ALL of her gear to dinner (namely her new leggings and the Dunks)? Oh I didn't yet.. good thing I have PROOF
12:23 p.m. Â We hit the hay, and we hit it hard. I haven't been this tired since my college soccer days! Just one more day…
DAY THREE
8:27 a.m. Â Breakfast meant packing, which meant leaving, which meant extreme sadness ensued. Why can't it last foreverrrrr?
9:14 a.m. Â Luckily, we were joined by the beautiful ladies of Barre 3 (with Sadie Lincoln the founder below) who sat with us all morning and talked Barre, our cities and their favorite ways to stay fit. Two of the instructors are now best friends and both have equally toned and perfect arms that we wanted to steal or at least trade our omelettes for.
11:23 a.m. We head back to the hotel and say goodbye to the first wave of girls who are flying out (so sad!) and then hop on a bus to "the beach". Or at least that's what we thought.
11:51 a.m. We arrive at a private beach in a cove and find out that we're all going to be doing stand-up paddleboard yoga! WOO HOO!!
11:57 a.m. YESSSS!!!!! I've always wanted to try stand-up paddle boarding so I'm giddy. Somehow I've yet to try it but am convinced I would do it everyday if I could because I know it's up my alley. The other girls who have later flights grab our catered lunch and start playing beach volleyball and soaking up the sun!
12:12 p.m. Our first group gets setup with boards and sized for our paddles (I'm too short for the lowest height of paddle but the guy assures me it'll be fine.. story of my life) and wade into the water. After about 5 minutes of explaining which way to hold the paddle and how to use it we kneel on the board, stand on the board and are headed out into the middle. Whoa! I'm up! And I haven't fallen over! (Melanie and I look at each other, excited and scared at the same time)
12:19 p.m. We paddle out and I'm loving it. I'm really surprised at how easy it is if you're going slow and just staying steady. I was expecting it to be a little tricker to paddle and balance, but I think I could stand on that thing all day. We get a good ways out, drop our little anchors and that's when the fun begins.
12:21 p.m. We start doing real yoga in the middle of these boards. I'm talking, downward dog, planks, side planks, one legged lifts, warrior pose, and even headstands! I'm amazed at how balanced I am even though I'm on a floating device.
12:28 p.m. Some of the girls make it up into standing head poses and Sam (from San Francisco) next to me has a Go Pro on her board so I shoot her doing a headstand on her board… such a cool moment to capture.
12:32 p.m. Seobia and Sam do headstands, and someone else does another crow-like one legged thing perfectly. Sarah: "Now let's move into a back bend." (One side of my brain) Shoot, I passed up the handstands with Gabby Douglas .. (the other side) but I may fall in … (they agree) oh well, YOLO. (Sam caught it too which was so cool)
12:36 p.m. The instructor took us through more poses and at the end we just laid on our boards for a solid 5 or so minutes. I took that moment to soak in what an incredible weekend it was. Not just the clothes and trip itself, but the strong community and movement that Nike has created is really incredible. The stories from the girls in Austin, New York and San Francisco, etc. were awe inspiring. We had a group full of business women, entrepreneurs, students, fashion directors, teachers, marathon runners, dancers and more who were all there with a commonality – we love working out and feeling good.
1:15 p.m. The bus is here? Ok.. I'll get on it after I put away my towel. And pack the 3 things I brought with me in this little bag. And brush ALL of the sand off of me. And have another water. And a little more fruit. And run to the bathroom. Miss our flight? That wouldn't be too terrible now would it…
3:06 p.m. We arrive at the airport and get through security and Melanie and I just sit there and stare at each other in disbelief of the incredible weekend we were able to be a part of. Back to real life and 40 degree temps!
We're so grateful to Nike for having had the opportunity to take part in the NTC Tour! Thanks for coming along on the journey with us, I hope you enjoyed the diary!