August 2, 2017
Eyebrow Perfection & All About Microblading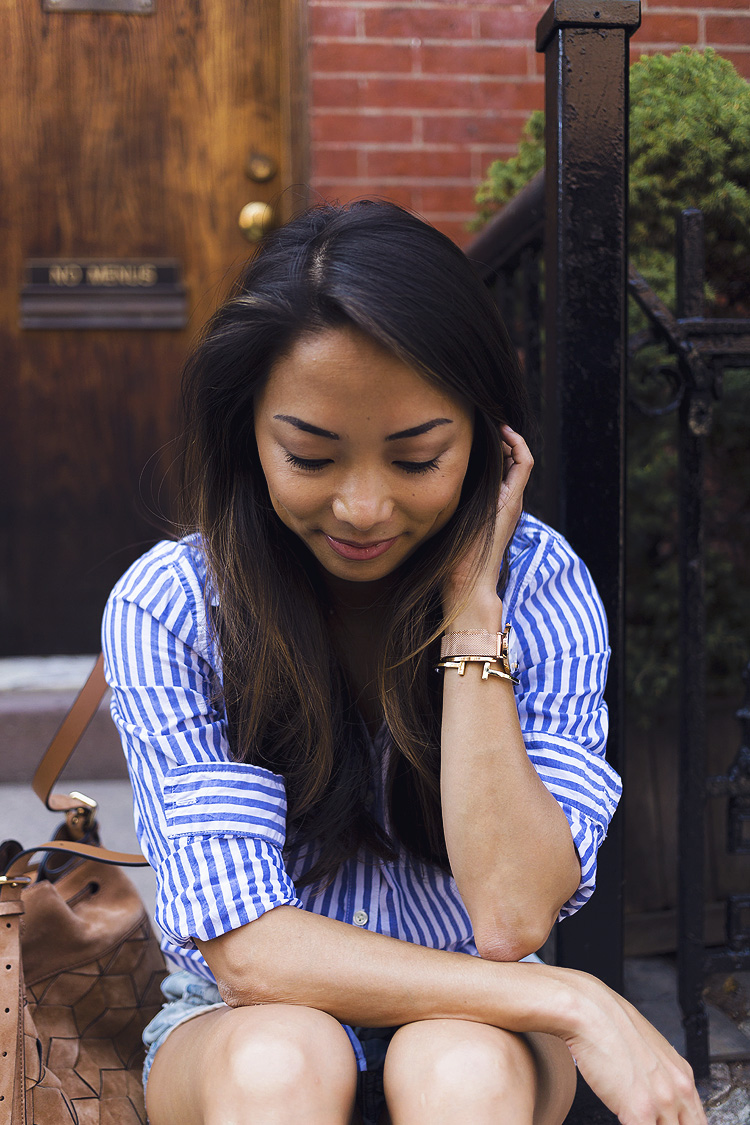 A few months ago I had been flipping through Instagram on a Saturday afternoon and slowly ended up down a rabbit hole of photos of ladies with killer eyebrows. I was looking at Olivia Culpo, Jamie Chung, and Marianna Hewitt – all of the #eyebrowgoals. Partly due to my heritage I just don't have full brows and never will. The hairs in certain parts didn't grow in fully and just never really have.
For years I've been going to Benefit or other eyebrow spots for a brow tint and shaping, but that was becoming both costly and difficult and also very temporary. The idea of getting permanent makeup on my eyebrows seemed intimidating and I didn't like that it looked more unnatural to me.
I just thought to myself, there has to be another solution out there. After some serious googling and a lot of articles later I stumbled upon a place called Evertrue Salon. They had the best reviews and the most incredible before and after photos, so I was intrigued to hear more. Then I stumbled on the testimonials – editors, Victoria's Secret models, and also tons of amazing women had nothing but fabulous things to say about it.
I wanted to know more, so I dug in. Here's what I learned & what you need to know if you're thinking about microblading!
Q&A
*note that most of what is below is from the Evertrue Salon site
WHAT IS MICROBLADING?
Microblading is a technique where fine lines are scratched into the surface of the skin, and pigment is embedded. Â The strokes accurately replicate hair (as in a brow or hairline). Â Results can last from six to 18 months, depending on a variety of factors such as color of pigment, skin type, and lifestyle.
The difference between microblading and just getting permanent makeup on your eyebrows is that microblading replicates actual hairs, giving a much more natural appearance to your brows. The bespoke brow treatment using microblading replaces eyebrow pencils, and assures perfectly shaped and balanced brows all-day, everyday.
HOW LONG DOES THE RESULT LAST?
For brows it lasts up to 18 months. Occasional touch-ups are a way to refresh the results. Done correctly, the treatments do not change color and fade naturally away with time.
IS IT PAINFUL?
We use effective numbing creams that are FDA approved. On a scale of 1 to 10 with "1" being no discomfort, clients often experience between a 2 and 3 with the Bespoke Brow treatment. Other factors such as menstrual cycles also affect level of sensitivity.
In my personal opinion, the actual experience was not painful at all. I didn't feel anything – it was more the uncertainty at first of not knowing what it would feel like that was a little interesting. I'd recommend taking ibuprofen before you start and in the subsequent day or two. The only pain I felt was mostly in the hours following the treatment and it was more of a numb pain thanks to the incredible numbing cream work!
IS IT SAFE?
All of the pigments are cosmetic grade, meaning that they are sterilized and purified for cosmetic use. The ingredients used have been approved by the FDA for cosmetic use. Be wary of products that have not met safety standards, including those that contain "vegetable dyes" that are unstable and may change color after time. In addition, all of the tools used by Evertrue are single-use and discarded after the treatment and that is demonstrated during your visit.
WHAT IS THE RECOVERY TIME?
There is no downtime, however the brow will take about one week to fully heal.  The brow will soften in color by up to 40-50%. During this period, after-care procedures should be carefully followed.
IS THERE ANYTHING ELSE I CAN EXPECT?
The biggest thing to consider before you start is that during that time you have to avoid swimming and not get them wet. I wouldn't plan your session right before a trip to Mexico unless you don't plan on getting in the water at all. I also wouldn't get them done before you have anything important you want photographed – I'd plan it at least 2 weeks to a month before anything. To be totally transparent the first 5-ish days after I got them done I felt super self conscious because they were darker than they would be normally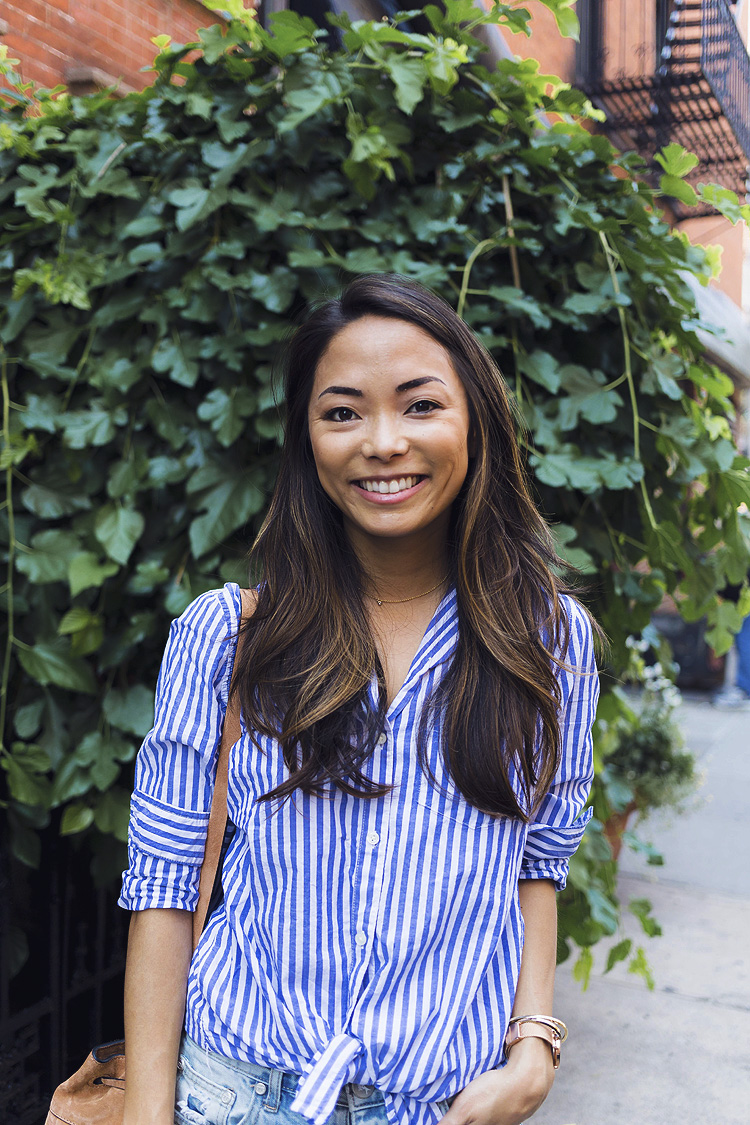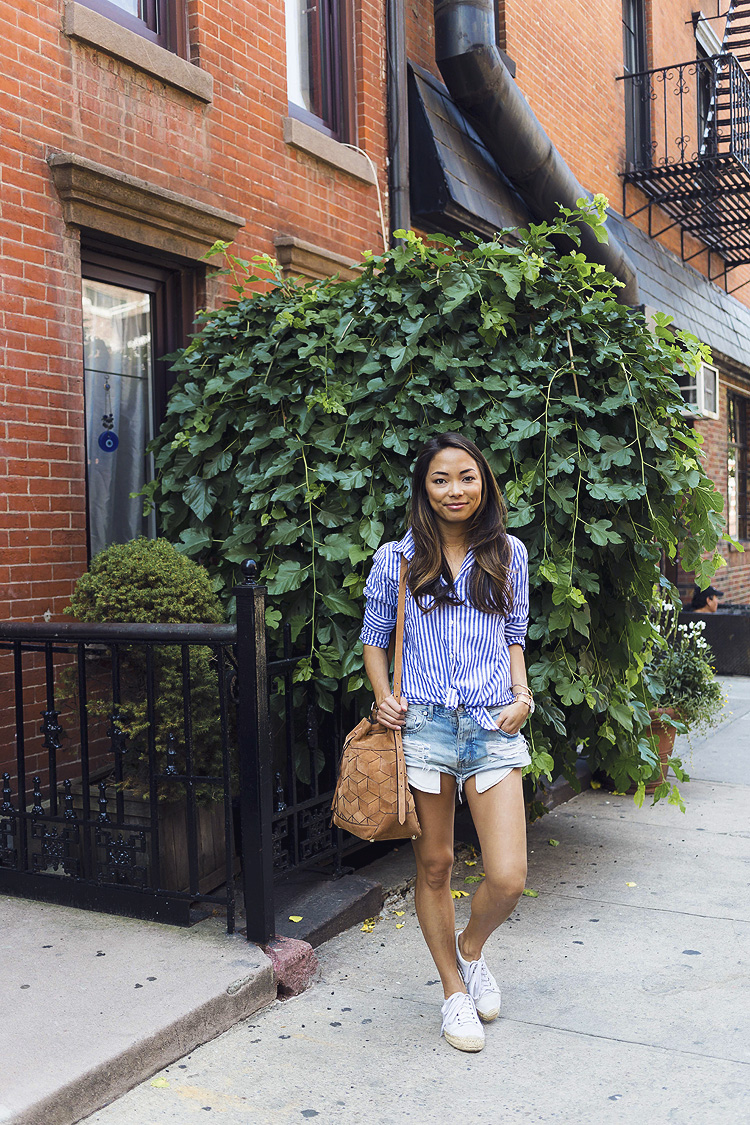 After thinking about it long and hard I decided that it was something I really wanted to do. I have been so sick of filling in my brows or trying to shape them everyday, especially in the summertime when all I want to do is hop out of the shower or pool and not wear much makeup.
So, I decided to reach out to the salon and we started the process!
THE PROCESS
1. The Consultation
At Evertrue you start with a consultation. I had saved a bunch of photos of what I had wanted and pulled them to up to show my stylist, Jenny. I talked about things I wanted (a more full brow all the way to the ends, a natural look) and what I didn't want (for them to look too dark and perfect) and she proceeded to talk me through the process.
She started by looking at my brows carefully – specifically the hair grade and color. She was looking to understand the gaps in my hair and the shade that would look most natural. She then explained to me what she saw and told me that the next step would be to fill them in with a pencil based on what I had said that I wanted to give me an idea of what she would do. Each strand is drawn in individually and very meticulously. This part took about 30 minutes total.
After she had finished penciling in my brows she had me sit up to look. We discussed the shape and thickness and she filled in a few areas a little more to fill out the shape that I desired. She also told me that the final shade would be lighter than what she was penciling in and what the first week would look like and that she wanted to match me as closely as possible to my natural hair color.
She then talked me through the procedure and everything she was about to do, the post-procedure care, and answered any remaining questions that I had.
I have to say in complete honesty that Jenny was amazing through the entire process – I felt so comfortable and calm and she was one of the most incredible cosmetic aestheticians I've ever had the pleasure of working with.
2. The Treatment
After the consultation Jenny started working on the color and I had some time to lay there. Let me set the scene for you… the room has about 6-8 tables and during my visit there were 3-4 other people there at the same time. The room was quiet and serene and beyond peaceful to lay there. Jenny gave me a blanket and also some water before the treatment started and there was an amazing playlist of soft popular song covers in the background.
She started with the numbing cream and applied to both brows, giving me about 20 or so minutes to let it really kick in. Then she started filling in each line she had made with the pencil with the real thing. She used a special tool to make small, hair-shaped incisions in the skin underneath the brow — this technique is what we refer to as microblading. The shallow cuts are filled with highest-grade pharmaceutical pigments that she had previously mixed. Each brow took around 15-25 minutes approximately with the whole treatment from start to finish including the consultation taking about two hours.
It's hard to describe what the treatment felt like, but I have to say that I felt absolutely no pain during the process. I think the idea in your head after reading what actually happens feels like it should hurt much more than it actually does. To me it was more uncomfortable to think about it than anything I felt. I tried to relax and some people even fall asleep during this time.
At the very end she was careful to double check both sides and I could feel her using a ruler or tool of some sort to check the angles and make sure everything was symmetrical. When she finished I sat up to look at the final product! She gave me a chance to ask for any adjustments and filled in a few last things at the very end.
3. Aftercare
She explained to me that the brows would be darker than they would turn out to be for about 7-10 days. In that time frame I had to follow a very careful few steps. The biggest thing to consider before you start is that during that time you have to avoid swimming and not get them wet. You'll receive a serum and protecting cream – the serum you put on your brows everyday, twice a day. The protecting cream you put on your brows with a little bit of saran wrap the first few days you need to shower because you really cannot get them wet.
4. The Follow Up
About 2 months after the initial treatment you'll go in for a perfecting session. It's basically a shortened version of your previous one where your technician will make any adjustments, fill in some color and totally perfect your brows. The session in total took about an hour and again, wasn't painful but I would recommend ibuprofen before and after.
5. The Result
I really can't say enough positive things about this process! To wake up everyday and never have to do anything to my brows is amazing to me – I was born with very sparse brows and didn't have a full shape that I wanted. My experience at Evertrue was incredibly accommodating and also pleasant.
I'm really excited to share that for my Chicago friends they just opened a salon there as well! Now through the end of August they're also offering 50% off all treatments at the Chicago location. This is an incredible offer! If you decide that this is something you might want to do, definitely mention "Christine" when you book your appointment and you have to share with me how it goes!
Chicago  |  67 E Oak Street, Suite 4W (right across from Fig & Olive in the Gold Coast)
New York | 54 W 21st Street #1010 (in Flatiron just SE of Madison Square Park)
This treatment was courtesy of Evertrue Salon, however all opinions are completely my own and this was my idea!