July 21, 2014
Celebration Skirt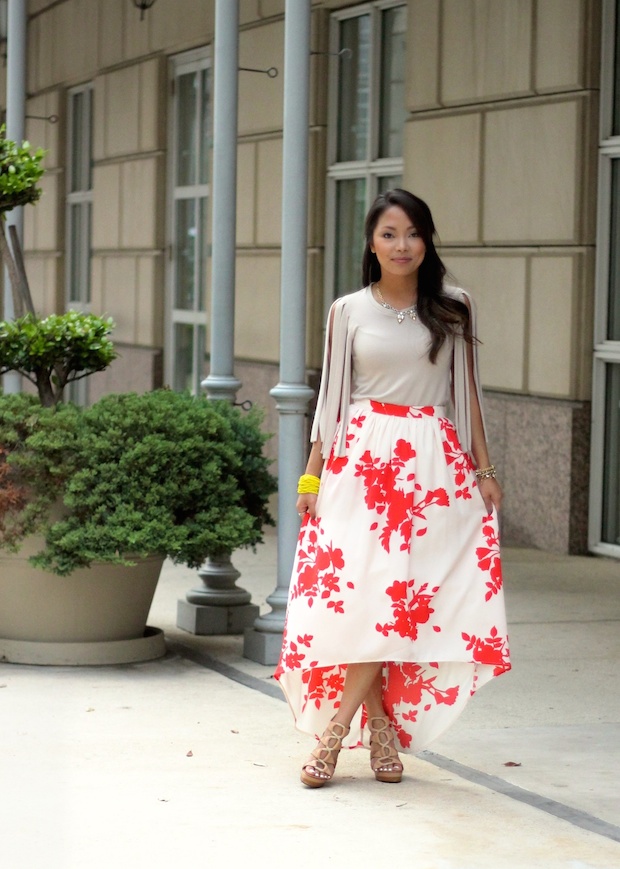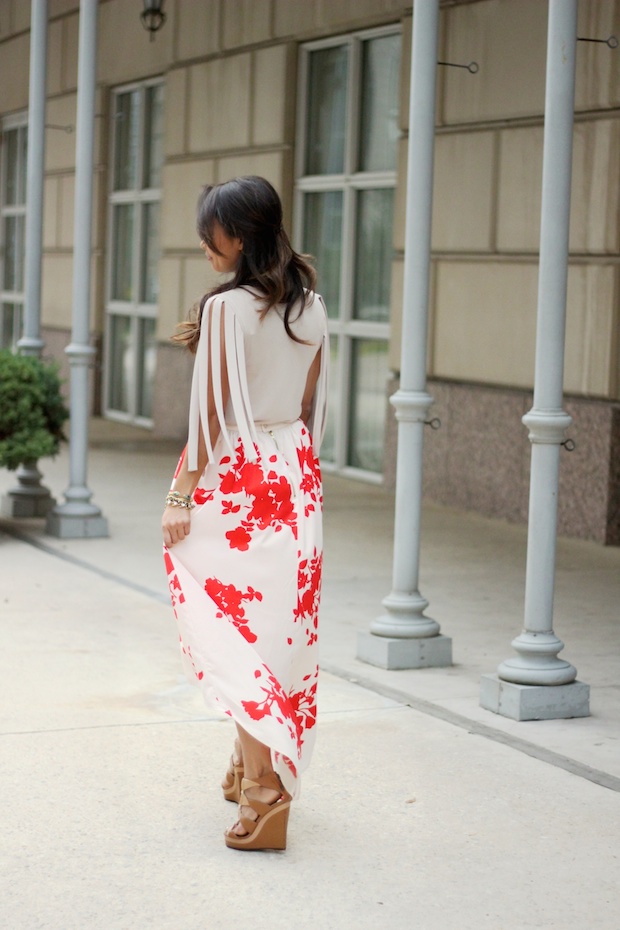 This past weekend I was back in Dallas for a weekend full of birthday celebrations! My Dad and sister have always had birthdays that are relatively close, but last year we were blessed with a new addition to the family right in the middle of the two, so I happily made my way back to Texas to celebrate with everyone. I hadn't been home since the Reward Style conference in April and was surprised to say it was the mildest July weather I've ever seen!
Saturday night we went to the Crescent Hotel for a special birthday dinner for my sister. The Crescent is one of my favorite hotels in Dallas… the architecture of the entire building is just stunning. We had dinner in the hotel itself on the 17th floor where there are beautiful 360 degree views of the city – it's a fabulous choice for a special occasion and we had an amazing night. I was so happy that we got to celebrate my sister while I was home. I'm so proud of the loving mother she's become over the past year and she has always been an amazing role model for me.
I love Chicago (and know I'll love New York, too), but there's really no place like home. I'm thankful that I'm able to make it home for the big stuff and the Holidays, but it's so hard to leave everyone at the end of such a great weekend.  Sunday we celebrated my little nephew's first birthday and it was a friendly reminder of how fast time flies – it feels like just yesterday that we brought that little guy home. I'm going to make a conscious effort to embrace every moment (good and bad) and soak up this whole experience of leaving a city I love for another I'm excited about, because I can promise you that I will only move there once!
I wanted to wear something fitting for the special occasion so I decided to wear this beautiful new floral midi high/low skirt that I had been eyeing at Nordstrom. Not to mention, it's a totally bank account friendly purchase. I've been reluctant to try a midi skirt given on me it's really just a couple inches shy of a full length skirt. However, when I laid eyes on this floral high/low number I knew I had to give in.  It's fun and flirty with the way that it swings, so I paired it with a top I have held onto for years with fringed sleeves. Any chance I have to make a full outfit that moves when I walk is welcomed! I paired it with some new jewelry from J.Crew that I scooped up at the Westfield Old Orchard mall for this week's event.
I'm so excited to be partnering with the Westfield Old Orchard for this month's Sip & Shop! For everyone in Chicago, come join us this Thursday (7/24) at the Westfield Old Orchard mall for some fine wine, shopping and entertainment! It should be a blast and I can't wait to share what I'm wearing to the event. There will be a little party after as well, so be sure to snag your tickets! I'm giving away 1 ticket to any reader who is interested in coming..  the first to leave a comment will be the lucky winnter! Hope to see you there! :)
SHOP THE POST
SKIRT: Rules of Etiquette high/low floral midi skirt (c/o)  •  TOP: Topshop fringe sleeve top (old, similar)  •  SHOES: DVF rope wedges (similar)  •  NECKLACE: J.Crew statement necklace (c/o)  •  BRACELETS: J.Crew linked arrowhead bracelet (c/o), BCBG boho stone cuff (c/o), BCBG beaded bracelet  •  NAIL POLISH: OPI Alpine Snow