June 1, 2014
Summer Style with Anthropologie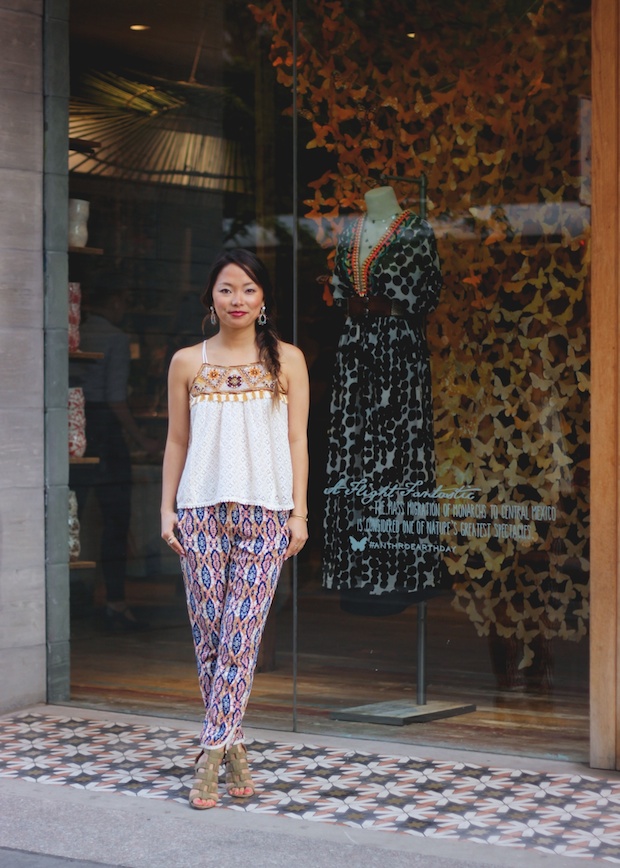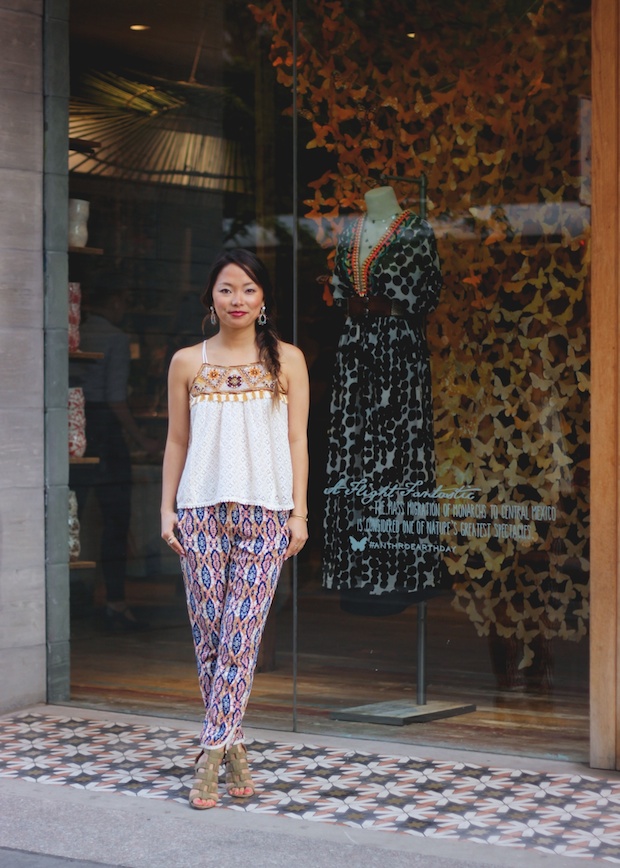 TOP: Anthropologie tikal tassel tank  //  PANTS: Anthropologie paz joggers (in petite)  //  SHOES: Dolce Vita 'Niro' sandals  //  EARRINGS: Anthropologie Caye hoops
If there's anyone who knows how to throw a fantastic event, it's Anthropologie. Every detail down to the colors of the cupcakes were picked out specifically for this special night that we had in store. I was over the moon when they reached out to me about co-hosting an event with them! I feel very lucky to live so close to one of their biggest stores in Chicago that also has an exceptionally large selection of their petite clothes. It's so nice to be able to pop in and see everything in person and get an idea of the fit.
I'm not the type of petite blogger who really delves into the nitty gritty details of how different stores and pieces fit specifically, but I do love sharing my general finds with you through my Petites page as I stumble upon them. I think that many stores do a great job these days of catering to different proportions in general, which is very refreshing. No matter which end of the spectrum you're on it's very clear that in the world we live in, everyone comes in different shapes and sizes and the idea that most people fit into a narrow spectrum of those is just silly to me. I appreciate the brands that have embraced this and Anthropologie is definitely one of them.
My favorite thing about their petite line is that you don't have to be petite to wear them. You may think I'm exaggerating or completely insane, but I'm not. The pieces are just taken in and up in certain places so depending on your dimensions, they may actually fit you better even if you don't consider yourself "petite". I know girls who love their dresses because the waist sits higher and they like that, or the hem isn't dragging on the ground, or the pants don't require tailoring and they're only 5'6″. I also appreciate that they have an insane amount of petite clothing – almost everything I see and like they have a petite version of.
Enough about that, the fashion show! We had such a fun night sipping on delicious cucumber watermelon champagne cocktails and enjoying treats and previewing some of the very latest looks that are hitting Anthro stores. There were 12 models and 24 looks total, and I wanted to walk away with everything they had on. I feel like a lot of the newer collection screams "vacationing in Bali" with bright pops of color and intricate details.
This lace dress and this poncho are just begging to be taken on vacation. I convinced my friend that she needed this maxi dress for her birthday – it's gorgeous and very figure flattering. My roommate brought home a bright colored tank with cute little tassels hanging down in the front. I styled myself for the evening in this tassel tank with great embroidery at the top and these super comfortable printed pants that I'm so excited I bought! They kind of remind me of a summer version of my silk ones. They're the perfect length too, which I was telling everyone at the show because it's rare to find in a store. If you are interested, I recommend sizing up one size for a perfect fit!
The Aveda team did our hair and makeup, and wow did they do an incredible job! I was in love with my fishtail braid and lip color and will be trying to replicate the braid in the near future thanks to some tips they gave me. I had a blast that evening sharing my favorite petite looks with everyone who came and for those of you not in Chicago, I have included them below too. Thank you to everyone who came out to support me and enjoy the show, it meant so much! Hope everyone had a beautiful weekend in the sun.. leave a comment and let me know what you did!
SHOP THE LOOK & MY PETITE PICKS
Photos by Mary Graves Photography