July 19, 2010
a little bite of the big apple
This weekend I went on my craziest adventure yet. I hopped on a red eye and flew to New York City for the day for a whopping total of 11 hours, then headed back to the airport and came home. I'm not quite sure what inspired me to do it, but I'm so glad that I did because I had a BLAST! I have been to NYC before so I vaguely knew my way around, but this time I was flying solo, had no plans, and was just open to what the city had to offer. I shopped, I people watched, I conquered.
—
So it was about 3:30 p.m. and my legs were finally starting to wear down so I sat down and and was giving them a rest and saw the girl next to me had a Topshop bag. OH MY GOSH. I had totally forgotten that the ONLY Topshop store in the U.S. was in NYC, and oh wait… it was one block down from where I had just sat down. Of course, I got up and went over there to see it for myself and finally shop the store in person.
The store was p-a-c-k-e-d. If you have never heard of Topshop, in my terms I would say it's a combination between H&M, Urban Outfitters and Anthropologie. They have really trendy stuff similar to H&M where you love all of the pieces that you see (but at least you can shop Topshop online), but they also have some edgy stuff that is more funky and out there (like Urban), and then they have really pretty and detailed tops, dresses and accessories (that are Anthro-worthy and closer in price to Anthro). Not to mention, they played legit music.
—
The best part of finally going to the store was I got to see how things fit. Online shopping can be tough when you have no clue what the clothes are sized like. The great thing about Topshop is that you can order online, so here is my take on their sizing for those of you who want to check it out:
European sizing like H&M (2, 4, 6, 8, 10, 12) Â | I am a 2 in most things here, 4 if it's spandexy and fitted because I don't want to feel like a skank | at H&M I'm the same | at Anthro I'm a 0 | at Urban I'm a XS in most bottoms and XS/S in tops and dresses
Bathing Suits | ok these were seriously cute, but I already have new ones for the summer (would've bought a 4 in the top and I think it would correspond exactly with a S in Victoria's Secret swimwear)
Shoes | they don't have great selection for midget feet, so I was out of luck but they have AMAZING deals on gladiator sandals, oxfords, clogs, etc. so this is a must if you're going to check out their online store
Dresses | 2 = XS, 4 = S, 6 = S/M, 8 = M, 10 = M/L, 12 = L (this is my personal take, so don't hate me if you buy something and it's a little off… it's based on what I tried on)
—
Taken by a friendly non-english speaking stranger. Thumbs up means I don't wanna deal with the language barrier, whatever happens after the click will do.
—
—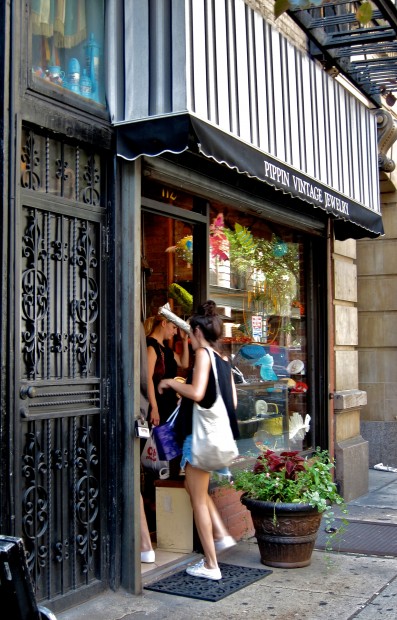 Pippin Vintage Jewelry was a great find. The first thing I noticed when I walked in was a framed picture of Jackie O, and I knew this place and I would be perfect for each other. It was a vintage jewelry shop with a wide selection – anything from pendant necklaces, brooches, rings, men's cuff links, old fashioned hats, scarves, etc. styled from the 30/40s up to the 90s. The best part was how cheap and unique everything was.
—
—
—
Found these gorgeous bracelets at a rando boutique – by Hadasity. I loved the wiring and the designs – and that I had never seen anything specifically like these before. I would definitely buy one for myself or this would be perfect for a gift.
—
Brunched in SOHO at Delicatessen. If you go, I highly recommend the herb and goat cheese omelette – never had anything like it before.
—
The best fashion-izing I did all day was people watching. I stood on a corner for a while just watching the throngs of people go by, examining what everyone was wearing and carrying. There were lots of characters (it's NYC of course) and I made a lot of observations.
Cutout sandals, Nike high tops, Fedoras, Rompers, Maxi's (I guess they are still in?), floral prints, day wear mini skirts, khaki, military anything (colors/design), and crossbody/bags with shoulder straps. 9 out 10 people were wearing something in this list.
But if I had to pick a winner of my street style observations, it would've been this girl I spotted in Soho. Her outfit was amazing and well thought out. It reeked of elegance even though I would've opted for a tank under the sheer blouse because I'm not that revealing, but she still paired it with flat sneakers and wayfarer-ish sunglasses and a side body bag. Totally unique. Love it.
—
SHOP THE POST: