February 27, 2019
How I'm prepping my skin for the wedding
It's hard to believe that we're just 2 months out from the wedding! It really snuck up on us, but we're getting so excited now that it's finally feeling like it's almost here. The best thing about a May wedding in Dallas is that we get to escape the cold of New York City and really feel like we're starting the best time of the year in warm weather! I love being lazy and taking it slow during the winter, but this year I knew I needed to be more on top of my health, working out, and of course my skin. We've had extremely windy and cold days (although seasonably warmer than usual), which was drying my skin out. The weather really won't change here much before we leave, so I knew I had to take matters into my own hands.
A few weeks ago I stopped by Fresh to pick up a few new products to complement what I was already doing. My key to moisture in the winter is to use as many serums and oils as possible (they absorb into your skin deeper than a cream) and mask regularly. I have been a fan for years of their soy face cleanser (and travel with a smaller version, too!) and was excited to see some of their new products in action and see the results. One of the reasons why I've always liked Fresh is that their ingredients seem to have a gentle, but incredibly effective result on my skin.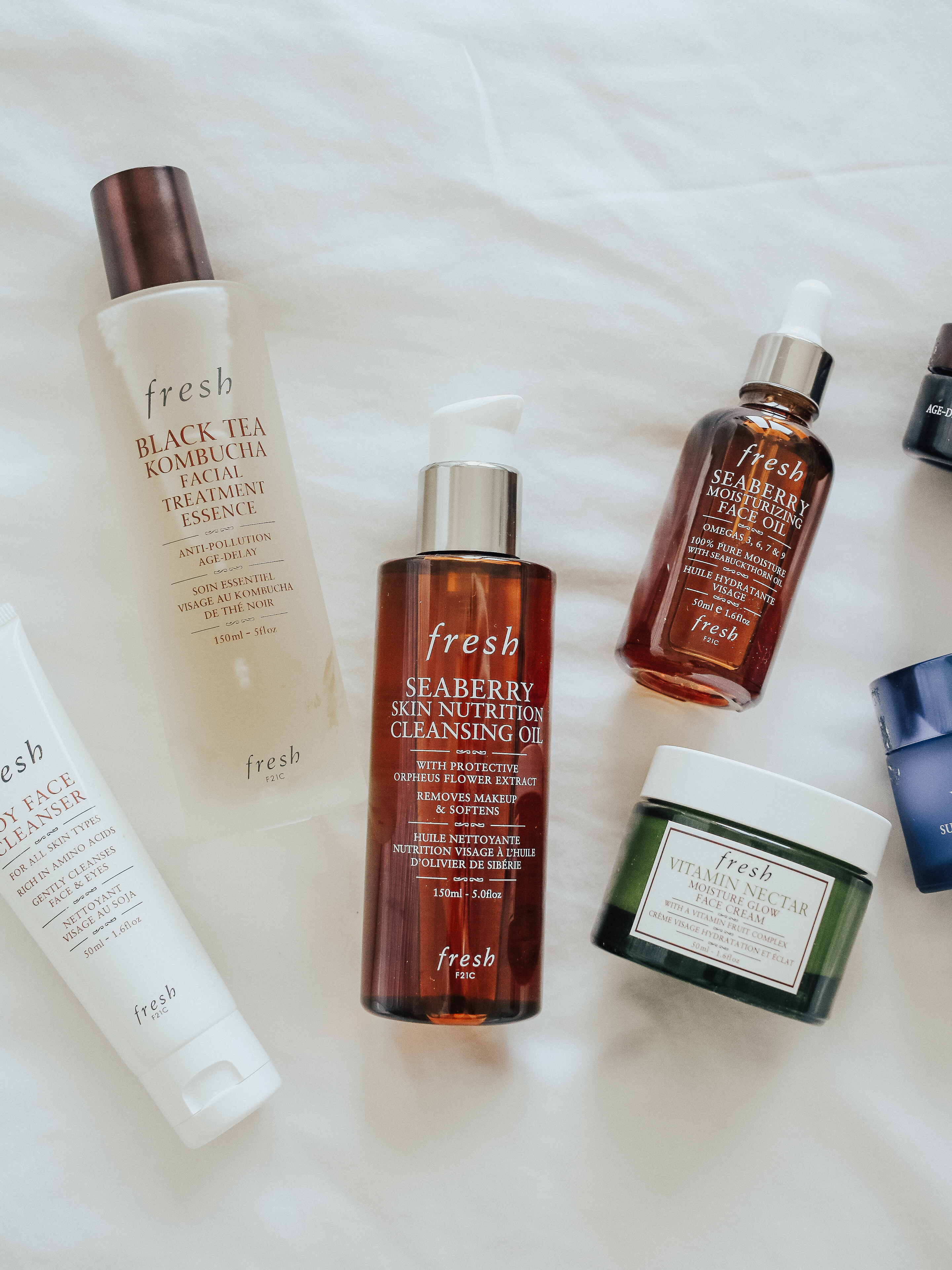 Seaberry Cleansing Oil
If you haven't tried a cleansing oil yet, I'm about to change your skincare life. The Seaberry Cleansing Oil has quickly become my new favorite product and something I use everyday when I'm washing my face. I remove my makeup with a micellar water (Garnier is my go-to) and it just takes a few pumps of this after to have a completely clean face. A few years ago I was introduced to balm cleansers, and occasionally I use them when I need a deeper clean. But for everyday use, this is the absolute best. Your skin will actually feel clean and primed for your nighttime routine.
Black Tea Kombucha Antioxidant Essence
What is essence? That's exactly what I asked the associate. Basically think of this product as a more powerful replacement for your tone. It fights pollution and free radicals and is packed with ingredients that calm and hydrate your face. It comes out very similar to a toner, but I put the essence directly on my fingers and just rub it into my face.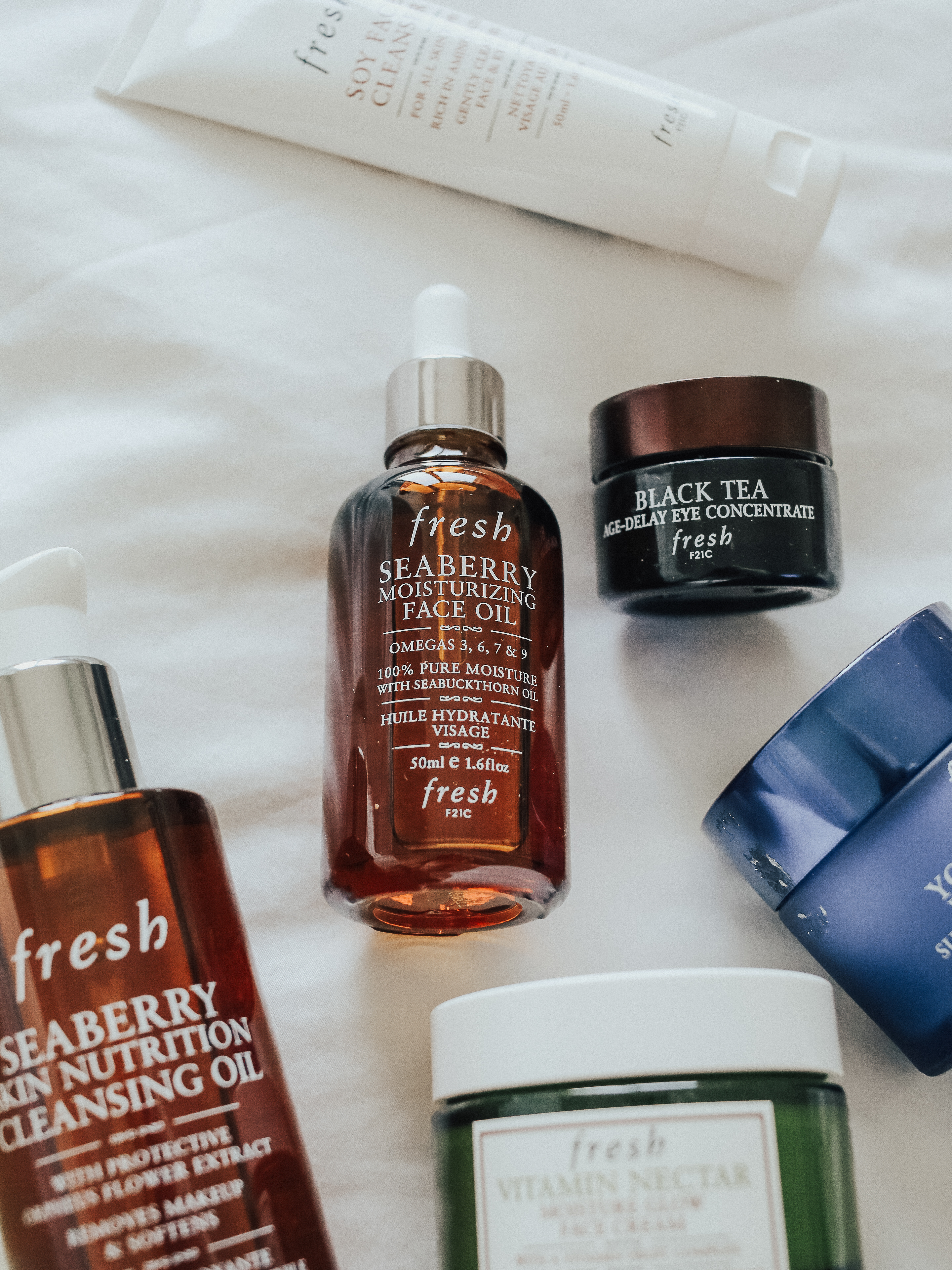 Seaberry Face Oil
I quickly became a face oil advocate after first trying the Marula oil from Drunk Elephant, but I've been using the Seaberry face oil almost every night and I'm loving the results. It's lighter than some other face oils and leaves you extremely moisturized, but with a tighter more refreshed look in the morning. There are powerful antioxidants and moisturizing omegas in this one and it has quickly become a staple in my nighttime routine. I usually apply it right before I go to bed. If you don't believe me on the results, just ask MG. He told me the other day that my face has been extra soft!
Black Tea Eye Concentrate
I struggle with my under-eye area and have for a long time. It's extremely delicate and my skin is very thin and see-through leaving me prone to dark circles. In recent years I've also woken up more puffy, especially with allergies (or the occasional hangover). I've tried a few other products, but this black tea eye concentrate has such a natural and ongoing effect on de-puffing my eyes. I'm about 2 weeks in and have been applying it at night and have already noticed a visible difference in the mornings. For me, the under-eye is the trickiest area for me to care for and so I appreciate any and all results!
Lotus Youth Preserve Night Cream
The store associate told me that this was one that I absolutely needed to try. She described it as basically a long dunk in the pool for your face overnight. Since my skin had been whipped around in the winter wind that day, I thought it sounded glorious. The lotus works to recover your skin overnight leaving it extra moisturized and bright in the morning. I've been using the Lotus Night Cream after those days where my skin felt like it really took a winter beating also before bed. I like that it's light and doesn't feel too heavy and has a subtle, but pleasant scent (as MG will tell you not all nighttime beauty products do!).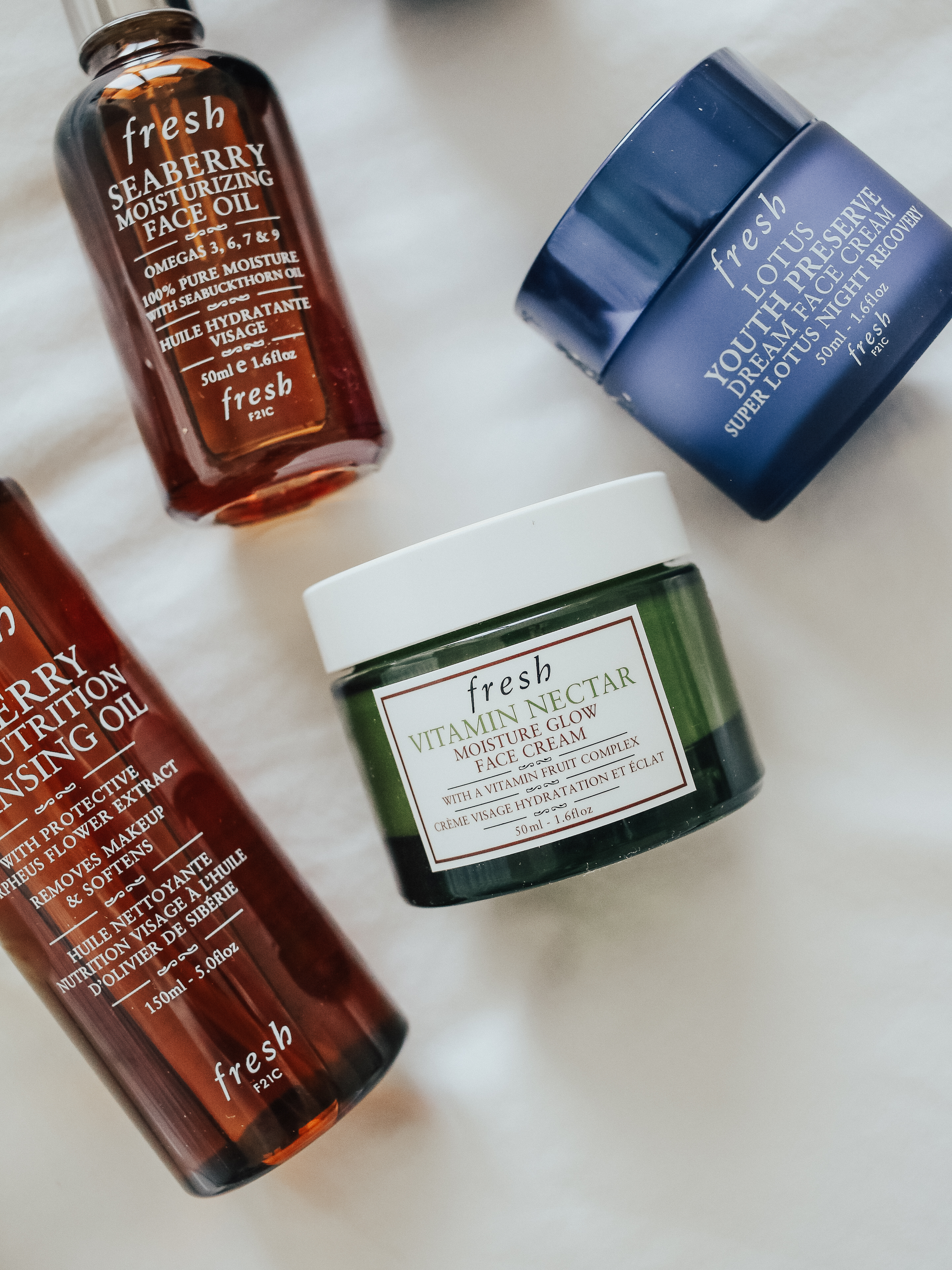 Vitamin C Glow Moisturizer
Last, but certainly not least, I've been topping it all off during the day with this Vitamin C Glow moisturizer. I layer this on and let it soak in before I put on any makeup in the morning to start my face (and day) with a fresh, moisturized slate. What I love about this one is that it doesn't feel heavy and once it soaks into your skin you can apply makeup over it that will last all day.
I'm a few weeks into this new routine and I haven't seen these types of results on my skin after having tried many, many products on their own. What I'm most excited about is that the ingredients are natural and I can see their impact as they're all working together. I definitely think that using a few key products within the same general system allow the products to do even more together and complement one another. Here's to hoping for fresh, dewy skin for the wedding in May!