May 7, 2013
#TreatYoselfTuesday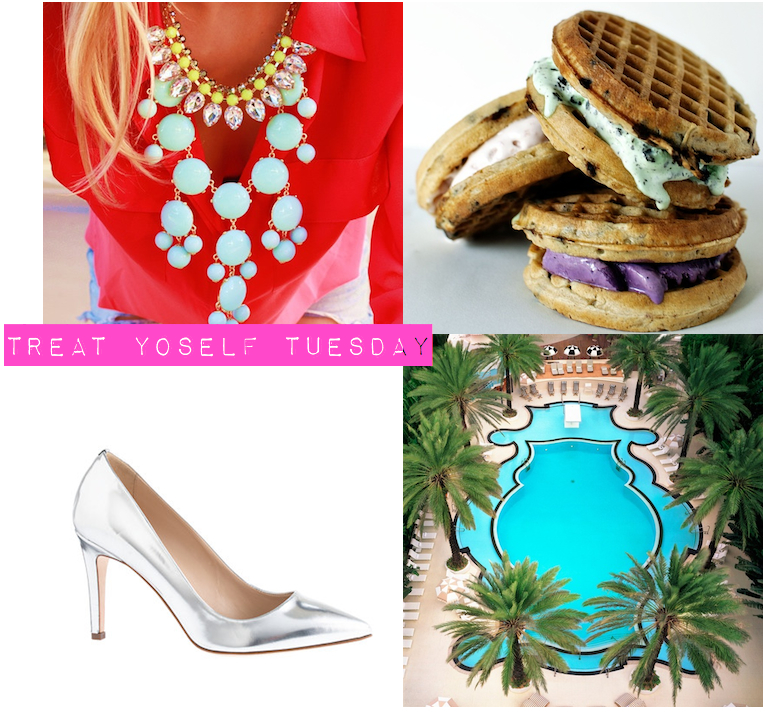 Images via Pinterest and J.Crew  | 1 | 2 | 3 | 4 
 It's baaaaaack! Another Tuesday means it's time to "Treat Yo Self" and do something for you today! It can be literally anything that you feel like doing for yourself … going on a leisurely bike ride, cooking dinner and singing Whitney Houston while you do it, watching all of your DVR'ed shows in one sitting, you name it. It's your day.  Here are some of my favorite ideas on how to #TYT this week:
Snag a piece of statement jewelry
A pop of color or a set of pretty jewels dangling from your neck are enough to put the average outfit over the top
Not feeling so extravagant? Check out my favorite – Bauble Bar – for trendy and affordable adornments
—
Indulge in a quick & easy dessert
This recipe couldn't be easier! All you need are some mini waffles (or you can make your own) and your favorite pint of ice cream and voila. Insta-treat.
For a healthier but still quick version, use gluten free waffle mix and use sorbet instead of the real thing — you can even throw some berries/fruit in there too
—
Buy the shoes you've been lusting for. Just click Purchase and don't look back! (you can always return them)
You know exactly what I'm talking about. You have shoes in shopping carts on at least 3 sites.. pick the ones that you stare at the most often and just buy 'em.
Like I said, your back up here is free returns. There are no alternatives though if you choose this path – buy the ones you want!
—
Book a Staycation
Somehow Chicago missed the memo and our Spring this year is more like a breezy peep of summer. I've been craving a tropical getaway since the sun went away last October, but financially can't swing that with other life stuff I have going on. One of my best memories of last year was a Staycation here in Chicago with 3 of my best friends. If you're dying for a getaway, get away in your town or somewhere drive-able! Even just for a night, book a luxe room and indulge in some room service and quality pool time. You'll thank yourself when you're laying out with a drink in hand.
For a completely free alternative, find a good time to take a half day and just do something you really love but that you normally can't do because you're at work
Drop me a line or tag me on your instagram pics … I want to see how you #TYT! Don't forget to use the hashtag, too!
Happy Treating!