January 13, 2017
5 Tips For Buying Custom Furniture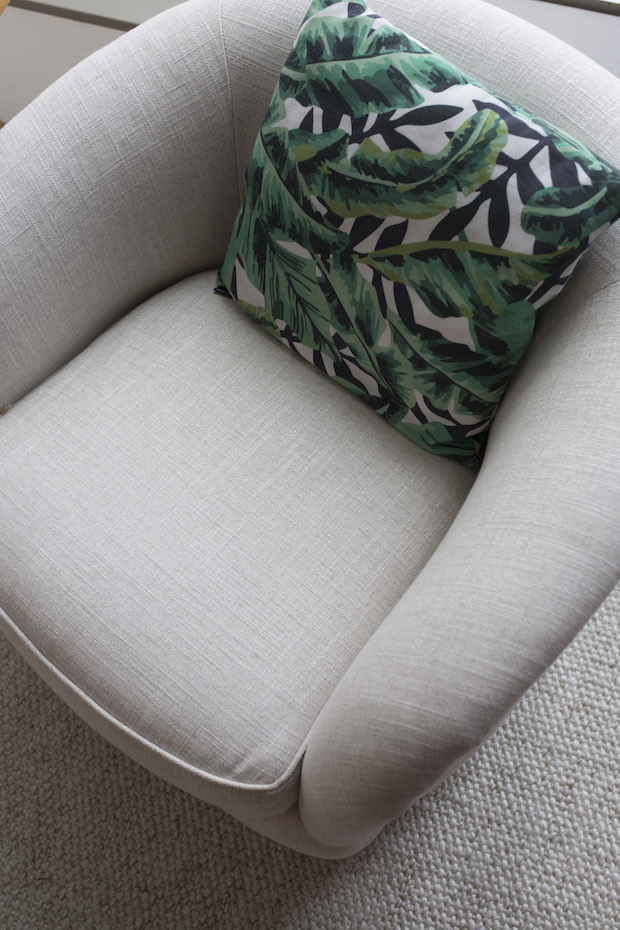 If you asked me what my favorite part of our apartment is, I'd have to say the view. It's absolutely breathtaking and such a beautiful way to wake up and go to sleep every night marveling at the city lights or the boats on the Hudson.
When we first started brainstorming about what we wanted to do in the living room we really wanted to ensure that you could see the view as soon as you walk in, so that meant something with a lower profile. We also wanted to be able to look out and take it in or opt to turn back to the living room and watch TV.
After careful consideration and with some creative thinking we decided to get two swivel chairs for this area of the living room. I'd like to say that we were up to speed on the latest design trends, but truthfully this popular chair style just happened to be exactly what we were looking for in the space.
That's when we stumbled upon Scout Design Studio. As a Dallas native and vintage furniture lover, I was ecstatic to discover a place that shared my love for making vintage furniture and pieces feel like new and give them new life. The before and after photos on Instagram hooked me and I basically ran home to tell MG that we needed to look into their swivel chairs.
It just so happened that we were headed back to Dallas the next weekend and we had a chance to swing by and see the warehouse ourselves and meet the Scout team. It's truly like walking into vintage design heaven. We had picked out our chairs (which I'll discuss in just a minute) and it was time to decide on fabric. Thankfully we had my mom with us (who studied interior design when she was younger) to lend some advice and pointers from her years of home decor. The end result was even more beautiful than what we expected and this is easily our favorite place in the apartment.
But custom furniture is a little intimating, and especially for anyone else who has never done it or doesn't have experience something you should approach thoughtfully. Let's break it down!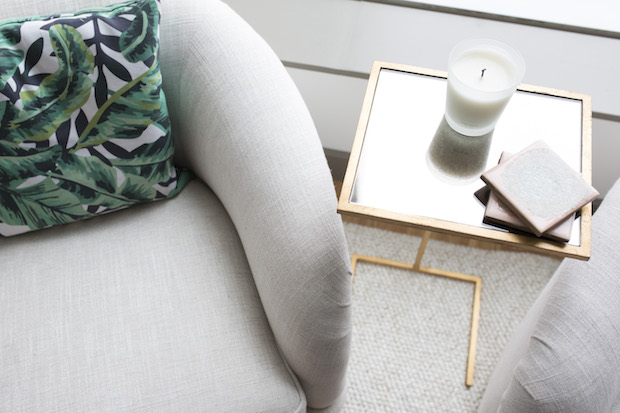 1. CHOOSE A PIECE WITH GOOD BONES
By good bones I mean a solid structure. Not only in terms of durability and longevity, but is this a piece that has a timeless style? If you're investing the time and money into designing something custom you'll want to ensure it'll meet you needs well down the road. Even though these chairs are the perfect size and height for our apartment now, we knew we would be able to put them in a bedroom settee, office or living room in the future, too.
2. DECIDE ON YOUR COLOR FIRST, THEN FABRIC
Before you start looking at fabric start getting a general idea of what you're looking for in terms of color. See something you like from furniture stores you can order swatches from for free? Do it in advance and bring them with you. It's always nice to be able to compare to something you like. You may end up with hundreds and hundreds of swatches in front of you, so having an idea of where to start is helpful. If you've already decided solid vs. pattern or cloth vs. suede you're one step closer to getting to the end result without having to mull it over while you're there. There's nothing to say that you can't see something totally different and change your mind, though!
3. CAREFULLY COMPARE FABRICS
We started knowing that we wanted something lighter but that would be durable.. and that was about it. We compared at least 10 versions of what "looked like the same thing" (according to MG and my Dad), but quickly realized they were all very different. It's important to pay attention to the makeup of the fabric (i.e., 58% viscose, 31% cotton, and 11% linen) and compare to each other. Utilize google or someone who's more knowledgeable on the durability of the makeup of what you're looking at. We ended up going with a beautiful fabric by Lee Jofa that was light in color but noted as a "heavy duty abrasion rating" so that it could endure anything over the years.
4. PROTECT IT
As with anything in life it's important to protect your investment. If you can get your pieces scotch-guarded, do it! It will help protect your piece from liquids and stains over time and make it easier to ensure that red wine doesn't last beyond the night. If you're investing in a much larger piece, it's also wise to make sure your home owner's insurance is updated accordingly in case of an emergency.
5. MAKE YOUR CHOICES AND LET IT GO
Choosing anything that a) will last a long time and b) costs a lot of money can be daunting and make you feel like you need to think it through forwards and backwards before landing on a decision. My advice is to finalize what you want and forget about it until it arrives (especially if you went slightly over budget). Once our chairs actually arrived the small details and questions like "should we have tufted it" or "was this the right fabric" will disappear and you'll be able to enjoy your piece.
Designing our custom swivel chairs with Scout Design Studio was one of the most fun and exciting parts of our entire apartment process thus far. It was really special to get to pick them out together and know that years from now they were our first piece in our first home. The whole experience was made effortless thanks to the Scout team's help!
Have you ever thought about getting custom furniture?
in case you missed it |Â creating a serene bedroom & our dining room reveal