January 4, 2017
Creating A Serene Bedroom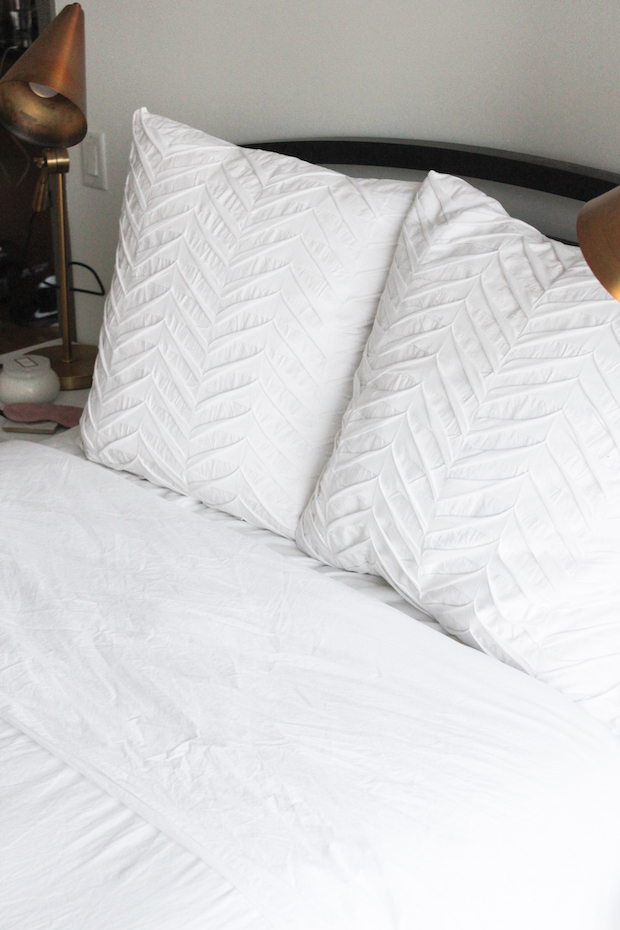 I'm one of those people who takes my bed very seriously. I'm a habitual snoozer and love nothing more than just getting to lay there for at least 20 minutes after any alarm goes off (although that's something I am going to do less of this year). I used to pride myself in having a super comfortable bed that usually called for countdowns to Saturday sleep-in mornings.
When we moved in this August we were starting from scratch with pretty much everything, so that meant a chance to make our bed as snuggly as ever and a fresh, welcoming place to come home at the end of the day. Our vision for the apartment in general was to be a calming and relaxing place that we would be so excited to come home to everyday. I've been guilty of having too much décor and too many prints in the past that over time I don't enjoy. You can never go wrong with neutrals!
When I started looking around at different bedding the quality and makeup of the fabric was as important to me as the price point. It's not something that you change often, but having to furnish an entire apartment from top to bottom gets really expensive really quickly.
We took our time along the way, but our bed was a top priority. I really wanted a white, cozy comforter that would be able to withstand getting accidentally kicked off of the bed (not by me of course) and that is easy to wash and clean.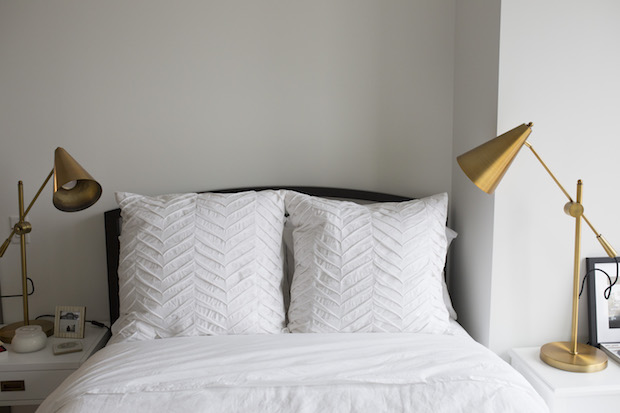 I was really excited to try Parachute Home after seeing tons of ads about them in the city. There were a handful of things that drew us into the brand – the Venice set includes everything that we needed (2 pillowcases, a fitted sheet and a comforter) to complete our bed and is made of premium Percale. It's made to soften over time and has a cozy look to it that also makes for a very easy to make bed.
One of my "more of this" focuses this year is also giving back. Parachute Home donates a life-saving malaria bed net through Nothing But Nets with every Venice Set purchased. If you're in need of beautiful and comfortable bedding, why not make a purchase that can also save a life.
We finished our bedroom look with 2 textured euro shams from Anthropologie that are tall enough for Netflix nights and late night work sessions. Our bedside tables are different because of the jut in the wall, and we especially love the lamps that complement the neutral look of our bedroom.
We couldn't be happier and more excited to go to sleep these days!
SHOP THE POST
PERCALE VENICE SET c/o Parachute Home  •  SHAMS  •  BEDSIDE TABLE  •  LAMPS  •  RUG
Photos by Lydia Hudgens
A huge thanks to Parachute Home for providing our bedding!