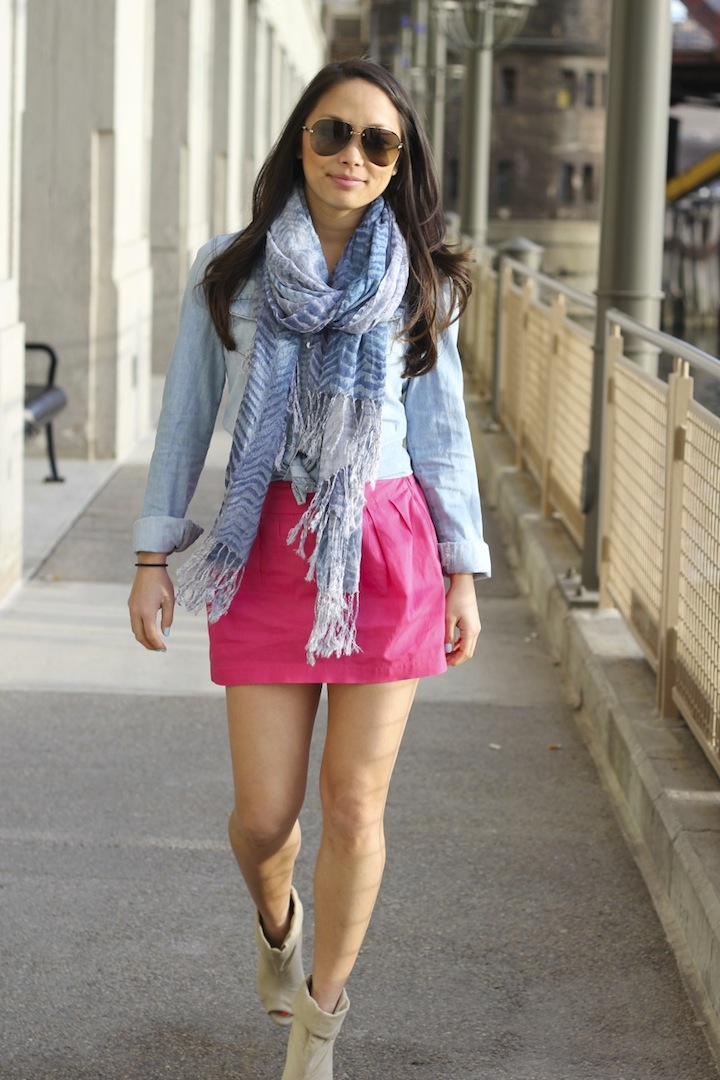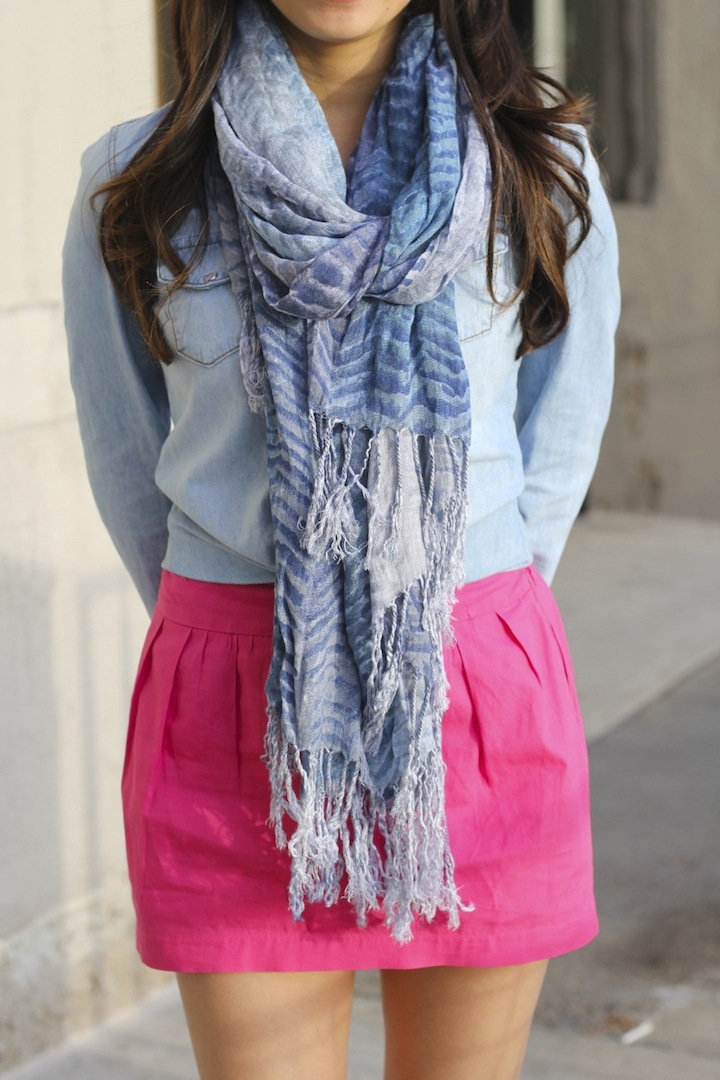 NOMA Los Angeles cobalt zig zag gauze tassel scarf  |  Topshop chambray shirt (similar)  |  Forever 21 skirt (similar)  |  Acne Raya peep toe booties  |  Prada rimless aviators
photos taken by: Mary Graves
Scarves are one of my favorite accessories because they are so incredibly versatile. You can use them to dress a look up or down, they can be functional or purely decorative, and they're just so much fun. I admittedly own… just the right amount :) (you thought I was going to say too many, didn't you). I don't really know if you can ever have too many of anything when it comes to fashion. Options are everything, right?
Noma is a company that's based in Los Angeles and is making a name for themselves, particularly when it comes to their scarves. The zig zag scarf I'm wearing above was recently featured in People's Style Watch and Noma has also been spotted on Good Morning America and The Today Show. I'm in love with this scarf, especially during this transitional time from winter to spring. It's the type of scarf that can be light and summery, or if you wrap it snug and bundle up is the perfect pop of color for your winter doldrums. It can also be worn as a pashmina as well.
I went to work yesterday for the second time in the past week in weather inappropriate attire (bare legs and peep toes in 30ish degree weather.. oops) because I'm so sick of the winter cold! I'm convinced if I channel Spring it will make me less depressed that it's still not warm. I styled the scarf with one of my favorite chambray shirts and a bright pink skirt I picked up a while ago from Forever 21. I loved how the chambray color went with the colors in the scarf and am excited to play with this new addition to my wardrobe. I think at least 7 people asked where to buy the scarf just from walking around the office — that's what happens when you work with 20-something's who love to shop!
SO, you're in luck! :) Noma has graciously offered to give my readers a 75% discount on these beautiful scarves! Just use the promotional code VIEWFIVETWO75Â (in all caps)Â when you check out and one of these will be yours for only $31! Definitely take advantage of the code while you can! THANK YOU to NOMA and happy scarf shopping!