January 17, 2019
Wedding Update: Bridesmaid Dresses
We are long overdue for a wedding update! We had a ton of things to accomplish before the holidays and to be honest I took a really long break after we got through some of the bigger decisions this summer, like catering and our photographer/videographer!
Choosing bridesmaid dresses can be a real challenge. You want to find something that the bridesmaids will love, and also want to find options and colors that are flattering across various body types and heights.
I've worn Jenny Yoo dresses in several other weddings for some of my closest friends and have always loved the dresses and experience. You always know that you're getting a beautifully made dress and will have an easy experience. They also carry the dresses at Nordstrom, which can be helpful for friends who live near a store!
Over the years, I've seen so many friends do bridesmaid dresses differently. There's no right or wrong way! Whether it's the same dress, mix and match, a color, all white, or they let everyone choose their own, there's really so many options. In the spirit of making the girls feel comfortable in what they were choosing, we decided to go the mix and match route!
After having been to a few dozen weddings over the last few years, we've seen so many beautiful bridesmaid dresses and ways of styling them. I don't love color (as I'm sure you guys are not surprised by based on what I usually wear here), but I didn't want to go with something either too light or too dark since we're getting married in May. I fell in love with a soft earl grey after seeing a photo of it early in our wedding planning and decided to go with that for the dresses. It's such a beautiful color for any season and I knew that in 20 years looking back it would be a color I would still like.
We spent a really fun evening at the Jenny Yoo showroom and had the chance to see all of the Spring 2019 dresses in person. Caitlin (my sister-in-law) and I tried on tons of different styles and helped narrow down a set of dresses that we thought would look beautiful all together. I cannot wait to see these dresses on the girls in real life and for another chance to hopefully wear one myself in a future friend's wedding! :)
Here is a preview of some of the newer styles and what they look like on us!
The Faye
A soft and beautiful wrap dress that ties at your "true" waist. This is a great style for petites! See it here.
The Amara
This one has a faux tie in the front and a higher slit with a back-zipper. It's so flattering on! See it here.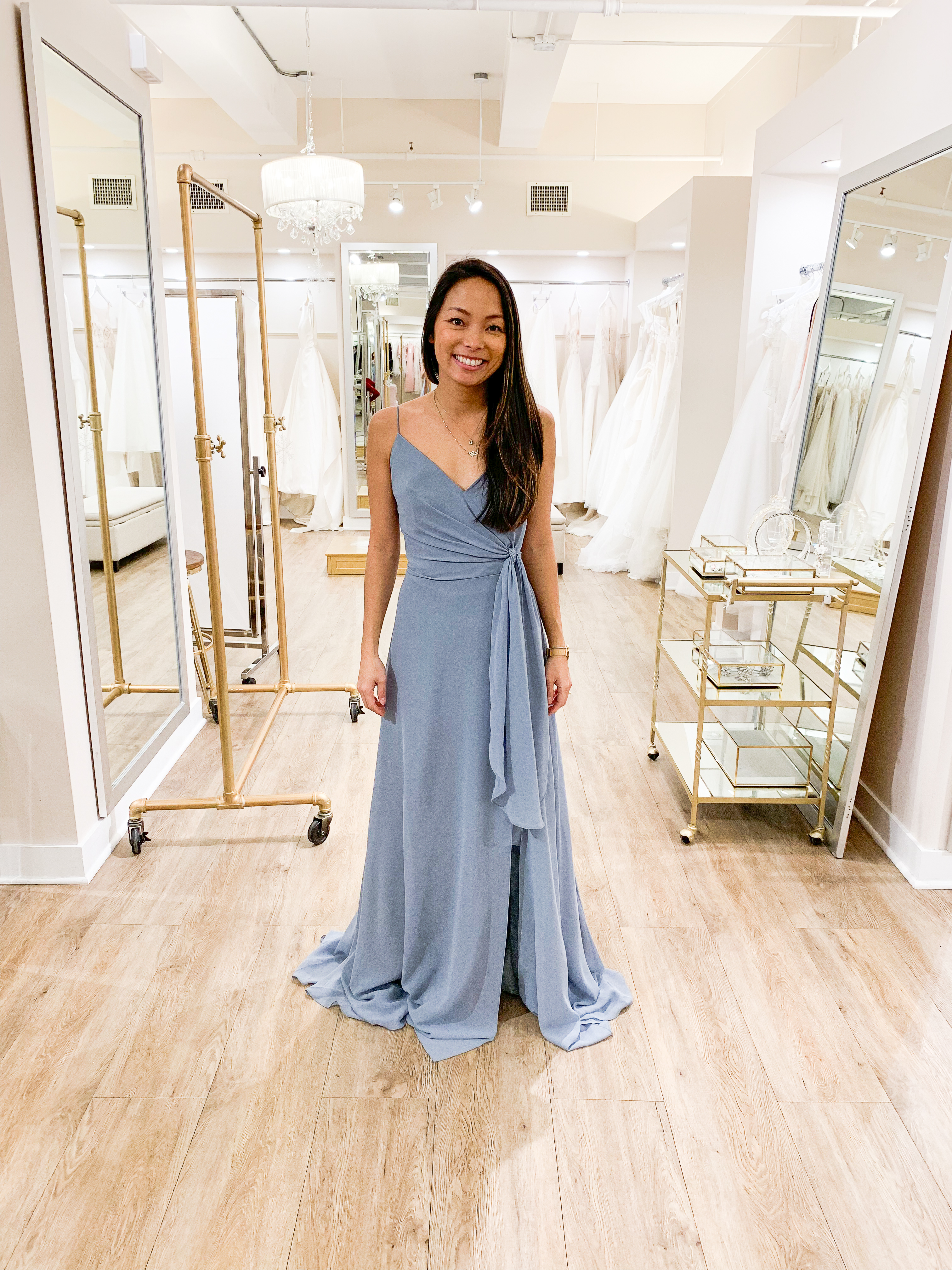 The Cassie
This one has a deeper V-neck and flutter sleeves and has been in their collection for a while! The back is beautiful with just a few buttons and a waist tie. See it here.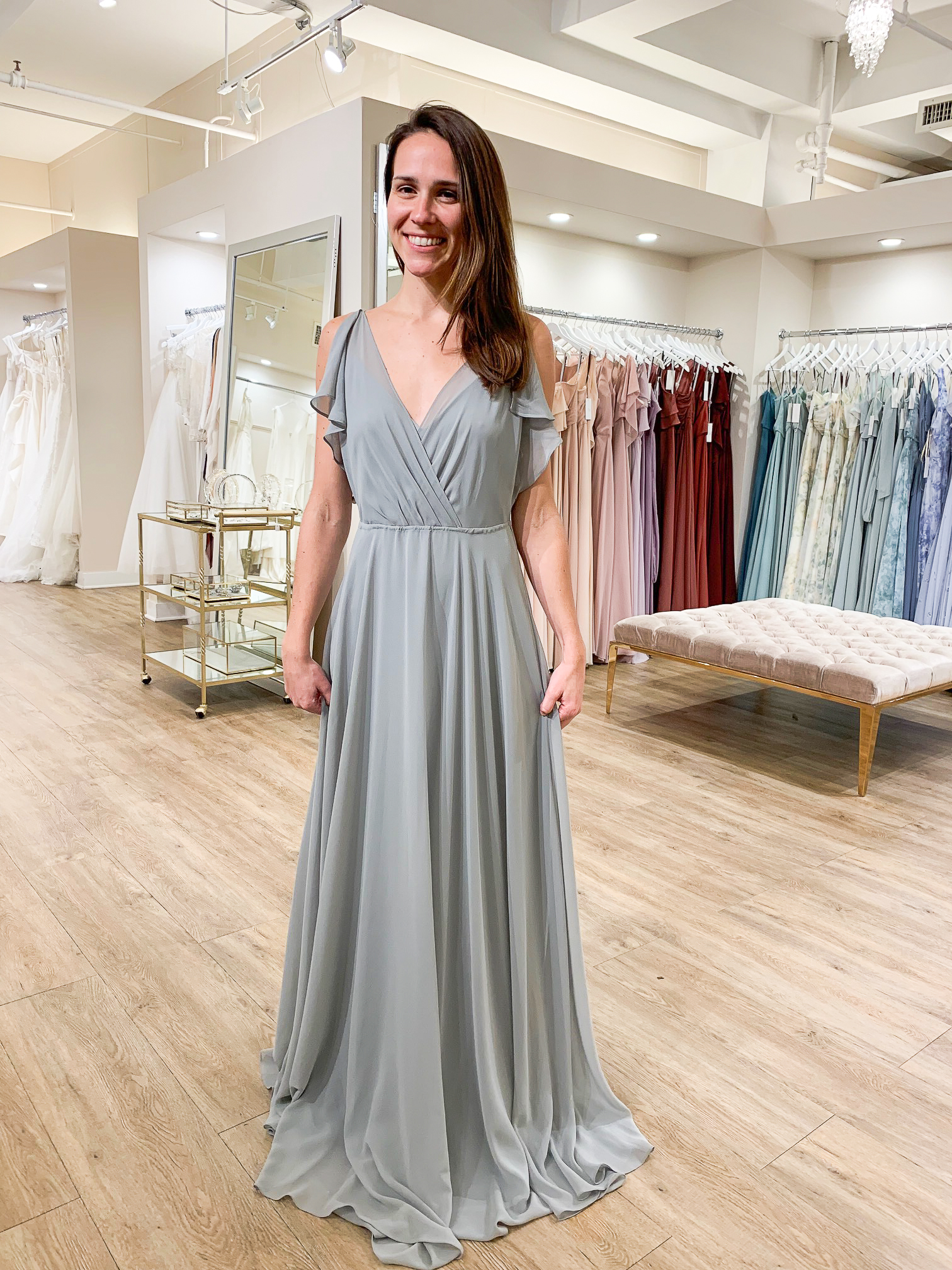 The Mila
A classic, romantic style that looks beautiful on so many different body types! It has spaghetti straps and the flounce sleeves are more for aesthetics so it's incredibly comfortable and easy to dance in, which is obviously the most important thing about it. See it here.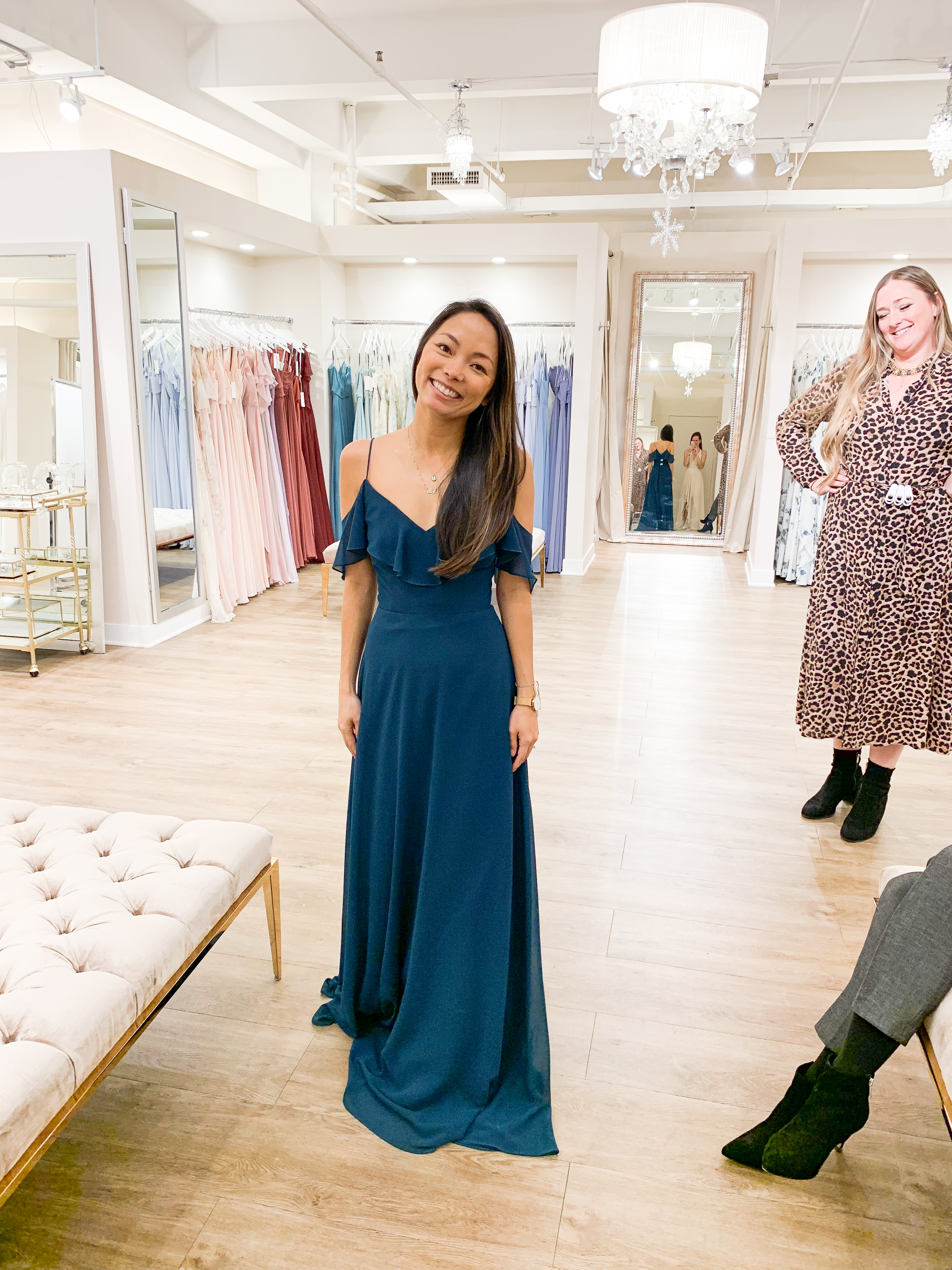 The Bryce
This is another new dress for 2019 and we all fell in love with this one! It's very flattering on and you can also choose to close the skirt so that it just has a slit (see the pictures on the site!) for a clean look. See it here.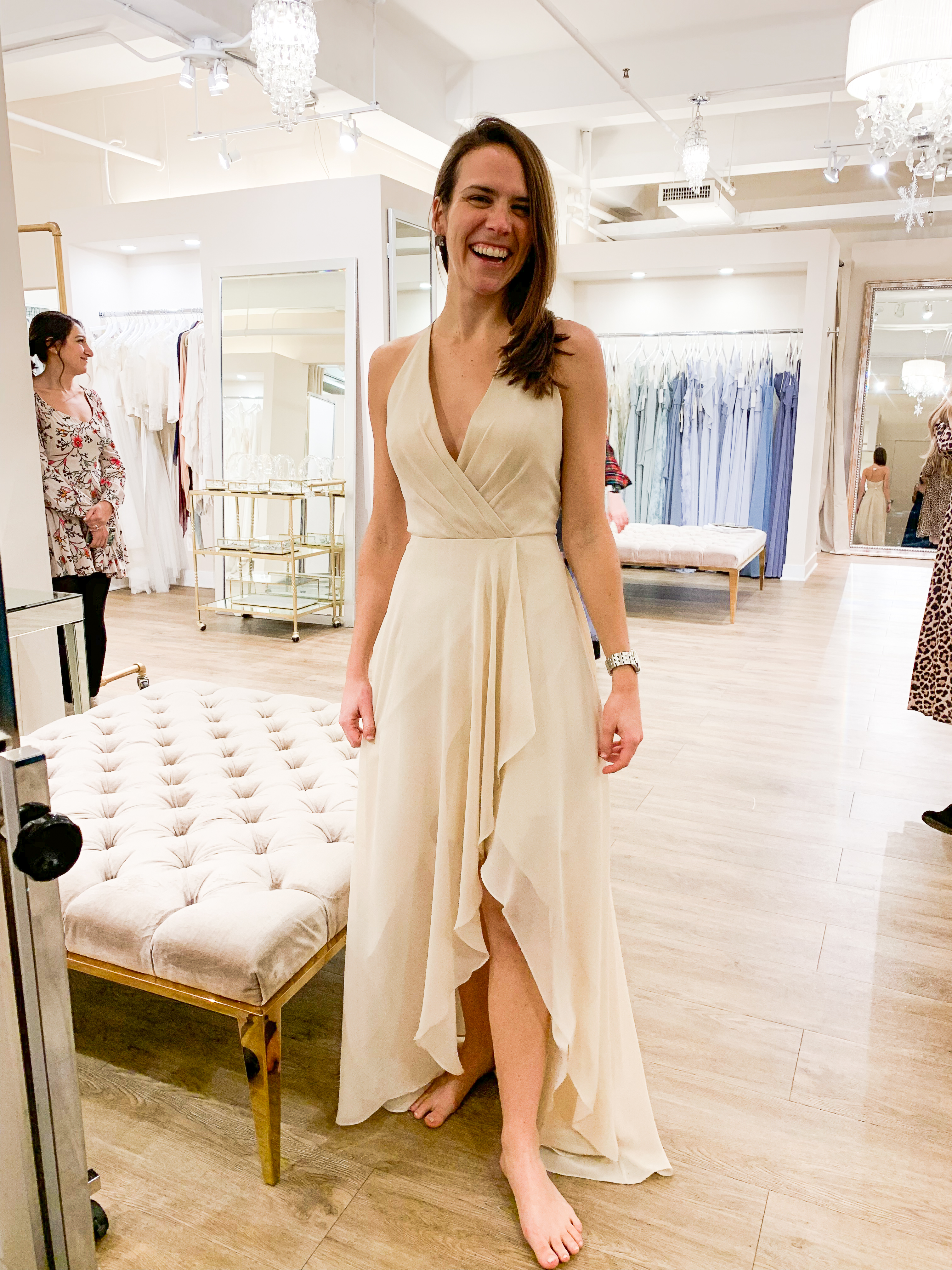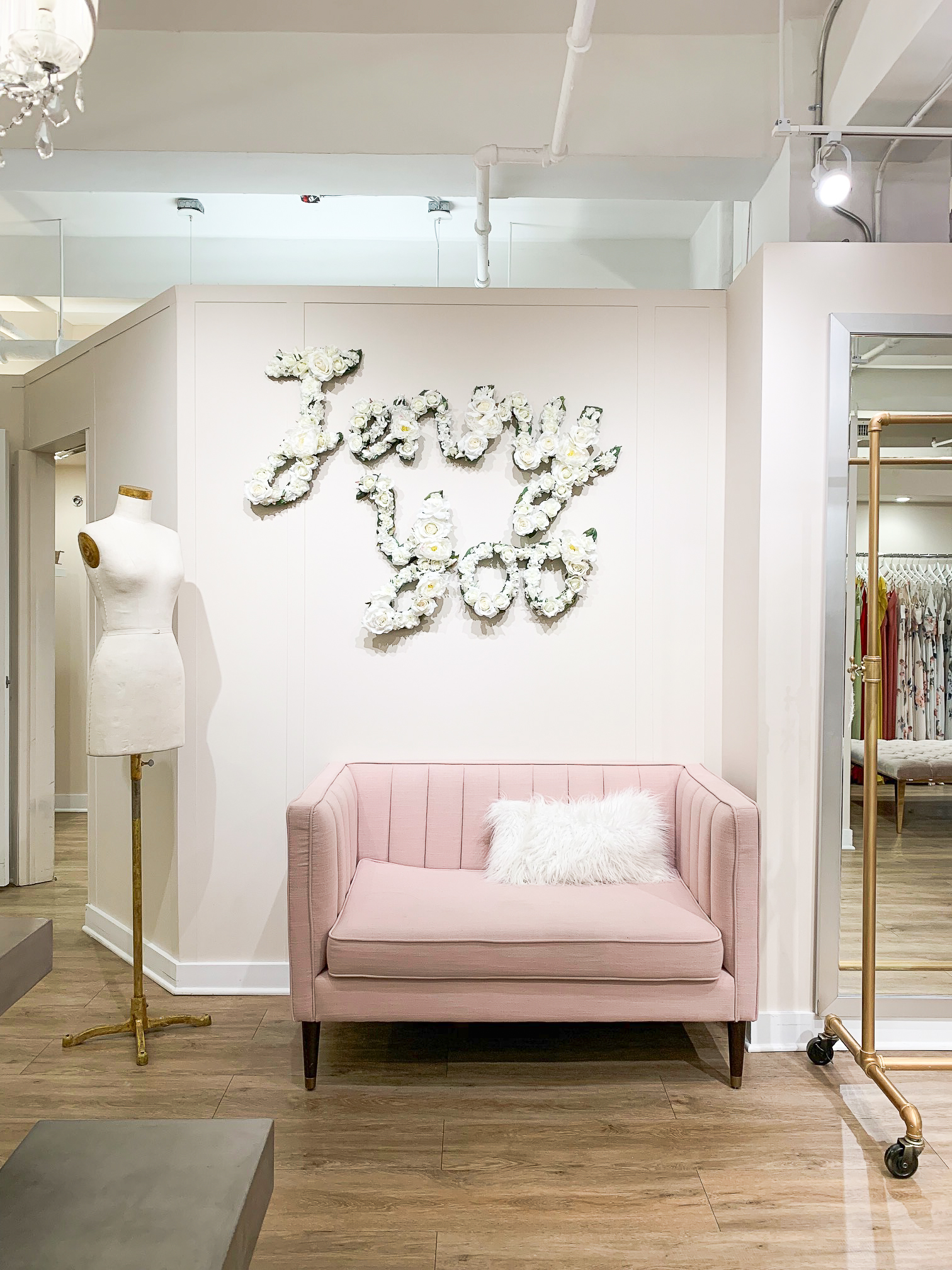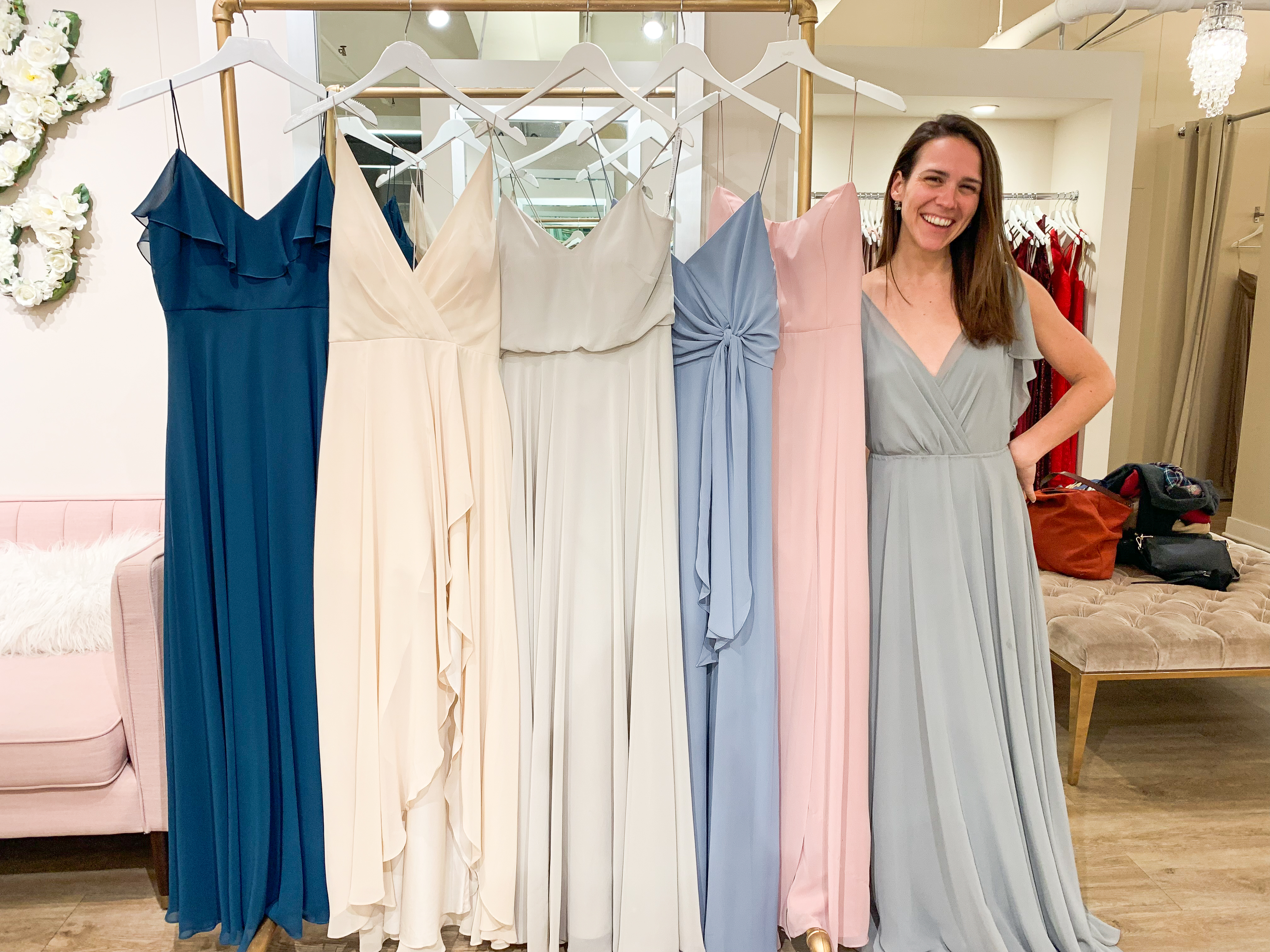 We had so much fun trying on the new dresses to see what they looked like on! There were a few other dresses from the 2019 collection that we also loved The Kiara was a personal favorite of mine and looked so clean and sophisticated on and The James is just a beautiful and romantic style that is so flattering. I wore a very similar dress to this one to a friend's wedding a few years ago and even though I'm petite, the higher waist wrap dress made me look inches taller!
Most importantly, I'm excited that the girls could pick something that fit their styles and tastes. The dresses were all stunning in person and we can't wait to see them arrive for the big day in May!