March 7, 2018
Our Wedding Registry with Bed Bath & Beyond
This post was sponsored by Bed Bath & Beyond
One of the aspects of wedding planning that MG and I have been the most excited about was registering. If you've been following along for a while you know that starting our first home (well, small apartment) together was an incredibly special milestone for us and the idea of actually picking out items that will last us a lifetime is equally as special. Both of us lived in tiny spaces previously and didn't have kitchens large enough to cook in, so in the last year we've taken full advantage of having the space and more time to do so.
That being said, picking out pans, cutlery, and crystal is not something that either of us have any experience with. Our immediate family and friends who have recently gotten married shared their tips and suggestions, but to be honest we didn't really know where to start.
We feel both lucky and slightly overwhelmed because we're basically starting from scratch. Almost everything in our kitchen is a hand me down or something I've had since my first apartment (a.k.a. really old). Neither of us have ever spent a lot of money on these pieces, so decided to get a jump on our registry and start learning.
One beautiful Saturday afternoon we popped over to the Bed Bath & Beyond on 6th Avenue for our first registry appointment with an angel among us named Kathleen. For anyone else who has registered or is about to – our advice to you is to setup an appointment. It's easy to do online and totally worth it! We had no idea what we were doing, but left more knowledgeable and excited than we ever could've expected.
The best part of our experience was how Kathleen tailored the whole visit to us. We told her about our engagement, the things that we like to cook, what we do, where we spend the most time in our apartment, and the types of things that were important to us as a couple and in thinking about the future. By the end of the appointment we felt like we knew as much about Kathleen as she did about us and our lifestyle as a couple. It's exactly how you want to feel during these experiences–comfortable and at ease.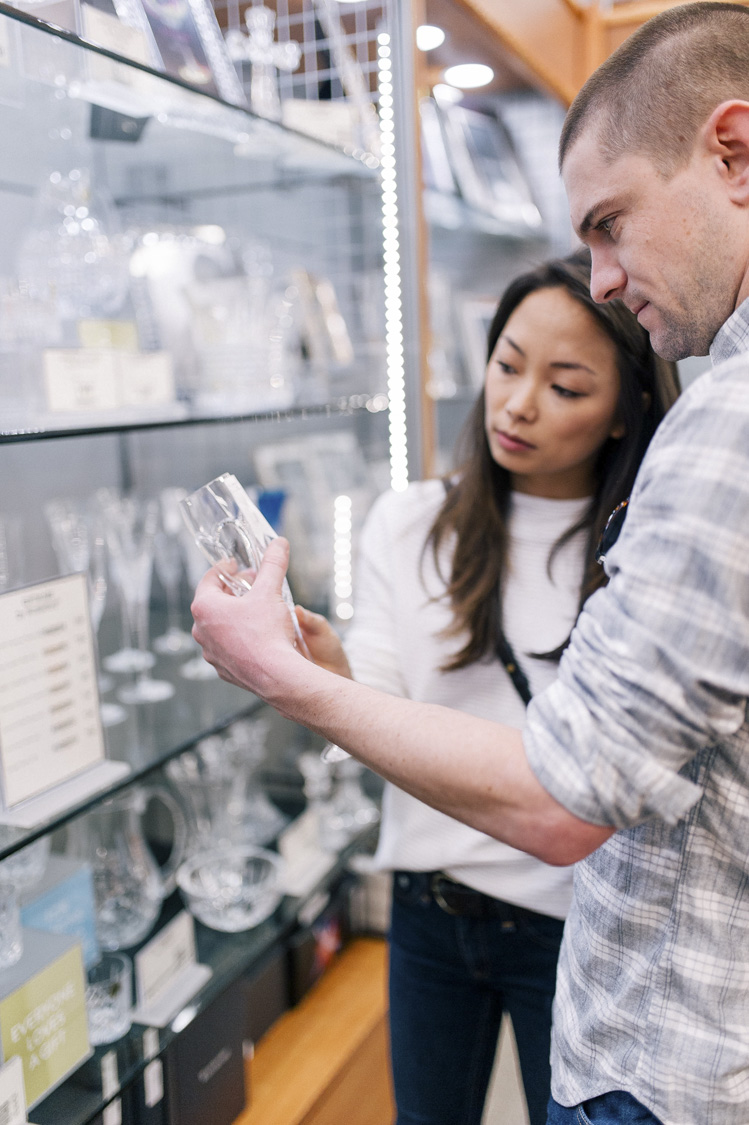 CRYSTAL AND BARWARE
We started with crystal and barware. One of my favorite moments of our appointment was when she asked us what we like to drink and we looked at each other smiling and replied… "everything!"
I don't think she believed us until we started scanning just about every type of glass under the sun. Our very first item was a Waterford whiskey decanter (which is very fitting if you know MG), but I did do the honors of scanning it (my favorite part of the experience, obviously). My parents have had some of our Waterford glasses for over 30 years and we definitely wanted to choose items that we know we'll be able to toast with 30 years from now as well. We added champagne glasses, a small wine rack, and of course scotch glasses. Kathleen taught us about Riedel, a brand that carries different wine glasses for each variety that are dishwasher safe and durable. We loved that they come in sets and allow couples to choose a mix of red and white glasses.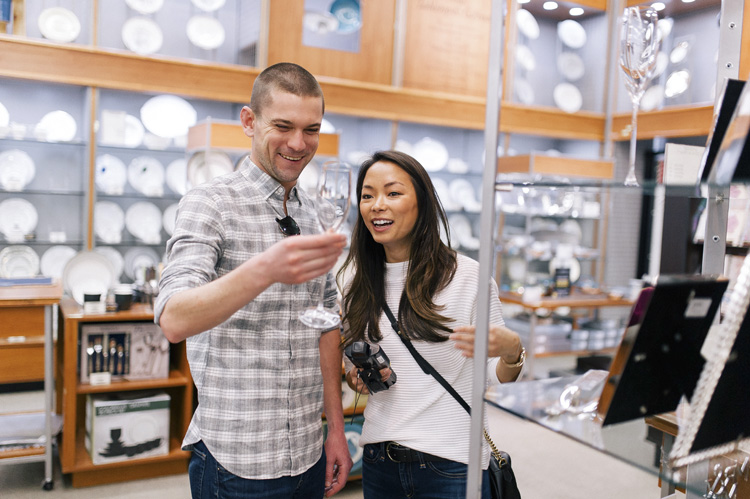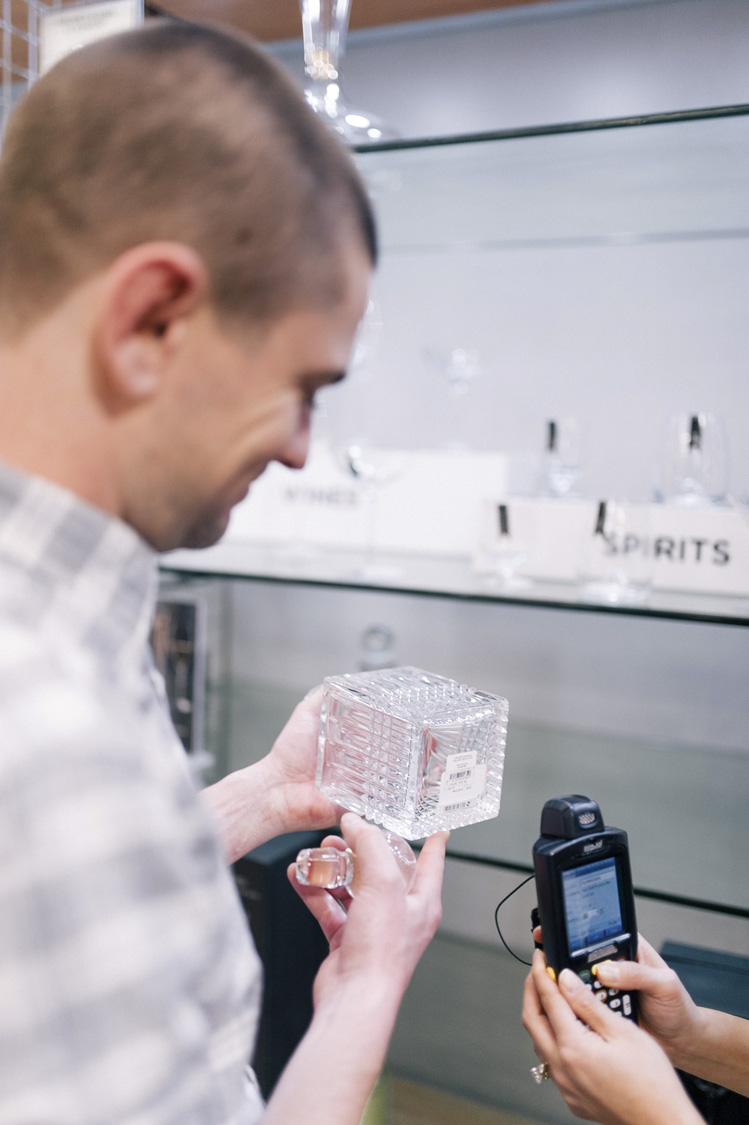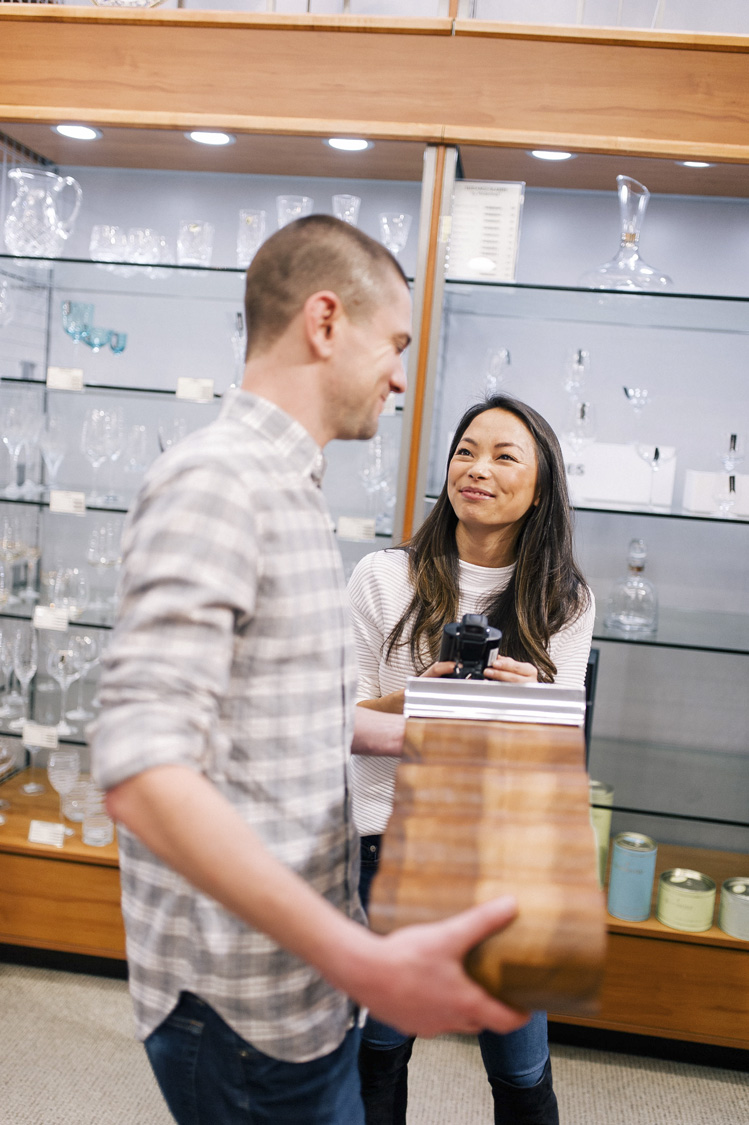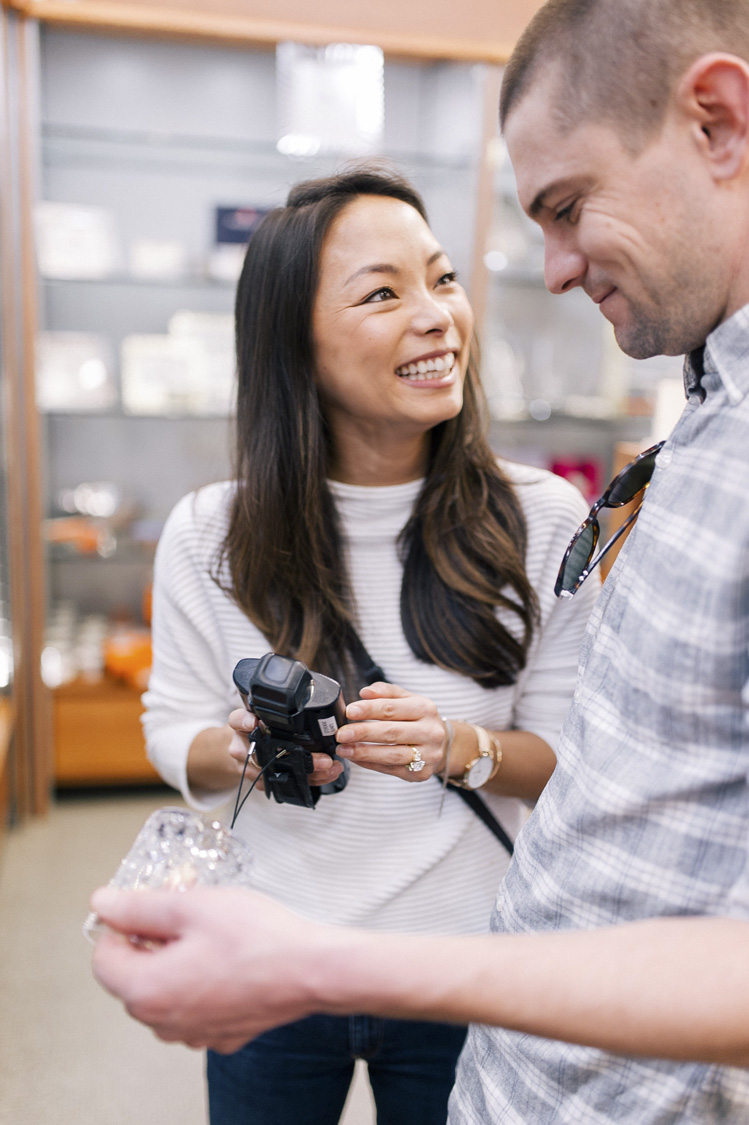 COOKING
After we finally peeled ourselves away from the bar area, we wandered over to the cooking section. Our current pots and pans are ones I've had since graduating college, and have now lived in apartments in Dallas, Chicago and two places in New York. Let's just say they've been through a lot! Both of us were excited to pick out new ones, especially now that we're cooking a lot more.
We decided on the Calphalon Signature line and picked out the larger set and added a smaller omelet pan because I like to have some small and easy to pop eggs into. It includes a large stock pot for pasta (something we've been desperately needing for the amount of pasta we consume). We also added bamboo utensils and a meat thermometer to our registry so that we can cook meat more accurately in the oven in lieu of having a grill.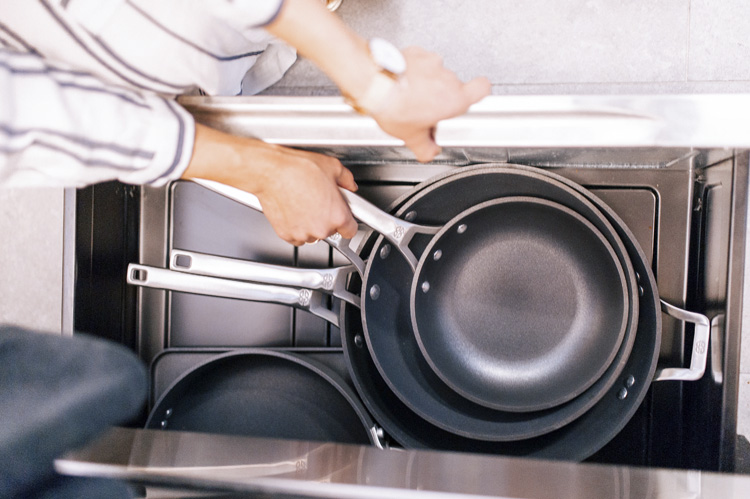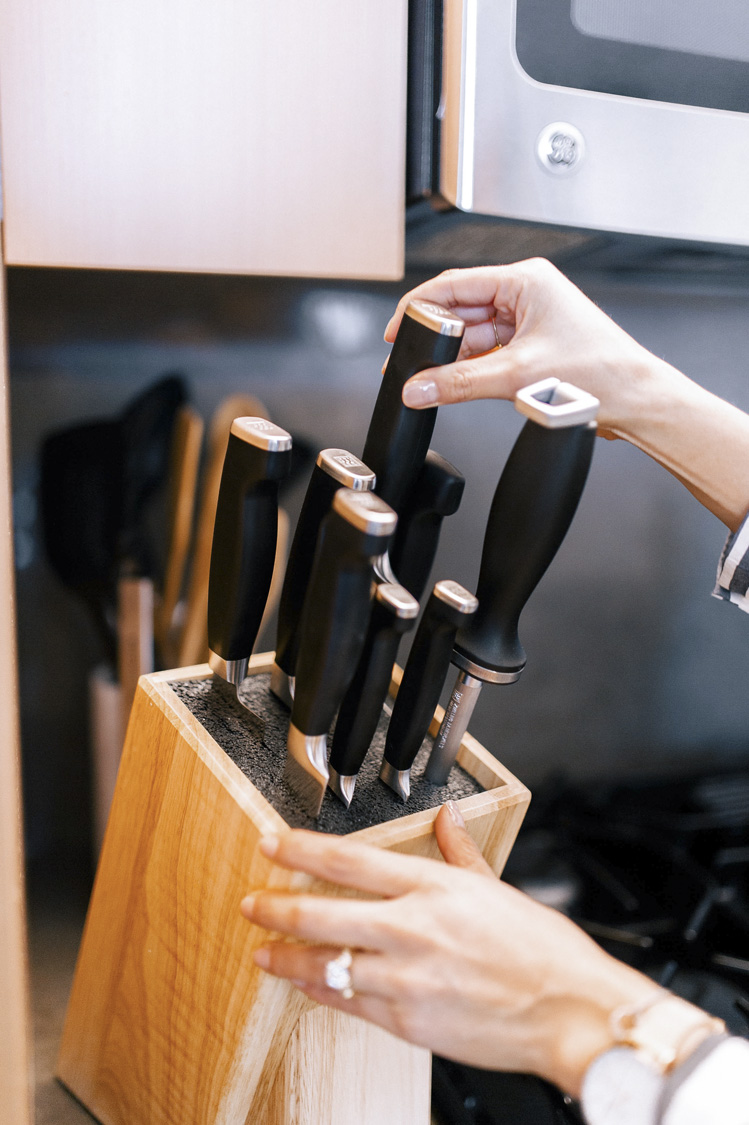 We were both equally as excited to spend some time in the knife section. MG's Dad is a trained chef and we love watching him prepare dinners and learning his tips and tricks. We sought his advice before the appointment and ended up picking out knives that we thought would meet our needs. The best advice that we received at the appointment from Kathleen was to hold the different knives in our hands and choose the line that felt the most comfortable to us. We went with the Zwilling J.A. Henckels line and chose a few chef knives, a santoku knife, bread knife, a utility knife and a steel sharpener. We also discovered this knife block that is one of MG's favorite things in our kitchen. It's more sanitary than other knife blocks and it can adjust to however many knives you have.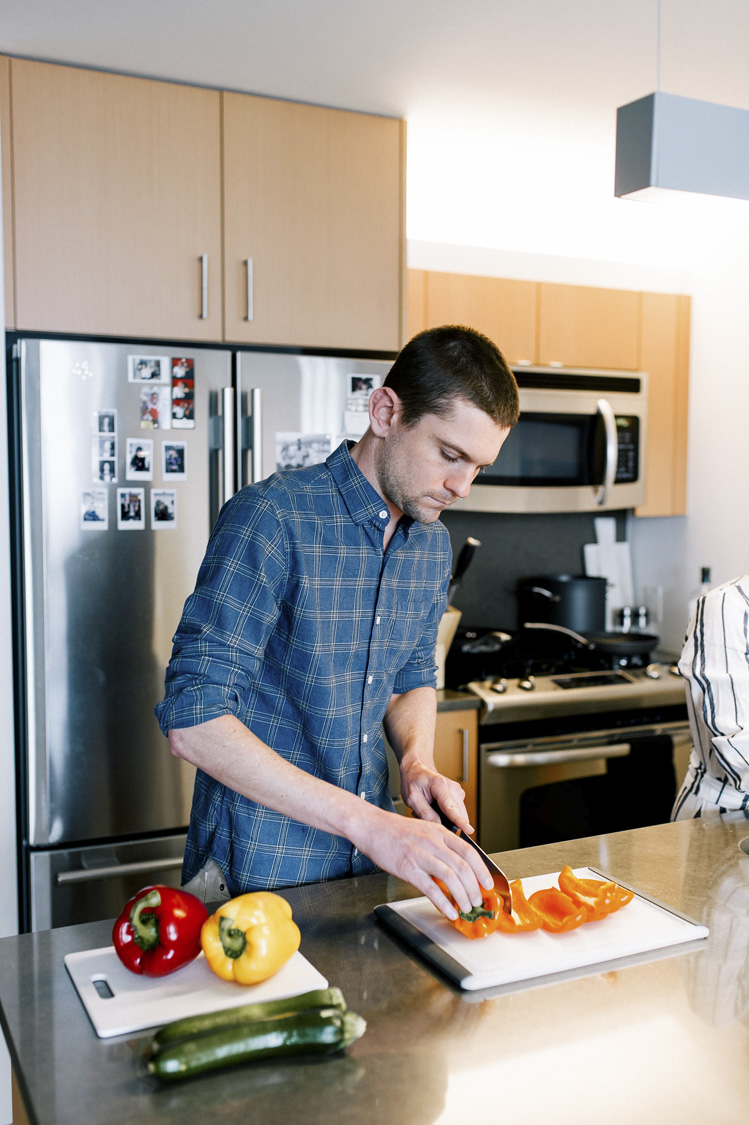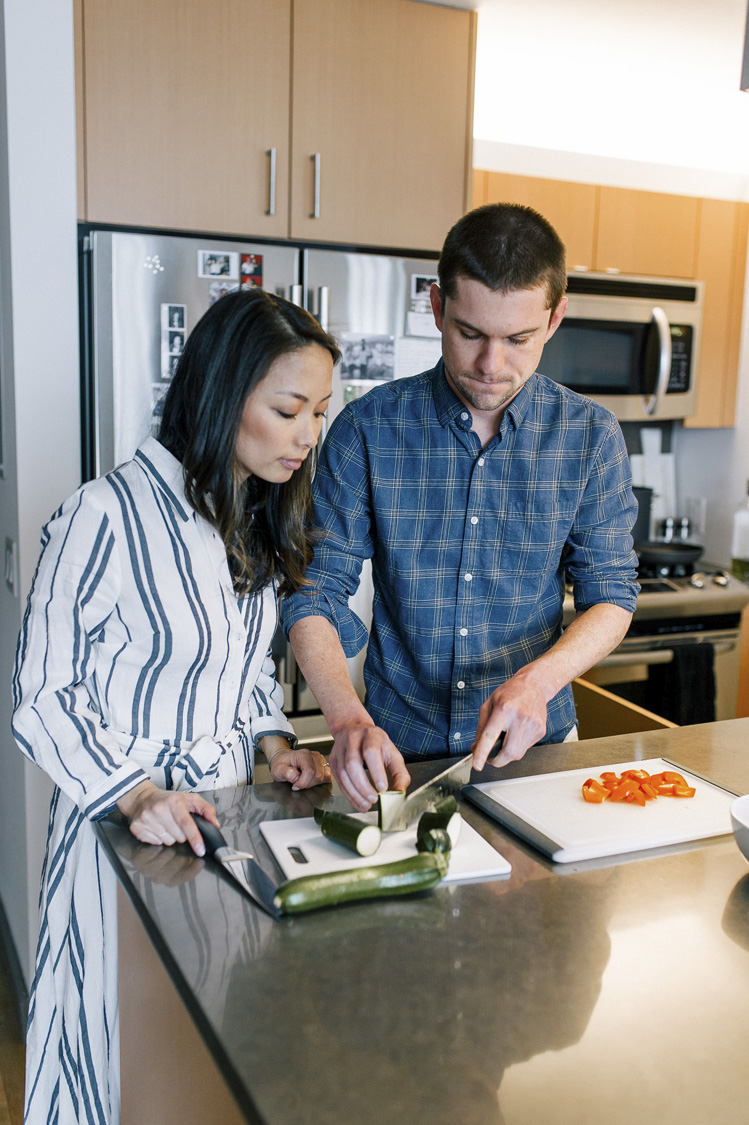 I've shared with you guys recently that I've been loving making soups. On my list of items that I was excited to register for was this Le Creuset dutch oven. It's a piece that is helpful to look at in person to get an idea of the size and eyeing it for the things you'll use it for most frequently. We ended up getting the 5.5 quart version and I'm going to add a rectangular and square version to our registry as well. I also swapped out the knob for a gold one and it looks so classy sitting on our stove.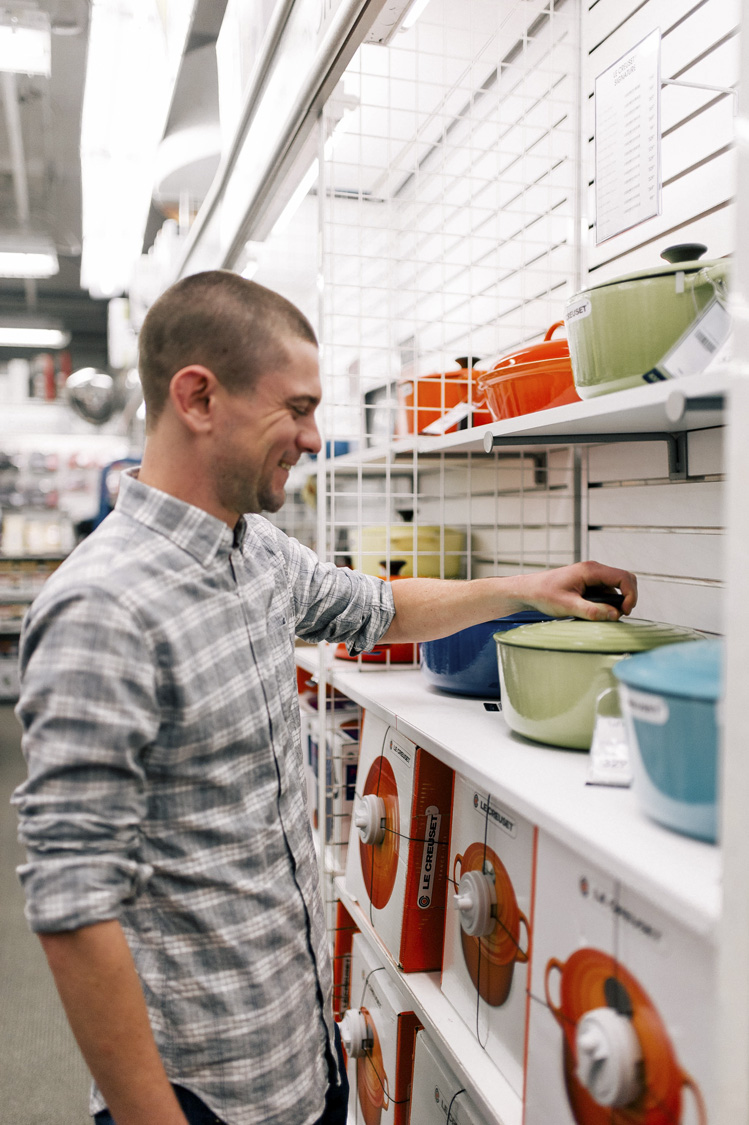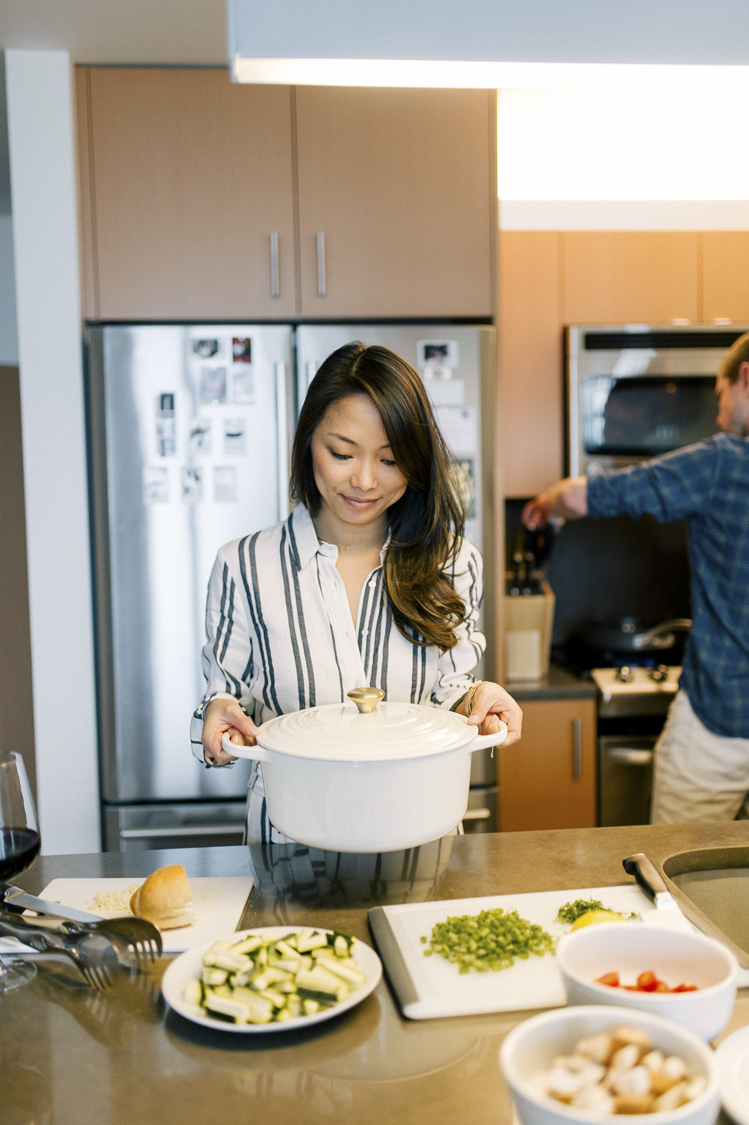 The last big item we decided to register for was a Kitchen Aid Mixer. Full disclosure, I am not the baking type and there will only be a few cookies made with this (at least for the foreseeable future). One of my dream hobbies is to make pasta–I talk about it with MG all of the time. We added the pasta attachments and some other cooking tools and I know we'll be using this often, especially as we grow into larger homes. The other reason why I wanted to invest in this item now is because there are so many other functions, like slicing, food processing, and meat grinding. For anyone who lives in a small space a tool like this is ideal because outside of the attachments you only need one item.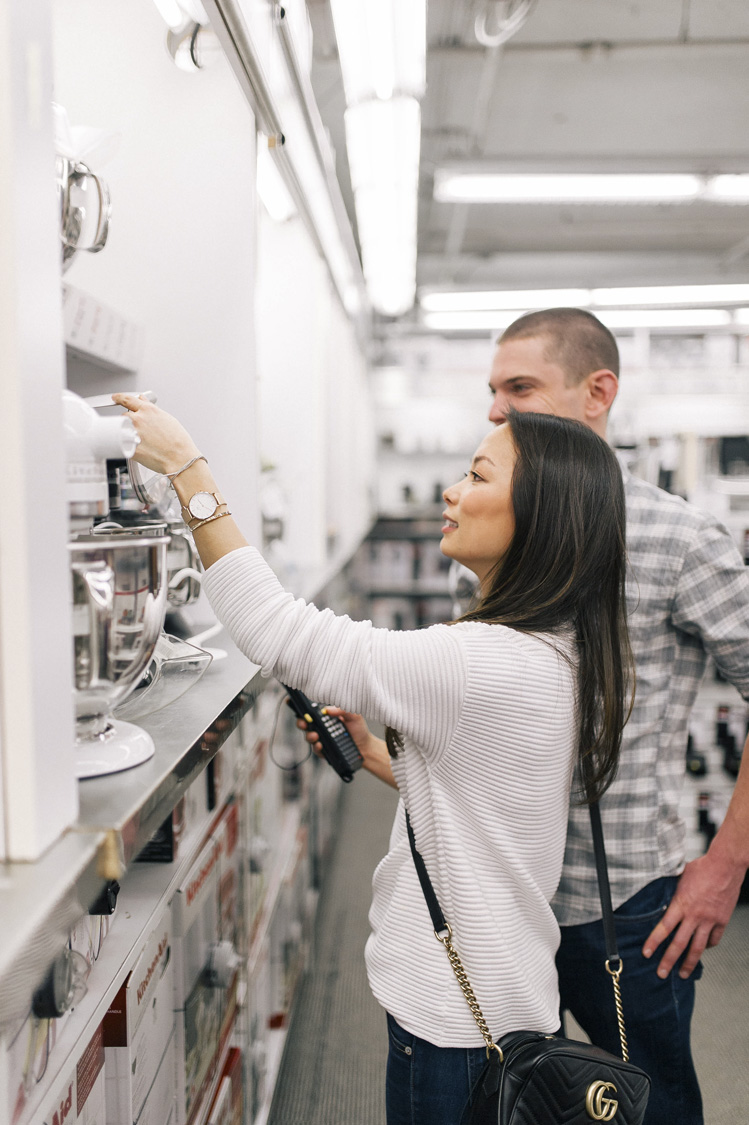 BEDDING
One of the reasons why we decided to register at Bed Bath & Beyond is because they really do have everything. Initially we weren't sure if we would add bedding or towels to our registry, but that's where Kathleen really came to the rescue. After she talked us through different comforters and pillows that are made to last 15+ years, we were convinced that we needed to up our bedding game. Based on our pillow preferences we learned that I'm a "stomach sleeper" and MG's a "side sleeper", so after careful deliberation we decided to meet in the middle and get two of each. Marriage is all about compromise, right? :)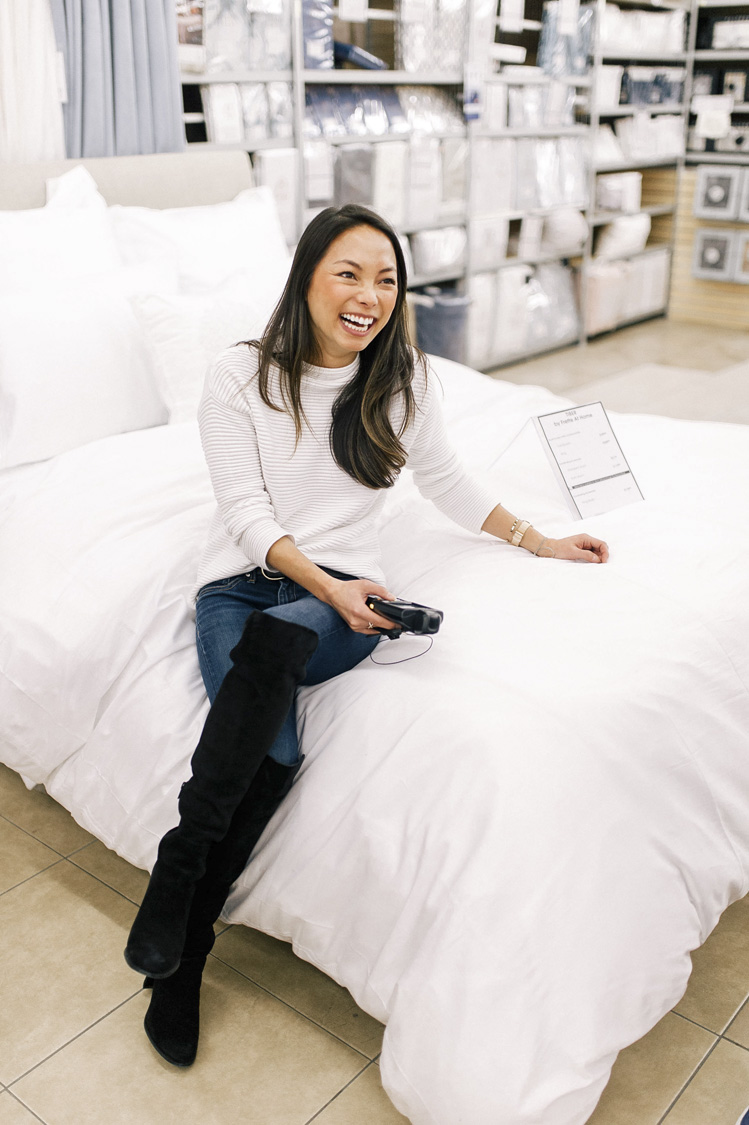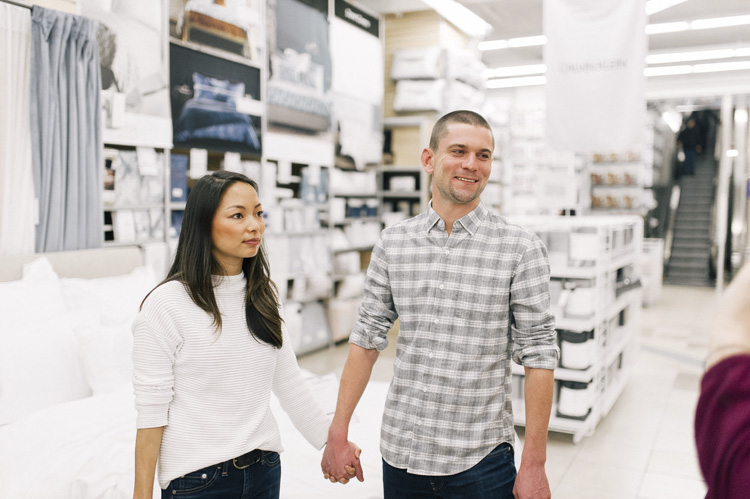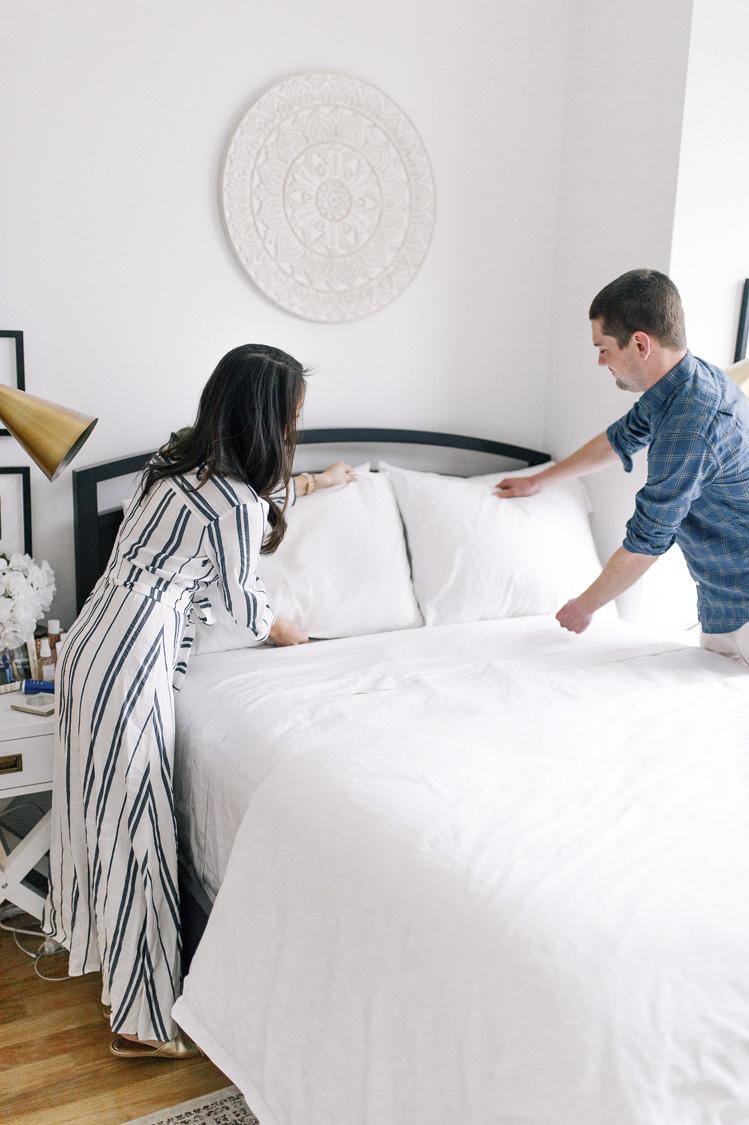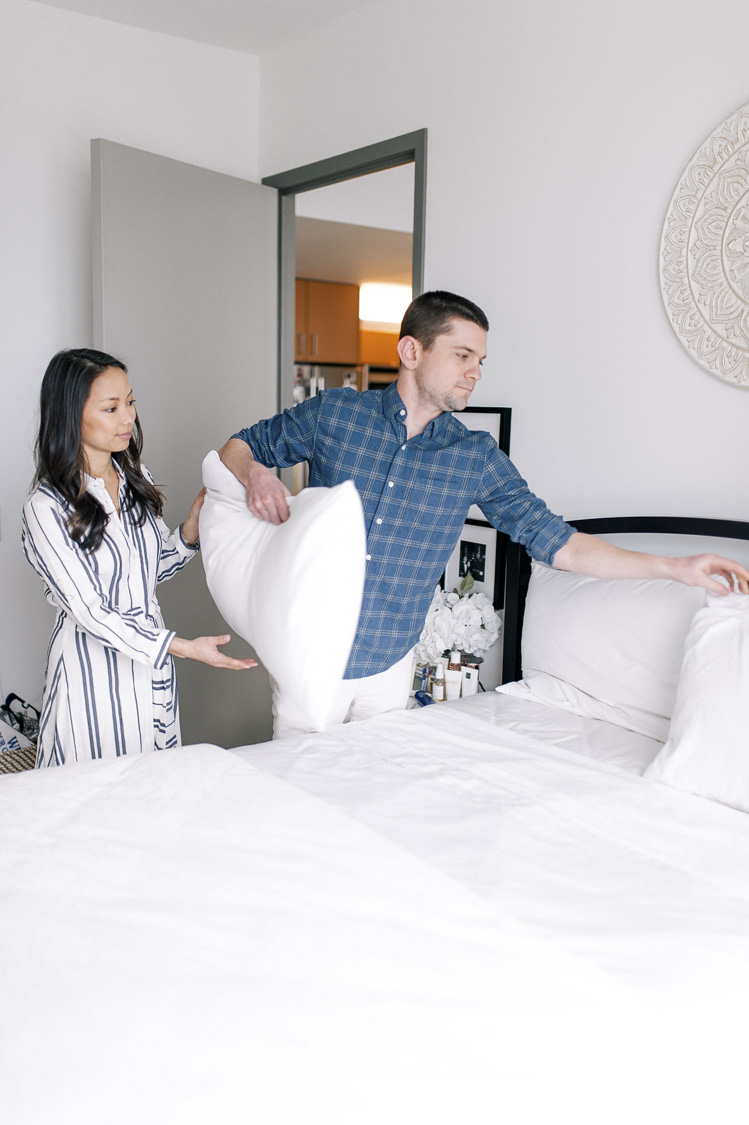 We also added these towels and hand towels to our registry after getting a comprehensive lesson in bath towels and the looping that makes some so soft. Again, it's something we probably wouldn't have thought of initially but after talking everything through in person with someone as knowledgeable as Kathleen we realized it was worth it.
In our small space we use our vacuum all of the time. It needs to be small enough to fit in our coat closet, but powerful and versatile enough to do carpets, floors, and furniture. This cordless Shark version comes with attachments for just about anything and makes what used to be a tangled mess of cords and dust bunnies a simple less than 10 minute sweep now.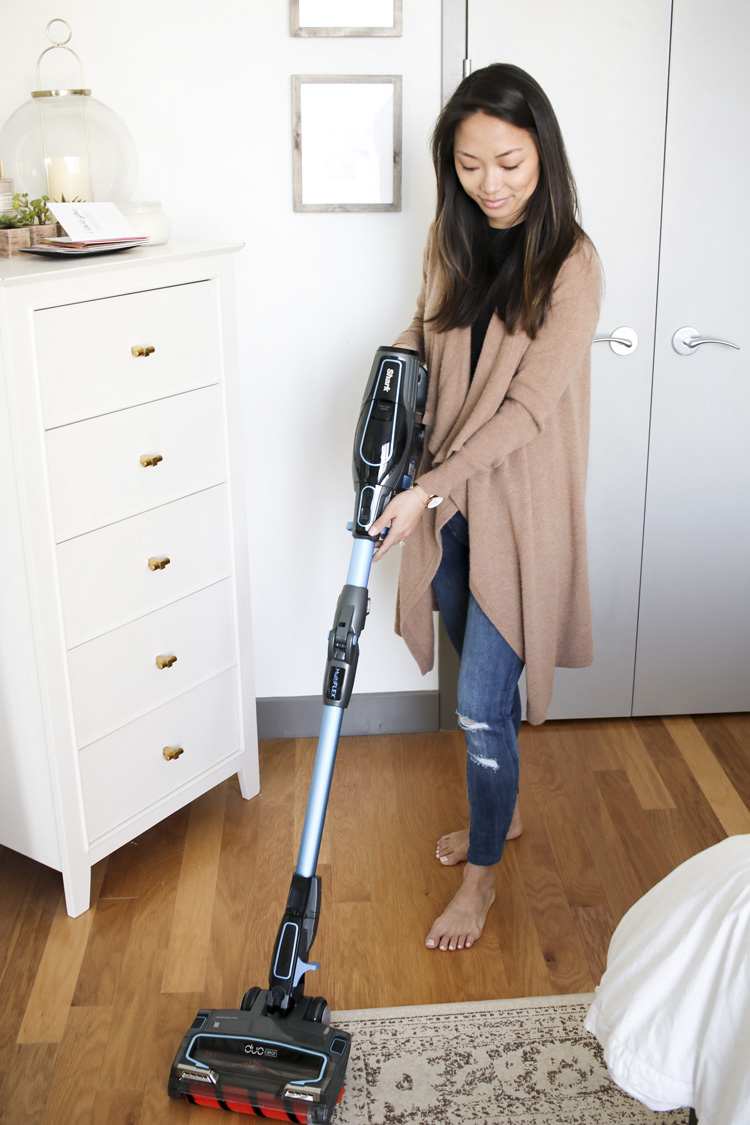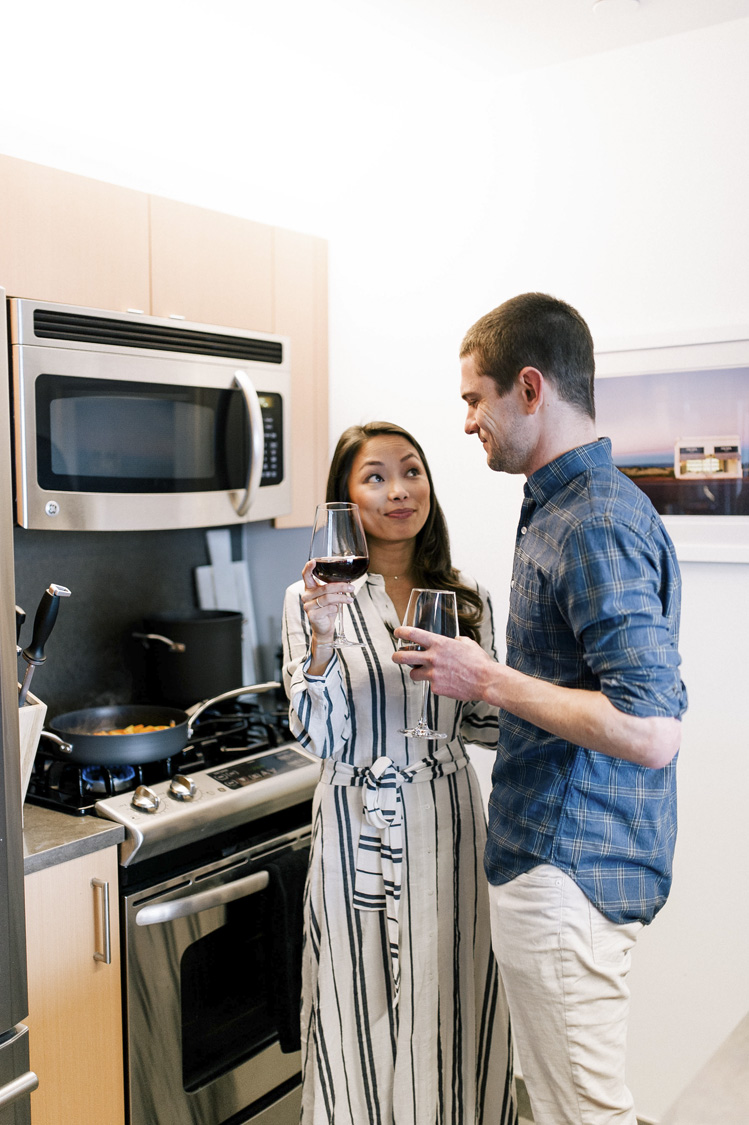 People tell you so many things about getting married, and to us the most fun part is getting to do it all together. Neither of us felt like we knew what we were looking for when we showed up at Bed Bath & Beyond that day and left so excited thinking about all that is in store for us – it was more than picking out "stuff", but a special day thinking about our future and the memories to come.
It's really easy to schedule a registry appointment and to get started creating yours online. My favorite aspect of the online registry is that it's broken out into categories and makes it easy for you to see everything you've added by category and different price buckets. We have plenty in the kitchen section and need to spend some time chatting about fine dining items next.
You can find our picks and some of my top favorites over on the Stylemaker Spotlight along with other favorites from fellow brides and groom-to-be's! I'd love to hear what your favorite registry items have been for all of my married gals!
OUR TOP REGISTRY PICKS
This post was sponsored by Bed Bath & Beyond, but as always all opinions are my own!
Photos by Carter Fish