December 1, 2014
Holiday Style + Zappos Present Palooza





It's December and you know what that means! For the next 25 days I will be in full blown Christmas mode, so to kick things off I'm sharing some of my gift giving tips in a collaboration with one of my favorite sites, Zappos!
Finding the perfect gift for someone can be really difficult. I've started a few gift guides for inspiration, but wanted to share some of the things I think through when trying to pick something out. Zappos gave a few of us the opportunity to actually play Santa for someone else for their #ZapposPresentPalooza. It's hard enough to find something for your loved ones, but try doing it for a perfect stranger!
I've found that the best gifts are the ones that are just within what that person likes but are things that they wouldn't buy for themselves. If you know the person relatively well, I like to spend a few minutes thinking about the things you see them wear the most often. For my mom, it's a really good pair of flats – she loves to be comfortable but still stylish. For my sister, she loves statement earrings and likes her shoes and boots with a heel (like me). For my old roommate, she's always adding in delicate and girly jewelry to her wardrobe staples.
You can go one of two directions at this point – find something within their comfort zone that you know they'll love and wear/use all of the time OR step a tiny bit outside of the box (and get a gift receipt!). My favorite thing about the Zappos shopping experience is that it's easy to find a gift for everyone on your list (even the guys and tots) no matter which direction you go.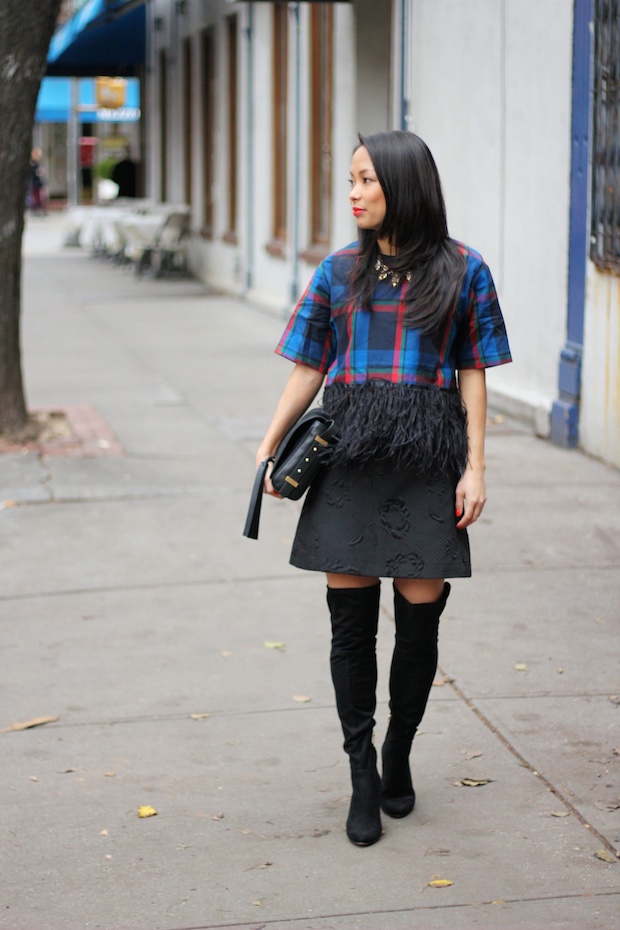 For the #ZapposPresentPalooza, I spent a little time learning what my secret santa partner Jackie's style was and where she lived. It's cold in Utah as well, so I know she probably already had all of the staples – winter boots, a puffy coat, and over the knee boots. I often find myself longing for the things that aren't quite so practical but that I want for personal style reasons. I picked out some snakeskin short boots and thought a leather jacket that she could layer over would be perfect! I also added in some green studs for a festive touch to any outfit.
I was so excited that Jackie picked out some dressier over the knee boots for me as my gift! These Ivanka Trump boots are such a great option for those who love the Stuart Weitzman version. They are beautiful and a more affordable alternative that look every bit as luxurious. There's amazing gold zipper detail at the back and have a super snug fit! She also sent me a delicate pair of green House of Harlow 1960 earrings that are the perfect addition to my Holiday wardrobe for upcoming parties and events.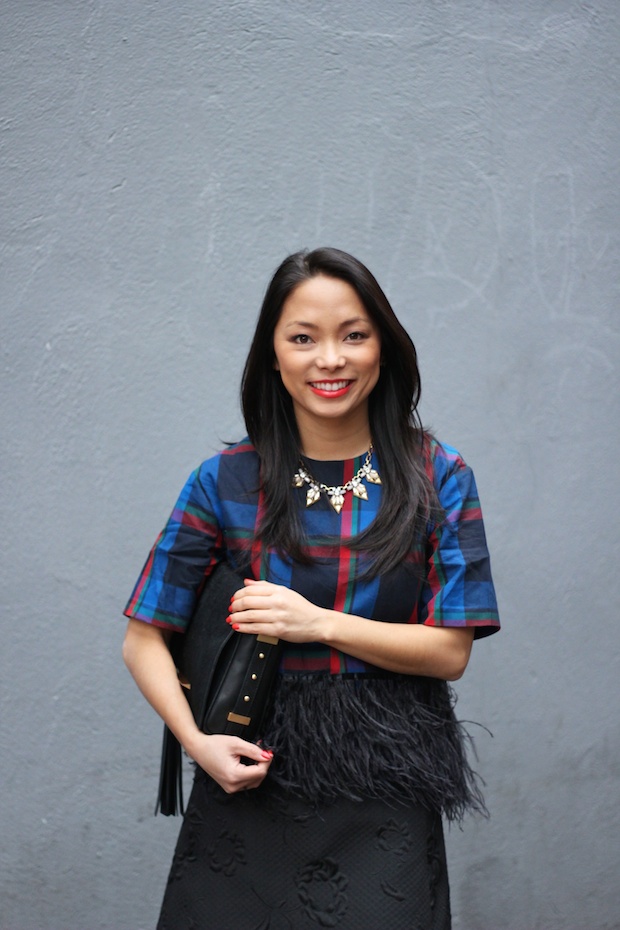 I have very limited "spare" time these days and don't enjoy spending it waiting in lines at stores and dealing with returns. To me, shopping & gift giving should be easy and painless. I rely heavily on being able to shop online seamlessly and being able to send my gifts in the mail so I don't have to pack them when I head home.
The Zappos promise is real and something as a busy, working woman I really appreciate. I can ship my presents back to Texas quickly and never have to worry about the return process. And anyone who makes this as easy as Zappos does is on my "Nice" list! :)
I hope you all had a wonderful Thanksgiving weekend and are getting a head start on your Holiday shopping! Be sure to check out Jackie's post too and I'd love to hear your trips on picking out gifts!
P.S. – One of my tricks to extending your summer dress wear is to layer tops over them so they can serve as skirts when the temperatures drop!
SHOP THE LOOK
BOOTS: Ivanka Trump Sarena over the knee boots c/o • EARRINGS: House of Harlow 1960 studs c/o • TOP: Endless rose plaid and fringe top  • DRESS: French Connection dress c/o • BAG: B by Brian Atwood calf hair crossbody (as a clutch) • NECKLACE: J.Crew necklace • LIPSTICK: YSL
Photos by Amanda Holstein
This post was brought to you in partnership with Zappos