July 8, 2010
don't be afraid to step out
There are two things that you should know about me and my taste in fashion: I love to mix and match pieces, and I believe the idea is what makes the outfit – not the price tag. Yes, I love labels. What girl doesn't? But as I have gotten older, I have found that my favorite thing to do is find unique pieces at all different stores and piece them together into versatile and fun outfits.
Over the years I have found that many of my friends and often complete strangers will compliment me on an outfit or an accessory. The question that usually precedes a compliment is "where did you get it?" Obviously, they love your look and want to nab something similar if it's still in stores. My response normally is the kicker. "Actually I got this at Forever XXI/on sale at ___/at a vintage store!" Wide eyed and shell shocked they typically cannot believe it. Most of the time they are most surprised that I could find something in the masses of clothing/mayhem that is stores like Forever XXI.
I wouldn't call it a gift, but I would definitely say that I have knack for finding hidden treasures, even in the most typical of stores. I love sale rooms/bins/racks and actually enjoy the rummaging (as long as I find my size!), whereas most people see those areas and run for cover. So for the less patient or less enthused, I hope to inspire you to find fabulous deals without losing any bit of style.
—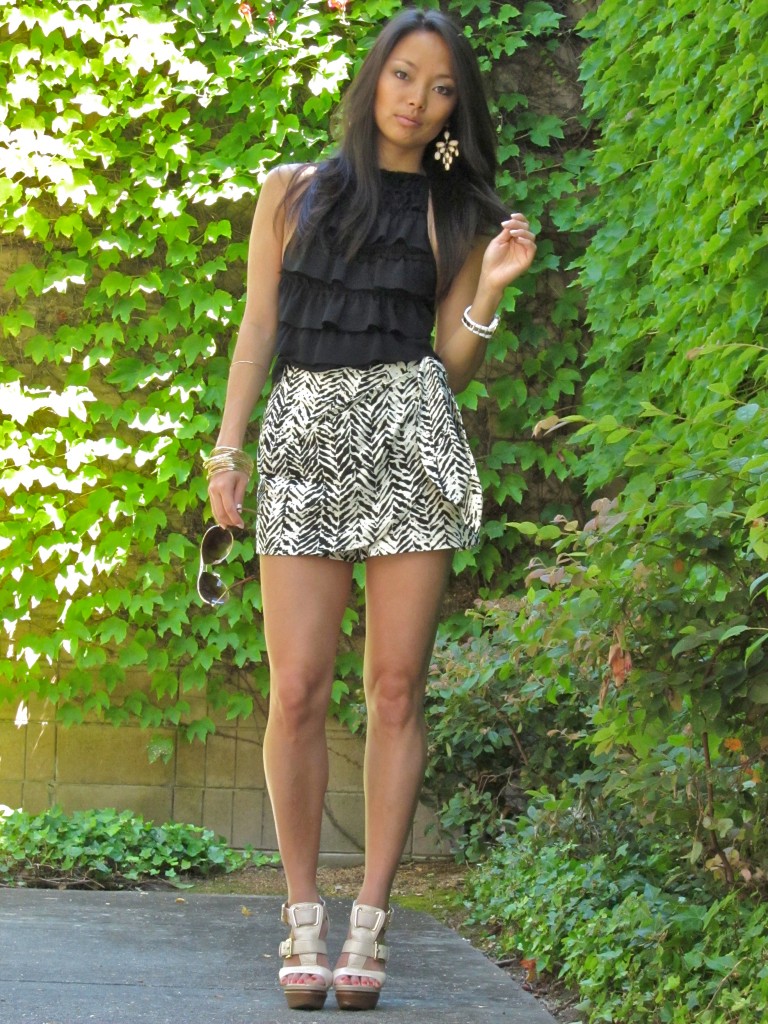 —
I have been looking for something to wear this top with for-ev-er. I actually got it a few years ago at Urban for about $10, and immediately fell in love with the ruffles and the open back (even though it has caused me some difficulty in finding somewhere to wear it). I came across this skirt in Forever XXI and even though I never buy animal printish things because I typically hate them, something about this one stuck out to me. I loved the fit, and even though I haven't owned one since I was about 6 years old, I really loved that it was a skort. If you haven't noticed, everything old is new again! It's so great. The accessories are some of my favorites – my "go to girls" if you will, so you will be seeing them again.
WIF ("what i've found"): Find clothes that are flattering and not just stylish. Once you swipe the card and it's in your closet, you will be less likely to wear it if it doesn't fit well. Fashion is all about confidence and feeling good in what you're wearing!
—
—
—
—