November 10, 2014
Give and Give: TOMS x Target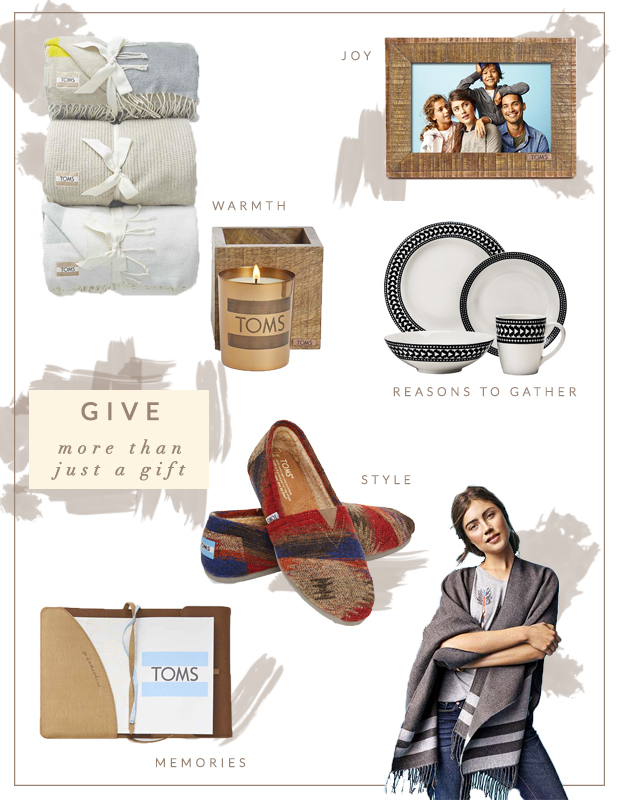 Gift giving is one of my favorite parts of the Holiday season. Whether it's a warm pumpkin pie made from scratch or a blanket for sitting by the fires when winter rolls in, it's the thought and love behind them that mean the most.
I've found that the best gifts I've ever given are the ones that are more than just what they give at face value. A set of serving utensils is really a reason to gather and share stories. When you can take a step back from the gift and focus on the purpose for giving it, well.. that's when the real fun begins!
This Holiday season Target and TOMS are giving a little extra something when you give. Starting November 16th, for every TOMSÂ for Target gift purchased Target will be giving shoes, a blanket or meals to those in need. These are truly the gifts that keep on giving – a domino of love that will continue far beyond what you had intended.
This season I'm challenging all of us to think outside of our families to friends and people in our lives – maybe it's someone who doesn't have a lot of family or a friend at school who can't make it home for the Holidays. This is a season to share and be creative with what that means. It doesn't require a lot of money or even time! I've listed a few quick and easy things to give something a little more and some DIY ideas as well. Happy Holiday season!
Memories
Plan a surprise delivery or meal for them (even if it's just a coffee or a cupcake delivered by a friend)
DIY: Make them a homemade scrapbook (can cost as little as $15)
Warmth
DIY: Collect matches from restaurants in your area and gift them in an antique box – it's so simple but makes for more interesting candle lighting!
Joy
Picture Frame of a special moment
Airline credit
Concert tickets
DIY: Use a repurposed candle jar as a vase with fresh flowers
Reasons to Gather
DIY: Bake a pumpkin pie or homemade decorative cookies
Style
Compensation for this post was provided by Target via AOL Media. The opinions expressed herein are those of the author and are not indicative of the opinions or positions of Target or AOL.