October 6, 2010
take me back to texas
Zara skirt, Aldo slingback clogs, Topshop bodysuit, Forever XXI headband and necklace, Deux Lux bag, Marc by Marc Jacobs watch, vintage bracelet and Urban Outfitters Rings
In the midst of all of my crazy travels, sometimes it's nice to take a break from it all and spend some relaxing time back at home. I grew up in Texas and there's truly no place like it. I love to travel and see the world, but there is a cozy feeling that I get when I'm back near my hometown and in a place of familiarity. The weather is actually pleasant since it's October and I couldn't be happier to have a few home cooked meals and see my family. I spent the first weekend at a bachelorette party for my sister, a week working in Dallas, and some time with friends and family eating some amazing Texas food.
On a casual shopping trip with my mom and sister searching for wedding-related items I was lured into Zara and ended up in autumn bliss. If you haven't been there lately, GO! They have amazing selection right now – from camel coats and faux fur vests to skinny cords and casual trousers, I was loving pretty much every rack in the store. I was pleasantly surprised by the color palette – it encouraged me to break away from my default choice (black) and go for some color in my fall wardrobe. Not to mention Zara is pretty reasonably priced (a little more than H&M but less than a department store). I picked up this amazing maxi skirt (I told you guys I was obsessed!) in a funky off tan/brown color. One of the reasons that I love long skirts is that with 4 inch platforms you have no idea that I'm not 5'6″ + :). This was my first experience with Aldo shoes and I will say that I was pleasantly surprised. I have read about the Lauren Conrads of the world who have tried them out, so I figured I would give them a shot especially because they have smaller sizes that ship to your house for free (not to mention I got these on sale, of course). Also, thanks to my beloved Nordstrom I am now the proud owner of a stunning gold Marc by Marc Jacobs watch. My Toywatch watch that you have seen in previous posts (white and gold) broke :( so of course Nordstrom returned it without any hassle – one of the main reasons I have been shopping there for over 10 years!
loving two finger rings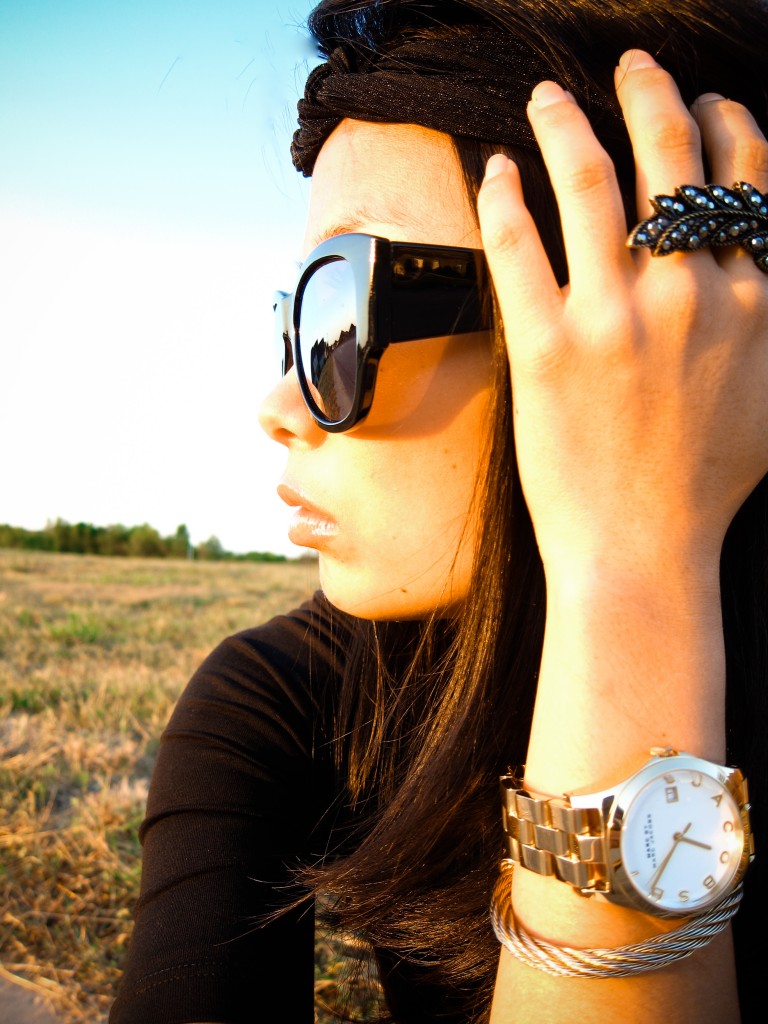 —
Last weekend my sister, her friends and I headed to Possum Kingdom Lake for her bachelorette party. The lake was absolutely gorgeous and it was wonderful to get out of the city for once and see some of the hidden gems of the Texas country.
my sister in a romper and gladiator wedges
—
Roanoke, Texas is a little town just outside of DFW airport that may not be a household city name when you think of Texas but it is quickly becoming well known for their outstanding restaurants. One of the most infamous fashion bloggers, Jane Aldridge of Sea of Shoes, actually lives in Roanoke. It's also home to one of the very best home-cookin places in the entire Lone Star State – Babe's Chicken. This past weekend I also tried a new place on the same street called Cowboy Chow. The buffalo brisket tacos were AMAZING and under 500 calories! :) If you're ever around, give it a try I know I will be back next time I'm in town!
—
In honor of all things vintage and related to traveling: my grandmother's passport that is over 30 years old.