September 23, 2014
Small Apartment Decorating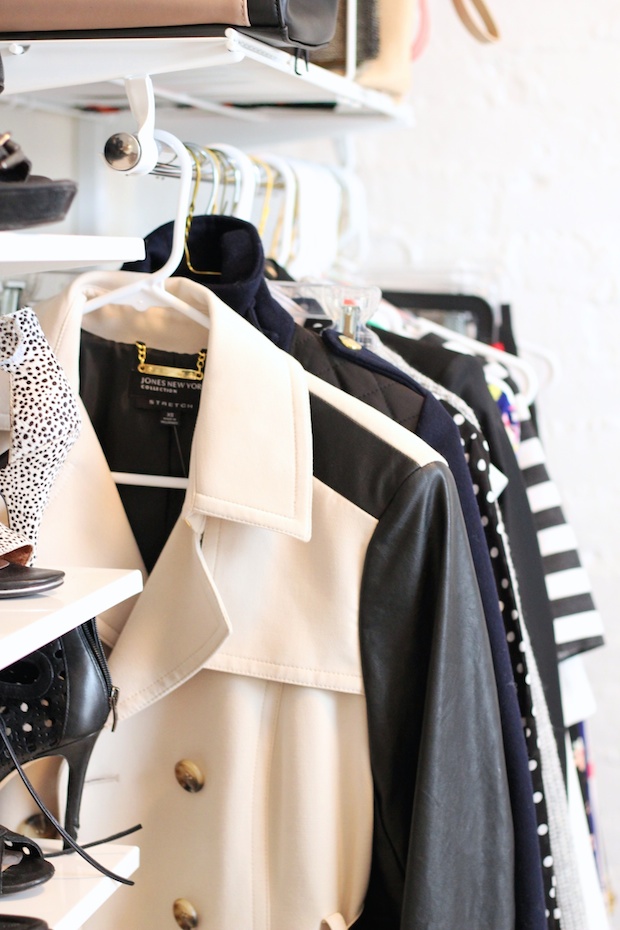 Before the big move, I spent a lot of time thinking about how to maximize the minimal but precious space in my new room. I had seen it in person once previously and had the floorplan, but I was really intimidated by how small it appeared to be and by the large amount of stuff I knew I would be moving. I ended up selling almost all of my furniture except my mattress, so my room was truly a blank canvas for me to start from scratch with. It was my first time in a truly small apartment space so I had lots to plan for!
I learned a lot through my experience and how to make the most of the 95 square feet that make up my little room here in New York. I love it.. but it was a challenge! I'm sharing the storage solutions that I came up with (thanks to a lot of help from the Container Store) and how I ended up making the very most of my space. Enjoy!
The Wall
While my new apartment is beautiful and I absolutely love it, it comes with the smallest closet of any of the places I've ever lived — a huge challenge for a girl who has a lot of clothes. I knew I was really only moving my clothes and was going to be buying everything else, so storage and closet space was my #1 priority. I had to think long and hard about the room I had in Chicago and what I utilized most often – my desk, my shoe shelves, a clothing rack for long dresses and a big shelving unit that I used to store things like scarves, books, and my calligraphy stuff. I realized that I only had one wall to work with and it was going to have to meet all of those needs.
I spent a good part of a day at the Container Store and with their help designed an entire Elfa wall shelving unit that is part closet, handbag storage, shoe shelf, stores my jewelry, vanity for getting ready, storage for paper goods and also has room for my hamper. Whew! That's a lot.
I designed it so that my longer pieces that wouldn't fit in my closet could hang and I could even store tall boots underneath that area. I made the middle area my shoe storage with a shelf for jewelry and am using the area of the left as my makeshift bathroom counter/vanity with storage above it and my hamper below.
Makeshift Vanity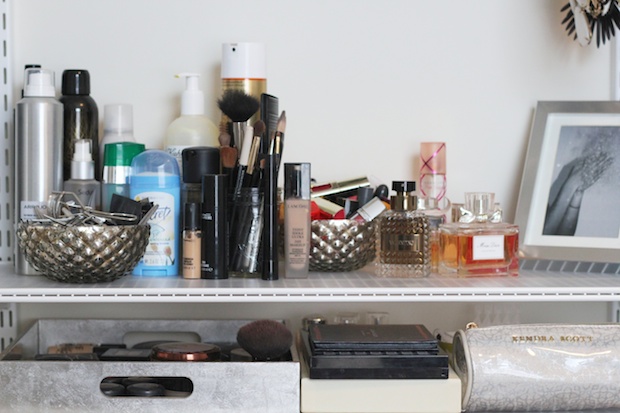 Our bathroom is pretty tiny and has a really small sink with no counter, no storage and there wasn't enough space to build in shelving. I knew I was going to have to create a space in my room to do my hair and makeup and take advantage of the natural light from my window. I left enough space to set out my daily beauty essentials for quick and easy access – I use Kerastase heat protectant, hair clips with velcro rollers and L'Oreal Elnett hairspray everytime I curl my hair and also need my dry shampoo for those second day hair days.
I had a bunch of leftover small mason jars that couldn't fit in the kitchen, so I am using them for things like holding my makeup brushes and q-tips and cotton rounds in the bathroom. I didn't want to keep my makeup on the top counter because it felt really cluttered, but I'm the type of person who likes to have it all sitting out to grab without having to dig through a bag. I left a 6 inch space underneath the main shelf and put my West Elm tray on that level so that I could pull it out a few inches to reach in and grab things while it stays out of my way when I don't need it.
I created a third shelf with room to put 3 woven baskets underneath them that store my other hair products and knick knacks like sunglasses, band-aids, advil and other things you'd probably tuck away underneath your bathroom sink. With the handles, it's almost like having a floating set of drawers, which is perfect for easily accessing whatever I need.
Jewelry Storage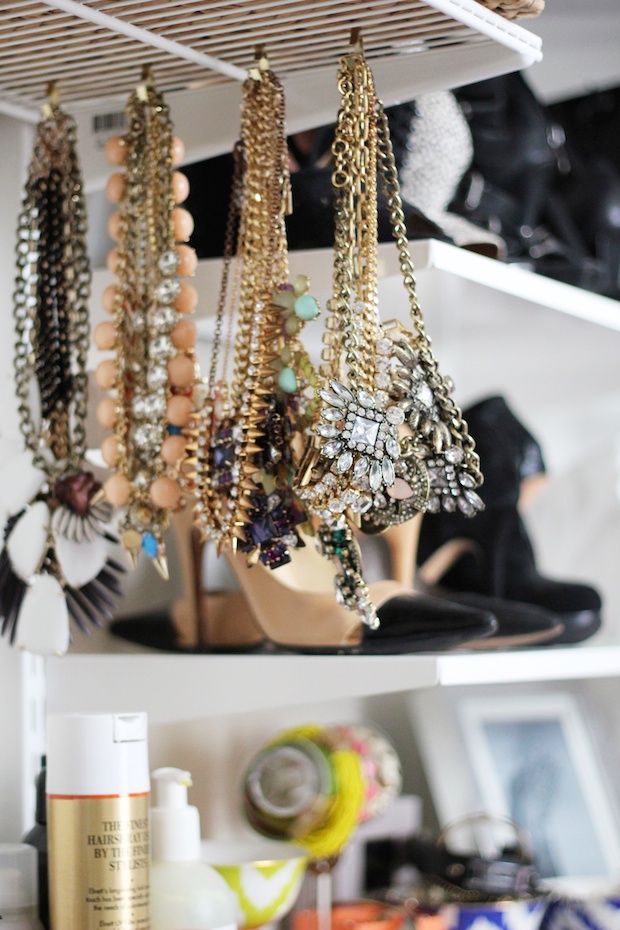 With my entire wall being occupied with the big shelf, there was very little room left to create jewelry storage. I like to be able to see my necklaces so that I know how to visually pair them with whatever I have on to polish off a look before heading out. I was racking my brain on how to create hooks when I realized I could just repurpose wall hanging hooks.
I discarded the nails and used a pair of pliers to pull the hook out more to create more area for hanging space. Then, I hooked the skinny part over the wire part of the shelf and let the large piece hang so that I could layer on necklaces. I put all of my short necklaces on the right of my vanity area and the longer tassel necklaces and pendants hang down a little lower.
I also used one of the shelves for small decorative bowls that I use to organize rings, earrings and bracelets and then I have a Jonathan Adler zebra dish (which was a great gift by the way thanks to my friend Val) for delicate necklaces that I don't want to get tangled.
Shoe Shelves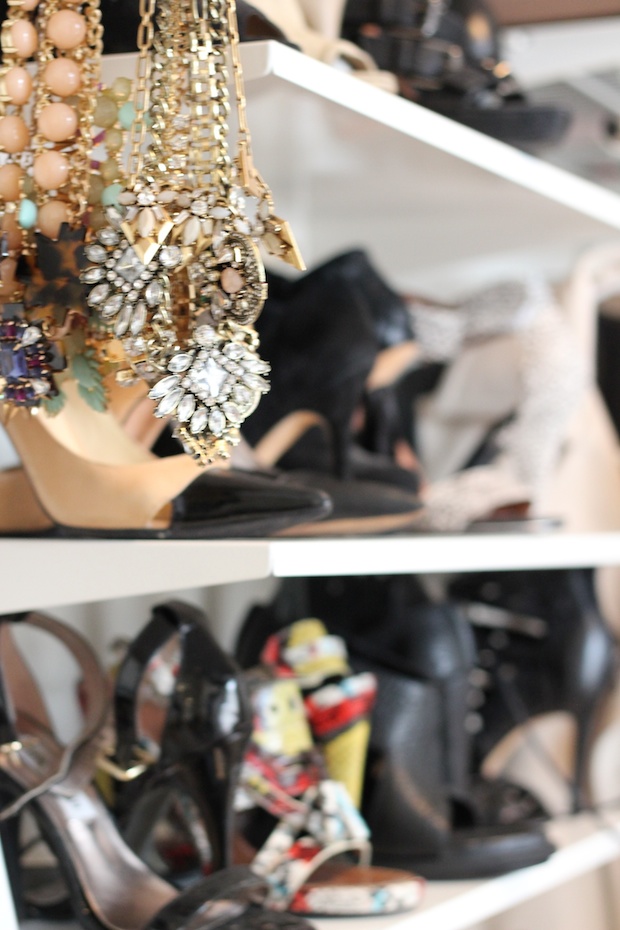 Every girl needs a good place to store her shoes, am I right?! I'm a visual person and really need to be able to grab and go when it comes to shoes. I also needed to maximize the space on these shelves and found that turning one heel in allowed another pair to fit on each row. I used the solid shelves for almost all of the rows (except the top) so that the heels would sit evenly and on the one ventilated shelf placed booties with wider heels.
I organized by color and season and frequency of wear. My favorites are all in eyesight … you know, because I do need a stool to reach the top still! :)
Handbag Storage
I have slowly grown a collection of a variety of handbags that I absolutely adore and use often — some satchels, crossbodys, clutches and even a tote or two. Bags can take up a lot of space and I try to store them so that they can keep their shape. I used these shelf dividers to keep my clutches together and lined the rest of the crew up above my dresses. They're easy to access and out of the way.
Long Closet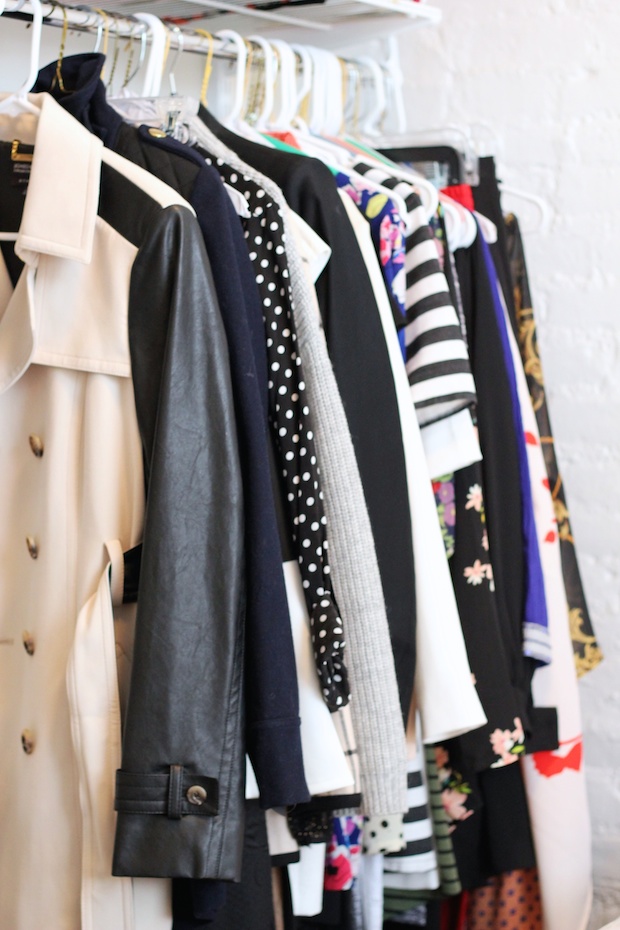 I needed a place to hang my excess inventory of coats (3 years in Chicago will do that to you), long dresses and just bulkier items that take up too much room in a tiny little closet so this closet rod was really a savior. It just hooked onto the shelf above and instantly added a third area for hanging clothes. I also love that it allows me to hang some new favorites to keep me inspired everyday!
Storage
I'm a big fan of white storage boxes because they are an easy way to keep your extra little things tucked away but keep a very minimal and clean look in a room. I actually picked mine up at Ikea, but Container Store also has a very similar set if you're needing to order online (Ikea can be pesty to get to!).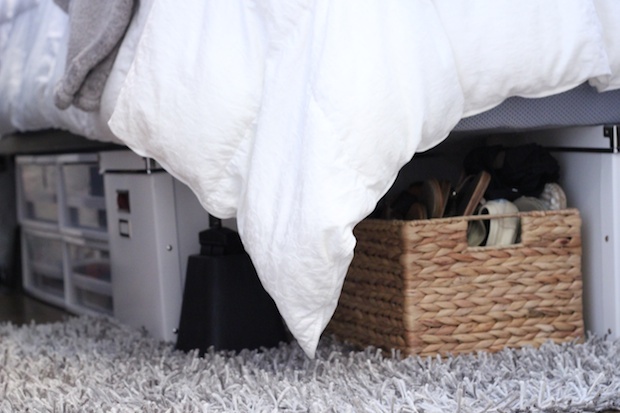 I also finally had to cave and put my bed on risers to utilize the underbed storage possibilities. I opted for the underbed drawers vs. containers because the lack of a dresser meant I had things that I need to access but can't hang. I also used some of the larger white storage containers and a few larger wicker baskets for my flats, Soludos, sandals and Toms for when I just need to run out and throw some shoes on. Everything underneath my bed on the edges is easy to reach!
Closet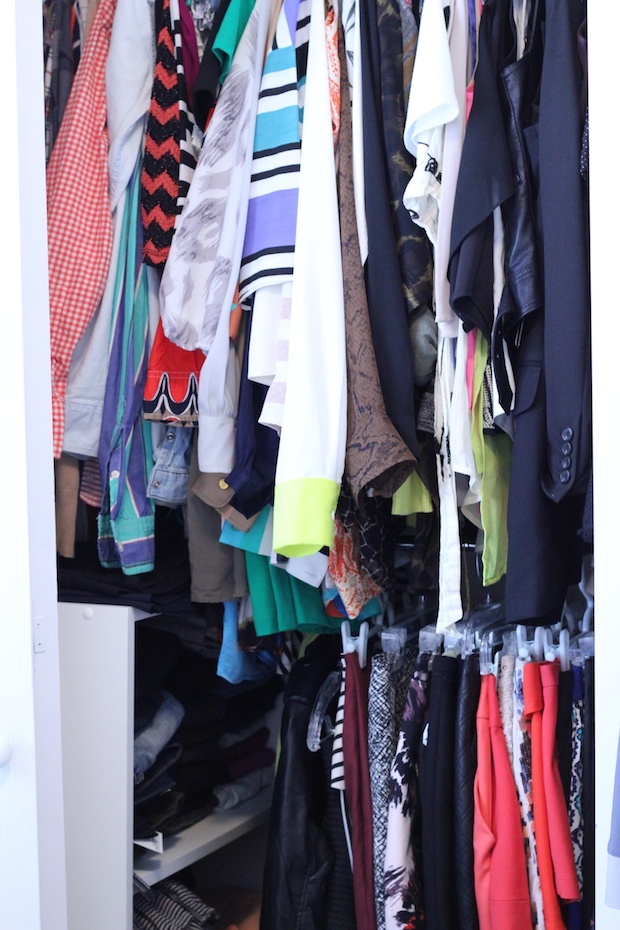 Now this was actually the trickier task of it all – maximizing the tiniest closet I've ever had! I bought a double hang closet rod because that immediately doubled my hanging space. I ended up putting a 3 shelf bookshelf inside the closet for jeans, t-shirts, pants and some sweaters. Tops on top, bottoms on bottom.. pretty simple! I used a few extra shelves at the very bottom for some flats and boots that didn't fit on my regular shoe shelf.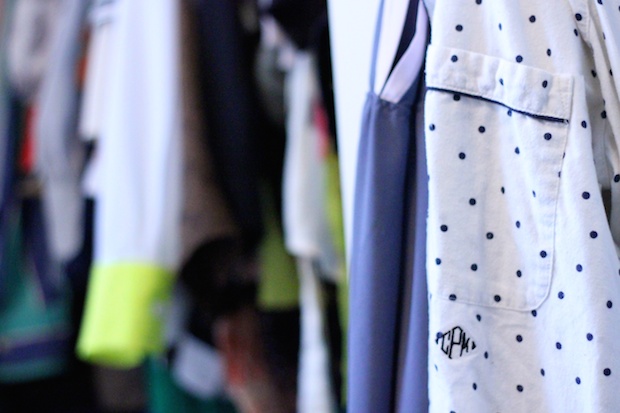 I hang my robes and my favorite slip and monogrammed sleep shirt right by my closet so I can grab them quickly .. plus they add a cute touch to a bare, skinny section of the wall!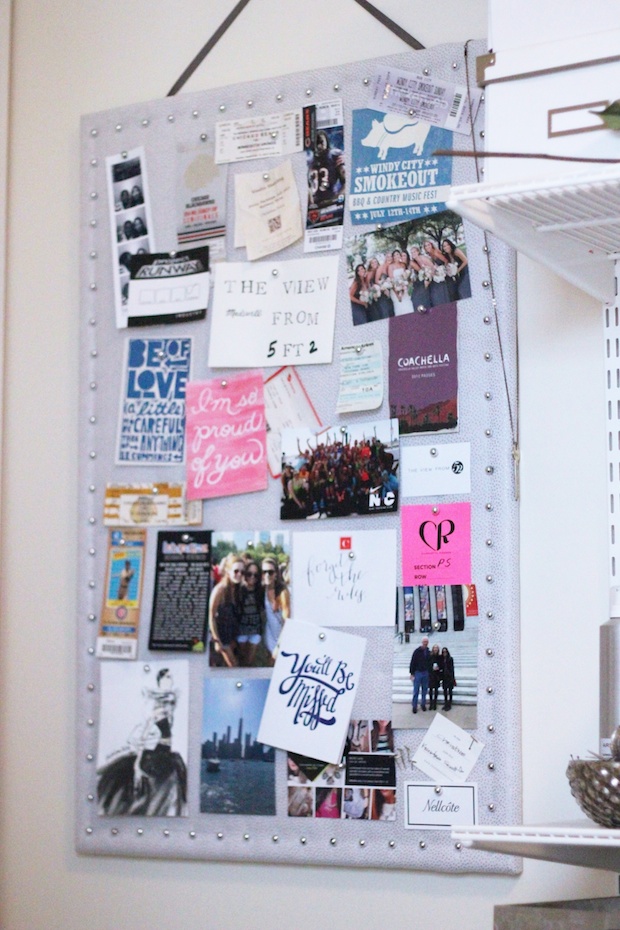 Last but not least, I brought my DIY bulletin board with me to store all of my favorite momentos. I've been missing my friends and love that the littlest notes and pictures can put a smile on my face when I get ready each morning.
I ended up keeping my same bedding from Chicago. With so much newness I wanted something that made me feel like I was still coming home. The pillows are mostly from West Elm and my sheets are a beautiful lilac color from Bed Bath and Beyond with a gray throw that is so cozy! I just use a white down comforter because I love how soft it is and really wanted to keep my bedding plain and simple.
The other walls in my room are white painted brick, my favorite touch despite how small the room is. I'm going to create a gallery wall above my bed when I have a chance finally and am looking for print suggestions. Send them my way!
So I bet you're wondering .. this crazy closet wall.. how does it work? You'll be shocked to know that it's incredibly simple. You only have to actually install one thing and the rest of the pieces hook and snap in. I moved them around a bunch and did a lot of measuring before I purchased the shelving, but it can all be cut to fit your room exactly. There were awesome things like this jewelry organizer, shoe shelving and a hanging hamper, but I had to keep it really simple and could only pick items that were a certain depth or else they would hit my bed.
I am so happy with how things turned out and am excited to be settling in! I'd love to hear what you think and if you have any tips and tricks yourself for how to organize and style a small space.
SHOP MY SMALL SPACE SOLUTIONS