September 8, 2014
Printed Bomber Jackets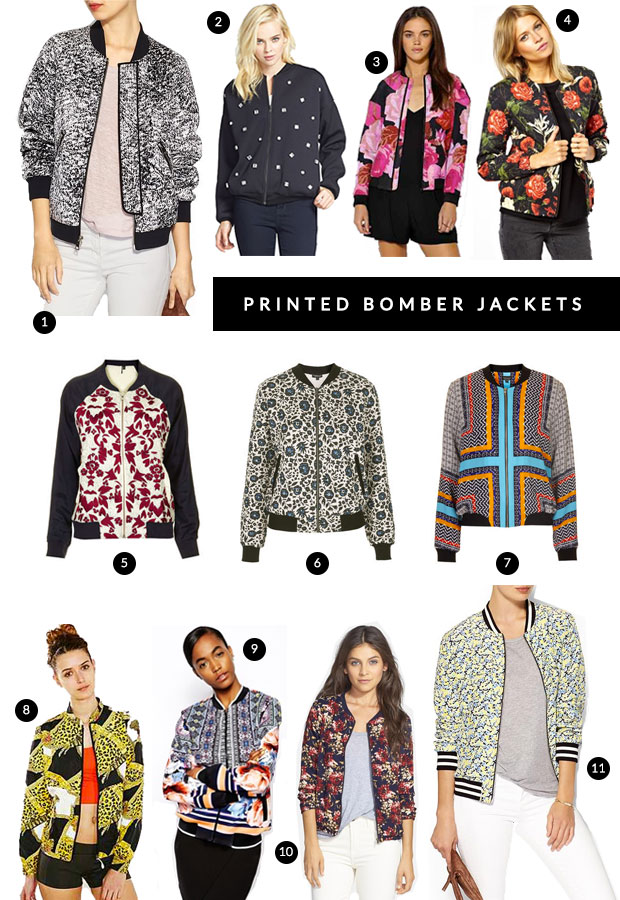 1  Rebecca Taylor white noise flight jacket  •  2  Leith embellished bomber jacket  •  3 Cameo Lift Off floral bomber jacket  •  4 Mango Floral print bomber  •  5 Topshop embroidered bomber jacket  •  6 Topshop floral print jersey bomber  •  7 Topshop border print bomber jacket  •  8 Without Walls bomber jacket  •  9 Clover Canyon neoprene bomber jacket  •  10 Olive and Oak floral print bomber jacket  •  11 Equipment Abbott bomber jacket
Living in cities with colder climates made me really re-evaluate my jacket game. I spent the past few years building up a stash of winter staples that were "practical" and really just necessary in order to make it through the really, really long Fall and Winter. Now that I'm acclimated (along with my closet) I'm on the hunt for some jackets that are more fun this season!
I've had my eyes peeled for a really good printed bomber jacket, in particular a scarf print or floral one. Rebecca Taylor, Urban Outfitters and Topshop have the most versions that have caught my eye and I'm having trouble narrowing down to just one!
Last season I scored a vintage version that I really love, so I'm leaning towards a floral print or even a varsity style. My favorite thing about them is that you can style over dresses, jeans, leggings and sneakers or over a girly skirt. The possibilities are pretty endless! Which print is your favorite?
SHOP THE POST