August 20, 2014
Outfit Snaps
one of my first few days of work.. feeling very NYC!
wearing // Vince Camuto camo oxfords  •  MiH bodycon jeans c/o •  H&M blazer/vest  •  Alexander Wang bag  •  Karen Walker sunglasses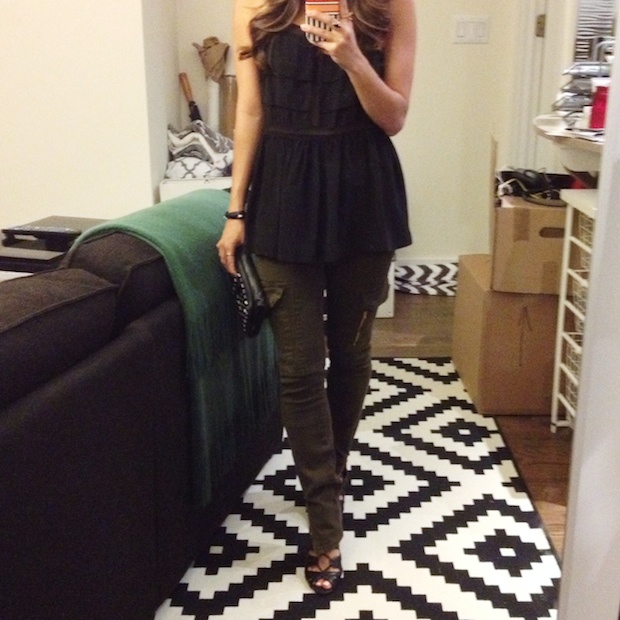 First Friday night out for dinner and it was a little chilly so I went with my favorite ankle zip cargo pants and a black silk Madewell top with some lace up heels for a sassy touch!
I had almost forgotten about these comfortable printed pants that I got the night of my Anthropologie event.. they were a perfect pairing with my GiGi New York Madison crossbody, headed to work on the train! P.S. They're on sale!
I've been feeling a little edgier lately.. maybe it's the city already rubbing off on me (or bringing it out.. either one)! I paired short moto boots with an asymmetrical dress (from Target!) and leather vest
I have been doing the last of my unpacking and organizing and sadly discovered that my camera lens was broken in the move. I've been left with nothing but my slowly dying iPhone 4S to capture what I've decided to wear for my first few days of work and life, so apologies for the rough situation! By the way, I am counting down the days until the new iPhone finally comes out – it's about time for an upgrade!
Now that I finally know where all of my clothes are, I'm hoping to amp up some of my creativity these days for work with layering. I have a lot of pieces that would work well if I wear them together and am excited to get that going. I might be posting more Instagram outfits using Like To Know It in the upcoming weeks just because I'm adjusting to the new schedule and waiting on a lens! If you don't know what it is, basically it's a quick and easy way to get whatever products I've tagged in the photo to your inbox even if I don't do a post on it. Sign up and try it out!
I'm also in the process of re-vamping the newsletter a bit — if you're signed up you'll see a few little changes this week and hopefully more to come soon! Let me know what you think :)