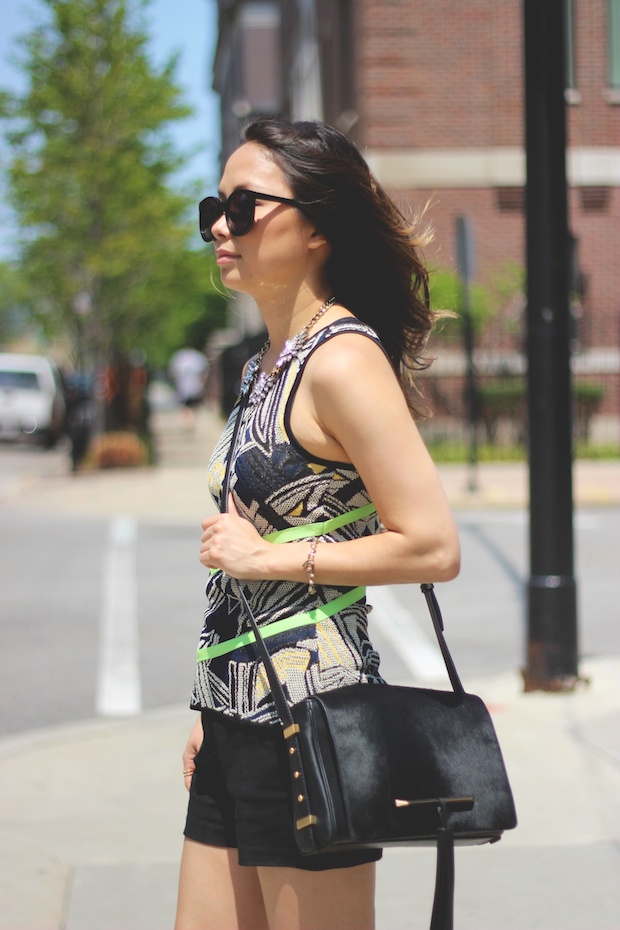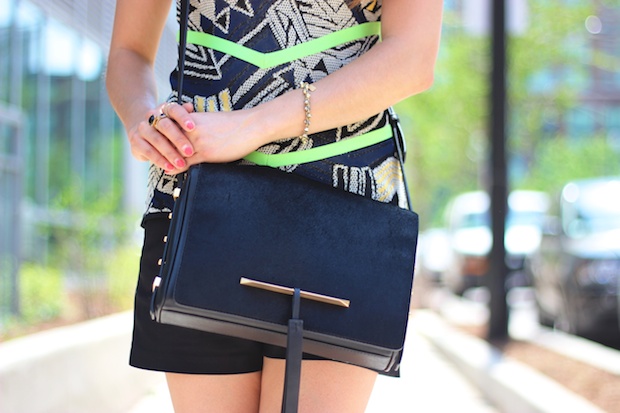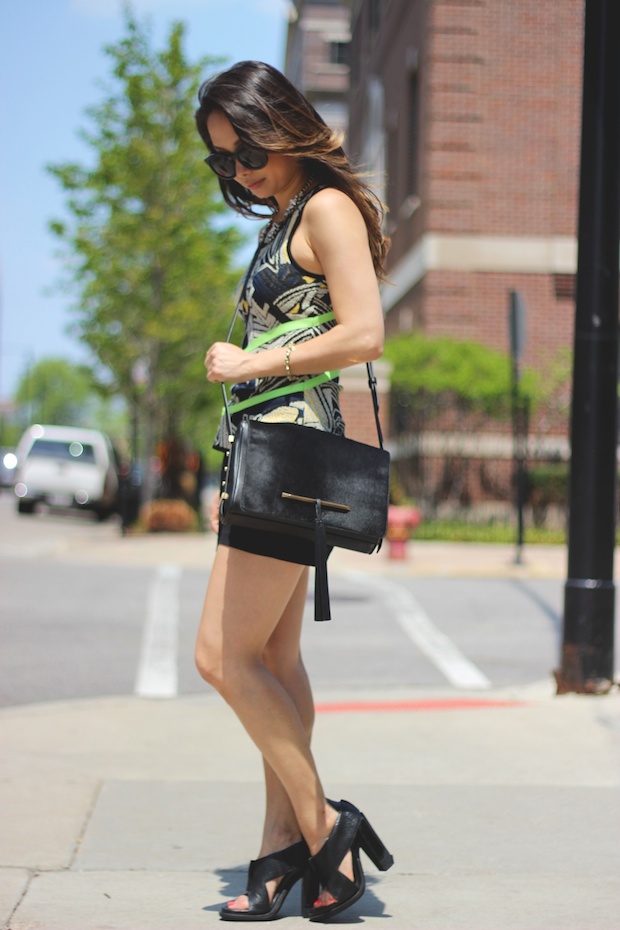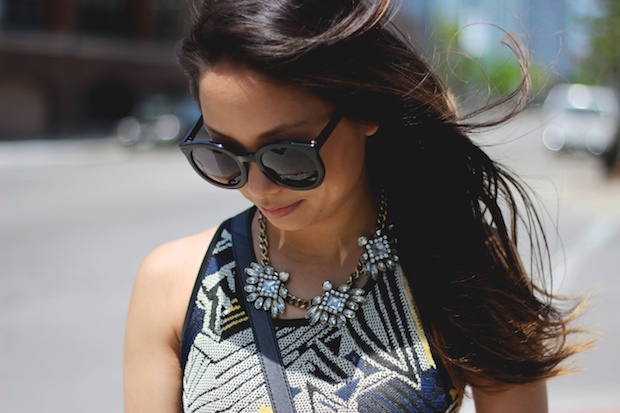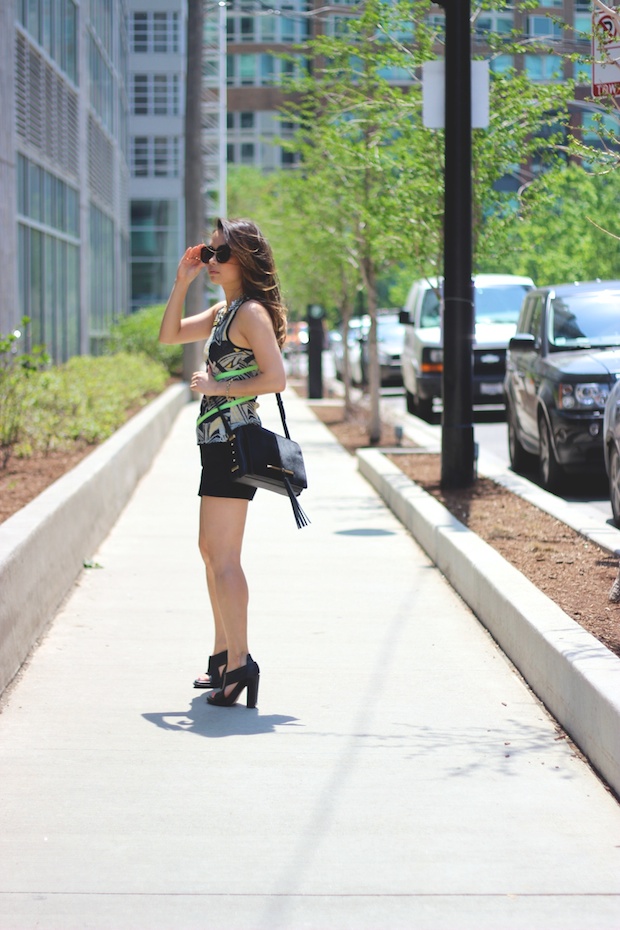 TOP / Cut 25 by Yigal Azrouel techno knit top (via NM Last Call)  •  SHORTS / Zara shorts (similar)  •  SHOES / Alexander Wang (via Elizabeth Charles in SF) (similar)  •  BAG / B by Brian Atwood Bo crossbody in calf hair (other versions here, here and here)  •  NECKLACE / Bauble Bar crystal afghan collar  •  SUNGLASSES / Karen Walker Super Duper
Back when I first started blogging things were very different. Street style and the world of blogging has evolved so much in the past few years. These days it's much more common to see the likes of big bloggers on more publications and websites instead of just models and editors. Don't get me wrong, I think it's awesome! I love that bloggers have gained a lot more respect and made a space for themselves. But, I think back fondly on the days during numerous Fashion Weeks when I would eat my lunch at my desk and stalk Style.com to see what Mary Kate Steinmiller, Joanna Hillman and Christine Centenera, and Emmanuelle Alt were wearing at the shows. Don't get me wrong – you'll still see the likes of them everywhere, but I guarantee you know who Atlantic Pacific, Gal Meets Glam or Pink Peonies is in a street style photo before you'd recognize Joanna or Christine. I found so much inspiration from some of their style, mixing high and low and that's when I really started learning what that was.
I'll never forget… I was at NYFW a few years back and saw across the runway from Joanna Hillman who was sitting in the front row. I snapped some fantastic pictures of her (I still remember what she was wearing.. this side fringed Alexander Wang skirt with a blue Zara top) and was just happy as a clam to have seen one of my street style icons in person. I walked outside and was trying to decide if I was going to get a quick snack or go back to my hotel and take a little break. I was standing in the middle of Lincoln Center when I looked up and saw Joanna just sitting on the fountain on her phone. I thought to myself, should I say something?! I mean she's right there. Hmm.. ok, YEA why not, right? I already take pictures of myself and post them on the internet, couldn't get any more embarrassing than that.
I was surprised to find that she was not only incredibly approachable, but just so refreshingly real. We chatted about how amazing her Wang skirt was and how she loves mixing in Zara pieces. I mentioned to her that one of my favorite things about her style is that it's inspirational yet attainable. I can at least find similar pieces to her expensive ones. She also doesn't usually wear dresses that are $5,000, heels that are $950 and carry a $2,500 bag all together. She probably does have pieces that are that expensive, yes.. because she's a fashion editor and has every right to! To my additional surprise, I could tell she was very flattered by my comment. She said that she loves mixing in low pieces and cares more about the overall look than the brand or price tag. Boom. Girl crush solidified.
It's no secret that I really like and enjoy designer clothes and brands. The likes of Alexander Wang, Helmut Lang, Rag & Bone, Proenza Schouler and Balenciaga just sing my heart's tune. I also have a special love for Oscar de la Renta, Chanel, Prada and Carolina Hererra runway shows and love to change it up and show my girlier side, too. However, the episode of Sex and the City where Carrie realizes she has no money because she spent it all on Manolo's scared me straight and I keep myself in check most of the time. My designer favorites that I do own I always scooped up on sale or with some other sort of discount. I rely on things like high end consignment stores in addition to sites like Net-A-Porter, The Outnet, The Real Real, Gilt, Shopbop, Last Call, and Nordstrom with their trusty half yearly designer sales and the lucky hand of fate to grant me the desires of my heart. I splurge on staples like long-lasting bags, shoes, and pieces that I'll still wear for years to come like blazers and occasionally I find a top with fun touches, like this one with the neon stripe. What are the pieces you are willing to splurge on? What's your best find story?
SHOP THE LOOK
Photos by Mary Graves Photography