April 23, 2014
Mother's Day Brunch
Life is full of reasons to celebrate, big and small! I love that our friends always find a way to turn even a normal nice Saturday into a reason to get together and enjoy some great food and company. With the arrival of Spring comes even more reasons to have people over and entertain! This season is full of weddings, showers, farewell parties, and a few traditional holidays like Mother's Day. I love hosting, but I'm also a pretty low key person when it comes to my apartment. I've been a nomad for the past 5 years and try to keep things no muss and no fuss so I don't own a ton of entertaining platters, pitchers or serving ware. When you're living in a big city, space is limited! I try to find inexpensive ways to make parties more fun and visually appealing without having to invest a ton in anything that I won't be able to store.
A few weekends ago, Kit and I created a brunch fit for Mother's Day, a shower or just having friends over! We put our heads together (her cooking expertise and my love of decor and arranging) to share with you an easy and affordable way to host a soiree of your own. These tips will show you have you don't have to break the bank – or spend lots of time in the kitchen to create a memorable meal and event. The cost for this brunch, including decorations was under $75. The recipes can be accomplished with basic cooking skills, and they don't require many ingredients. Fear not – your guests will be so impressed they will never suspect how easy it was to prepare this party!
DECOR
Less is more in terms of decor when you have beautiful and vibrantly colored food. We chose flowers as our centerpiece and a couple of additional items that coincided with the colors of the flowers we chose. It helps tie everything back together! We spent only $20 on decorations, proving you can throw a beautiful party on a budget.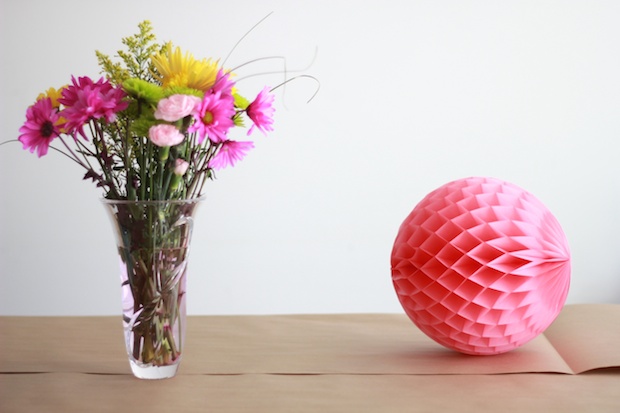 Napkins
It's the little things at a brunch that make the biggest difference! These striped napkins add another color to our palette and brought out the colors of the sprinkles that we placed them by.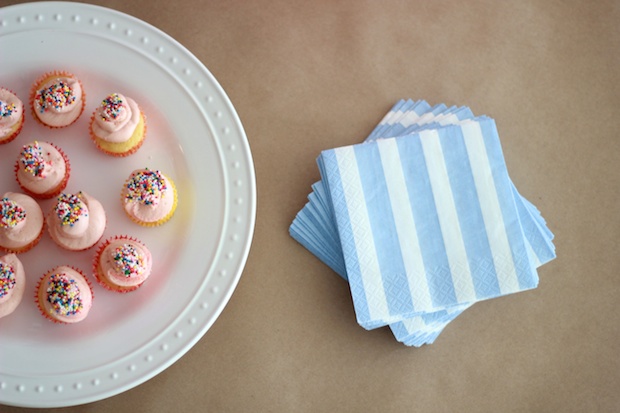 Flowers
The easiest way to draw attention to your table is to choose a beautiful bouquet of flowers as the centerpiece. It's quick and easy and will make the room smell incredible with your food.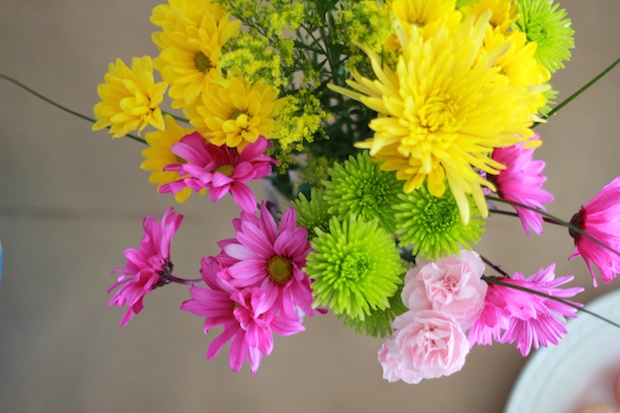 Labels
If you don't have time to make individual place cards for the food and can use butcher paper like we did, the paper serves as the perfect background for your food labels. You can use combinations of cursive, lowercase and capital letters to create more interesting labels all with a Sharpie or permanent marker. Use arrows pointing toward your dish to add an additional fun touch.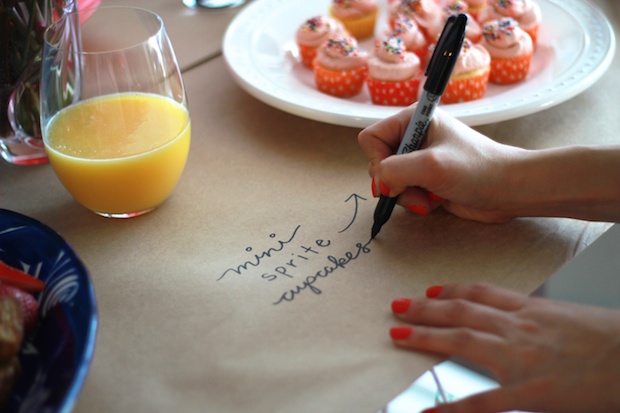 Mini Sprite Cupcakes are great for brunch because guests can have one if they just want a taste of something sweet, or more if they really want to satisfy their sweet tooth. Using sprite zero instead of oil and eggs reduces the fat and number of calories in the cupcakes. Colored sprinkles make these cupcakes even more festive, and we dyed the frosting with food coloring to match our color scheme.
This Strawberry Arugula salad is perfect for people who prefer the lunch half of brunch. Plus, the recipe is easy – serve the panko crusted chicken on a bed of arugula with crumbled goat cheese, walnuts, and sliced strawberries. We dressed it with balsamic vinaigrette, but you could also use a lemon or poppyseed vinaigrette (or pretty much any vinaigrette for that matter!).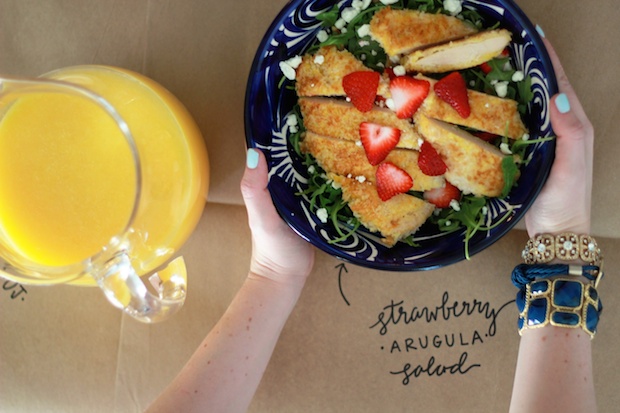 Before your guests arrive, place all dishes that can be served at room temperature out on your table. For dishes that need to be served warm, arrange them on oven-safe serving platters so you can keep them warm in your oven and then take them straight to the table when you are ready to serve brunch.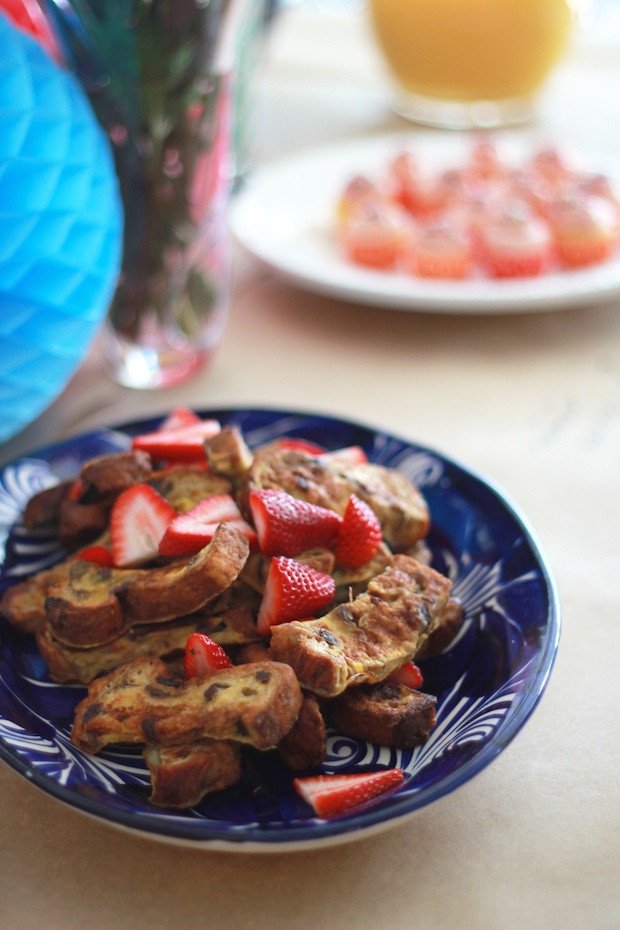 Drinks
Pour juice into a pitcher to dress it up a bit. We picked up a pitcher at our grocery store for just a few dollars and will be able to reuse it for future parties.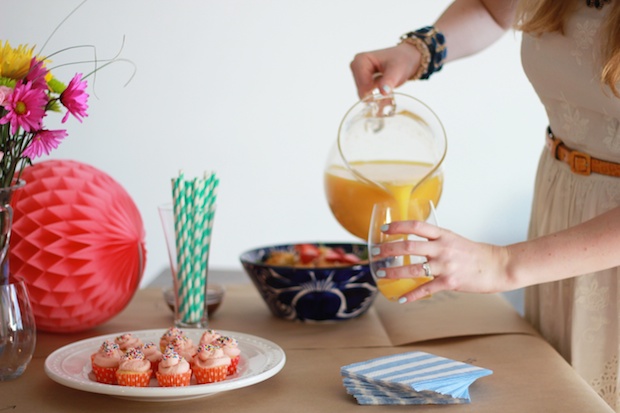 Prosciutto Egg Cups
This dish is already divided into individual portions, which makes serving it simple. We placed the prosciutto egg cups on a bed of arugula to dress up the presentation.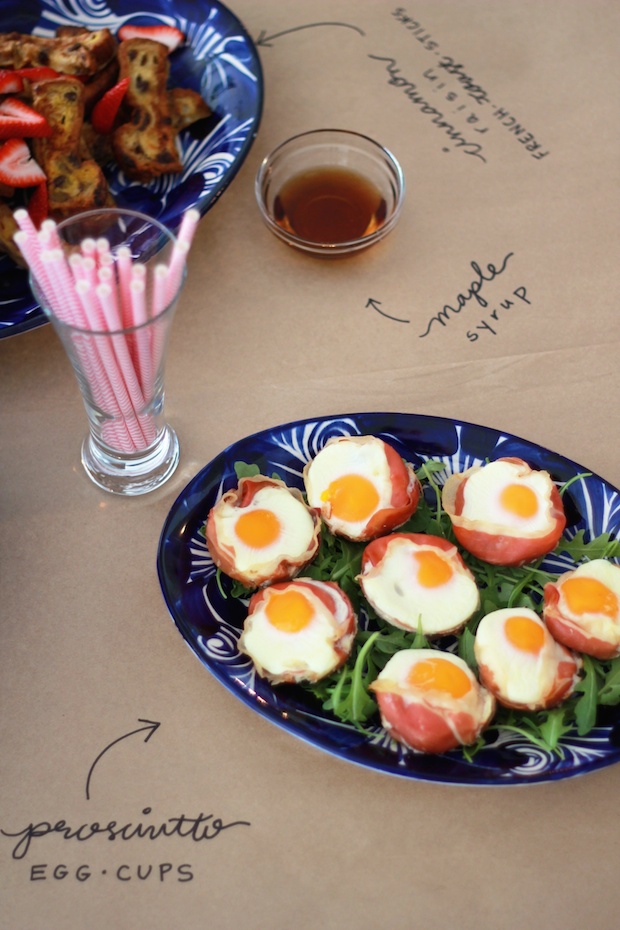 Cinnamon raisin french toast sticks
This recipe is a sophisticated take on a childhood favorite. Making French toast sticks instead of whole pieces of French toast is faster to prepare since you can fit more into the skillet, and the smaller serving size means guests can have just a taste. To prepare, pull out a stack of slices of cinnamon raisin bread and cut the slices into thirds. Leave the bread out for an hour to get stale. Mix up â…" cup milk, with 4 eggs and 1 teaspoon vanilla. Soak each slice of bread in the batter, and pan fry with butter. Garnish with strawberries and serve with maple syrup. Â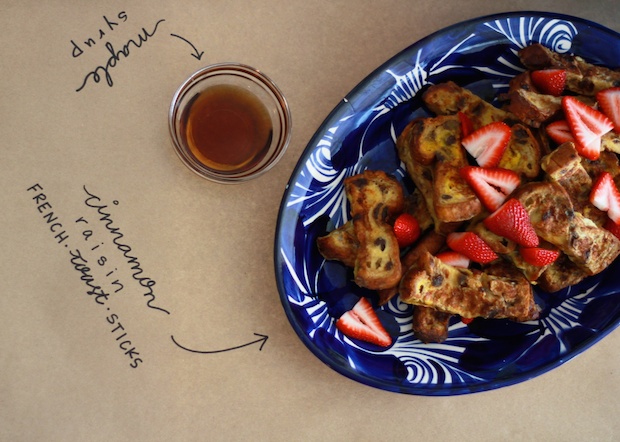 Setting the table
We placed each dish in it's own corner of the table with a good amount of space in between so that guests could help themselves without bumping into one another. Small dishes are great for serving syrups and dressings so that you don't have to set the bottles out.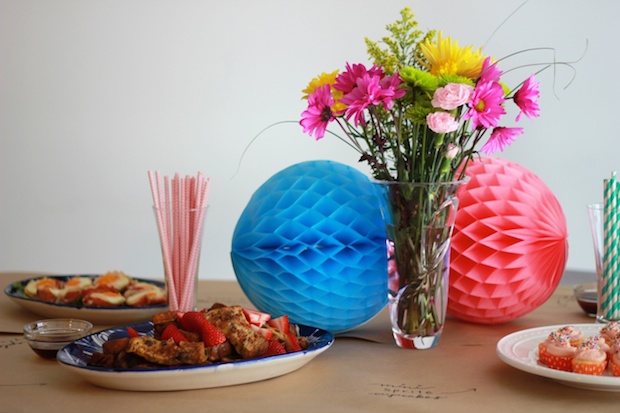 This brunch menu has a great mix of sweet and savory, and breakfast and lunch – so there is something for everyone. I always try to be conscious of this because I love breakfast, and my mom really prefers lunch, so together we really embody what brunch is all about! Also, each dish is easy to serve in small portions so guests can try a little of everything (which is my favorite way to dine).
I had a blast preparing the brunch with Kit, and I'm really excited to finally tell you guys that I'm going to be contributing to Coca Cola Journey! It's been a secret I've wanted to share and will be bringing more fun content to my site that will also be shared there. It's been really encouraging because as you guys have probably seen, I really enjoy writing! Lindsay mentioned this to me last week at the Blaze Pizza event too and it was a positive reminder that it's a huge part of what I love about having this blog. I hope you continue to enjoy! Thanks for all of your support and continuing to read & follow my adventures!
This post appeared first on Coca-Cola Journey.