December 20, 2013
holiday hips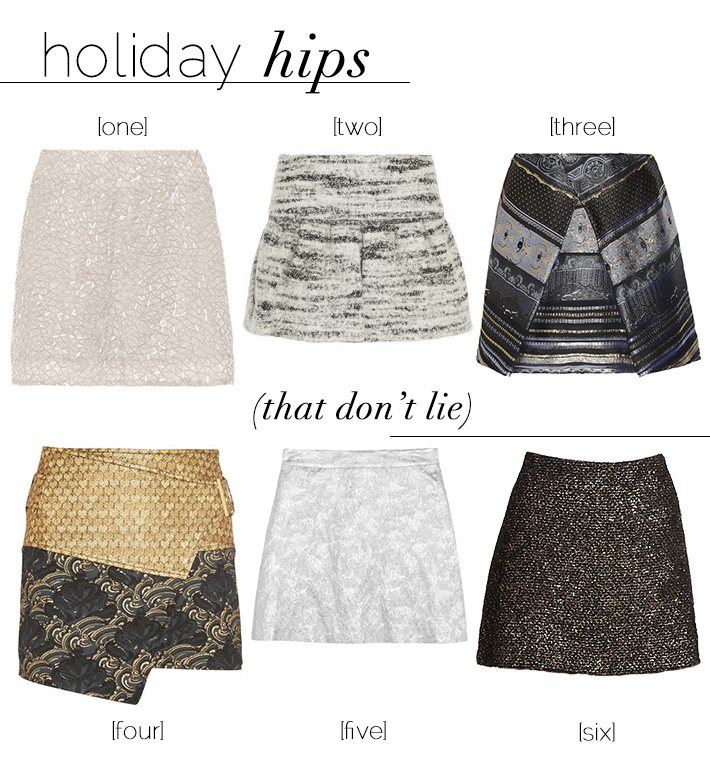 1. Beaded organza mini skirt  |  2. Boucle mini skirt  |  3. Metallic jacquard skirt  |  4. Metallic and brocade wrap skirt  |  5. Silver brocade skirt  |  6. Metallic tweed mini
This Holiday season I was searching for some unique skirts that were fun and festive but slightly different than things you see in every store. Leave it to Net-A-Porter to carry some of my favorites this season – and on sale to top it off!
Organza, boucle, tweed, brocade and metallics are nothing new to the Holiday scene, but I particularly liked the styles and colors of these. Number [two] is such a fun change up from an a-line or full party skirt.. a little bit of both! Wrap skirts have been making a splash all year, but this particular one caught my eye because of the mixed prints and two tone look.
Last but not least, I was really excited to see the navy/black/gold combination. I often get stuck in a red, green, gold, silver and black rotation during the month of December and am going to see what I can do to work in some other colors like navy. What are your favorite color and style combinations for the holidays?
xo,

SHOP THE POST: