February 24, 2013
change of season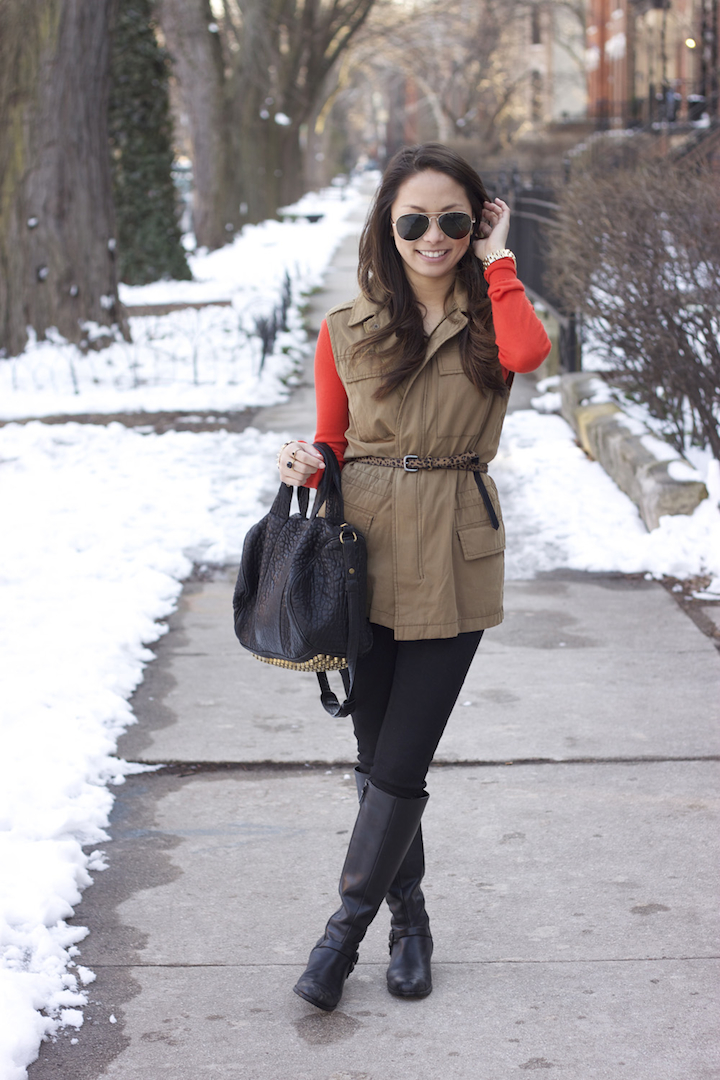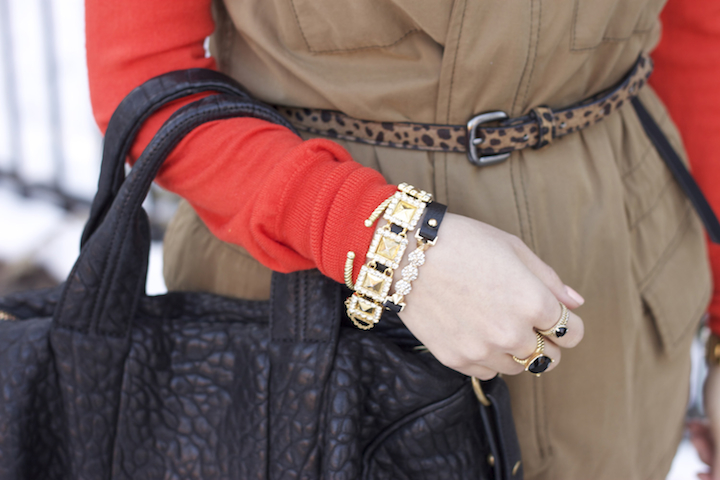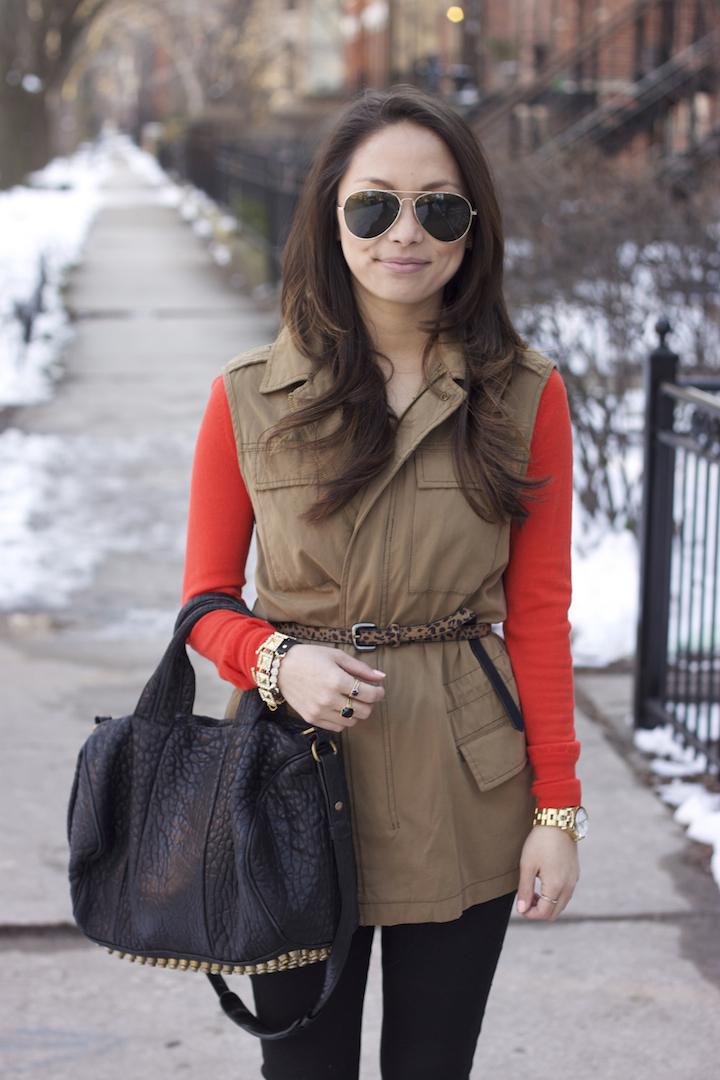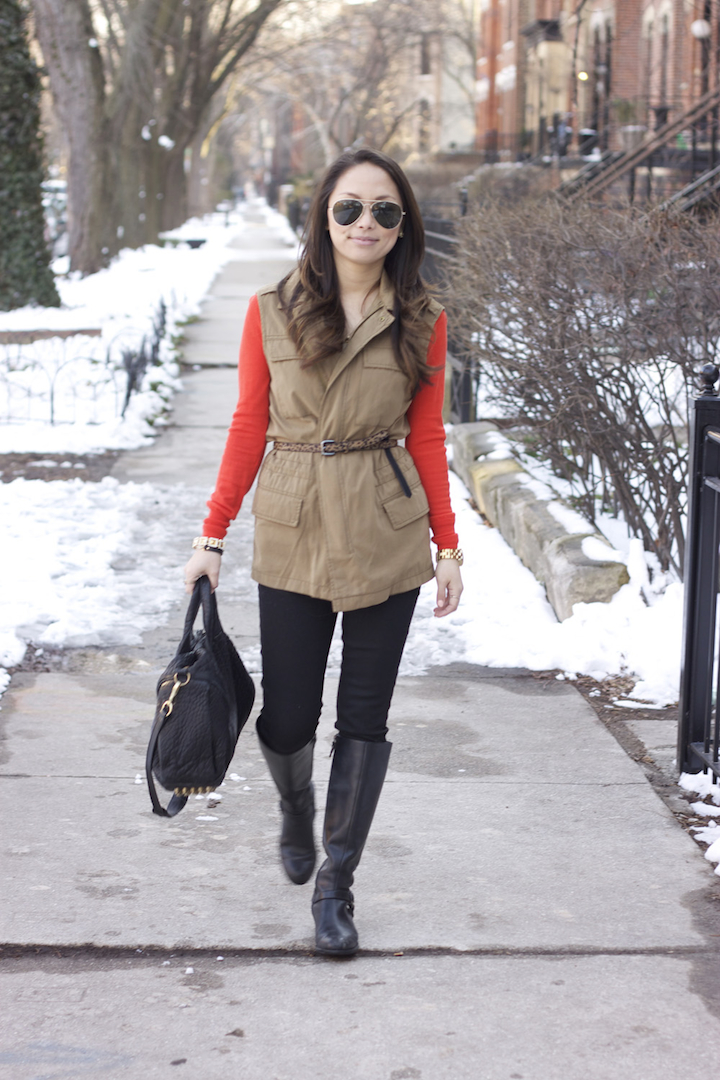 all photos taken by Design That Inspires & Leap Marketing and Design — thank you Blair!
JBrand black waxed skinny jeans  |  Banana Republic sweater (similar)  |  Ecote vest from Urban Outfitters  |  Topshop belt (similar)  |  Alexander Wang rocco bag  |  Franco Sarto riding boots  |  Sorrelli mimi bracelet (c/o), Anthropologie and Green Goddess Boutique (c/o) bracelets  |  Marc by Marc Jacobs watch
This outfit was inspired by my new found love of mixed material/colored pieces. Zara really hit it home with this during the past fall season with their leather/canvas coats and two toned jackets. I recently found this vest at Urban Outfitters and immediately fell in love because there are so many different things you can do with it. While most people have been styling military-ish green with black, I thought it would be fun to add a pop of color and love the way it looks with orange-red to create a makeshift top look. The sweater is actually a button up cardigan that I used for the sleeve color (similar to other cardigan tricks I've tried here) and I threw on a fun belt on top to round out the look. I really struggle in the winter with creativity because I'm just so dang cold and get tired of just wearing sweaters and jackets, so adding a vest over a sweater is a great way to layer and change things up!
Even though we're smack dab in the middle of winter here in Chicago, I experienced a figurative change of season this weekend. It has been a long time (way too long) coming for me to revive my blog and really find it's voice again. This weekend the wind blew that voice back into me! I spent most of my time re-vamping the design and re-thinking where I am in life and with this blog. I found some new inspiration that I'm truly excited about and hope you are as well!
This week I'll be rolling out 3 exciting surprises and I cannot wait to share all of them with you. Thank you all for being the most patient and understanding readers of all time!
So with that being said, surprise #1 is… a newer, cleaner design! I've made a lot of tweaks here and there over the past few years, but this one is by far my favorite. I'm not completely done, but I'm already loving this look much more than any of the previous makeovers. What do you guys think?
2013
2012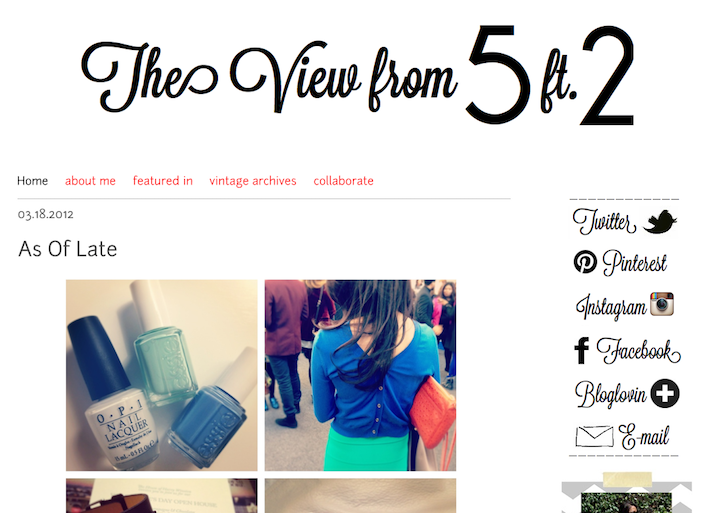 2011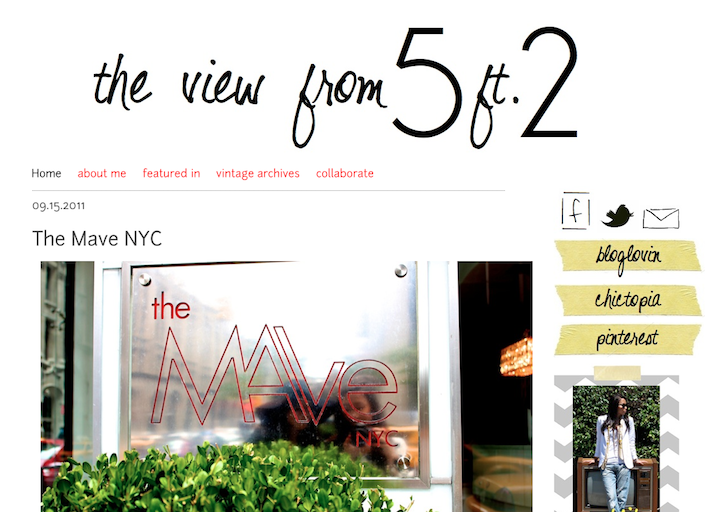 I hope your weekend was as fabulous as mine was ideating and thinking up new cool ideas to share with you guys! xo