June 22, 2016
5 Tips For Finding A Bridesmaid Dress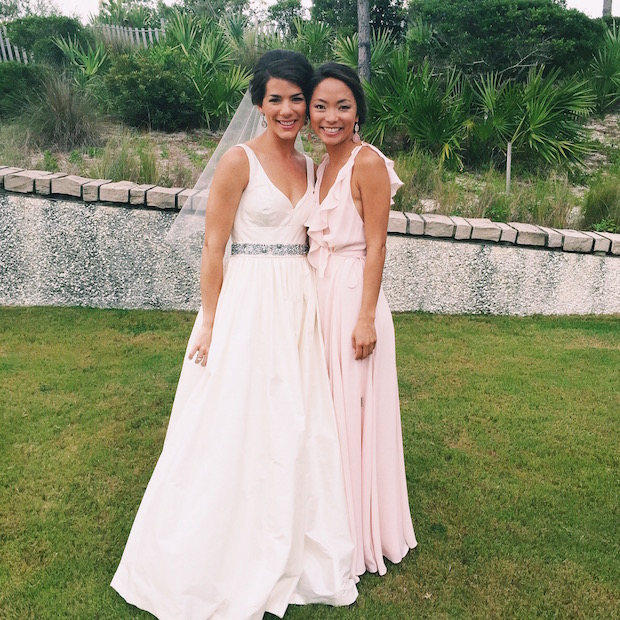 When my best friend Arleigh asked me to be in her wedding, I was beyond excited and so honored. She might go down in history as one of the most detail oriented but easygoing brides of all time. Everything was planned to perfection and the entire weekend was so much fun and one I'll remember forever for a lot of reasons. 

She told me right off the bat to just pick any dress that I wanted and she would be cool with it. Yes, you heard me right! Her extremely chill approach to what I wore made the hunt for a dress so much fun and I enlisted a lot of help in doing so. After finally finding the perfect dress, I realized there were a few key steps that I took to make sure I had landed on the right one:
1. FINDÂ OUT THE COLOR SCHEME
When we first started chatting about the wedding in general I knew that rose gold was going to be one of the main accents for everything. Knowing it was a warmer color, I wanted to stick with something in that family. For brides with multiple colors you can always look at color swatches online and look at similar colors that are recommended based on that palette.
2. KNOW WHAT THE BRIDE IS WEARING FIRST
If her dress had a similar shape or ruffles, I definitely wouldn't have chosen anything remotely near this dress. It's your bride's big day so make sure if you're the one getting to have the say in the dress that it fits with the overall aesthetic but won't compete with her dress since you'll be next to her and in all of the pictures.
3. RESEARCHÂ THE WEDDINGÂ STYLE & VENUE
The wedding was on the beach and in one of the cutest parts of Florida that I've ever been to. After googling a bit and seeing what the backdrop would look like, it gave me a better idea of what styles and colors might make sense. We had talked about doing a color but nothing too bright or harsh. Seaside and Watersound beach are all about soft tones and so that's what we aimed for.
4. CONSIDER THE WEATHER AND TIME OF DAY
After talking in depth with Arleigh about the weather in Florida this time of year she let me know that it could be very hot and humid on the beach during the ceremony. Because of that I knew I needed something that had a little movement and so anything more "flowy" and less fitted quickly rose to the top of the list. Also, the ceremony was starting at 5:30 so I knew the sun would still be out and could be strong depending on the weather.
5. FIND A SILHOUETTE THAT WORKS FOR YOUR BODY TYPE
The dress that I found was a truly perfect fit. I didn't need any hemming on the length (can you believe it?) and since it was a wrap waist, it hit me higher making my legs look longer. If you're getting to choose on your own take your time and look for something that you love! Your bride will be happy to know that you're going to wear it again. If you're choosing for your bridesmaids and wanting to give them options look for some silhouettes or dresses that convert allowing each of your bridesmaids to tailor to their body type.
Truth be told I looked high and low before I finally found the one that fit everything we were looking for. Here are some of the places I found the best luck and brands I love for bridesmaid dresses:
Jenny Yoo • Shopbop Wedding boutique • Joanna August • Reformation
I'd love to hear your tips & tricks for anyone who has looked for a bridesmaid dress in the past!
SHOP THE POST
DRESS: Ruffle maxi dress / EARRINGS: First blush drops
If you're looking for something very similar in light blue, this version is beautiful and under $250!