February 10, 2013
beanies are back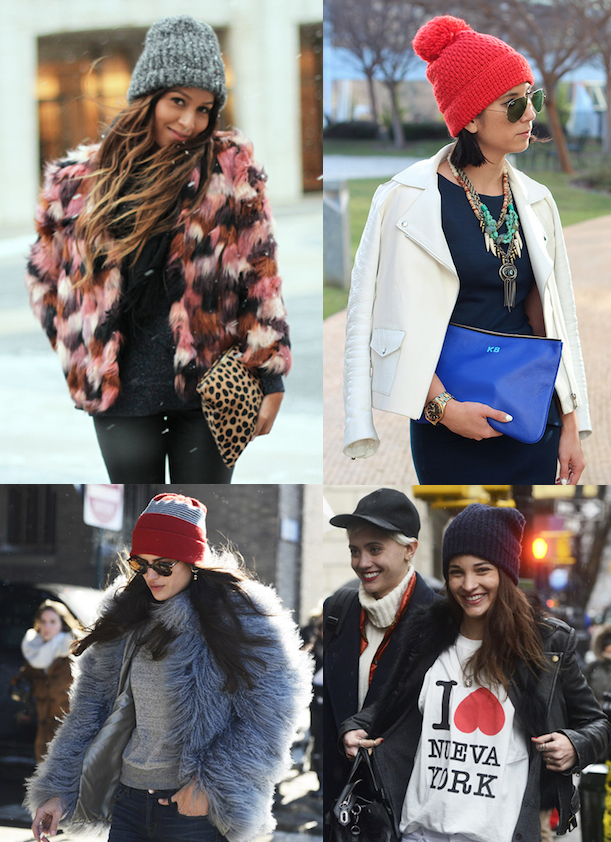 This Time Tomorrow |Â  Sincerely Jules |Â  Tommy Ton for Style.com
So beanies are officially back this winter and I couldn't be happier! I think there are so many creative ways to style a beanie. I used to think of them as something that was only necessary – when you have no earmuffs or are on a mountain full of snow, but there's so much more that you can do with a beanie in your everyday wear. I love seeing street style photos everywhere incorporating them and picked a few of my recent faves.
I'm on a big t-shirt and skinnies kick and love the way that this girl styled her spin on an 'I heart NY' tee with a leather moto jacket and beanie.. I'd wear this in a heartbeat. I'm also a huge fan of the look that Jules and the show-goer Tommy Ton snapped are wearing with bigger fur coats, skinnies, and simple tops. Beanies are the easiest accessory to add to a simple winter outfit to make an additional statement. Finally, I really loved how Krystal used hers as a pop of color on a less casual outfit. Beanies are typically thought of as a very casual item, however when used with the statement tops or necklaces can really balance out a very feminine outfit with a hint of playful fun.
I am loving the twist on this fashion week's street style — Nemo really hit NY with a curveball this fashion week, and knowing myself I'm secretly glad that I'm not bearing the blizzard in heels and skirts to and from Lincoln Center! My favorite shows thus far were some of the usual suspects… Rag and Bone, BCBG Max Azria, Rebecca Minkoff, but I was most surprised in a good way by Rebecca Taylor! Normally one of the most colorful and girly shows to hit the runway, her looks for fall were slightly androgynous and tougher than usual. It seemed a little outside of what I think of when I think of Rebecca Taylor, but I'm very excited to see the clothes hit stores for next Fall. Hope you're enjoying all of the coverage too and staying warm!