November 17, 2016
Perfectly Fall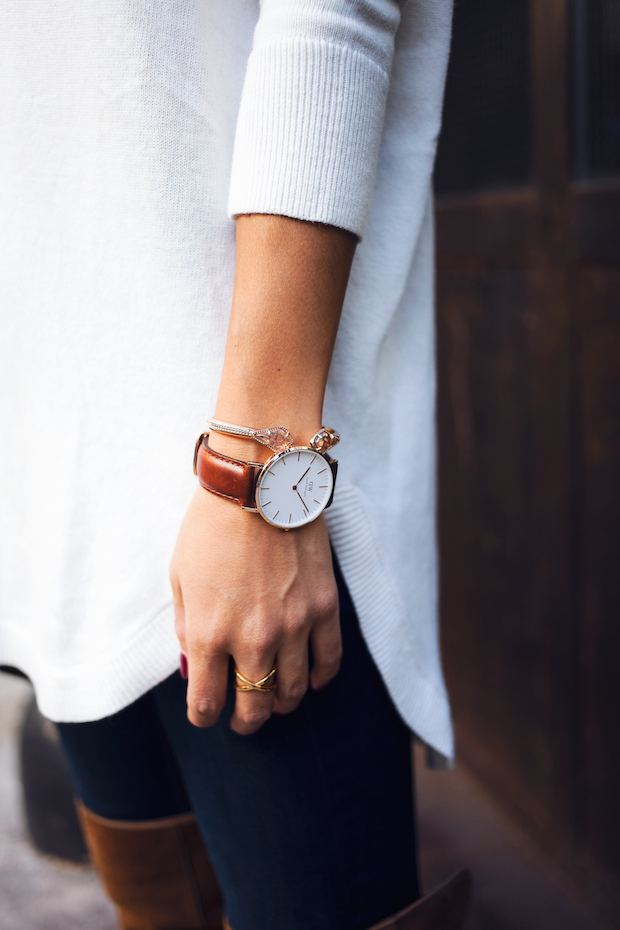 I don't think anyone will disagree with me when I say that weekends in the fall are the very best. I love nothing more than not setting an alarm, making breakfast at home, the crisp air of a walk, and seeing where the day takes me. During the week I'm often running out the door to get to work on time and put only half as much thought as I should into what I make it to work in. On weekends, it's a different story. I find myself actually doing my hair and makeup and pulling out my favorite new sweater or pair of boots when I finally venture out of the apartment.
I'm slowly working my sweaters into my wardrobe since it's been amazingly warm so far, but this white turtleneck is a the #1 pick so far. It's soft, light enough to wear under a jacket, but warm enough to not need one. With my favorite pair of jeans and over the knee boots this outfit gives me all of the fall feels.
A fun fact about me is that I've been shopping at Nordstrom for almost 18 years now. Not that I'm trying to age myself with that statement, but talk about a store that really captures someone's heart! My mom first started taking me when I was entering middle school and it has been my go-to ever since. As someone with small feet I love that they always carry shoes in my size, especially since I've been on the hunt for a second pair of over the knee boots lately.
These three pieces are the foundation of a perfect fall look! You can throw on a big scarf or a use a blanket scarf as a poncho and even add a hat to complete your look. Now you just need to head out on a wine tour or apple picking. This is also perfect for next week's Thanksgiving festivities!
Speaking of fall fun, we're headed to Maine this weekend and couldn't be more excited! It's our first time and we'll be in Portland visiting friends. Send any recommendations this way!
SHOP THE POST
TURTLENECK SWEATER  •  SKINNY JEANS  •  OVER THE KNEE BOOTS  •  VALLEY SUNGLASSES  • GORJANA X RING c/o  • DANIELL WELLINGTON WATCH c/o
[thefeedproducts style='four']
This post was sponsored by Nordstrom. As always all opinions are my own!