May 13, 2014
Summer Days To Nights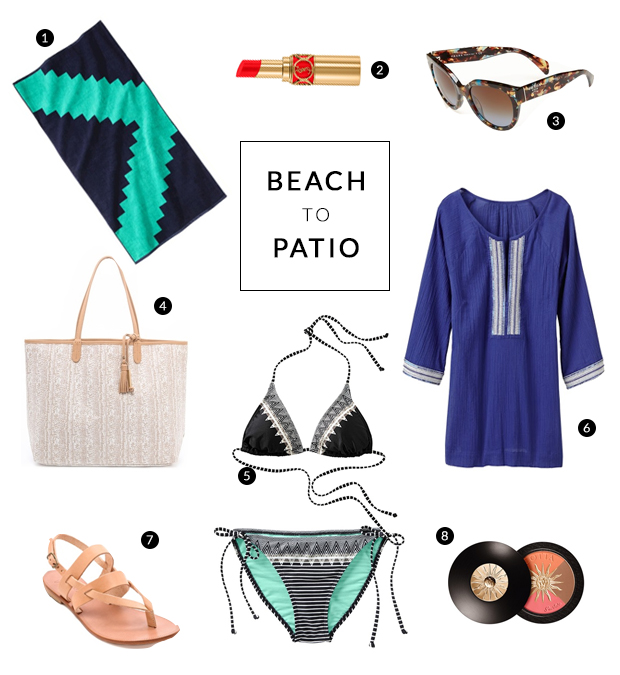 SHOP || 1 • Nate Berkus for Target beach towel  |  2 •  YSL rouge volupte lipstick in extreme coral  |  3 • Prada cat eye sunglasses  | 4 •  Joie Kennedy tote  |  5 • Athleta Gardenia grove bikini top and bottoms  |  6 • Athleta mariana tunic  |  7 • Joie A La Plage Positano flat sandals  |  8 • Guerlain terracotta bronzing powder
Summer. Ahhhhh. The single word that puts a smile on my face … (well that and cupcake or sale). One of my favorite things about Chicago is that everyone has such a positive and happy summer vibe. After this winter, who wouldn't be! It may not be the Atlantic or Pacific Ocean, but Lake Michigan sure is a beauty. I'm already plotting with my friends for the first hot Saturday here that will undoubtedly turn into dinner and drinks on a patio post-beach day. Almost every restaurant I can think of will at least procure a few tables and chairs outside to be "patio friendly". It makes for plenty of opportunities to dine al fresco after a long day in the sun!
One of our favorite things to do is to pack up some snacks, drinks and music and set up on the beach for the day or if we're lucky go out on a friend's boat. Taking in the city from the water is incredible! It's often out of the way to go home before heading to dinner and we're typically pretty hungry by the end of the day. I like to take my beach looks straight to the restaurant with caftans and breezy dresses that aren't see through, but are patterned or similar to my bikinis.
This season I've had great luck finding bikinis and cover ups from Athleta. They have comfortable and stylish pieces that are great for adventures in my social or day-to-day activities! I love the breezy style of the Mariana tunic because it can be worn as a cover up when you're done at the beach, or even if you start the day at a street festival or farmer's market and want to head to the beach after. It's all about versatility in order to maximize my time in the sun!
With a large enough beach tote I can store my towel, dress and a few beauty essentials and head out for the evening! I don't like to take my makeup with me out in the sun but there are two things I will bring with me to spruce up my look: bronzer and bright lipstick. With a couple of quick swipes you can look instantly refreshed for a night on the town!
What are your beach to dinner essentials?
SHOP THE POST
This post brought to you by  Athleta, the premier fitness fashion brand for women. 
Thanks for continuing to follow and support my blog! As always, it means the world.