July 12, 2011
Nordstrom Anniversary Sale: Sneak Preview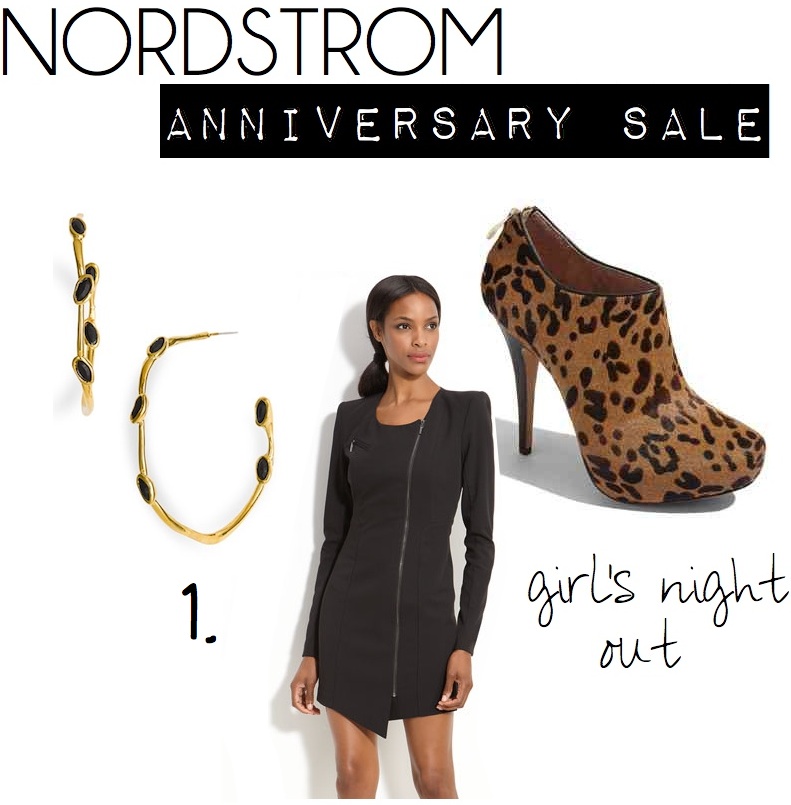 [Dress: Black Halo Motorcycle Gabardine Minidress $259.90, $395 after sale |Â  Booties: Vince Camuto Jerrell $89.90, $138.95 after sale |Â  Earrings: Alexis Bittar Miss Havisham hoop earrings $99.90, $155 after sale]
It's that time again! Yes, it's just about time for the Nordstrom Anniversary sale. Their biggest sale of the year and one of my favorites to shop. I have been shopping this sale for over 10 years so I would consider myself a seasoned veteran. I have many fond memories back in the day shopping the sale at the Dallas Galleria where you literally had to take a number (like at the deli counter) to be waited on in the shoe department. Oh how times have changed. Enjoy my picks and I'll have more details on the sale at the end of the post!
*all photos from Nordstrom.com early access website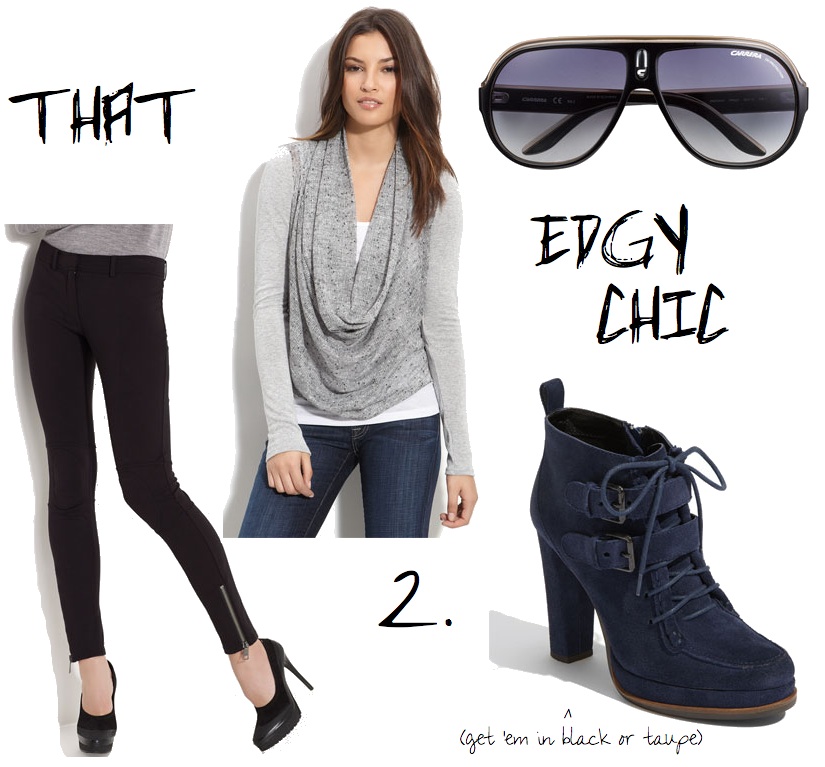 [Top: Ella Moss Mixed Media Cowl Neck $79.90, $121 after sale |Â  Pants: Burberry Brit Ponte Knit Pants $149.90, $250 after sale |Â  Sunglasses: Carrera Speedway Aviators $79.90, $120 after sale |Â  Booties: Dolce Vita Wyatt $79.90, $129.95 after sale]
If you're looking for a great skinny legging that is more of a pant, these Burberry Brits are your best bet. That's a great deal (think of what you would shell out for a great pair of jeans). These Dolce Vita boots were my favorite shoes on the sale (they come in black, taupe and blue), but unfortunately the 5 was still too big for my petite little feet. I was so sad. The Carreras are a must have and the Ella Moss cowl neck is incredibly comfortable.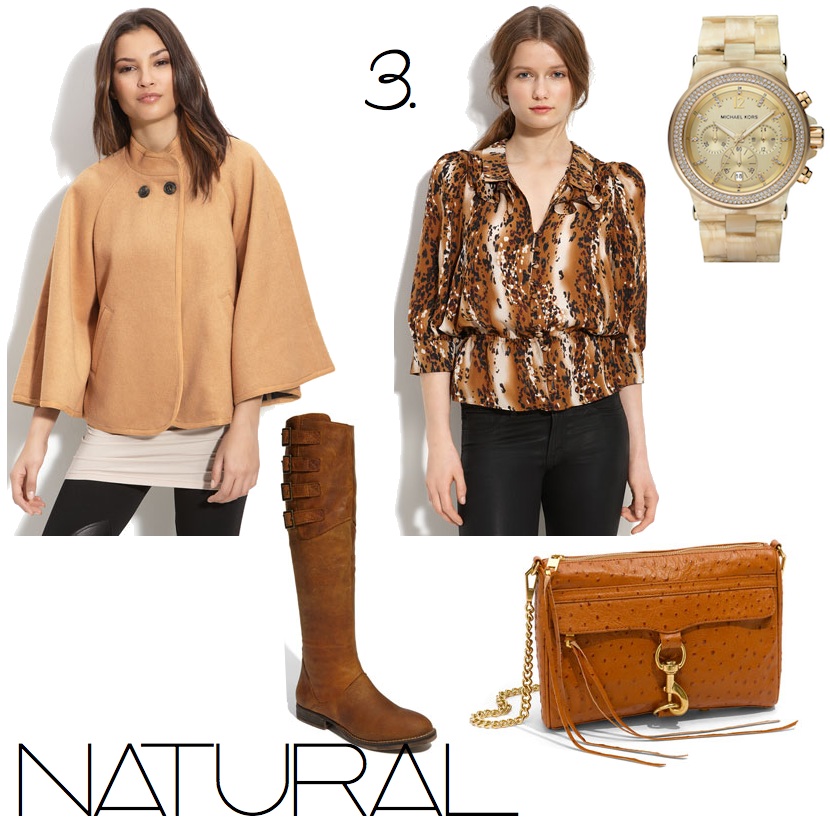 [Cape: Trouve Twill Cape $99.90, $158 after sale |Â  Top: Parker Dolman Sleeve Silk Blouse $138.90, $208 after sale |Â  Boots: Steve Madden Miidori Buckles $129.90, $199.95 after sale |Â  Watch: Michael Kors Bel Aire Resin and Crystal watch $183.90, $275 after sale |Â  Bag: Rebecca Minkoff Mac Ostrich Embossed crossbody $218.90, $330 after sale]
This was my favorite cape on the sale – the color is fabulous and at $99 it's a very reasonable price point. They're still going to be in this fall so you're safe picking one up. I'm a HUGE fan of Parker blouses, which you rarely ever find on sale. I love the print on this one, too. The Steve Maddens are a great boot in person. My personal opinion is to snag the brown instead of the black because there is white stitching which you can't really see on the brown pair, but is much more evident on the black. It hit me right near the top of my knee, so a perfect height. I swooned over this Rebecca Minkoff. It's absolutely gorgeous, looks ridiculously expensive, and is just a luxe crossbody. There is plenty of room as well. Someone please buy this since I didn't.
[Equipment Signature Tomcat print chiffon blouse $149, $208 after sale |Â  Gianetta Sheer Printed Blouse $49.90, $78 after sale]
I have been hunting down Equipment blouses on sale for… a really long time. Let's just say I still don't have one because I'm holding out for a plain color, but this shirt is gorgeous in person if you're looking for a fun and well-made blouse. If you can't hack the $150 on sale, I found this Gianetta blouse that is very similar and much more affordable. I can't stop buying semi-sheer button ups because they go with everything and are just so easy. Wear them with skinnies, a vest over it, and booties and you're set.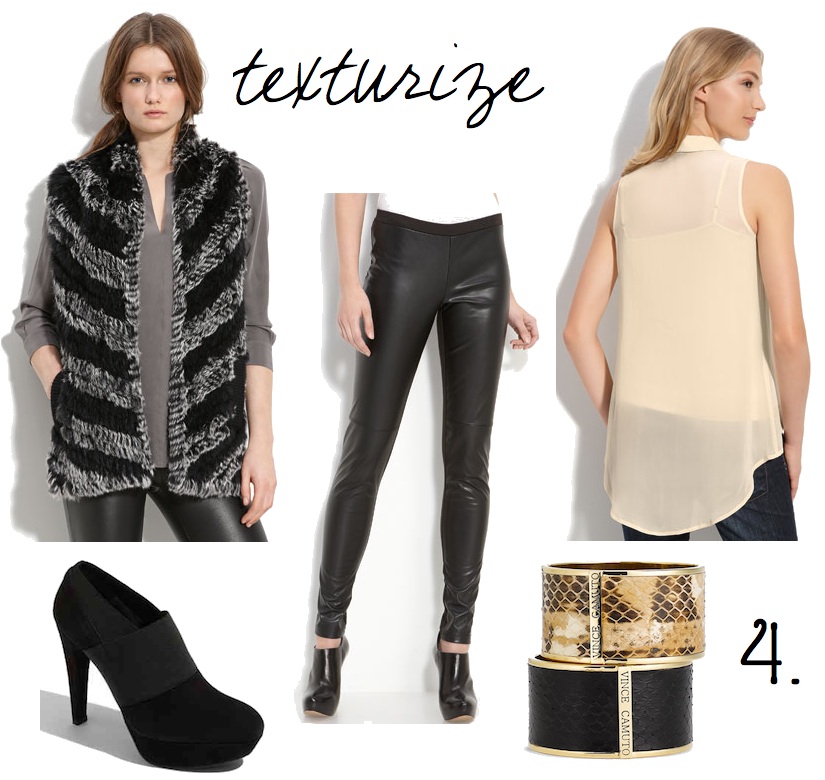 [Vest: Marc by Marc Jacobs Genuine Rabbit Fur Vest $265.90, $398 after sale |Â  Pants: Trouve Faux Leather Front Leggings $36.90, $56 after sale |Â  Blouse: Bellatrix Sleeveless Collared Shirt $49.90, $78 after sale |Â  Booties: Stuart Weitzman Wrapitup bootie, $249.90, $410 after sale |Â  Bracelets: Vince Camuto Snakeskin bangle $59.90, $88 after sale]
Playing with different textures is so much fun. This rabbit fur vest (while I'm an advocate of faux) is gorgeous and deeply discounted for Marc by Marc. You know you're getting quality. The Trouve leather front leggings are a great and affordable option for someone who has been wanting to try out leather leggings but doesn't have the budget for real ones. Just as I said above I have been hunting down Equipment blouses, including sleeveless ones. I found this Bellatrix one and bought it instantly because it's so chic and I love how it dips down lower in the back. The Stuart Weitzman booties are classic and if you don't have a great pair of black booties, these are your new go to… so take the plunge. My Stuart Weitzmans are my favorite shoes that I own simply because they're incredibly comfortable and sexy. These Vince Camuto bangles are a fun touch to any outfit, but they are a bit on the large side just as a heads up.
[Blouse: Elie Tahari Crystal Top $129.90, $198 after sale |Â  Skirt: Halogen Leather Pencil Skirt $149.90, $228 after sale |Â  Bag: Marc Jacobs Vanessa Lambskin Leather Crossbody $329.90, $495 after sale |Â  Booties: Stuart Weitzman Tiebow $259.90, $420 after sale]
I typically can't stand hunting for work clothes, but the great thing about all of these items is that they could be work appropriate (except maybe the leather skirt depending on your company culture), but you could also wear them outside of work just as easily. That's the best way to shop for work clothes in my opinion. The Elie Tahari is so classic and chic, and paired with something edgier like this leather pencil skirt you get that juxtaposition that makes outfits so fun. The fact that it's a pencil length helps make it a little less racy as well. The Marc Jacobs crossbody is a great classic crossbody and comes in several colors. Another pair of Stuart Weitzmans that are fabulous – I am seeing tons of grey flannel on shoes for fall!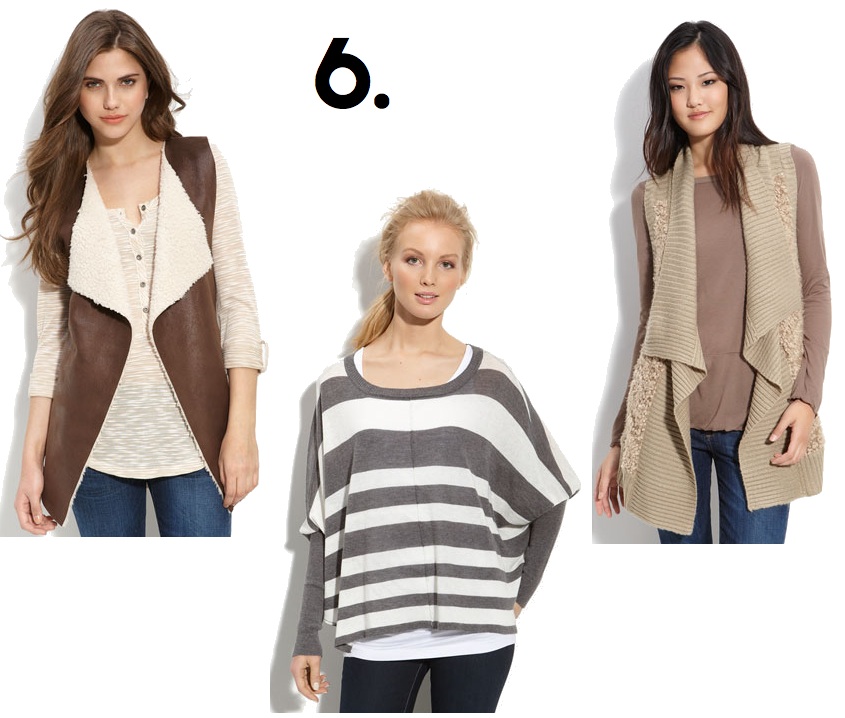 [Echo Faux Leather Vest with Faux Shearling $49.90, $88 after sale |  Research & Design Poncho Top $38.90, $59 after sale  | Kensie Chubby Boucle Knit Vest $54.90, $78 after sale]
Comfortable and easy are the definition of these three pieces. The vests are perfect for fall because you can throw them on over just about anything and add another dimension to your outfit. The poncho top is super casual and I'm personally obsessed with baggy light sweaters with tighter sleeves towards the wrist. I already have 4 varieties of this – I literally had to slap my own hand from buying another.
[Michael Kors Corrine $229.90, $375 after sale |Â  Naughty Monkey Short & Sweet $79.90, $119.95 after sale |Â  Vince Camuto Zisson $89.90, $138.95]
Wedges. A great way to add height without having to deal with the pain of a stiletto. These were some of my favorites from the sale. If you don't already have a tan wedge sandal, hook it up with this Vince Camuto – perfect for summer and transitioning into fall because the tan color goes with almost anything.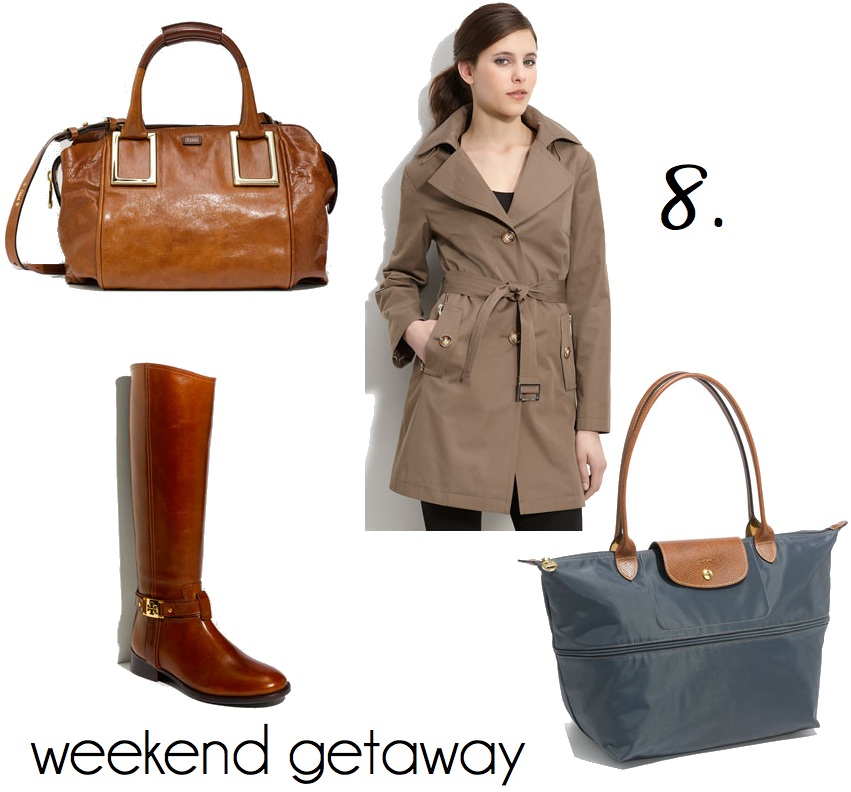 [Trenchcoat: Michael by Michael Kors Single Brested Trench $109.90, $168 after sale |Â  Purse: Chloe Ethel Lambskin satchel $934.90, $1395 after sale |Â  Boots: Tory Burch Leather Riding Boot $299.90, $495 after sale |Â  Bag: Longchamp Le Pliage Medium Expandable Tote $124.90, $190 after sale]
Fall means that weather can be fickle. Sometimes it may rain, sometimes it may be cold – that's when boots and trenchcoats come in handy. This Michael Kors is a fantastic price on a quality trenchcoat. **Disclaimer** These Tory Burch boots sold out on the first day of the sale. Yes, let your weeping ensue. They're gorgeous and a great deal, but apparently Tory Burch only supplied Nordstrom a limited quantity and they put it in the catalog, so of course everyone wanted them right off of the bat. Keep an eye on them and maybe they will pop up again later. If you've ever been in the market for a Chloe bag, you almost never find them on sale… so you may want to check the Ethel out. It's gorgeous, and Chloe. Enough said. I'm not the biggest Longchamp fan, but if I ever got a bag from them it would be this one. It's an expandable tote that is perfect for traveling and a woman on the go. Let's face it, we all go places and come back with more stuff than we left with.
For those of you who have not read any of my posts before, let me just say that if there was ever a die-hard Nordstrom lifer, it's ME. I have been shopping this sale for 10 years as I said earlier and I have won many over into Nordstrom converts. No one parallels their customer service. Not even Apple. But, this year the sale had evolved into much more of an… ordeal. As for my thoughts on the sale in general, to be honest I was a bit disappointed this year. I wasn't so much disappointed in the merchandise, but the red tape that now surrounds the sale. They've gotten really strict about who can even get into the "tents" and you cannot buy anything during the pre-sale unless you're a Nordstrom cardmember – a rule that they recently put into place but you have been able to get around before. They really want people to have their credit card. They ran out of some merchandise really on in the sale – some even on the first day. I fell in love with a blouse that was ridiculously cheap and it was sold out a few days in. They're running low on some merchandise in stores and even to ship from the warehouse/other stores. That's disappointing when you wait all year for the epic Anniversary Sale – I literally save up more money around this time of year for this and Neiman Marcus Last Call because I know I'll be hitting the sale up. I feel bad for a lot of people who will not have a chance to be at the store at 9 a.m. on Friday when the doors open and will be even more behind the 8 ball. I hope that they will improve the process for next year, but in the mean time enjoy your shopping and I hope you find fabulous deals! I've included some tips below:
What to Know:
The sale starts Friday July 15th at 7 or 8 a.m. depending on what state you live in.
If you plan on braving the crowds on the morning of July 15th, GO EARLY. You will be shocked at how quickly they run out of sizes, but remember they will ship it to you for free if they don't have your size in store. My advice is to just find the size you want if they have another color so that you can get an idea of the fit. It may take a week or two to get to you because of the mass amount of shipping they're doing around the sale, but it's worth the wait.
Grab everything you like even if you're not sure. If you're at a big Nordstrom store that gets a lot of traffic you will be fighting through people and lines and absolute mayhem! Not to mention, won't have many chances to go back and browse before sizes are out/dressing room lines stack up.
You can return things. If you buy something and decide you don't want it, you can always take it back. I would rather have to take something back than not get something I later realized I wanted.
The sale lasts until August 1, but it will be really picked over by then. At that point, everything you see on the sale will be marked up to full retail (I noted the prices after sale for the items in the post).
Happy hunting! xo