April 16, 2014
Madewell Spring Shopping Event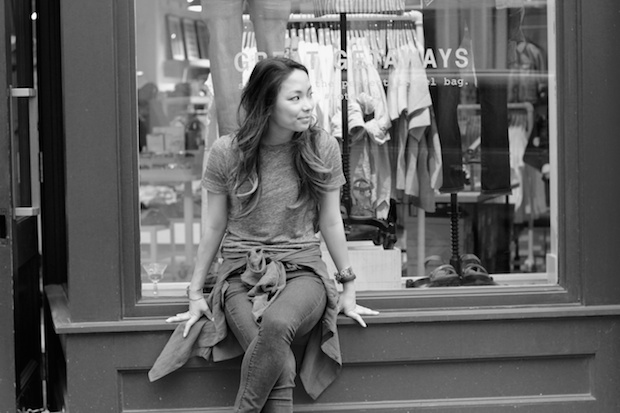 Since opening their first store in Chicago just a year ago, Madewell has quickly become my favorite go-to store in Gold Coast for all of my Spring staples. Last year I was so thrilled to host my very first event at the store and was even more honored when they asked me to host again last week! I find myself in there when I'm running around doing my errands quite often, and I'm usually looking for staples. They've really found a great way to provide minimalist pieces with either slightly boyish or girly flare. I love that the store isn't necessarily one or the other. One of the Spring campaign titles is "Cool Sexy Tomboy" and coincidentally the style they chose for the event's invite. I think pulling this off can be difficult, but is actually a lot easier than it seems.
I decided to give it a shot for the event when I was pulling looks for my rack and knew I had to add this t-shirt to my collection. I love that the sleeves have subtle stripes. I was actually wearing an olive button down shirt and their legging jeans that I pretty much live in from November to June already so I ended up just throwing the t-shirt on and tying the button down around my waist. I ended up later switching to wearing it over the t-shirt — a move I'll also be showing on Friday over a dress.
Simple things such as wear a button down open over a casual tee with jeans are to me what defines "cool sexy tomboy". Everyone left with something they were in love with… like Stephanie and this dress,  Blair and these flats, Shelly with this silk tee, and Colleen with this print in heels. They also have a ton of great tops and dresses for Spring right now, including this perfect peplum top that me and 4 of my friends all ended up taking home because people kept walking out of the dressing room with it on and it seriously looks good on everyone. If you couldn't attend or are a reader from far away, I have rounded up all of the pieces that were on my rack below for you to shop too! Thanks so much to Madewell for having me and much love to Jo and the Rush Street store!
P.S. • There is an additional 20% off all Sale styles with the code MOODLIFT right now!
SHOP MY SPRING FAVORITES
Madewell linen half court tee  •  Forever 21 button down shirt  •  Madewell legging jeans  •  Hinge booties (similar Madewell version)
Photos by Mary Graves Photography