January 30, 2015
Life In New York City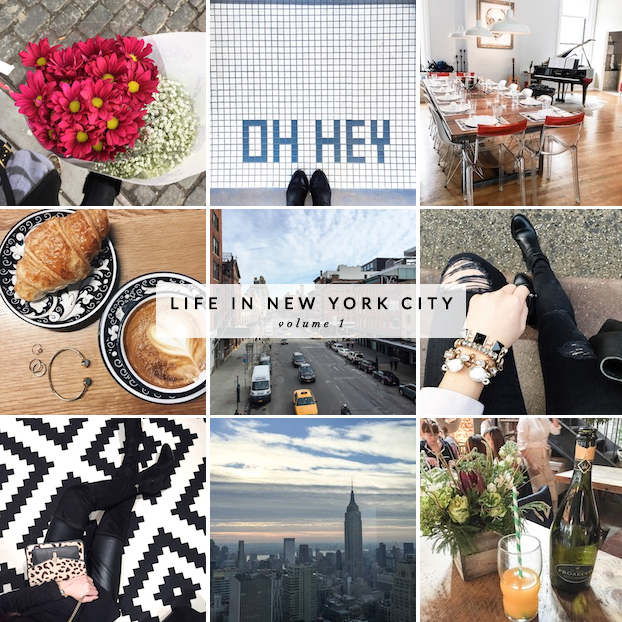 I alluded to this last month, but I'm starting a new series called "Life In New York City" and welcome to the first post! I'm really excited about this because it's a chance for me to share little tidbits about what's been going on with me and a bit more into my life as of late that I don't always share in my quick little Instagrams.
For those of you who are new here, I moved to New York (kind of out of nowhere) about 5 months ago after a 3-year stint and love affair with Chicago. It was a really big change for me – one I was admittedly nervous about – but so far I've been absolutely loving it. A lot of you guys have been on this journey with me for a long time so this is a great way for me to give you more of the scoop (since I know that's what you really love!).
I'm going to share some of my favorite things from the month in 9 snaps and answer a few random questions at the end. I'd love to hear your thoughts on what else you'd like to know!
Here we go… my favorite things about NYC for January! (in order of the pictures left – right, top – down)
Bodega flowers on every corner
You'll never look at flower buying the same after living here – it's amazing how $4 can you get beautiful flowers that would've cost you $20 anywhere else. I absolutely love it!
#ihavethisthingwithfloors because it's basically impossible not to
It doesn't matter where you are, everything looks so on point. The ugly building has character.. it's just everywhere you turn. I don't know for sure but my guess is the Instagrammer who started this genius account must live here because there are endless floor, wall, and decor inspirations everywhere you turn (and especially when you look down).
Brunch on another level
I joke about how much I love brunch (and I'd say that's such a white girl thing but I'm not white.. so there goes that)… but I really do love brunch. It's kind of an adult sport these days. This month I've been to 3 new spots that I've loved, but the winner for January was a brunch we had at a friend of a friend's place in Tribeca. Not only is the place insane, but we had a 12 person brunch (what? that's unheard of in NYC in someone's apartment) with barbecue flown in from Houston. Boom, drop the mic because waiting 2.5 hours at Jack's Wife Freda just lost. P.S. – Thanks Adam!
Saturday morning coffee
With my new found appreciation for constant caffeine now comes a new found appreciation for having it served in a non-disposable cup. Being on the go is a way of life and I cherish the Saturday mornings when I have it in one sitting not at a computer at a favorite spot nearby. (A side note: you can have coffee delivered in NYC, and I have done it. Judge away…)
Saturday morning strolls (post coffee)
This month I was really happy that I didn't overextend myself with crazy plans every night of the week and weekend. I am a wanderer at heart and love to spend afternoons just exploring other neighborhoods. I finally made my way over to the High Line on the nicest day of the month and walked up and down the streets and wove my way home after about 2.5 hours. My favorite way to spend a Saturday afternoon!
Stoops.
So, when you see New York apartments on TV or in movies they are just as cute and adorable as they look in person. I have sat on many-a-stoop while I'm on the phone because it's one the prime people watching spots, especially down in SoHo or West Village on the weekends.
Girl's Night Out
I blame the weather, but it's been really hard to motivate myself to go out when it's sub-20 degrees these days. But, there's nothing like a little girl's night out of dancing to cure your winter blues. I love that there are literally endless places you can go and have any kind of night that you want – low key, crazy, fratty, uber trendy, super hipster.. you name it. It's here and calling for you to put on your leather leggings and join us :).
Sunsets + the Skyline
I am very lucky to work in a building with an insane view of the city – something that never gets old even on my worst day. It's one of those really crazy, take a moment and look outside and think… a) I can see everyone in Manhattan right now and that's creepy and b) how did I get here? Many thankful moments have been spent watching the sunset behind the Empire State Building.
The West Village
I just can't get enough of the West Village right now! This snap was from Rosemary's, but throw in Meatball Shop, The Noodle Shop, etc. and my latest favorite… Hamilton's Luncheonette (amazing diner with delicious food and perfect 50's retro decor) and you'll more often than not find me wandering around the extremely confusing maze over there.
JANUARY
BEST THING I ATE OR DRANKÂ // Â Corned beef hash @ The Smith (ate), the Smart Alec @ Freeman's (drank)
FAVORITE RESTAURANTÂ // Hamilton's Luncheonette in the West Village
WEIRDEST THING I SAWÂ // A tie this month between a guy playing an instrument with his feet sitting down in the subway and a guy laying across an entire bench in the subway with his pants undone asleep (although I'm getting jaded, the second isn't as weird to me lately)
Don't forget to follow along with my adventures on Instagram!